14-year-old girl attacked in Baku for commemorating suicide of schoolgirl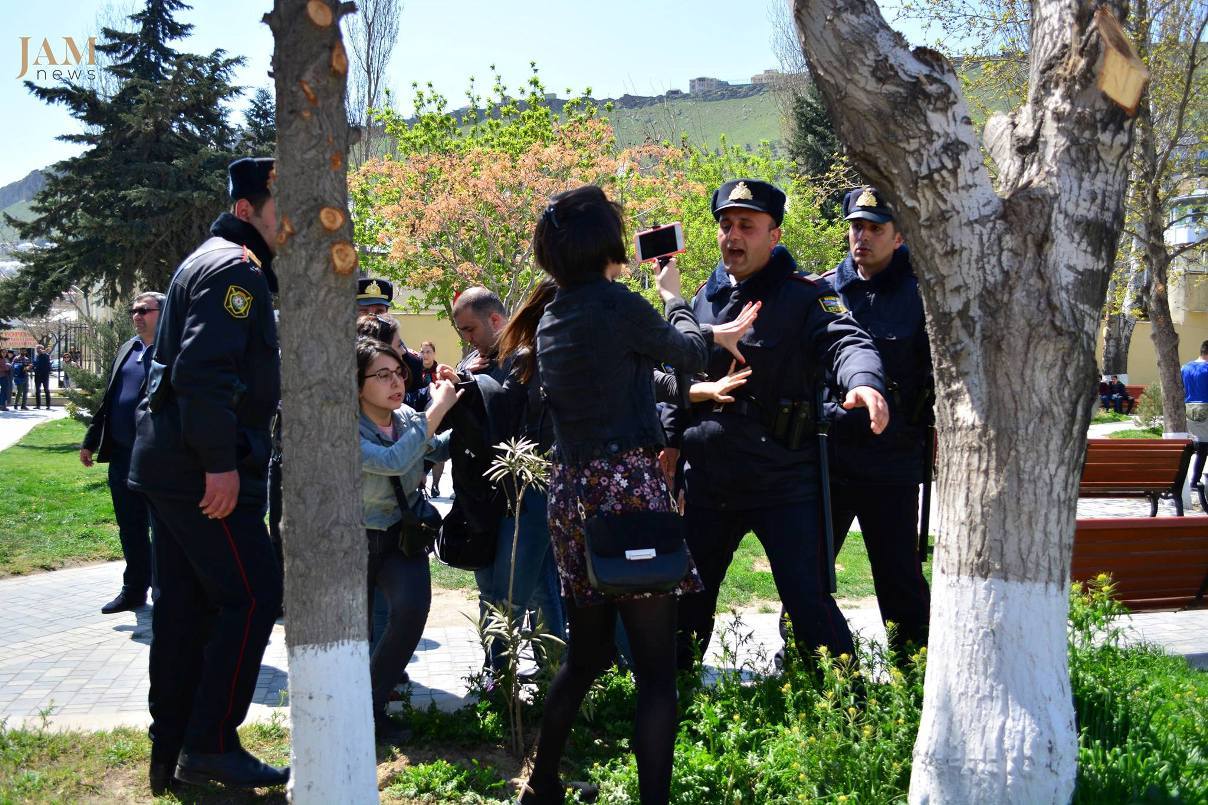 A girl who organized a demonstration held in commemoration of a schoolgirl who recently committed suicide in Baku was attacked yesterday evening.
A man named Tural Qarayev, who claims to be an 'activist of the ruling party', attacked 14-year-old Sanay Qahramanli.
He began to verbally insult her and her parents, and hit her hands.
He demanded that they, among other demands, "apologize to Mehriban Aliyeva", the first lady and vice-president of Azerbaijan.
The girl managed to record the attack on her phone. The video quickly spread on social media. The attacker has been arrested and charged with disorderly conduct.
What was the demonstration for?
On 13 April, Qahramanli initiated a flower-laying demonstration near school No 162.
Her peer, Elina Hajiyeva, had studied here before jumping out of a school window on 4 April after she was unable to withstand constant harassment from other students and the rough treatment of her teachers. Elina died two days later in hospital.
This case is being widely discussed by the public due to the negligence of doctors and school workers.
• Baku police prevent rally in memory of deceased schoolgirl
• Police tell Azerbaijani activist he cannot be protected from president's admirers
Two commemoration events were organized in memory of Elina. The first was held on 12 April and was attended mainly by the parents of the schoolchildren. It proceeded peacefully.
The second demonstration was organized by Sanay Qahramanli on 13 April, and was attended by mainly socially active youth. This time, the police prevented protesters from laying down flowers and roughly pushed them away from the school and asked them to disperse.
It is with this demonstration that the parents and acquaintances of Sanay associate the attack. Her mother says that Qarayev followed the girl for several days before attacking her.
Who is Tural Qarayev and why has this case received so much attention? 
Tural Qarayev, who attacked the girl, is known as an activist of the ruling New Azerbaijan Party and an ardent supporter of the authorities.
This is not his first act of the kind. Facebook users say that he had previously attacked civil society activists and other "dissenters".
Sanay is the daughter of Fuad Qahramanli, deputy chairman of the opposition Popular Front Party. Her parents are convinced that the authorities organized the attack on her, and many social media users agree.
Another theory put forward on social media says that Tural Qarayev was not 'hired' by the authorities, and he acted of his own accord as he ardently supports and protects the government.