107 people died under the wheels of cars in 2019 in Baku
Over the past 11 months of 2019, 488 traffic accidents occurred in Baku, 294 of which were car collisions with pedestrians. 
As a result, 107 people died and 187 were injured, Report writes.
In 2018, the ratio was approximately the same: more than half of the 619 traffic accidents were pedestrian accidents.
• Tkibuli – a city in Georgia that has become used to death
Most often, people are run over at night in dark areas, the Baku Traffic Police Department reports, but that collisions also happen near above ground and underground pedestrian crossings.
Police spokesman Vagif Asadov says that in most cases the fault lies not only with the drivers, but also with the pedestrians themselves.
"We advise pedestrians not to violate traffic rules, walk on sidewalks or use pedestrian crossings. Especially in the dark. And also – try not to use headphones while crossing the road; attach reflectors to clothes," said Vagif Asadov, a representative of the traffic police.
Asadov adds that they plan to strengthen "supervision" of pedestrians in order to dissuade them from crossing the road in the wrong places.
Currently, for crossing the road in the wrong place or at a red light, pedestrians are fined 18-20 manat [about $10-12]. 
This is mainly practiced in the center of the city, where several policemen can be on duty at the same intersection at the same time.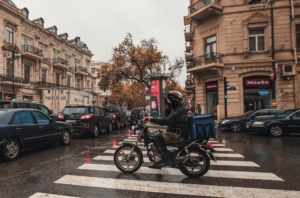 Drivers blame pedestrians, pedestrians blame city officials
Drivers say the main reason for the collisions is that many pedestrians do not know the rules of the road.
"From my own experience I can say that pedestrians often do not know, for example, the rules of the regulated intersection, and cross the road to the green light for cars, thinking that it applies to them. It seems that people in Baku are more afraid of being late for the bus than being ahead of schedule to get to the other world. 
"I think it's good in schools to introduce serious training in all these rules. It is unfair to blame drivers: recently they began to treat pedestrians much better. And sometimes they cripple themselves, trying to avoid collision. Another problem is that in autumn and winter, very many wear black or dark clothes, and they also dress children, and in the dark this makes a person 'invisible' to the driver. Many countries use special reflectors that attach to clothing or buy clothes or shoes with reflective elements. But this is still very rare in our country," says motorist Leyla Huseynova.
Pedestrians themselves have many complaints about those who design streets and crossings.
"Yes, pedestrians often run across in the wrong place, but sometimes they just have no other choice. The nearest crossing is far away, or not at all. And then zebras began to be replaced more and more often by above-ground and underground passages, most of which are very uncomfortable – even for a relatively young and healthy person it is difficult to use them. And it often happens that, expanding the roads, the city authorities simply forget to leave or build the sidewalk, or leave symbolic half a meter, and these half a meter will be half blocked off by some impudently parked jeep. In these cases, people are forced to walk along the roadway," complains pedestrian Farhad Mikailov.
Often, female road sweepers are killed in road accidents. But in these cases, indignant citizens make claims not against drivers, but against officials who send janitors to such dangerous work, instead of using special equipment.