Tkibuli - a city in Georgia that has become used to death
This text was published in early April 2018, when six miners died in an accident in Mindeli mine in Georgia.
Two other miners died on 3 June in Tkibuli. On 16 July, four died and six were injured as a result of an explosion in Mindeli mine.
The first thing you notice when you arrive in Tkibuli, a small city in western Georgia, are large piles of dirt and rocks, waste that has been shoveled out of the mines.
The coal mines are the main attraction, and employer, for local residents.
Over the past year mining accidents, which have occurred here since Soviet times, have cost 11 people their lives. Never before have so many miners died over such a short period of time.
Nonetheless, few refuse to work in this risky and dangerous job. The only alternative is to look for work in other cities or abroad.
"The whole city was in tears"
At five in the morning on 5 April, residents of Tkibuli were woken up by a loud sound.
Young miner Irakli Kirkitadze was working the fourth shift that day. He remembers that a shockwave knocked him three meters into the air.
"I pulled myself together, crawled to the telephone and called the dispatcher to send help," said Irakli.
That night, six miners died in the accident. The bodies of the deceased were brought up to the surface only at around 11 in the morning. The youngest of them was 25-year-old Pavle Gamezardashvili.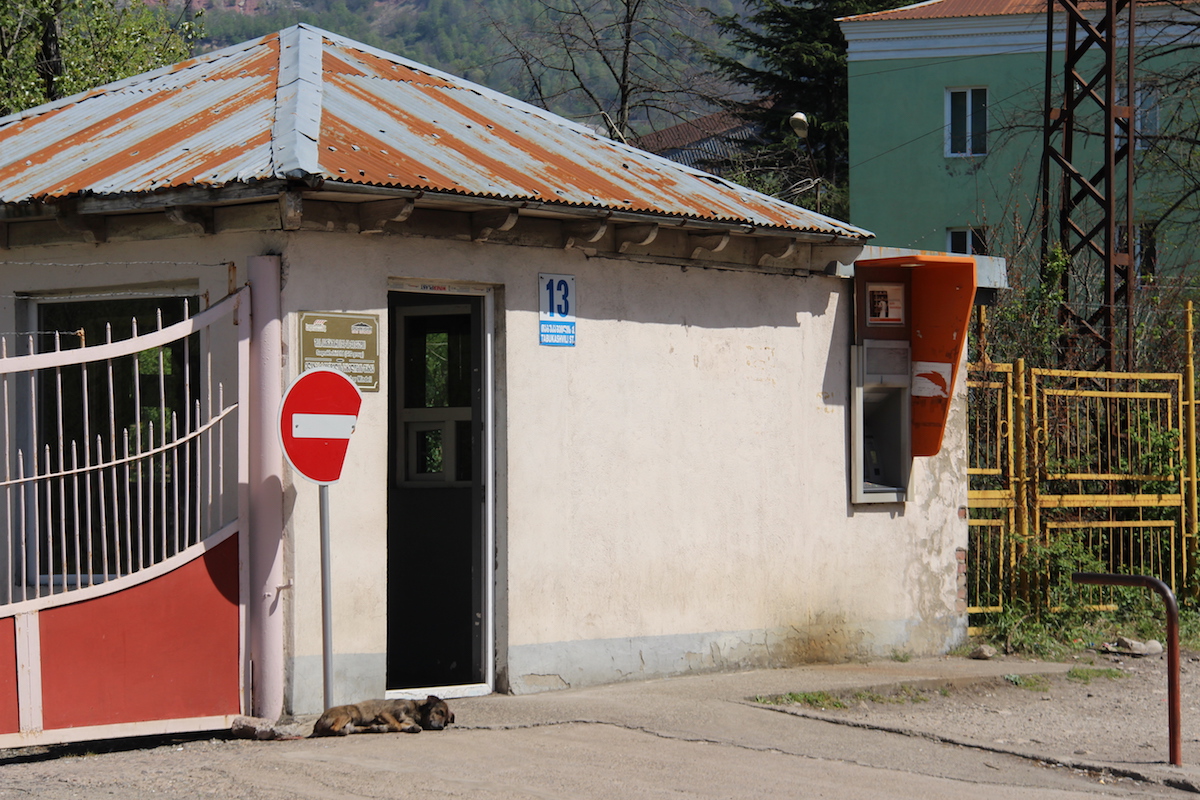 "The entire city came out. Everyone's eyes were full of tears," said union activist Gaga Isakadze.
The official story is that a 'rock burst' took place – this happens when a huge amount of underground pressure is released when a piece of solid rock is processed. However, several people don't agree with the official story.
"A rock burst would leave a trace behind, the tunnel would have collapsed entirely but that's not what happened. This version of events is convenient for a few people in order to avoid having to take responsibility for what happened," one of the miners told us.
Mirza Gamezardashvili, Pavle's brother, was supposed to relieve him that morning. Mirza's third brother is also a miner. His father, Guram, worked in the mine for twenty years before being seriously injured.
After his father's injury, 18-year-old Pavle decided to leave school and become a miner in order to help the family. Like many residents of Tkibuli, he saw his future in the mine – he entered a local trade school and once he graduated, intended to become a foreman.
The other miners that lost their lives on 5 April were between 28 and 60 years old. Many of them were the sole providers for their families.
The city and the mine
Tkibuli is located some 230 kilometers to the west of Tbilisi. Tkibuli, as well as Tkvarcheli in Abkhazia, was the centre of Georgia's coal mining industry during Soviet times and was mined as far back as the 19th century. During the Soviet Union there were four mines in the town. Many locals remember how the city was teeming with life at the time; in addition to coal, the town produced lemonade, there were textile workshops and many other businesses that provided the locals with work.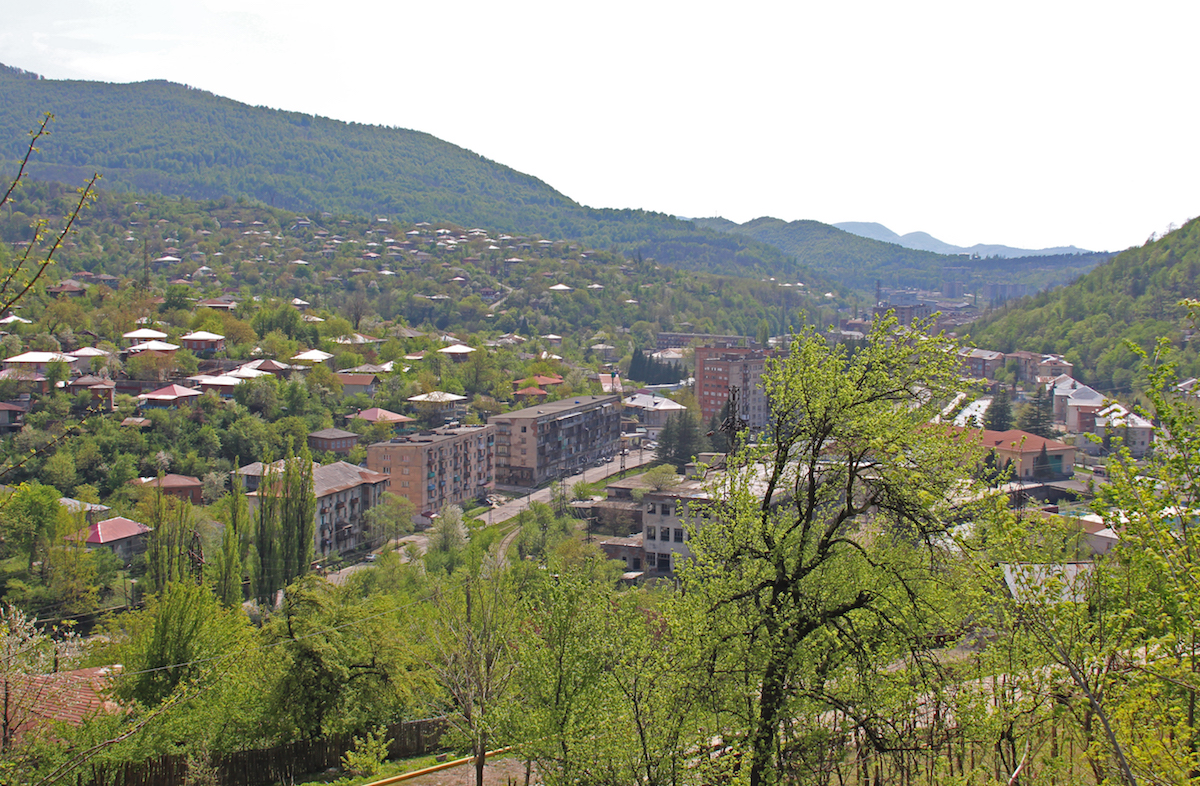 Dato, a taxi driver who waits in front of the only cafe in the city, is also a miner. He works as a taxi driver to supplement his income.
He says that locals lived much better during the Soviet Union.
"Under Stalin's rule miners weren't taken to war. The retirement age in the USSR was 50, but now 65-year-old men have to work too. They paid more for the night shift and they gave 13th cheques and other benefits. They knew the real price of work back then," said Dato.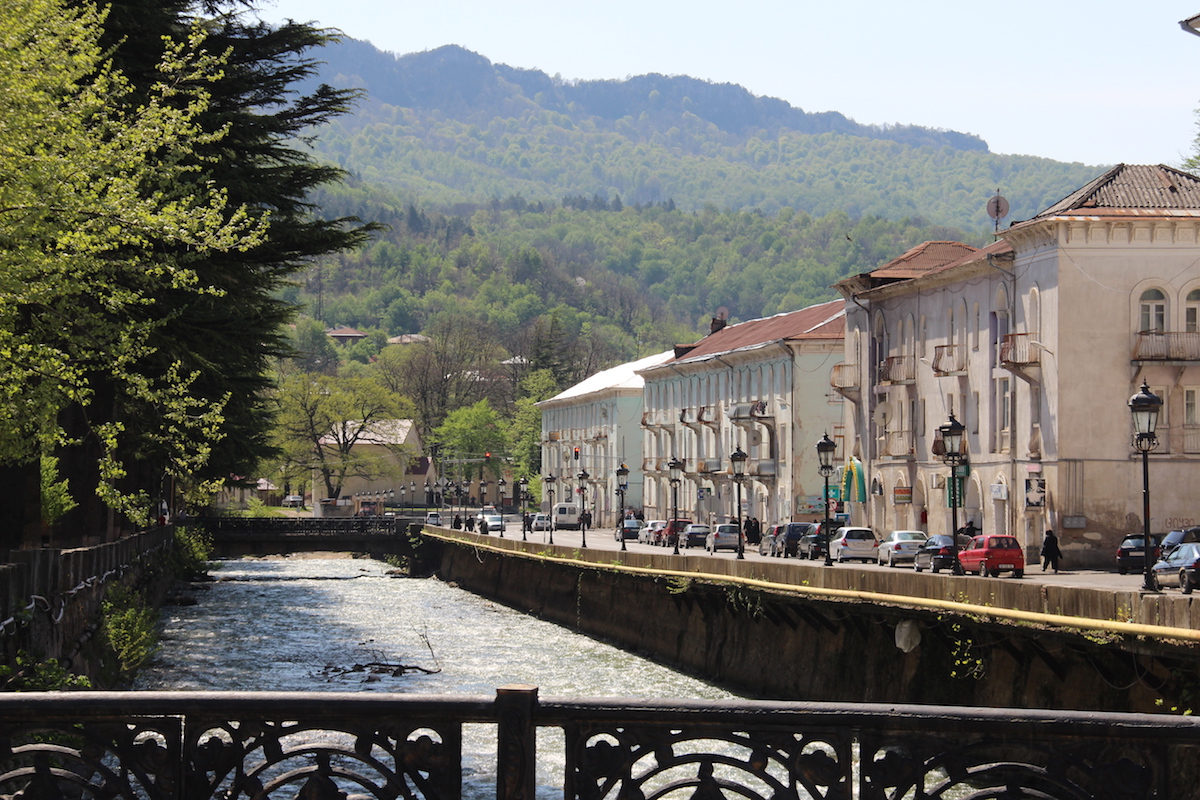 Tkibuli. April 2018. Photo: David pipia, JAMnews
Nostalgia for the USSR is shared among many of the older generation in the mining town.
Lizi Chelidze and Saba Gabrichidze don't remember the USSR. They are in 10th grade and don't see a future for themselves in their native town. Lizi intends to enter university to study Business Administration and Saba wants to study International Relations.
"We love our city and the people here, we were born and grew up here, but it's too boring," explained Lizi.
"I might not return tomorrow"
The two main things which Tkibuli appears to be known for – in just about any language when doing a Google search – are accidents and tragic mining accidents.
From 2007 to 2018, 32 people died in industrial accidents, 11 of them in the past year alone.
After each accident the same thing happens – social media explodes with messages about how miners are working in unsafe conditions that violate labour regulations. Human rights advocates and unions sound the alarm, student movements protest and demand that authorities and companies provide security for workers.
However, practically nothing changes.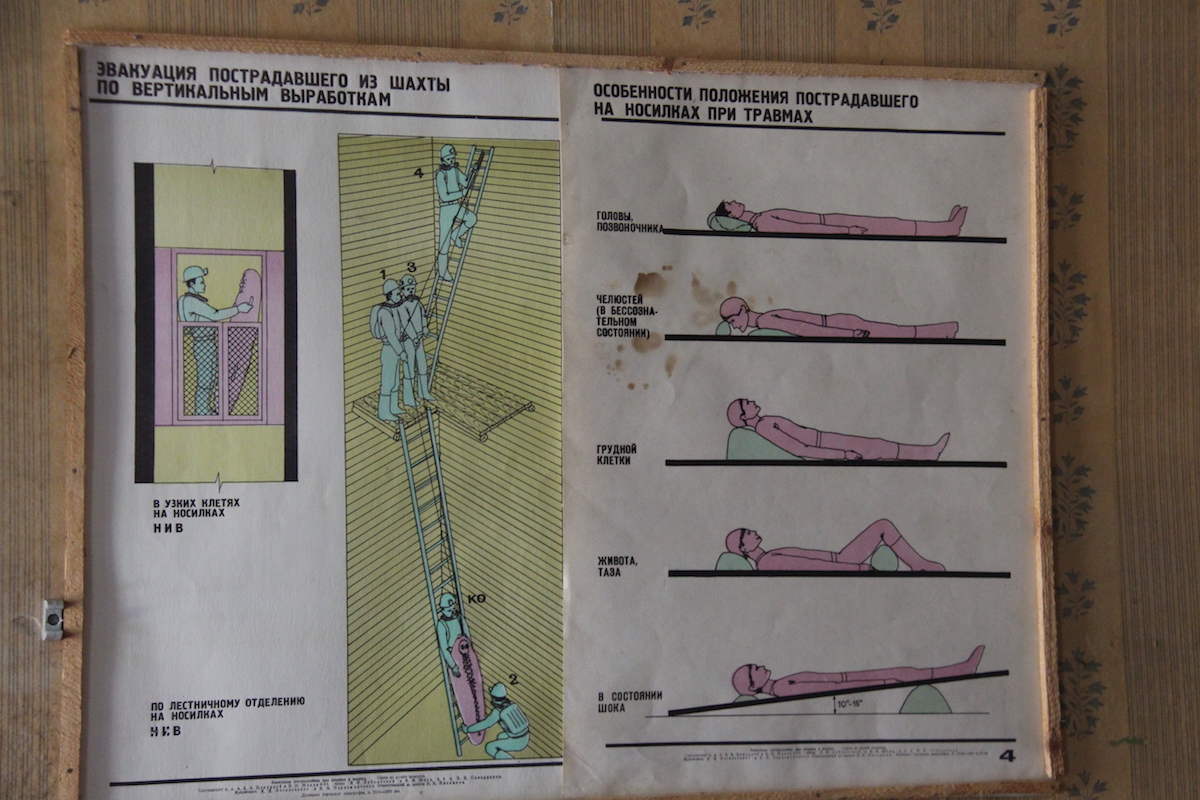 The last mass demonstrations which took place in Tkibuli was in 2016. More than 1 000 miners were on strike and demanded a pay raise and safer working conditions.
The miners said that every day they traverse many metres deep into the underground – as deep as a nine-story building. They often have problems with their work outfits, food and showers. Some even said that management locks them inside the mine during their shifts.
The strike which took place two years ago resulted in a 5-7 per cent pay increase. For most of the miners though, this job is the only way they can feed their families so they returned to work. The current average wage for miners is about GEL 800 lari (USD 330). However, some workers receive as little as GEL 350 (about USD 150).
After the strike, the company replaced ropes, chains and tracks.
"They made a few cosmetic changes, but they did it rather cheaply. In reality, there were no real improvements made towards safety," said the president of the Trade Union of Metallurgy, Mining and Chemical Industry Workers of Georgia Tamaz Dolaberidze.
He gave an example of an earlier incident in which a number of miners died due to a methane gas explosion. Dolaberidze says that this could have been avoided had measurements been taken on the concentration of methane and carbon dioxide.
Dolaberidze also touched on work schedules and the system of salary payments – both miners and management try to extract as much coal as possible within as short a time frame as possible, which often raises the risks associated with the profession.
The Department of Inspection of Labor Conditions of Georgia is a body under the auspices of the Ministry of Health, Labour and Social Affairs that was established in 2015. The department inspected the Dzidziguri and Mindel mines in both 2016 and 2017.
The department's report clearly stated that miners were working in unsafe conditions.
"At the enterprise owned by the Saknakhshiri company, workers are in an environment that infringes upon their dignity and they fulfill their duties under the influence of fear in extreme conditions," stated the report.
For example, boards are used to brake and slow down trolley cars, arches in the tunnels are damaged and are liable to collapse. Spaces that are in danger of collapsing are not properly cordoned off. Moreover, the inspection found that workers at the high-voltage electrical station did not have helmets, gloves or rubber boots. One tunnel was full of fecal matter which increases the risk of disease. Many miners had problems with hearing because they do not wear protective gear, and a number of other issues.
However, according to the legislation, the labour inspection department is only able to check up on the working conditions and prepare a list of recommendations. They cannot fine companies or have anything changed.
While talking to JAMnews, the miners themselves seemed reserved while speaking about the problems in the mines. They asked us not to use their names.
"A five-star hotel in Batumi, where everything was supposed to be of the highest quality, burnt down and eleven people died [The fire took place in hotel Leogrand in November last year -ed]. What's surprising about such a thing happening in a sixty-year-old mine?" one of the miners told us.
"I know very well that I will go down into the mine tomorrow – from where I might not return. I acknowledge this risk; however, I demand pay that is in accordance [with it]," another said.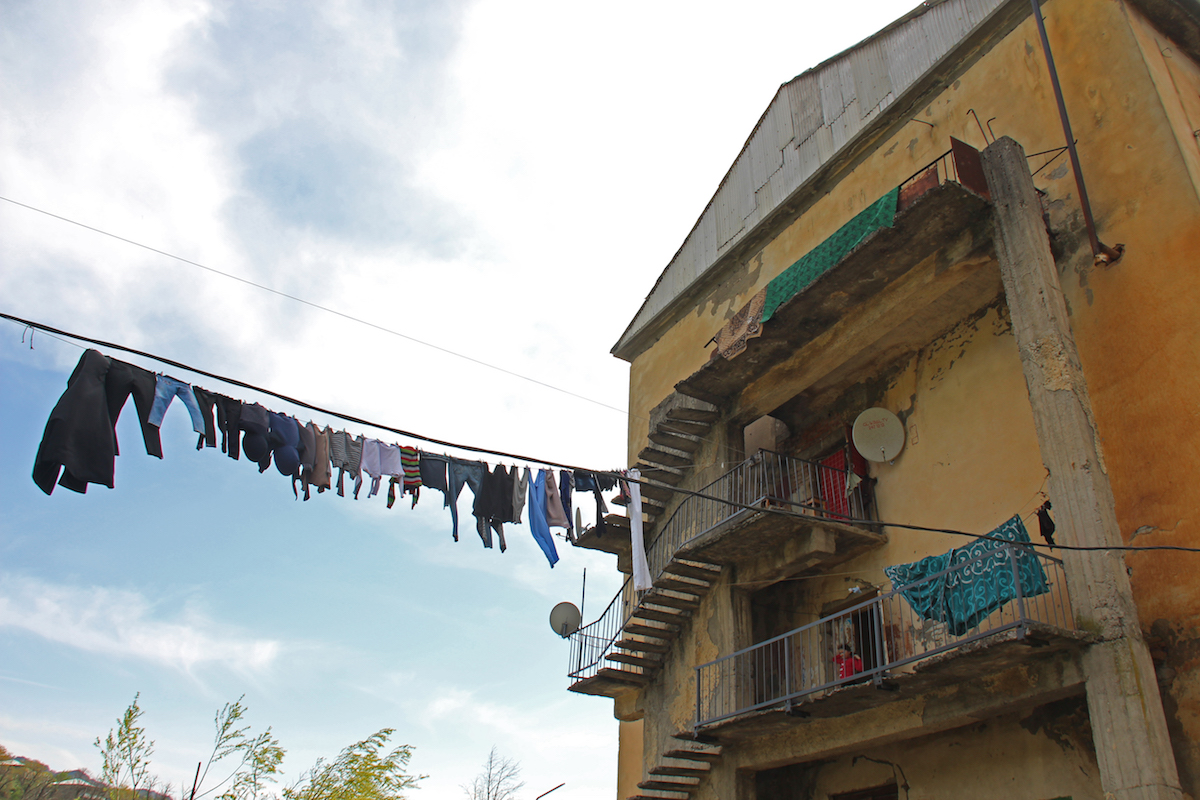 Lina Gvinianidze is the social rights programme director for the non-governmental organisation (NGO) 'Center for Human Rights Education and Monitoring'. She says that many of the miners do not even have information about modern safety standards, which is why they think that the current situation is normal. Moreover, people are afraid of losing their only job and prefer not to speak out about the problems they encounter at work.
The NGO wrote a special letter to Johannes Hahn, the European Commissioner for Neighborhood Policy, regarding labour safety regulations in Georgia.
The response they received stated that the European Union knows about the situation in Georgia and demands that the authorities make changes to the country's legislation:
"The current policy in Georgia, and the law on labour safety, is not in accordance with the obligations that Georgia took upon itself [as part of the association agreement with the EU -ed] and which calls for the Georgian legislation to align itself with EU standards."
The Saknakhshiri company says that much was done in the second half of 2017 for the complete re-equipment of the enterprise which was meant to raise safety levels for workers.
The company says that it is not shirking its obligations, and that it always pays in full for the treatment of injured workers, the funerals of those who have died, and also for expenses related to the education of workers' children.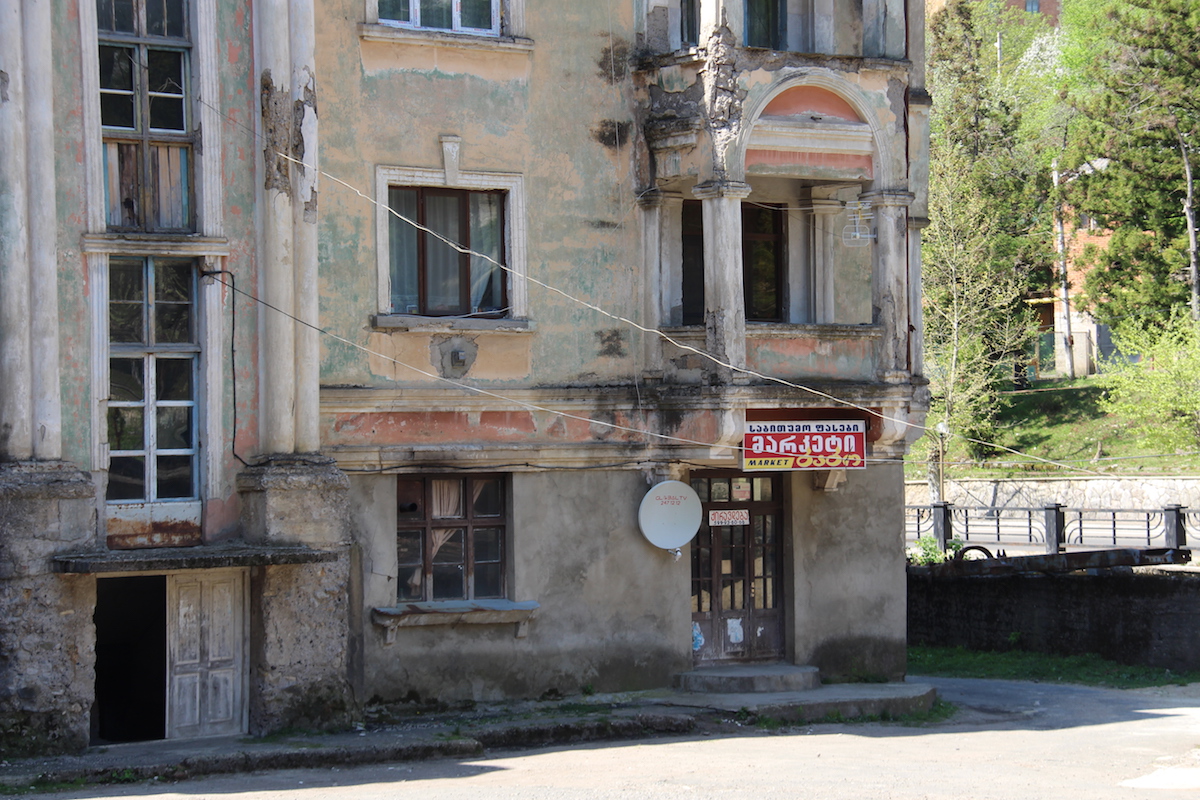 Tkibuli, Georgia, April 2018. Photo: David Pipia, JAMnews
The alternative? To leave.
Thirty-year-old Chiora Kirkitadze came to Georgia for a few days to attend the funeral of his uncle who died on 5 April, and to visit his brother who was injured in the same collapse.
He will then go back to Poland where he found work in a mine a few months ago. Before that, he had worked in the Tkibuli mines for 11 years.
"When my bosses in Poland found out that my uncle had died and my brother had been injured, they paid for my tickets to come to Georgia," said Chiora.
He says he is very satisfied with the working conditions at his new job – he makes about 1 000 euros a month, and is provided with accommodation and food. The work day is six hours long, plus another two for commuting.
Chiora says that the equipment and safety conditions in Polish and Georgian mines are as different as night and day.
"I felt like I was a person there [in Poland]. Here the life of a person isn't worth a wheelbarrow of coal," he said.
Chiora has nothing to fear in speaking out, which he does bravely: "When they told us that the labour inspection will help us, it was just a fairytale. Sometimes the company would call ahead, and then run around fixing things up: they'd tighten up bolts, put up fences to block off dangerous places … And as soon as the inspectors leave, they'd take down the barriers and would put us down in the mines to work in these dangerous places. If you don't go, they fire you."
Chiora doesn't want to return home because he doesn't think that anything awaits him in his native city in the near future.
"I don't want my children to suffer like this. We have become used to everything. When the first person died, everyone mourned. Now, they've come to terms with it," said Chiora.
With the support of the MediaNetwork