"Zurabishvili's Petition": What it says and who can sign it
Zurabishvili petition
Georgian President Salome Zurabishvili has created a petition asking European leaders to grant Georgia candidate status for EU accession in December. Zurabishvili presented the signature collection campaign "Our Voice for Europe" on November 8 at Orbeliani Palace in Tbilisi (Presidential Palace).
Key points from the president's statement:

● This campaign should be conducted both inside and outside the country and everyone should be able to sign the petition, any initiatives are acceptable.
● Starting tomorrow, open Orbeliani Palace for those who want to come and sign the petition "physically". We will also use all modern technologies and platforms – there is a QR code where you can go to the website and sign the petition online.
● I would like to address our diaspora: their role is very large, because they are already in Europe or somewhere else, but mostly in Europe.
● The role of the regions will be very great. I hope that there will be multilateral initiatives and where they deem it necessary I will join them, but everyone is free.
● The main thing is freedom and the expression of freedom together with unity. Since we are talking about initiatives, I will tell you that there will be meetings here at the palace between representatives of different spheres.
● The signing process is open to everyone. We have invited everyone here today, both supporters of the government and the opposition. I don't know if everyone came or not, but I think we are creating a picture of unity here.
● Regardless of political or religious outlook, everyone should sign this petition, because this is everyone's future, this is Georgia's future.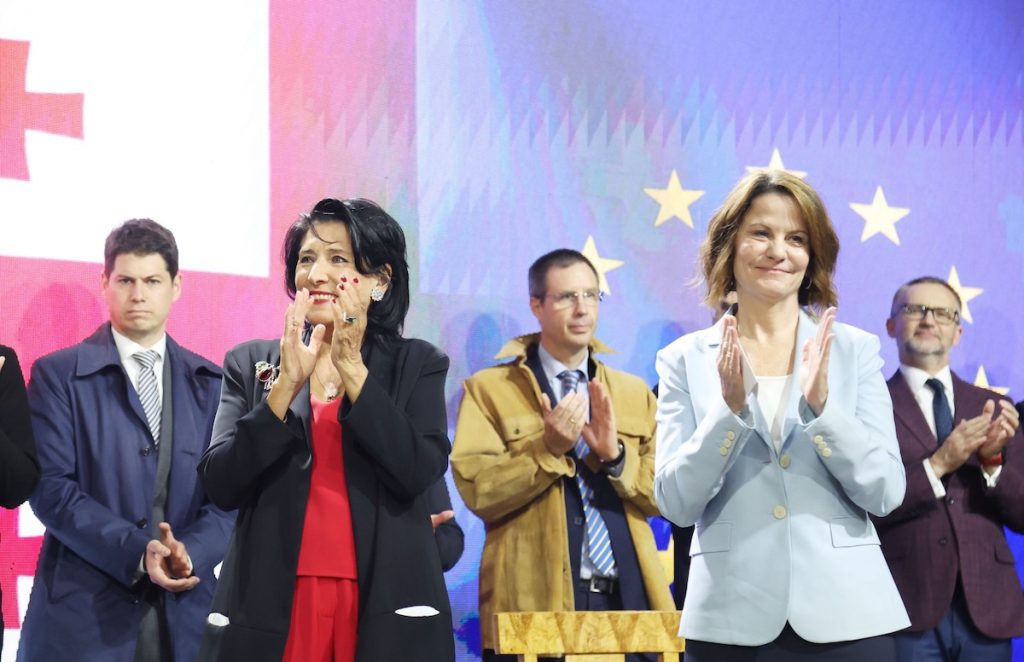 What the petition says:

"We, the citizens of Georgia, appeal to you, the European leaders, and before the historic December decision we want to convey to you the common voice of our people and show our common aspiration.
We appeal to you, grant our country the candidate status in accordance with the long-standing purposeful aspiration and unwavering will of Georgia and its people. The will of the people of Georgia has not been undermined by any daunting challenge. Neither war nor occupation. We have long been united by our past and common values, so our future is with you, in Europe, and there is no alternative!
According to the condition written in the Constitution of Georgia, we will spare no effort, despite our different political worldviews, by the power of unity we sign this petition and ask for candidate status."
Zurabishvili petition
---
---
On November 8, the European Commission recommended granting Georgia candidate status

On November 8, at a special press conference in Brussels, European Commission President Ursula von der Leyen announced that the European Commission will make a recommendation to grant Georgia candidate status for EU membership in December 2023.
The recommendation is made with the proviso that the country implement certain reforms.
Shortly after the outbreak of hostilities in Ukraine, three countries – Ukraine itself, Moldova and Georgia – applied for EU membership. In June 2022, the EU granted Ukraine and Moldova candidate membership status, while Georgia was denied that status. For it 12 recommendations-conditions for obtaining candidate status were established. Thus, Ukraine and Moldova were one step ahead of Georgia on the path to European integration.
A list of conditions that Georgia must fulfill in order to obtain candidate status:
Combating disinformation as well as manipulation of foreign information and [foreign] interference with the EU and its values;
Georgia's foreign policy should be more aligned with the EU's common foreign and security policy [Georgia's current level of compliance with EU foreign and security policy is about 43 percent, up from over 60 percent a couple of years ago. Moldova's and Ukraine's rates are much higher];
Overcoming political polarization, including by working more actively with opposition parties in parliament, especially on legislation related to Georgia's European integration;
The country should ensure a free, fair and competitive electoral environment and electoral process. Recommendations of the OSCE Office for Democratic Institutions and Human Rights should be fully taken into account, electoral reforms should be finalized, including ensuring adequate voter representation well in advance of election day;
Improving parliamentary oversight – especially of the security services, and ensuring the institutional independence and impartiality of key institutions – the election administration, the National Bank and the Communications Regulatory Commission;
Finalizing and implementing judicial reform, including reform of the High Council of Justice and the Prosecutor's Office, and fully implementing the recommendations of the Venice Commission;
Ensuring the effectiveness, institutional independence and impartiality of the Anti-Corruption Bureau, the Special Investigation Service and the Personal Data Protection Service.
Improving the existing de-oligarchization action plan to implement de-oligarchization through a multi-sectoral, systemic approach, in line with the Venice Commission recommendations, involving opposition parties and civil society;
Raise standards of human rights protection, including by adopting an ambitious human rights strategy and ensuring freedom of assembly and expression. Initiate impartial, effective and timely investigations into threats against vulnerable groups, media workers and civic activists, and hold the organizers and perpetrators of violence accountable. Consult with civil society, ensure their participation in lawmaking and policy processes, and ensure their freedom of action.
Ukraine and Moldova, which received candidate status back in June 2022, moved to the next stage of rapprochement with the EU on November 8. Both countries are already at the stage of negotiating EU membership, though also with certain reservations.
Zurabishvili petition