World champion of intellectual game to head Azerbaijani Public Television
Balash Kasumov, the world champion of the intellectual game What? Where? When? has assumed the post of General Director of ITV (İctimai Televiziya or Public Television), an Azerbaijani information and entertainment channel which is also a member of the European Broadcasting Union.
ITV has been operating since 2005 and broadcasts in the Azerbaijani language throughout the country. Azerbaijan became the last of the South Caucasian republics to launch a Public Television channel. One of the prerequisites for creating public television in Azerbaijan was the provision of the Council of Europe, which Azerbaijan joined in 2001. ITV provides free airtime to candidates during the period of pre-election campaigns. For many candidates, this is the only chance to bring their platform to the voters as it is almost impossible for representatives of the opposition to get air on other channels.
The news regarding Kasumov's appointment was first made public about a month ago and caused stormy discussions on social network platforms. Since Kasumov is a well-known public figure, an intellectual and a scholar, many believed ITV would undergo major improvements under his leadership.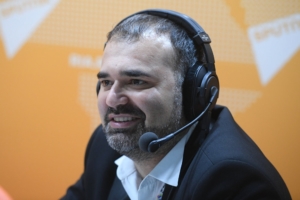 Here's what social network users had to say on the matter:
"I'm happy for Balash, now I'll watch ITV."
"Now here's hoping that we will have at least one good channel. Good luck to the new director!"
"Much success to him. A man of high intelligence will cope of course."
Others did not share this optimism, saying that the appointment of the new director is just a formality and will not affect the channel in any way:
"What can change with his leadership? This is a continuous channel of censorship; can intellectuals tolerate when they are stifled?"
In the midst of these debates, journalists drew attention to the rule that the General Director of the TV channel is not appointed but is elected. That is, according to the rules, a broadcasting council consisting of no less than six people must vote for those who put forth their candidature within 10 days. In this case, this procedure was almost neglected – Kasumov began receiving congratulations on his new appointment before any voting was done (the need for which most did not suspect). Voting was eventually done, albeit a week late. Kasumov has, quite expectedly, won the vote and assumed his new position on 1 June.
There is another indirect reason why this event attracted so much attention. Kasumov is already the second contestant on What? Where? When? to take a leading state post. Prior to him, Mikail Jabbarov, who first headed the Ministry of Education, managed to make a career as an official, and recently became the Minister of Taxation. As a result, this quickly became an excuse for jokes on social networks. Mikail Jabbarov and Balash Kasumov happen to be cousins as well.
As for Jamil Guliyev, the previous director of ITV, it was rumored that he lost his post because of Azerbaijan's failure at the Eurovision Song Contest. ITV is engaged in the annual selection of participants and songs for this competition and it also broadcasts it. This year Azerbaijan's representative did not qualify for the final round of the contest and many put the blame for this on the leadership of the channel. Shortly thereafter, Jamil Guliyev asked to resign. According to the official version this was due to health problems.
Kasumov has already announced upcoming personnel reforms on the channel.
Balakishi (Balash) Kasumov was born in Baku on 20 October, 1978. He graduated from the Azerbaijan State Economic University. He heads the GameTV.az production center, and is one of the most famous and successful players of 'What? Where? When?' from Azerbaijan.
What? Where? When? is an intellectual trivia game popular in post-Soviet space. In its televised version, a team of six experts have a minute to find answers to tricky questions posed by viewers. In the non-televised or the 'sports' version, several teams compete with each other. The non-televised What? Where? When? games are held at special clubs. One such club was also founded by Kasumov.