Women in Armenia support EU integration, while men the Eurasian Union
Photo: Gevorg Ghazaryan, JAMnews and Media Center
"The number of EU supporters in Armenia has increased, while those supporting the Eurasian Economic Union (EAEU) has dwindled in number over the past four years," Artur Sakunts, the Chair of the Helsinki Citizens' Assembly-Vanadzor Office, and Ruben Sargsyan, the Head of the Advanced Public Research Group NGO, stated when presenting the results of a public survey which was conducted jointly by their organizations.
Armenia joined the Eurasian Economic Union in 2015. The EAEU integration prospect opened up to Armenia on 3 September 2013, after the Armenian President, Sarzh Sargsyan, announced Armenia's refusal to conclude the 'Association and the Deep and Comprehensive Free Trade Area Agreements' with the EU. The negotiations on those documents had been underway for 3.5 years. At the same time, the Armenian President stated that Armenia was going to join the Customs Union, which marked the beginning of the process of integration into the EAEU.
According to Ruben Sargsyan, the Head of the Advanced Public Research Group NGO, 38% of respondents supported the EAEU in 2014, whereas in 2017 the EAEU supporters decreased to just 32%. While conducting the survey, the respondents' affection toward the EU reached its peak in 2016 at 44%. The same year, 25% of respondents expressed their support for the EAEU.
"In our opinion, the main reason [for the 2016 EU support increase] was the four-day hostilities [which took place] on the Azerbaijan-Karabakh contact line in 2016 which exposed supplies of Russian military equipment [heading] to Azerbaijan," Ruben Sargsyan noted.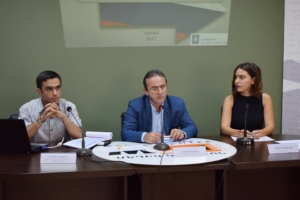 The survey results also showed which layers of the population tend to prefer the EAEU, and which of them would rather opt for the EU. The EU supporters are mostly people aged 18-45. Most of them are females residing in Yerevan and some other cities, with a mean salary of AMD 150,000 (USD 315) and above. The EAEU supporters tend to be people aged over 45, mostly males residing in rural areas, with a monthly income not exceeding AMD 150,000. The Mass Media has apparently also influenced public opinion. People who prefer to watch TV show affection for the EAEU, while print and online media readers give preference to the EU.
The survey was conducted on a monthly basis, for 4 years in a row, from 2014 through to 2017. The population of all the provinces, as well as residents of Armenia's capital, aged 18 and over, were interviewed as part of the survey. An equal number of males and females participated in the survey. As Artur Sakunts pointed out, the purpose of the survey was to detect the changes in the public's mood starting from the moment the country acceded to the EAEU.