"We call mines potatoes"
In order for Ukrainian farmers to harvest their crops, a 'grain truce' was recently announced in Donbass and was supposed to last until the end of August. However, the military there has its own rules, and farmers, as before, have been forced to find shelter from shoot-outs and tread carefully so as not to trigger mines. The following is a Hromadskoe report from the village of Kodema in the Donetsk oblast (region) of Ukraine.
"The yellow-blue wall had to be repainted"
It is the first week of harvest on 'Dynasty' – a farm near the occupied village of Gorlovka. The farm had been active for 20 years before it temporarily ceased activity in 2014, when its owner, Vadim Kaplya, left for Kyiv in order to find shelter from the militants and soldiers who had stormed his farm and destroyed it.
Three years after the start of the war, life on 'Dynasty' was stirred once again. Farmers and agricultural workers have gotten used to working next to soldiers and in constantly dangerous conditions.
In Vadim Kaplya's office there is a monitor displaying views of security cameras, and on the screen one can see a map:
"These are our fields, but these are the defense structures of the soldiers and the trenches. A little further on you can see more of our fields, but this is already separatist territory and we can't get there."
Before the war, Kaplya had 10 000 hectares of land. Now, he has just 4 500 – the rest has been taken by soldiers of the Donetsk People's Republic (DPR), and a line of demarcation has been drawn through the fields.
A plant of strategic importance here has always been the sunflower, but here one can also find wheat, millet, soy and sorghum being grown. Occupied fields and lands have not been sowed. Vadim says this is easily seen from the hills.
The farm was founded by Vadim's father, and his mother named it 'Dynasty' after the television show. Now, Vadim and his brother look after the farm.
"We always had the Ukrainian flag flying here, and the wall was painted yellow and blue. The wall was visible from airplanes and from Gorlovka. But we had to paint it over, otherwise it would have been like a red handkerchief for a bull: who knows what would have happened to us had we not repainted it…"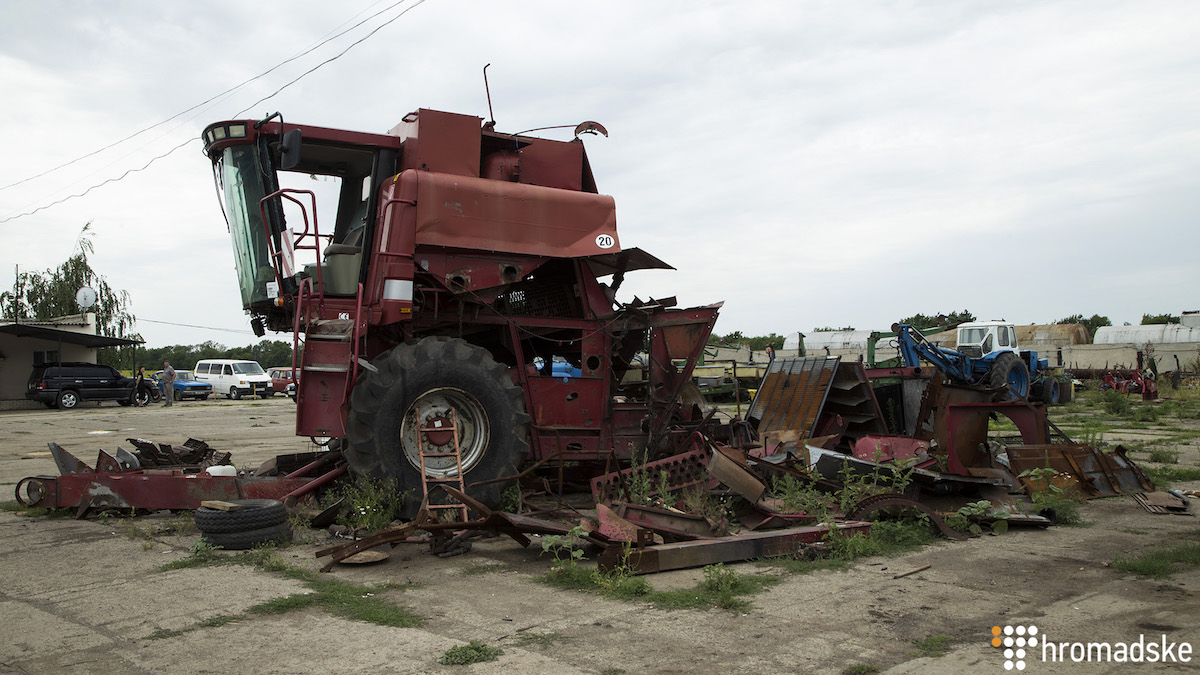 "There's a 'potato' there, and some 'toys' over there"
A broken tractor stands at the entrance to 'Dynasty' farm. In 2015, it encountered a mine in the fields. The driver survived, but has since then refused to sit behind the wheel.
"After the explosions, it isn't easy to quickly return to my old self and take up work", says the farmer. "People are afraid, they don't come out to work. In order for them to calm down, you have to wait about two weeks, but the wheat won't wait of course…"
"We'll cool down a bit, get it all back together again, wind it up and creak a little in the process, but we'll go on."
That's how they get back to work here.
'Dynasty' has had its machinery come into contact with mines three times since the beginning of the military conflict. The last time was in 2015. The owner consulted with engineers who looked over the place, but they are not in a hurry to de-mine the territory. First of all because of the distance between the farm and the soldiers, which requires a minimum of 15 kilometers for safety. Second, there are no markings or maps of where the territory has been laid with mines.
"They planted mines in the field with machines that generally plant potatoes. There are thousands of them," says the farmer, "we call them 'potatoes' or 'toys'. We say among ourselves, 'there's a potato over there, don't go there. And over there you've got some toys, you can't go there either.' "
Mines have been planted practically behind 'Dynasty's' fence. Across from the farm is a field of sunflowers, and there are three rows of concrete pillars in the field under which have been laid anti-tank mines. The barbed wire is practically invisible, as it has been overgrown by grass. Locals know that one can't walk there.
Despite the fact that this land is the property of the farmers, on occasion soldiers do not let them enter their fields. Here one can see military fortifications, and one can't point out combat positions.
"We make an agreement [with them], it would seem as if all has been decided and agreed upon and we go to look at what they've planted… and what do you know, there's been a rotation, and again they won't let us in," says Vadim Kaplya.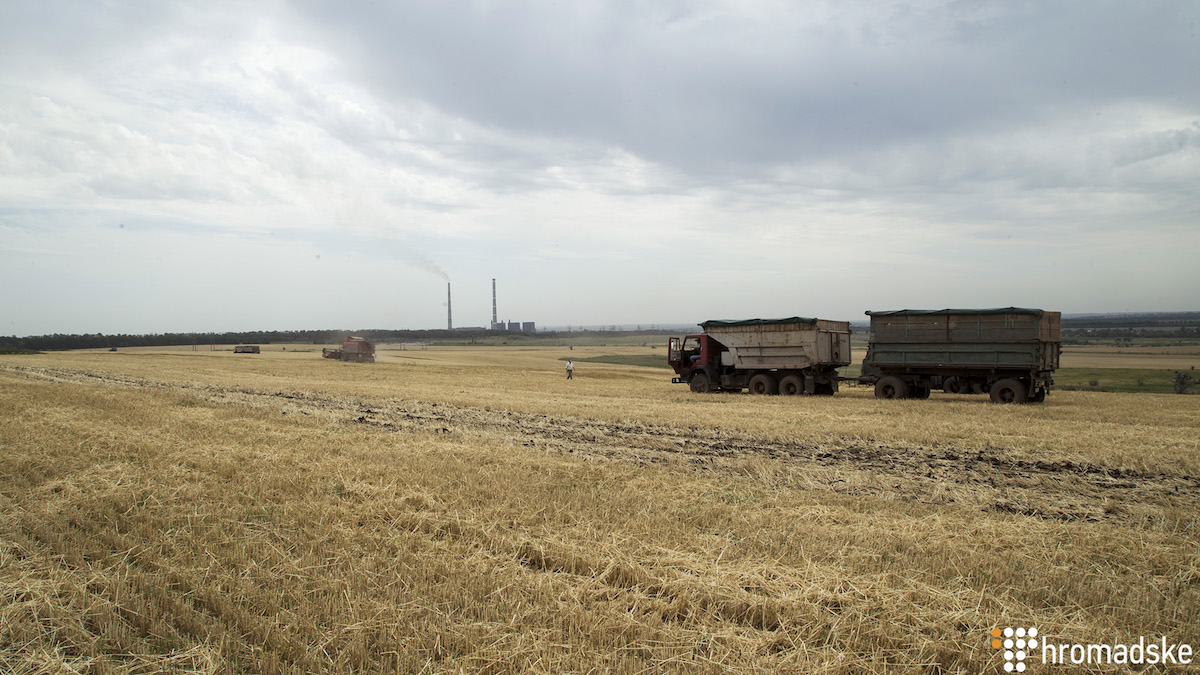 "Bread doesn't interest anyone"
Workers harvest wheat from seven in the morning and 'while the soldiers allow'. Once it gets dark outside, they start shooting, despite the announced 'grain truce'.
"They make compromises of course, but sometimes it's simply impossible to make an agreement. Bread doesn't interest anyone: everyone eats it, but no one cares [about it]," sighs the head agriculturalist of 'Dynasty', Viktor.
From here, it's only 15 kilometers to occupied Gorlovka.
"The DPR (Donetsk People's Republic) is right there, and just a little closer you can see our men. And they snipe each other bit by bit," explains Viktor.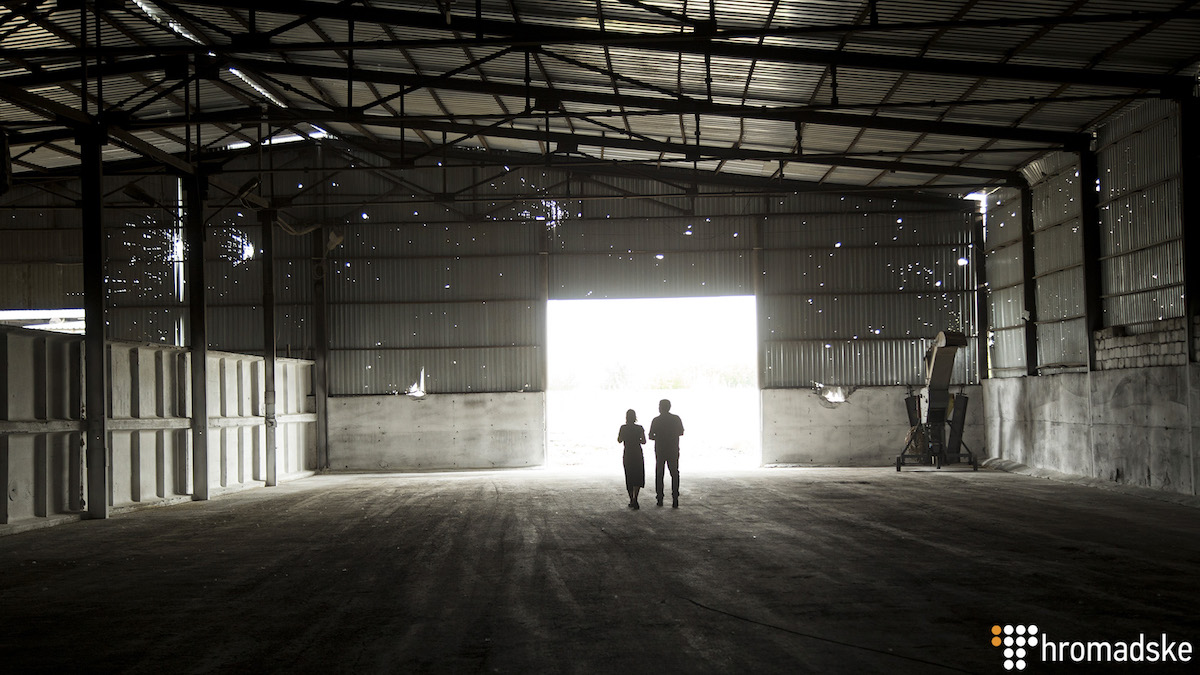 The shoot-outs often lead to fires in the fields, which result in additional losses for the farmers.
Data from the State Service for Emergency Situations shows that there are currently 7 000 square meters of mined fields in the Donbass region. Since the beginning of the conflict, 20 000 hectares have been de-mined, but this has taken place in the rear (of the conflict), not near the line of demarcation, from which one still needs to 'keep one's distance'.
Kaplya says that one can get used to anything, even this. What he wants most from the state is a decrease in taxes on land, especially if it is impossible to grow anything on it because of the presence of soldiers there.
One year of war means ten years of engineering and de-mining work on post-war territories,data from researchers of the Geneva Mine Action Center indicates. But this is only on the condition that all mined territories are marked and clearly indicated on maps.
And there is currently nothing of the kind.
According to information from OSCE (Organization for Security and Co-operation in Europe), over the past year 58 civilians have come in contact with mines and explosive devices, resulting in the death of 16 people.