"Velvet revolution" takes Armenia into the unknown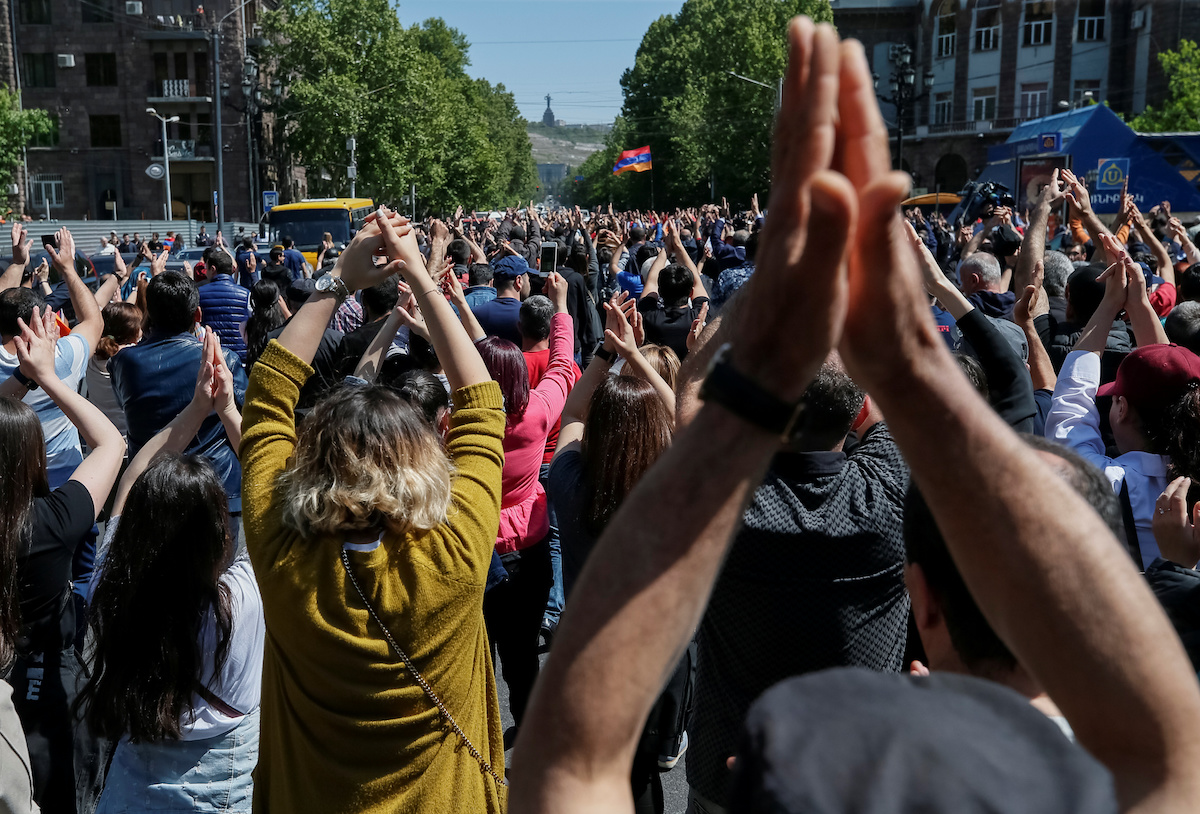 Massive street protests have brought down Armenia's long-serving leader Serzh Sargsyan. Meanwhile, tensions persist in the unresolved conflict with Azerbaijan over Nagorno-Karabakh. Both Armenia's new leadership and Azerbaijan must pay attention to avoid triggering a new conflagration along that territory's volatile front lines.
W
hen opposition Member of Parliament Nikol Pashinyan led a knot of marchers through northern Armenia in April to protest the return to power of long-serving leader Serzh Sargsyan, no one guessed his campaign would prompt the country to take a leap into the unknown.
One of a mere handful of opposition parliamentarians, Pashinyan has never been a popular leader in this country of three million people. His criticism of the government resonated with those parts of society that oppose Sargsyan and reflected real problems. But when he set out on his march, the former journalist and publicist was a marginal figure.
All that changed when Pashinyan and his march reached the Armenian capital, Yerevan. There they started small protests that were soon to catalyse the biggest domestic political upheaval in a decade in this small, isolated Caucasus republic, which is perennially tense due to its unresolved conflict with neighbouring Azerbaijan over the disputed territory of Nagorno-Karabakh.
The massive demonstrations the marchers helped build have now forced Sargsyan, who served as Armenia's president over the past decade, to resign from his recently assumed post of prime minister. These events are now being called a "velvet revolution", though the story is far from over.
A surprise revolution
Even a couple of weeks ago, little in Yerevan foreshadowed a revolution. The initial street protests against Sargsyan were tiny: twenty young men, at most, gathered in the city centre with banners and megaphones in the evenings. Belonging to disparate opposition groups, they urged Sargsyan to keep his promise not to seek nomination for the newly strengthened post of prime minister at the end of his second (and, according to the Armenian constitution, final) presidential term.
No one thought Sargsyan would yield to protesters' demands. He had led the country for a decade and enjoyed a firm grip on power in a system in which political prerogatives are intertwined with oligarchs' economic interests. Some prominent opposition politicians had become co-opted into this system.
Many Armenians complained about deep apathy in society to the country's political direction. One high-ranking official dubbed it a rerun of the lacklustre late Soviet era of Leonid Brezhnev. Armenians had tired of Sargsyan, but had little hope of removing him.
But on 16 April, events gathered steam. Police officials tried to disperse a small group of peaceful protesters in a central street of the capital, including those who arrived with Pashinyan. Photos of rows of riot police firing tear gas at protesters and breaking the noses of some spread quickly over social media and were broadcast by major foreign media networks. Against this backdrop of police brutality, Parliament elected Sargsyan as premier.
In response to his election, the initiators of the protest movement called for civil disobedience. University students came out into the streets in cities and towns across the country. They blocked traffic in downtown Yerevan and the doors of subway trains. Demonstrators were joined by masses of ordinary people, who, at a stipulated hour, would beat pots and pans, or honk the horns of their cars.
The authorities' reaction fuelled the protests. In some Armenian cities, security officials paid visits to the parents of young protesters for "explanatory talks". In Yerevan, police arrested both ring leaders and rank-and-file. Sargsyan threatened to order a large-scale crackdown, raising fears of a repeat of the 2008 clashes between police and demonstrators that killed ten people, both protesters and police. Thousands of protesters poured into the centre of the capital. By 22 April, more than 100,000 people packed Yerevan's main square – a level of mobilisation not seen since the national liberation movement thirty years ago.
The next day, Sargsyan stepped down. In his resignation statement he admitted that had no clear idea of the situation in the country. He thus not only became the first post-Soviet leader in fifteen years to concede power peacefully to street rallies but also took the even rarer step of admitting his mistakes and disconnect from citizens.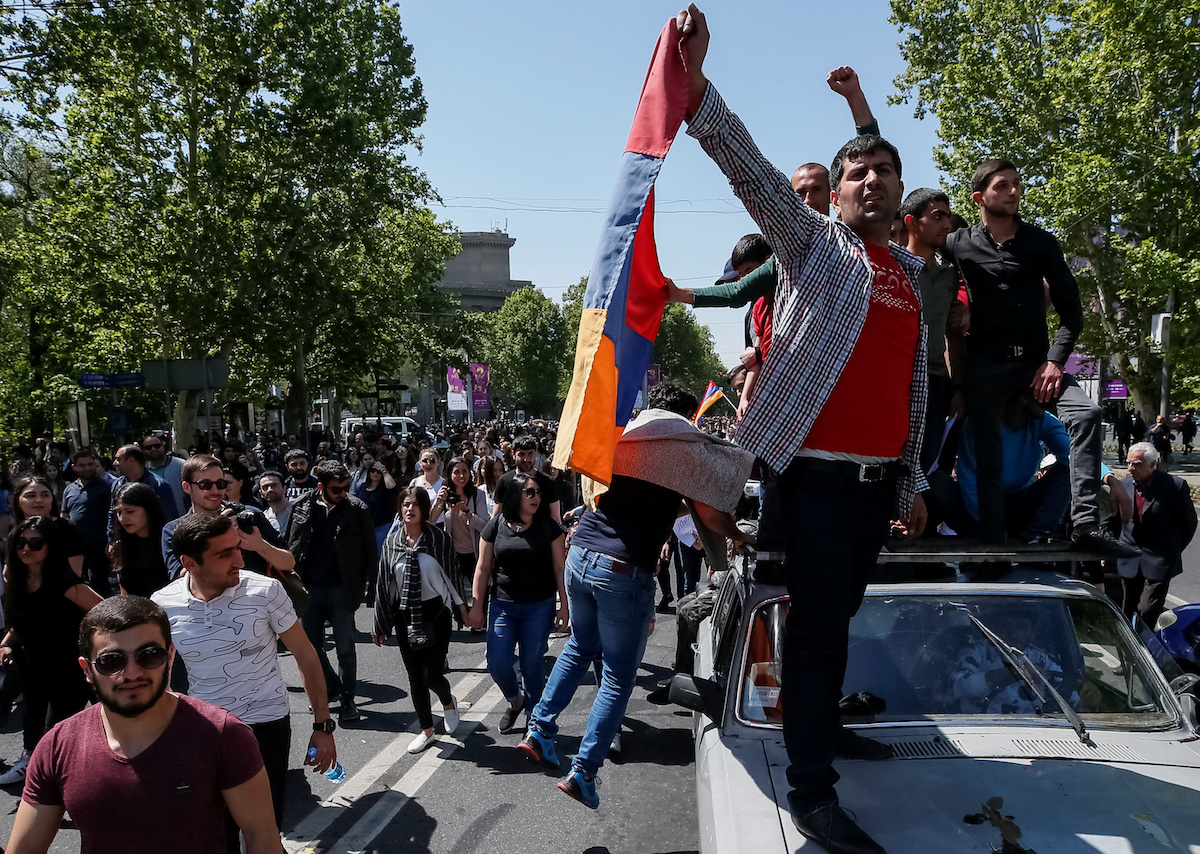 "Chess Grandmaster"
Sargsyan's rise to power came by way of the war with Azerbaijan over Nagorno-Karabakh, the defining issue for Armenia since it regained independence after the collapse of the Soviet Union. Sargsyan himself is from Karabakh; his modest two-storey parental home, with its well-kept courtyard and veranda, sits on the outskirts of the region's de facto capital of Stepanakert. He made his name directing civilian logistics, as demands by the Armenian-populated territory to secede from Azerbaijan and join Armenia escalated into full-fledged war.
Armenian forces prevailed in two years of fighting, driving the Azerbaijanis out of almost the entire territory of Nagorno-Karabakh – a former autonomous region – and seven adjacent districts of Azerbaijan. The war ended with a ceasefire in 1994, but the two sides never managed to seal a peace deal. Sargsyan moved to Yerevan, where he soon took over a security ministry. He was elected president in 2008.
Sargsyan's presidency coincided with global economic crisis and Russia's mounting assertiveness toward its immediate neighbours. The conflict in Nagorno-Karabakh had left Armenia's borders with Azerbaijan and Turkey closed, which in turn made it more dependent on Russia. At the same time, Azerbaijan undertook a vast effort, funded by its growing oil wealth, to modernise its armed forces.
Armenia, desperate to keep up, became even more reliant on Russia for weaponry, financial aid to support military development and protection (Russia, despite its alliance with Armenia, sells arms to both sides). A fruitless peace process hardened positions on both sides in recent years.
Meanwhile, on the domestic front, Sargsyan strengthened his hold on power, striking deals with major political players and businessmen inside the country. "He has built a pyramid, and no one can do anything about it", a critic explained on one of my first visits to Yerevan in late 2016.
Journalists nicknamed Sargsyan a "chess grandmaster" for his ability to outfox opponents and his widely publicised admiration for the game. But the president, in his early sixties, has appeared drained in recent years. Members of his party say he strictly narrowed his communications to his closest circle and limited his contact with the press.
Reporters complained that during presidential trips around the country they were allowed to film only after Sargsyan had left, "apparently, so that we did not suddenly ask too much", one suggested.
What's next?
Following Sargsyan's resignation, all political forces in Armenia are preparing for snap parliamentary elections. That vote, expected imminently, in principle might oust much of the discredited ruling elite, given the anger recently on display against Sargsyan. But there is no organised opposition to replace them.
Pashinyan, flush with newfound popularity accumulated during the April protests, will make a bid to succeed Sargsyan as prime minister. In a day after the latter's resignation, Pashinyan called on his supporters to join him in renewed protests against remaining leaders of Sargsyan's party. But details of his views on important issues, including Nagorno-Karabakh, are little-known. His promises of "a different Armenia" – let alone far-reaching economic and military reforms ­– may strike voters as sweeping but unconvincing.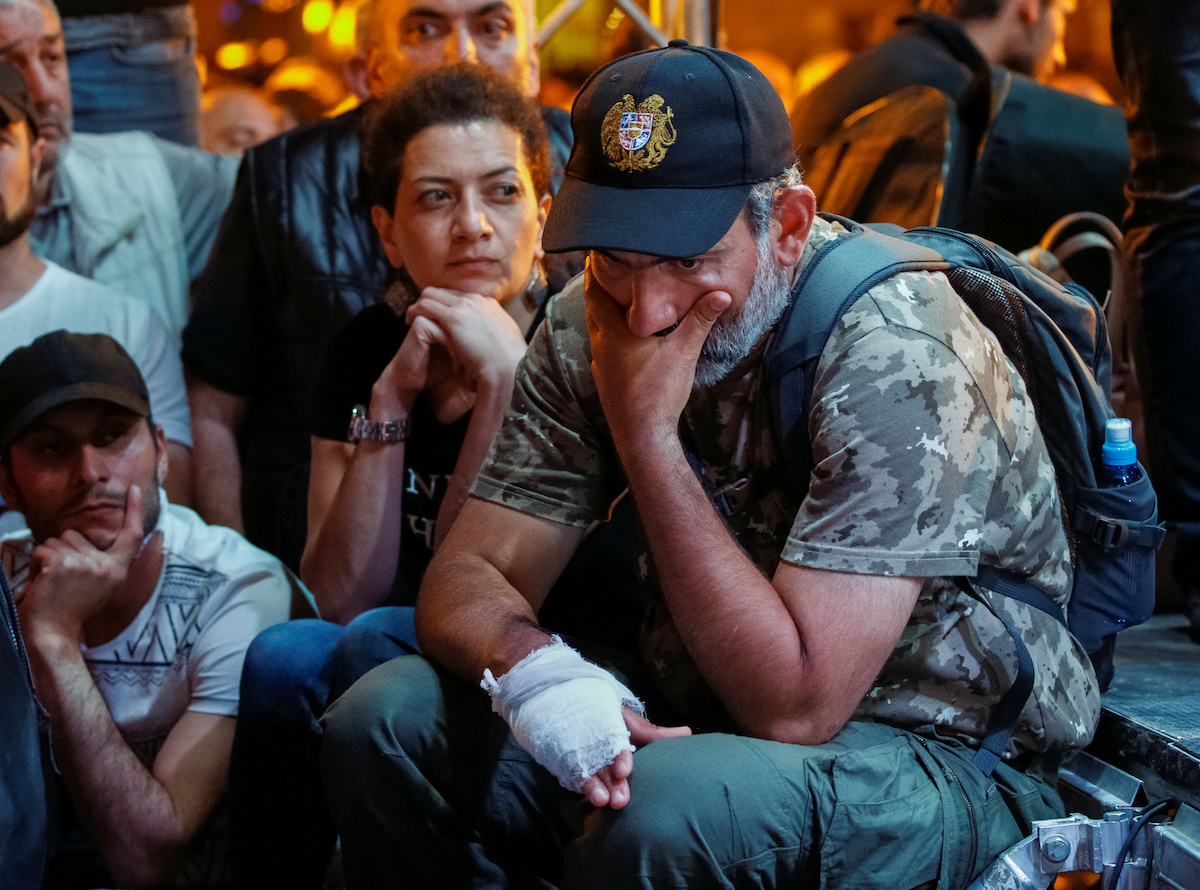 At Pashinyan's first press conference after Sargsyan's resignation, which was packed with dozens of local and foreign reporters, he said he was not going to make fast promises on possible changes in Armenia's foreign policy course and was ready to fight for Armenia's national interests and Nagorno-Karabakh.
He expressed his determination to promote cohabitation with officials in the current government, especially mid-level officials, but only if they agree to support the complete removal of Sargsyan's party.
If Pashinyan prevails in elections and becomes the country's leader, he also may launch investigations into allegations of corruption and misrule. "But we will not look for a vendetta", he has told reporters.
The coming weeks and months may thus see several forces jostling for power in a small country with weak institutions and a history of personalised policymaking. At the same time, signs from Nagorno-Karabakh are worrying.
Some weeks ago, the de facto leadership of Nagorno-Karabakh informed the conflict region's authorities and parliamentarians that they expected some form of Azerbaijani destabilisation along the Line of Contact, the heavily militarised zone that separates Armenian and Azerbaijani troops. Armenia distributed video footage apparently showing Azerbaijani heavy weaponry being moved toward Armenian forces. Azerbaijan denied the accusation. The co-chairmen of the OSCE Minsk Group – the international mediators in the conflict – called on the parties to respect the ceasefire "at this delicate time."
The last major confrontation in April 2016, which was the deadliest since 1994, killed more than 200 people, mostly military personnel. Since then, both sides have increased their combat capabilities, making some more confident in the possibility of a military solution. In the event of renewed clashes, the number of victims, primarily among the civilian population, could well be much larger than in 2016. About 300,000 people live in the 15km-wide zone along the Azerbaijani side of the Line of Contact. All of the Armenian settlements in Karabakh, which has a population of 150,000, are within reach of Azerbaijani missiles and artillery shells.
Even before the transition at the top in Yerevan, therefore, both sides must heed OSCE's call for restraint.
On the Armenian side, military commanders should abandon the discussion that has been taking place since late 2016 of "pre-emptive strikes" on Azerbaijani positions; this would likely lead to a serious escalation with heavy civilian losses. In Azerbaijan, politicians should end their routine calls for war. The idea that Armenia's current turmoil could be a military opportunity is an illusion: any escalation will quickly unite Armenians and lead to prolonged clashes. An effective preventive measure during the Armenian transition could be the establishment of an open line of communication between the military personnel of both sides. Once a new leadership is formed in Armenia, the parties should move to break the three-year deadlock in peace talks.