Vehicle and stabbing attacks in central London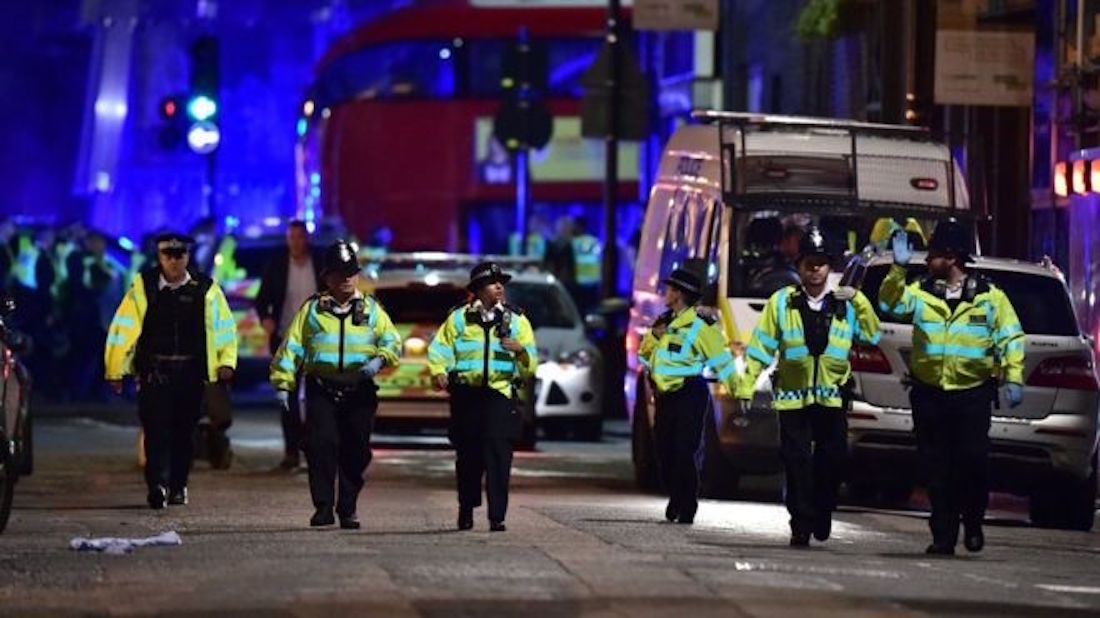 Six people were killed and at least 48 others injured in a rampage that took place in central London last night.
A speeding van plowed into a crowd of pedestrians on the London Bridge, before three men jumped out of it and started stabbing people with knives at the nearby Borough Market.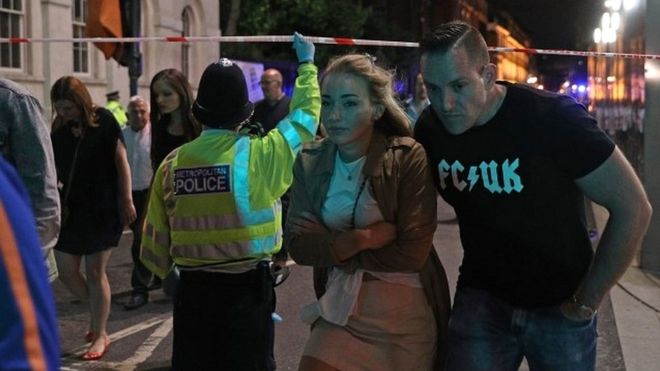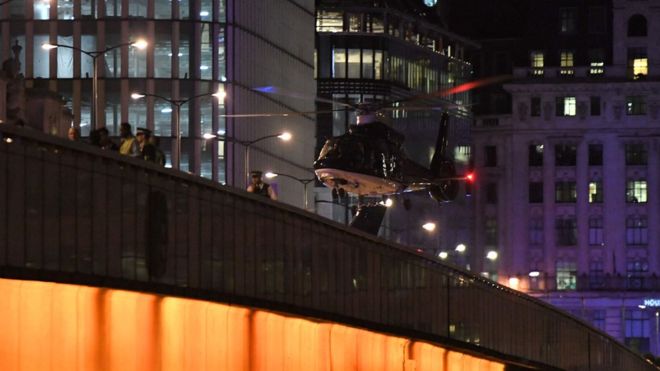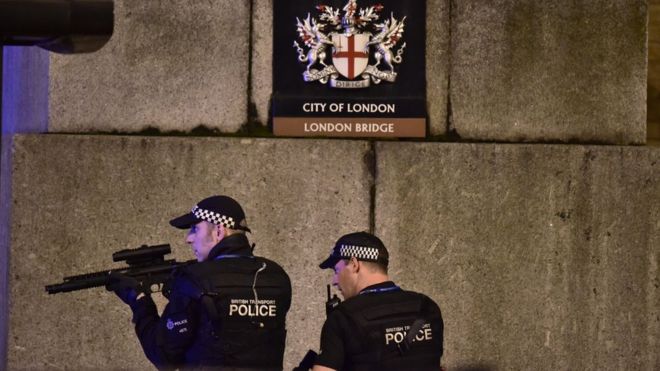 All three suspects were shot dead by the police.
One of the suspected attackers: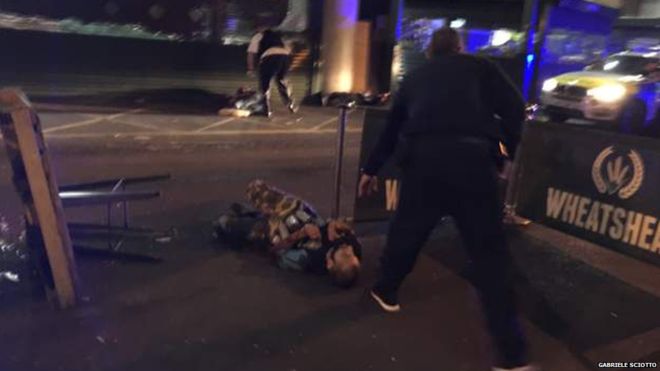 The London police have confirmed they are treating the incidents on the London Bridge and Borough Market as a terrorist attack.
"I saw a man being stabbed"
Natalie and Ben were coming up to the entrance of the underground on Borough High Street when they saw lots of people running.
The married couple witnessed someone being stabbed.
Ben said: "I saw a man in red with quite a large blade, I don't know the measurement – I guess maybe 10 inches. He was stabbing a man… he stabbed him about three times fairly calmly.
"It looked [like] the man had maybe been trying to intervene but there wasn't much that he could do, he was being stabbed quite coldly and he slumped to the ground.
"The attacker and another man walked off quite "boldly".
"A table was thrown, a bottle was thrown at the individual with the knife and then we heard three gunshots and we ran," he added.
"She was bleeding heavily form the neck"
Alex Shellum was in a pub close to London Bridge with his girlfriend and two friends at the time of the incident.
"At around 10pm an injured woman came into the pub seeking assistance. She was bleeding heavily from the neck and from her mouth," he told BBC News.
"It appeared to myself and to my friends that her throat had been cut. People went to her aid."
He said the pub was then closed and armed police told them to leave the area.
He said: "I could see on my left another individual was having CPR performed on them by emergency services."
"About 50 police were pointing guns at us"
Kumi de Costa was caught up in the incident along with her two friends at Borough Market. She told the BBC what she saw:
"The cab driver turned into the market and we got stuck right in the middle of the shooting. We were in a one-way street and couldn't turn around.
"There were loads of shots being fired. Two people were on the floor behind the church with two or three people leaning over them.
"About 50 police were pointing guns at us – the cab driver had a laser pointed right at them, our hands were up, we were trying to get out so they shooed us away.
"A man was coming out of the restaurant, he had a napkin on his neck with blood pouring out, there was another man lying on the floor. I don't know if he was in a recovery position or dead.
"We weaved through little side streets where the police were telling us to go to Blackfriars Bridge and we could see people looking over the side; people had maybe jumped over the bridge.
"A couple of times we had to lie down on the floor of the cab because of the shooting around us."
US president Donald Trump responded to the attack by touting his so-called travel ban. "We need the Travel Ban as an extra level of safety!" he wrote on his personal Twitter account, sparking a wave of criticism from social media users.
Minutes later, he tweeted, "Whatever the United States can do to help out in London and the U. K., we will be there – WE ARE WITH YOU. GOD BLESS!"