Russian billionaire Alisher Usmanov sues Georgian bank that froze his assets
Usmanov sues Georgian banks
Metalloinvest, a company owned by Russian billionaire Alisher Usmanov, has filed two lawsuits against Georgian banks the National Bank of Georgia and Liberty Bank. The company kept several million euros in Liberty Bank, but lost access to them due to US sanctions. Metalloinvest's lawsuits mention that Liberty Bank imposed more restrictions on the Russian businessman's company than the US sanctions required, and the reason for this is the vagueness of Georgian legislation.
What is the Metalloinvest company?

Metalloinvest is a Swiss company that was included in the US sanctions list because it is a subsidiary of the Russian investment holding company USM.
49 percent of USM is owned by Alisher Usmanov, a Russian billionaire of Uzbek origin. Usmanov is a Russian citizen. The American magazine Forbes estimates his fortune at $14.5 billion.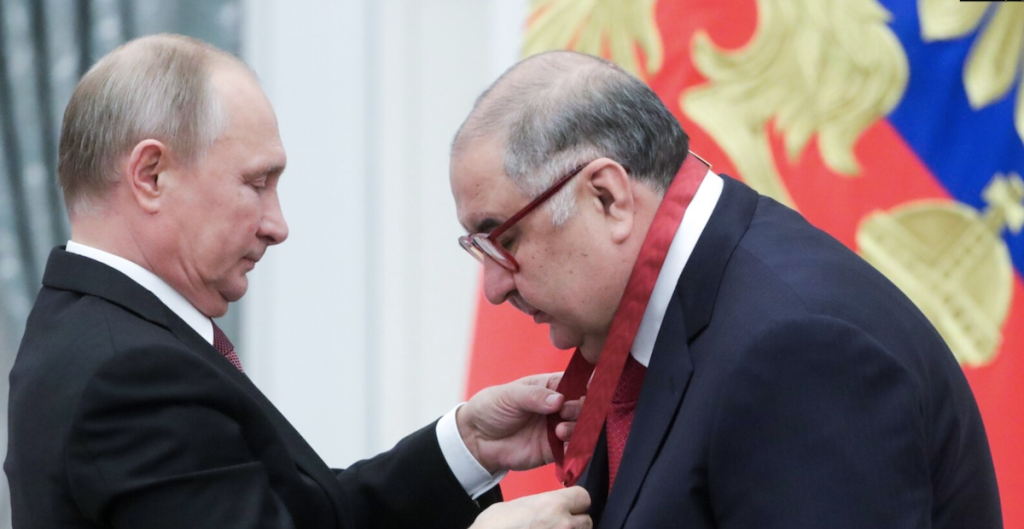 On April 12, 2023, the US imposed new sanctions on Russian entities and individuals. The target of these sanctions were companies and people associated with Usmanov, including also subsidiaries of Metalloinvest. The US Treasury Department issued a license to halt related transactions until July 11.
Usmanov's real estate in the European Union and the UK was seized, as well as the Dilbar yacht owned by businesses associated with the businessman.
In an interview with Italian publication Corriere della Sera, Usmanov did not condemn Russia's invasion of Ukraine, but did not support it either, expressing hope for an end to hostilities. He appealed in court against the sanctions imposed on him by the European Union.
What are Usmanov's lawyers unhappy about?

Usmanov's interests in Georgia are defended by the Georgian law firm MKD Law, which prepared the lawsuits against the banks. This is the firm that represented the interests of former Georgian Prime Minister Bidzina Ivanishvili in the case against the Swiss bank Credit Suisse.
As MKD Law representative Sandro Samadbegishvili explains, Usmanov has long kept money at Liberty Bank in Georgia, but in April he was completely restricted from accessing his own assets.
"The amount is quite large – several million euros," Samadbegishvili told BMG News Agency.
MKD Law lawyers argue that the problem lies in existing gaps in Georgian law regarding sanctions; the National Bank and Liberty Bank relied on an "insufficient regulatory framework" to impose sanctions on Usmanov.
"We found that this legal basis for such actions was insufficient. At that time, there was no regulatory document published by the National Bank indicating that sanctions were being implemented in Georgia. Liberty Bank told us that they received a written instruction from the National Bank by e-mail, but this document was not provided to us," Samadbegishvili says.
According to the lawyer, the only regulatory and published document the National Bank has received is a one and a half page order published in August.
"There is one article in this order, which says that commercial banks are obliged to comply with US, EU and UK sanctions," Samadbegishvili explains.
According to him, there is "no law or even a court decision in Georgia saying that this sanction should be applied to this person."
"There should be a law, not just an order from the president of the National Bank… Commercial banks should be given clear instructions to act. When the regulator only orders a commercial bank to comply with the sanctions imposed by the US, EU and UK, you put a big burden on it."
Response of the National Bank and Liberty Bank
After the case became public, Georgian opposition politicians pointed out that US sanctions against Usmanov went into effect in March 2022, while access to his assets in Georgia was restricted only a year later, in April 2023.
The opposition accused the government of creating special conditions for the Russian billionaire.
Liberty Bank responded to this accusation on November 7, explaining that Usmanov was under direct sanctions from March 2022 to April 2023, and the specific company associated with him was included in the sanctions list only in April 2023, so it was from that date that the company's activities were frozen.
Acting President of the National Bank of Georgia, Natia Turnava, also rejects accusations that special conditions were created for Usmanov. She notes that the very existence of this lawsuit shows that Georgia is not ignoring international sanctions.
"This dispute proves that Georgia will never allow our financial system to be used to circumvent sanctions, our National Bank and financial system adhere to international sanctions," Turnava said.
According to her, documents on Alisher Usmanov's lawsuit were recently submitted to the National Bank, the bank's lawyers will familiarize themselves with the lawsuit and prepare a defense.
"We will defend our positions in court. This is a reality, court proceedings are not new to us."
Usmanov sues Georgian banks