Transgender woman attacked in Tbilisi
Miranda Pagava, a 23-year-old transgender woman was beaten in Tbilisi.
She reported the attack on her Facebook page. In her words, the incident took place in the early hours in near Vake Park in the centre of Tbilisi. As she got out of a taxi to exchange money, an unknown man who was sitting in a car in the vicinity spotted her and started complimenting her. Then he insisted that she should go with him. After she refused the man started yelling at her, making inquiries about her biological sex. Finally, he attacked the woman.
Miranda Pagava posted her photo on her Facebook page: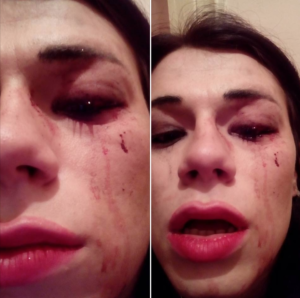 In her words, she sought help in a nearby shop, but none of the shop staff helped her.
As she told Rustavi 2 TV, it wasn't the first case of violence against her and other transgender women. In her words, she finds this situation unbearable and therefore she is going to leave the country.  
"I've got a university degree, but I would like to take an additional law degree course and build a career in that particular field. People show aggression towards me because of my gender identity. Due to that I can't find a job, and that despite my academic background and skills. In the near future I am going to apply for refugee status in a European country. I don't have enough strength to deal with so many 'toxic people'," she told Rustavi 2 TV.
The Ministry of Interior has launch an investigation into the case under Article 126 of the Criminal Code of Georgia ('violence'). According to Pagava, the person who attacked her has been arrested.
Georgia is one of a few post-soviet countries where discrimination against LGBT community members has been banned at the legislative level. However, that doesn't save them from violence and oppression.
It's not the first time a transgender woman had been attacked in Georgia. Four transgender women were physically abused in the centre of Tbilisi in February 2017. The women were attacked by 10 men, who were armed with batons, sticks and stabbing weapons.
Zizi Shekiladze, a transgender woman was attacked in Tbilisi in October 2016. She was taken to hospital, but the doctors failed to save Zizi's life. She died in the hospital a month later. 
23-year-old Sabi Beriani was found dead in a rented apartment in one of the districts in Tbilisi. An investigation indicated that the woman died from stab wounds.