Traitors. Or victims?
The scandalous trial of the Pukhaev bothers is coming to the crunch in South Ossetia. They were arrested by the South Ossetian KGB in June 2014. Having lived in Georgia for many years, they returned to Tskhinval to bury their mother, in order to execute her will.
Igor and Batyr Pukhaev, natives of Tskhinval, faced charges under two articles of the Criminal Code of RF–forcible seizure of property and high treason. The indictment of the Pukhaevs' case was ruled on Tskhinval City Court on October 27, 2015. The court proceedings began in January this year. However, on March 10, Igor Pukhaev, one of the accused, was pardoned by the President of South Ossetia, Leonid Tibilov, and extradited to the Georgian authorities.
Therefore, only one of two brothers, Batyr Pukhaev, a former member of the parliament of RSO, expects a verdict in the dock.
Who are the Terrorists' Accomplices?
According to materials submitted to the court, Batyr and Igor Pukhaev "are accused of committing premeditated crimes, namely, of collaborating with the provisional administration, headed by Dmitry Sanakoyev, formed by President of Georgia, Mikheil Saakashvili. According to data from an investigation, the Pukhaev brothers went over to the Georgian side and supported activity of Dmitry Sanakoev's provisional administration, which is considered a terrorist organization in South Ossetia.
JAMnews dossier
The provisional administration of South Ossetia was formed in May 2007 with direct participation of then-President of Georgia, Mikheil Saakashvili, in Tbilisi-controlled territory during the Georgian-Ossetian conflict, where Georgian villages were located. Dmitry Sanakoev, 38, won the elections, conducted in that territory. It should be noted that previously, Sanakoev had been one of the heads of the law-enforceement agencies in Tskhinval. Georgia considered that project and Sanakoev, himself, as an alternative to the November 2006 presidential elections in South Ossetia, that were not recognized officially by Tbilisi. Eduard Kokoity was re-elected in those elections.
The provisional administration held an "alternative referendum in its territory at the time when Kokoity confirmed his previous course of action aimed at independence from Georgia. During the referendum, 94% of Sanakoev's electors supported the confederative agreement with Tbilisi. Gradually, the provisional administration's activities became more and more formal and ceased to exist after the Georgian-Russian war over South Ossetia in August 2008.
In 2015, the Parliament of South Ossetia begin to view the provisional administration's activity as terrorist in nature and as a threat to the national interests of the Republic of South Ossetia. South Ossetian authorities put Dmitry Sanakoev and his team the international most-wanted list. According to the prosecution's version, the Pukhaev brothers were members of that team and participated in the organization of those elections.
Will the President take his revenge?
In 2006, Igor Pukhaev ran a casino in Vlkadikavkaz; his brother, Batyr Pukhaev, was a member of the Parliament of South Ossetia. He openly stated that he did not consent to the policy of then-President of South Ossetia, Eduard Kokoity.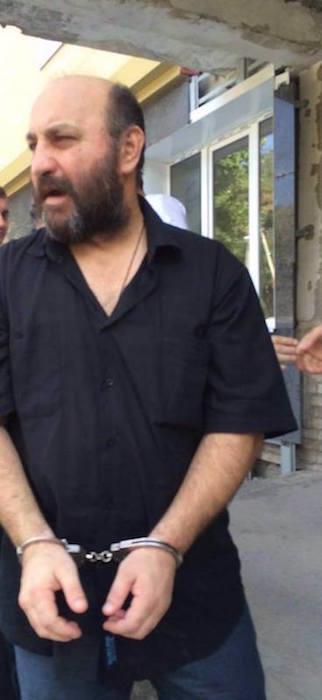 Igor Pukhaev
As Pukhaevs' relatives confirm, Eduard Kokoity started taking revenge on both brothers for their ties with Dmitry Sanakoev. Igor Pukhaev's gambling business was subjected to raids by North Ossetian Alania law-enforcement agencies and unsanctioned searches by South Ossetian law-enforcers.
An ordinary dispute between Batyr Pukhaev and then-Minister of Interior of RSO, Robert Guliev, became a key moment of that story. According to witnesses, they fought and on that same day they made peace. Nevertheless, Batyr and his younger brother, Inal, were captured by the law-enforcerment, severely beaten and thrown somewhere in the vicinity of Tamarasheni village, which was part of an enclave controlled by Tbilisi authorities. It is noteworthy that in 2006-2008, Dmitry Sanakoev's provisional administration was active in another village, Kurta.
Georgian police picked up Batyr and Inal Pukhaevs, they were given medical aid.
Shortly thereafter, Batyr and Igor Pukhaevs moved to Tbilisi and soon both were given posts in Sanakoev's administration. Inal, their youngest brother, moved to Russia, but later on he returned to Tskhinval. He has been living there ever since and has not had any problems with South Ossetian authorities.
In June 2014, Batyr and Igor Pukhaevs went back to South Ossetia. Their mother, who had lived with them in Tbilisi, died and her last will was to be buried in her in her historic homeland.
The Pukhaevs' return was negatively received by many, as they were regarded as traitors. On the very first day of their visit in Tskhinval, one of Pukhaevs' neighbors fired at their house with an automatic sub-machine gun. The neighbor was detained by the MoI, but was released on the same day. As for Pukhaev brothers, the Special Service officers took them to South Ossetian KGB.
They were allowed to attend their mother's funeral under an armed guard. Then the brothers were detained again. Shortly afterwards, the Pukhaev brothers were brought up on three charges: terrorism, seizure of property and high treason (the terrorism charge was later dropped).
Strange trial, unexpected release
The Pukhaevs have been in custody one year and nine months in total. It's a closed-door trial. Lawyers with Russian citizenship were not permitted to defend the Pukhaevs. Relatives were repeatedly recommended to use the services of lawyers residing in Tskhinval and having South Ossetian citizenship.
According to the Pukhaevs' relatives, as it is pointed out in the prosecution's materials, Igor and Batyr Pukhaev, allegedly consulted the Georgian defence leadership when elaborating the Tskhinval seizure scenario. The defense believes these accusations are false and calls them an absurd.
RSO President, Leonid Tibilov's, March 10 decree on pardoning one of the Pukhaev brothers,Igor, came as a surprise, especially in light of such a high profile trial. It is believed that Pukhaev's release was possible as a result of the agreements between Leonid Tibilov, the Abkhaz President, Raul Khajimba and the Georgian President, Giorgi Margvelashvili, for the exchange of prisoners, serving terms of punishment in the territories of these respective countries. The exchange took place on the Georgian-Abkhaz border on March 10.
Batyr Pukhaev
In his interview to the "Ekho Kavkaza (Echo of the Caucasus) , Batyr Pukhaev reported that he had been offered to consent to amnesty for health reasons, but he rejected the proposal, since he considered himself not guilty. He intends to prove his innocence in court.
According to Irina Elbakidze, Batyr Pukhaev's lawyer, his trial draws to a close. Both sides are expected to start debates on April 14.
The opinions, expressed in this article convey the author's views and terminology do not necessarily reflect the views or opinions of the editorial staff.
Published on: 13. 04. 2016