"Today we are the main target" - Georgian journalists found themselves at the forefront of political struggle
For more than a week in Tbilisi, in front of the Georgian parliament, rallies have been held demanding the resignation of Prime Minister Irakli Garibashvili.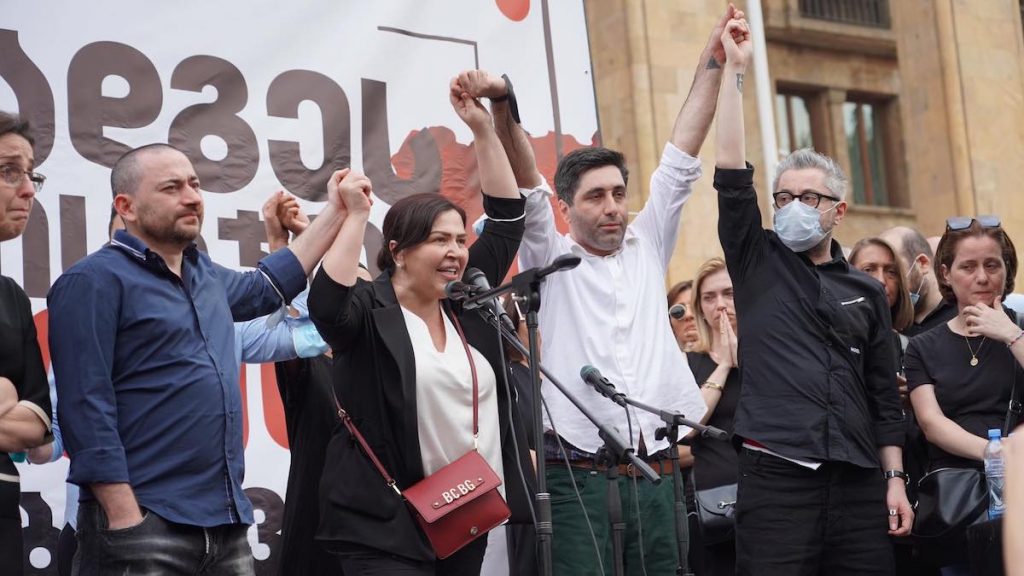 The series of protests began after Lekso Lashkarava, cameraman of the TV Pirveli, died on July 11. Six days prior to his death, Lashkarava was severely beaten by opponents of LGBT's March of Dignity. Lashkarava was attacked while filming the violence of the far-right groups on July 5.
In Georgia, no one is surprised by the crowded rallies demanding the resignation of the government but this time the protest is unique as it is not organized by politicians or activists but by representatives of the media.
---
_____________________________________________________________________________
The harsh statements in front of the rostrum are made not by political opponents of the authorities but by journalists. They demand the resignation of the prime minister, present ultimatums to the government, and declare that they will fight to the end.
How safe is the journalistic profession in Georgia today? How did journalists end up leading the political protest? How comfortable do they feel in their new role and what do they expect from this struggle?
JAMnews spoke with TV and online media representatives who are directly involved in the protest or sympathize with it.
❖ ❖ ❖
---
Inga Grigolia, host of the "Reaction" talk show of TV Pirveli channel. One of the organizers of the protest actions
---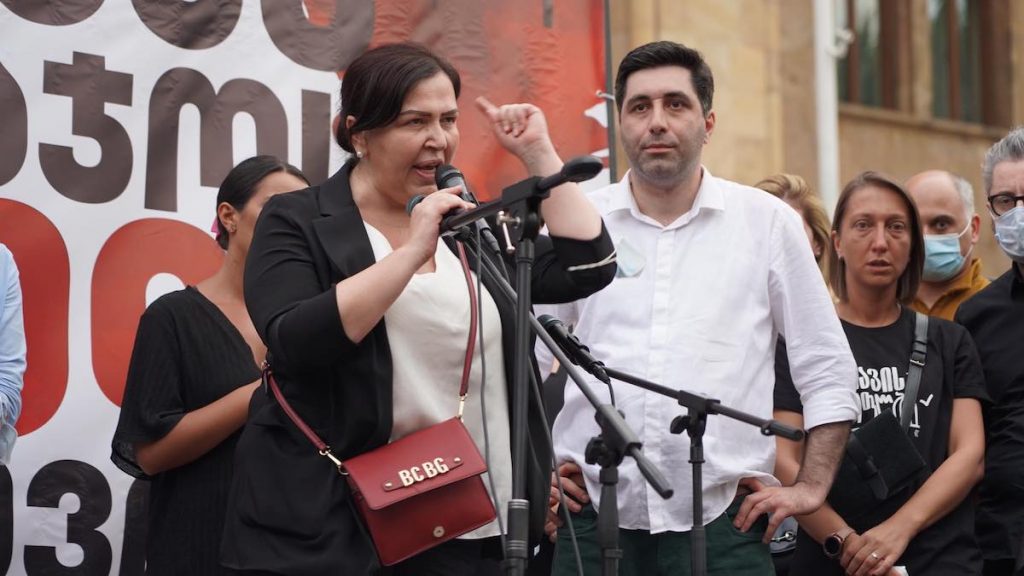 Is it normal when political demands are heard at a rally arranged by journalists ?! This is not normal, but it is necessary because this is the only way out of the chaos in which we find ourselves.
I consider the political demand of the media to be quite legitimate – the resignation of Prime Minister Irakli Garibashvili because what happened was encouraged by the government.
We do not want ministerial or deputy positions. We protect our colleagues. We have no other choice.
Personally, I am convinced that these aggressive groups are an underground subdivision of the ruling Georgian Dream party and not independent people who make their own decisions.
Before July 5, a friend called me and said that he accidentally watched Alt-Info [a small TV channel propagating conservative views] and one of the clergies there said that he would not allow Inga Grigolia and Nodar Meladze to "corrupt" the people [journalists – TV Pirveli]. What does it mean? This is a direct incitement of violence against journalists.
What has the government done? It accused us of speculating on the death of a colleague. There is no greater offense to a family of journalists than this.
---
---

The only thing I hope for is international resonance. The result of our street protests is that this story has generated such a strong response abroad, and I hope we win.
It is quite hard to surprise the journalist who witnessed November 7 [2007, when the special forces brutally dispersed the protests in the center of Tbilisi and smashed the Imedi TV company]. Back then I had to go to the hospital after people with truncheons had broken into TV channel studios. But what happened now was a special operation against the media in general, and not just one particular TV company.
I also see my great guilt in all of this. For a long time I gave air to the "other side", those who used violence against journalists on July 5, because I believed that my programs should be balanced. Then I realized that you can't have a relationship with these people at all.
The viewers may have many complaints about me, and indeed there are a lot of problems in the media. But in any case, no matter how many problems there are, the media today is much more dignified than political parties.
So many journalists were beaten, so many cameramen bled to death, and no one was held accountable. European ambassadors and diplomats have written to the government, and their letter says exactly what the media demands – legal and political responsibility.
All this is happening to us today, I still felt it on the Imedi TV channel after the Georgian Dream came to power [in 2012]. I had a program about Tskhinvali when the director called me and made a remark. Then I realized that a big Russian game was going on. How can you make a story about the occupation and get a remark for that?!
The only positive, if there is anything positive to be found in these events, is the unanimity of the mainstream media. If I get tired, my colleague will replace me, if they get tired, I will replace them.
The main thing is not to go over the edge so as not to harm our media. This government accuses us of supporting the national government [the main opposition party, United National Movement] and of us being biased. This is why it is so important to go the right way, and if we do it right, we will win.
---
Eka Kvesitadze, host of the "Evening – main events" and "Main events in the world" programs of the Mtavari Arkhi channel
---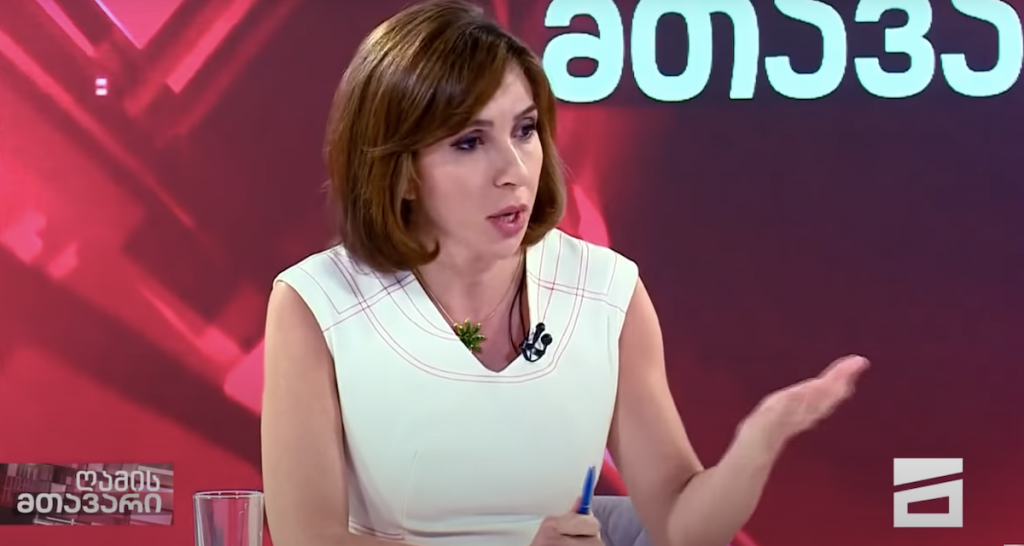 Journalists always feel the signals of aggression. This was especially felt by the journalists who go to the places where aggressive people gather.
At such rallies, there have always been attacks and insults against journalists and the attacks of the church is not new to us.
At the head of all this is the government. The only infrastructure that the Georgian Dream maintains in good shape is a propaganda machine that constantly spreads messages against the media.
Media to this government is like a bone in the throat. After the closure [change of ownership by court order – JAMnews] of the Rustavi-2 TV company, Bidzina Ivanishvili wanted to close all opposition media outlets. It didn't work out for him, so he started to fight them.
July 5 was the culmination of this fight. And still, I could not imagine that more than 50 journalists would get beaten up in one day.
After " cyanide cases " the media have become the main enemy of the church because the media exposed all the filth that happens in the patriarchy.
Behind all this is Russia which has used the main lever in the form of a church.
The Sirtskhviliya (Shame) movement, which was attacked on July 5 – is it an organization for the protection of LGBT rights? This is an organization created on June 20, 2019 during a protest against the arrival of Russian MP Gavrilov. The attack on Shame sheds light on who called these people to violence.
A syndicate was created – the Government, the Patriarchy, and Russia.
Now the majority of our citizens should have enough reason not to be fooled and join in this struggle with us.
Fortunately, the Western media has only one headline – Lekso Lashkarava was killed in an attack by armed groups.
I think this is the decisive battle. This is not a struggle between the authorities and the opposition. This is a confrontation between freedom and Russian authoritarianism, ignorance, and education, darkness, and light.
Now we must fight for our own safety because we are at great risk when we stand in the street with a microphone. Young people who wear bright clothes are in danger. Their own children, the children of those who are in power today, are in danger because no one knows what will happen tomorrow when their children go to the club or just walk down the street.
Vakho Sanaya, host of the Formula TV's news program and "Polimetr" program
---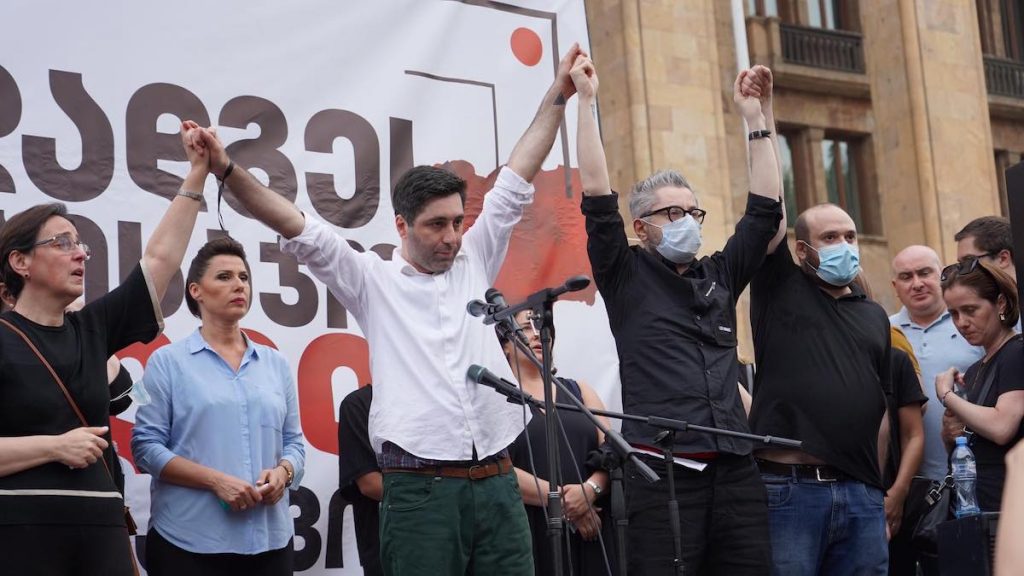 I do not remember such a mass demonstration of journalists on the street. We must make programs and broadcasts, and now we are standing on the street and demanding the resignation of the government. Is it normal? This is not normal, but the government has left us no other choice.
Our profession has already been taken away. Now the question is whether we will exist or not. There's no turning back.
Journalism is the only institution that hinders them today, so they launched investigations against absolutely all leaders of free media.
Georgian Dream absorbed Maestro TV company, closed Channel 9, established full control over Imedi TV, started the Rustavi-2 case, the case against the founder of Pirveli TV, etc.

I am the first supporter of media criticism. My job is to criticize, so criticism is welcome. But an organized assault that ends in murder is not criticism.
I got used to this since childhood and I know that it is not safe to do journalism. My family experienced this during Shevardnadze's time when my brother was killed. So I have developed my fighting ability and I know what I have to deal with.
Then I personally experienced pressure when I had to leave more than one TV channel during the rule of the National Movement.
_____________________________________________________________________________В
_____________________________________________________________________________
But what happens when the Georgian Dream is in power is another matter. The Georgian Dream has declared enemies everyone whom it considers to be obstackes on its way to strengthening its power. They divided society in half, into their electorate, and those outside of it – their enemies.
Georgian Dream openly declares: whoever does not vote for us is our enemy.
If we steal money and someone talks about it, they are the enemy. If someone criticizes our foreign policy, they are the enemy. Consequently, they created the image of an enemy for those who depend on the state and directly set them on this enemy.

How did the police treat journalists on July 5-6? They had a direct order not to interfere. The police cooperated directly with violent groups. In front of the police, they broke into the office of "Sirtskhvili", in front of them they beat Lekso Lashkarava.
This is no longer an attack on the media, this is already a bloody front. Journalism is no longer a risky profession, journalism is a deadly profession.
---
Zura Vardiashvili, editor-in-chief of the Public information-analytical website
---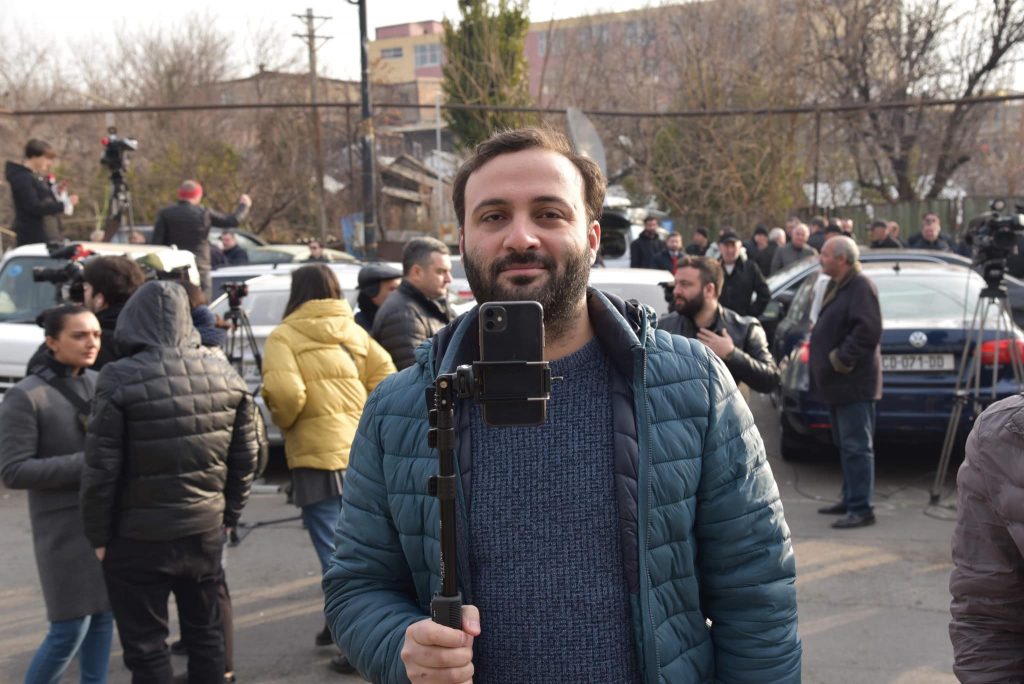 In general, journalism is an unsafe profession. Unfortunately, data is often published on how many journalists were injured, how many were killed, kidnapped, tortured, etc.
However, such incidents usually occur during wars and cataclysms or in countries where dictatorial regimes have been established.
Journalists do not need to take care of their physical safety on a daily basis, even in developing countries.
Now we are in a situation where it is not necessary to be in an extreme situation or to cover a war – you can stand on the street or in the corridor of parliament, identify yourself as a journalist, and feel a threat every minute.
Now we are all at the gunpoint.
Since the government has divided the media into pro-governmental and opposition, our life and work have become much more complicated. It was difficult to work with the authorities, to get comments from them, and gradually all this turned into a direct blow to the security of the media.
Before July 5, there were frequent attacks on journalists too – they attacked TV Pirveli, in Marneuli they attacked the journalist of Mtavari. They are especially aggressive against those they know. For example, against Vakho Sanay.
I often hear that Georgia cannot be "Iranized". Why can't this happen? We know many examples of how the regime suppressed the will of the people.
We may be defeated if we do not approach the problem judiciously, with a calm mind, and do not face a force that wants to silence us.
We must first survive physically, stay healthy, and then get out of this vicious circle. We need to get out of this hell.
---
Tazo Kupreishvili, editor of the online edition of Netgazeti
---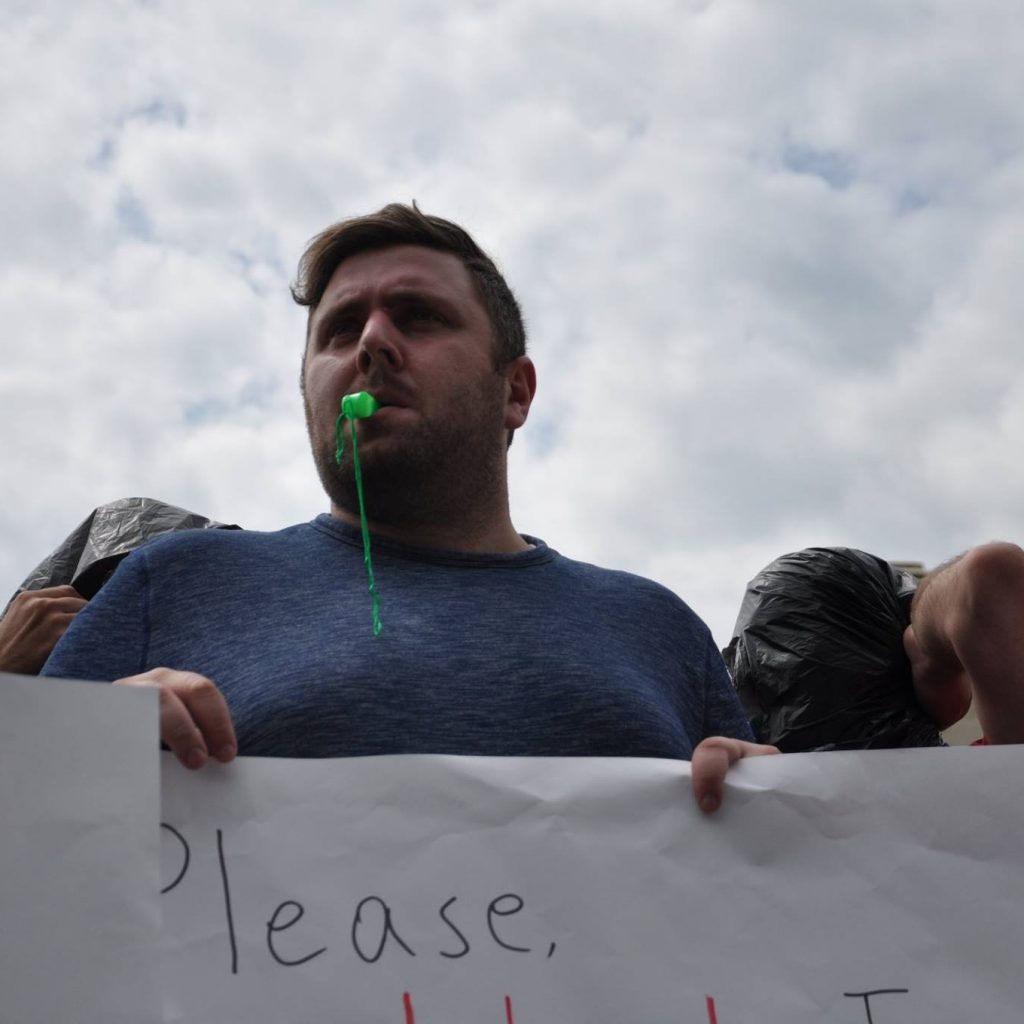 I cannot recall an incident where a group of rioters, provoked by the church and the state, attacked everyone who comes their way – even in Russia.
They beat everyone just because they were journalists. They also attacked the operator of the (pro-government TV company) Imedi. The operator of the Public Broadcaster was also beaten.
The only ones who worked safely were Russia Today, which broadcasted live, while all Georgian journalists were persecuted.
These people survived purely by accident. When 20 people hit one, do they really think that it will change one's outlook? This is literally attempted murder.
By some miracle, there are no more victims.
"The media deserve it because they are biased" is their argument. The media can have many problems, but the solution is not really to beat up and kill its representatives.
A person can take legal action if the media spread lies about them. They can turn to the Charter or turn to other media and prove their truth. There are many civilized means by which you can combat media bias.
I can't believe that at least one of my neighbors, dissatisfied with any media coverage, will come out to beat journalists. They will just switch to another channel, right?
I can't believe that there is such aggression towards the media in society. So I'm sure that it was artificially created. And it is quite clear that the perpetrators of this violence are those with political and financial interests.
This is an artificially created situation where now even relatives have to explain why media is important and why their existence is necessary.
We do not work for ourselves. We work for the community, don't we? After all, we have solved the problems of many people, we have improved the lives of many, the fate of how many unjustly arrested people have we changed, how many charitable actions have we started … Don't we benefit society?
I expected more solidarity. I did not see enough solidarity from the public, although I understand the skepticism towards us, as the government propaganda is so strong.
The question for us is to be or not to be.
Sometimes I wonder what would happen if the March of Dignity took place? Maybe these people would really die? The state refused to protect them, and we just happened to be there. We must not forget that homophobia is at the heart of all this.
---
Anna Gvarishvili. Editor of the online edition of "Tabula"
---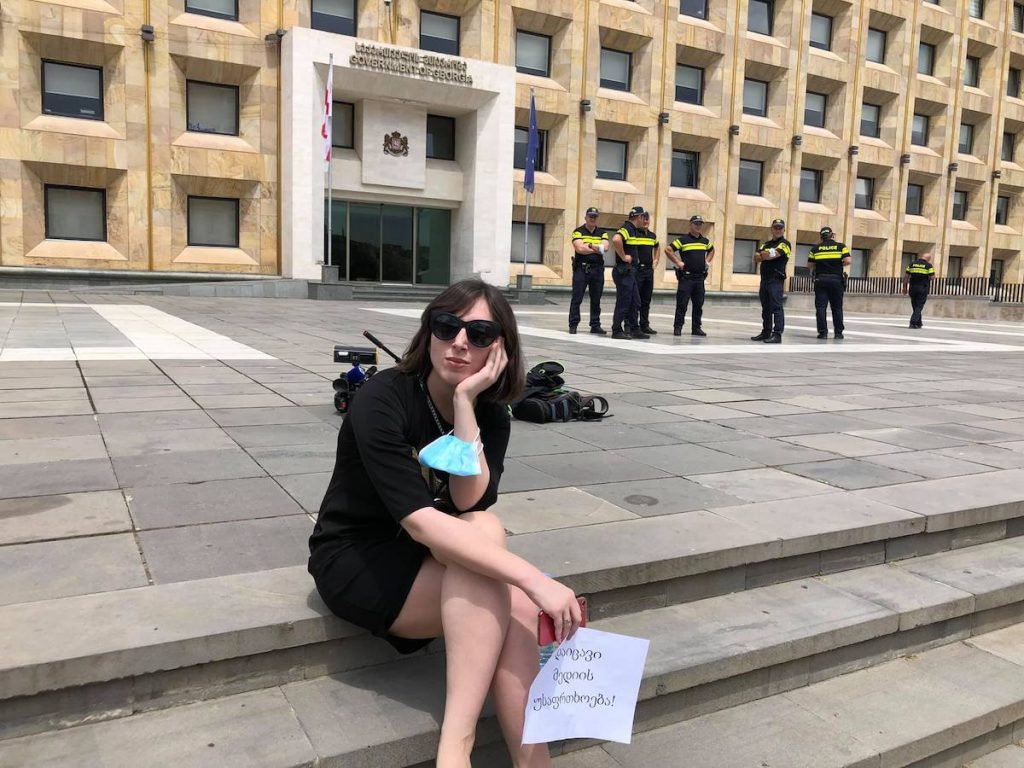 I was threatened many times by police or special forces but I always knew that I was a journalist and no one would touch me. "If someone touches a journalist, this will start an outcry" I reassured my parents when I found myself in the midst of events.
And now I am afraid that no one is afraid of the law.
The number of detainees is even less than the number of victims. What happened is the result of hatred, on the one hand, and the syndrome of impunity, on the other. When you arrest the culprit for just 24 hours and then release him on a travel ban basis, this is nothing more than an incitement to violence.
July 5 was shocking but not illogical. This was the culmination of a narrative spread by the government and the patriarchy against the media.
Previously, we were protected by a T-shirt with the inscription "Press". Now, on the contrary, it means that we are the main target of aggression. I'm very scared now, but at the same time, I really want to fight these people. My sole goal is to fight them.
If the government wanted, the march would be peaceful. If the government wanted, the patriarchy would not make such statements. On July 5, the authorities gave us an answer to all critical questions, articles, and stories.
Media is criticized, it does have a lot of problems. But why do we have these problems? Because we have no right to bold criticism. As soon as we criticize correctly, we automatically take the wrong side and are labeled as an enemy.
What happened on July 5 was the result of not bad but good media work.
Georgian media have never covered the Pride topic as correctly as this year. It literally stood up for freedom of expression. Journalists openly declared their position, and this became a pretext for aggression against journalists.
This story has taught us a completely different kind of solidarity with each other. For as long as I have been doing this, I do not remember such a unity of the media and this gives me hope.
In a country where the majority supports EU and NATO integration, it is impossible to have what we saw on July 5 win. I also think that the government will very soon see a negative result of it during the October elections, and on the other hand, we will see a decrease in the level of trust in the Patriarchate in opinion polls.
Giorgi Lomsadze, freelance journalist
---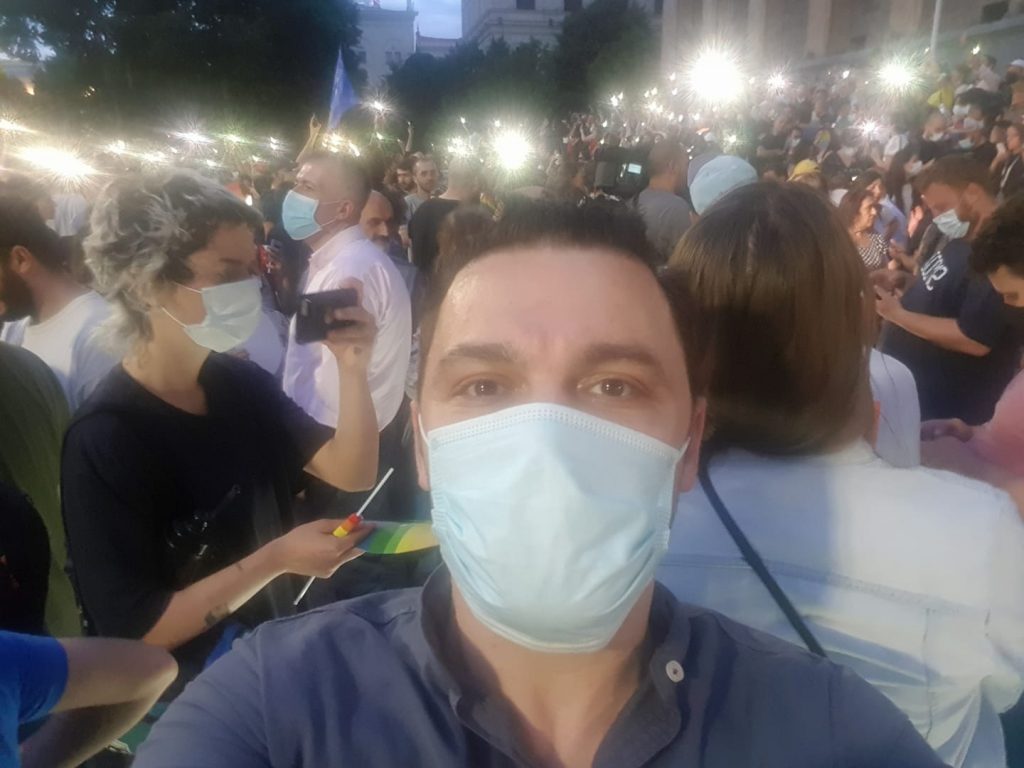 Whatever problem the media or any other group has, it doesn't deserve a violent reaction.
In this case, the aggression was directed against LGBT activists, and then against those who just happened to be there. They perceived the media as supporters of the LGBT community, because, fortunately, Georgian media openly advocates freedom of expression.
The police's misbehavior with criminals has been noticeable for a long time. They do not imprison those who need to be imprisoned, they do not punish those who deserve it.
We do not live in the space of a classical dictatorship, but for a journalist, it does not matter whether the government uses violence against him, or it allows other criminal groups to do it. The result is the same.
The government knew that there was a risk of violence, but no one in the government made clear statements that violence would not be tolerated or that all those responsible would be severely punished.
We have not seen anything like this. We haven't heard any warnings. We haven't even seen an attempt to prevent violence. Only now, several people have been arrested post-factum, although we do not know how long and adequate their detention will be.
The syndrome of impunity is just an incentive for the offender. We do not know how this aggression, which has now been sown, will accumulate and where it will be directed. Who will be attacked tomorrow? We have already seen how people dressed in bright clothes were attacked on the street.
Now the government must prove that in fact, it did not expect such an outcome, that it did not want it. It will only be able to prove it by punishing the guilty. This needs to be done very clearly and very soon. And not just one or two people, all organizers must be held accountable.
However, so far I have not seen any attempts to do this. I do not want to anticipate events, but I hope that international intervention will still bring results.
A crime should be called a crime, rapist – rapist, and victim – a victim.
For its part, it is always dangerous for the media to interfere with politics but now they are taking a defensive position and have no other choice. They see the attack and thus defend themselves. A non-standard situation gives rise to a non-standard reaction. Accordingly, their fight, in this case, is legal.
---
Khatia Gogoberidze, editor of On.g
---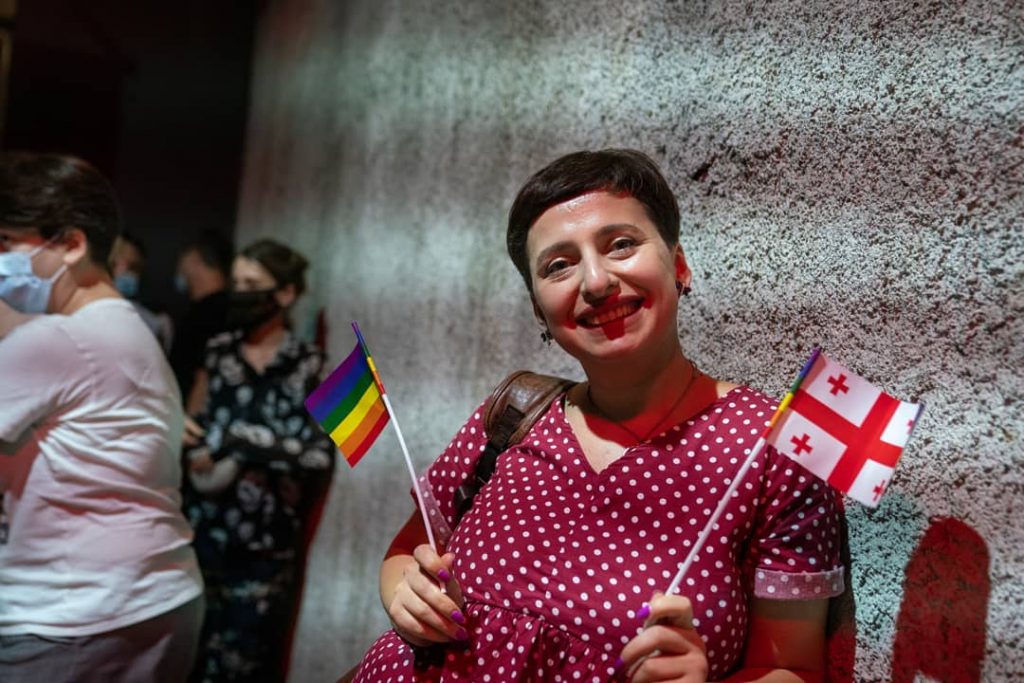 The first time I felt a distinct threat was in 2019. Then a march was supposed to take place, and homophobic, aggressive groups came out to Rustaveli Avenue. There was no room for peaceful citizens, so they gathered near the Freedom Square metro station. In the middle, as always, there were yellow buses.
I stood next to the peaceful demonstrators and worked from there. We stayed up all night and covered the events. In the morning, when the crowd on both sides thinned, I crossed to the other side to see what was happening.
My question about their plan of action was met with terrible aggression. I felt that if I asked anything else, they would hit me.
I turned to the police, who looked away and did not answer. It was already getting light, people were leaving, and I did not see other journalists around. Then I realized that it was better for me to leave.
I had a terrible feeling that I was not doing my professional duty. On the other hand, I thought I was doing the right thing because my job is not to get beaten up by someone.
I had a similar experience at the congress of the [pro-Russian] Alliance of Patriots Party the same year. I asked [deputy] Emzar Kvitsiani a question, and he came right up to me and was clearly ready to strike.
It's an incredibly intimidating feeling when you feel like you might get hit on your hand just because someone doesn't like the question you're asking, or just doesn't like the way you work.
The same situation occured in front of the Amirani cinema at the premiere of the film And Then They Danced.
Why? Because then, muck like now, they could not find a single like-minded fellow among the journalists and were unhappy about it.
I am on the side of human rights, and if the other side jeopardizes life and freedom of expression, I don't think one should be objective towards them. If I do not quote them in the article, it does not mean that I am a bad journalist.
Human rights cannot have a legitimate opponent. The other side is violence in all cases, so it should be called by its real name. We support human rights, and I do not want to hide that I stand on the side of equality.
The media worked well. It openly supported the freedom of expression of the LGBT community, and this annoyed them.
But who is to blame for what happened? This question does not undermine our impartiality. On that day, it was the government's duty to protect the people. Yes, the government must take responsibility because it encouraged criminals and did nothing to protect its citizens.
This is a political demand, but it is also quite legal.
I want to believe that the media protests will continue. There must be a protest every step of the way and if we do not give up this protest, we will definitely win.