Three HALO Trust employees killed, two more wounded in Nagorno-Karabakh landmine explosion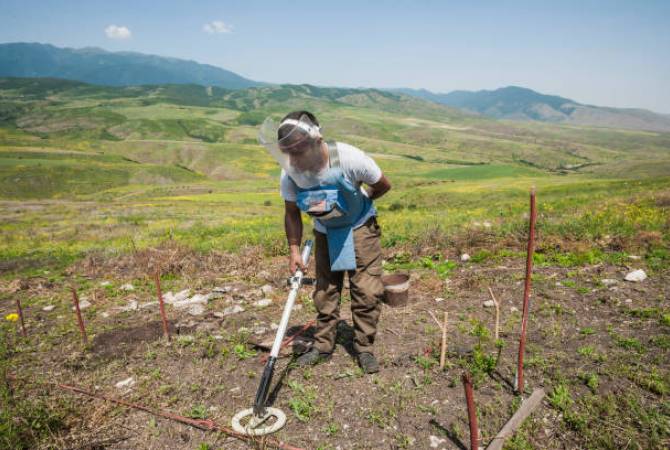 Photo: armenpress.am
Three employees of the HALO Trust de-mining organization were killed and two more were seriously wounded when an anti-tank landmine went off in Martakert district, Nagorno-Karabakh at noon. All the victims were local residents.
Employees of the HALO Trust organization, which has been conducting mine clearance operations in Karabakh for over 18 years were in a vehicle conducting surveys when the explosion occurred.
Two individuals were also wounded and have been taken to hospital with both requiring surgery.
The Nagorno-Karabakh authorities have expressed concern that there were still numerous mines scattered around the area which may cause casualties.
"The Karabakh population is still experiencing the consequences of war. Nagorno-Karabakh was one of the most heavily-mined areas, ranking among the world's top regions as to the number of mines per square meter. About 95% of minefields were cleared. However, there are still some places with landmines in the ground. It's almost impossible to clear all of the existing minefields in the region," said David Babayan, a spokesperson for the President of Nagorno-Karabakh.
In his words, some mines are located near populated areas such as in the fields. During the hostilities those areas, especially the Martakert district and the eastern part of the Askeran district, frequently passed from hand to hand, and were intensively mined.
James Cowan, the CEO of HALO Trust, commented on the incident as follows:
"Every day around the world more than 8 000 HALO staff go to work in places where no one else can tread, and this tragic incident throws into stark relief the dangers that they face and the importance of our work. Our colleagues were killed while working to make the land safer for the people of Nagorno Karabakh."
The HALO Trust currently employs 140 people in Karabakh.
Toponyms and terminology used in this article, and the views, opinions and strategies it contains don't necessarily reflect the opinions of JAMnews or any employees thereof. JAMnews reserves the right to delete comments it considers to be offensive, inflammatory, threatening, or otherwise unacceptable.