They do really care about us
Winter has come and caused greater number of calls for positive emotions in social networks. One can see more photos of cats and girls covered with shepherd's plaids. Everybody wants to feel warm and cozy and to be taken care of.
We've decided to find out how the state takes care of Baku residents, whether our souls will be warmed by the authorities' care this winter.
There is a predicted leader among the positive things, provided by our state.
1. "Asan khidmet (a new public service center in Baku)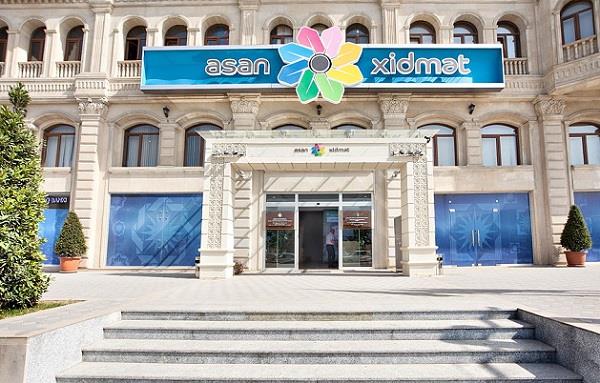 ASAN makes our life easier. People, who checked out, underwent registration, received passports or sold a flat under the "soviet procedures, cannot fully comprehend it. It took weeks of shuttling to out-patient departments, public utilities service providers and photographic studios to receive a necessary document. At present, all those bureaucratic procedures can be done in one "office. Here on can have a blood test taken, notarize a document, take one's photo and pay the state duty. Everything is done according to the fixed price list and one does not have to bribe anybody. Nobody will take extra money, you don't need to stand in queue, and you simply wait quietly in a comfortable armchair for your number to appear on the tableau.
2. Transfer of the beginning of lessons at schools to 08.00 a.m.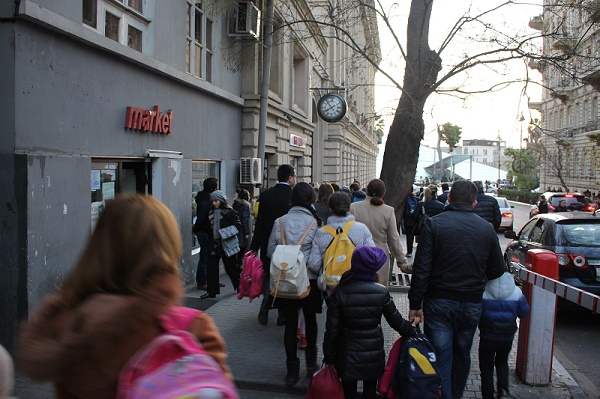 Who wants to get up at 6 a.m.? At first, some people were frustrated about this idea, thinking there were traffic jams in the center of the city. Later, it became clear that all those jams became surmountable, vehicles move, though slowly, and the main thing is that we do not risk to be overridden or get in the stampede as it was used to be before, even if we leave home half an hour ahead of beginning of the studies. The idea to ease a situation on the roads in the morning has justified itself.
3. New Baku Bus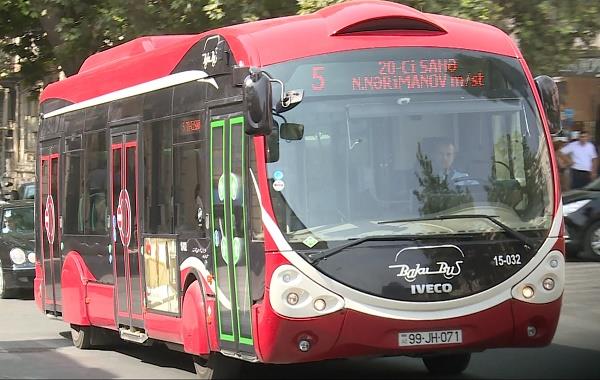 No matter how strange it may seem, many people are glad to see social stratification after these beautiful buses appeared. Those buses are mostly occupied by those, who possess transportation cards. Those people, whose brain can't comprehend the new order, wait for the "old type bus, where they will give cash to the driver.
The same concerns the on demand stops – new buses stop only at special bus-stops. Some citizens have an attack of claustrophobia, they hysterically cry and nock at the bus-door with the cash.
Loudly swearing, they get off at the bus stop, and never travel by such "dangerous transport.
New buses suddenly turned out to be a face-control party, where everybody enjoys communicating with lookalikes.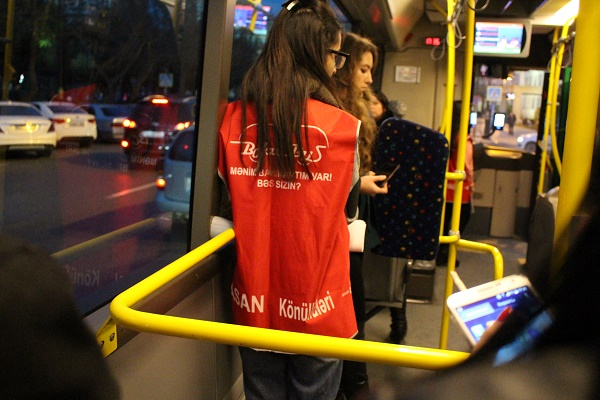 ASAN volunteers help people get accustomed to the new buses. Inscription on a vest: 'I've got a transport card and you?'

4. Drivers let people pass on street crosswalks
At first, the drivers were dully brought up, i.e. actively fined. There are rumors that special agents in civil cloths stepped on the crosswalks and if a driver did not stop, traffic police suddenly appeared and wrote a fine ticket. After this the crosswalks became secure and the divers – more polite.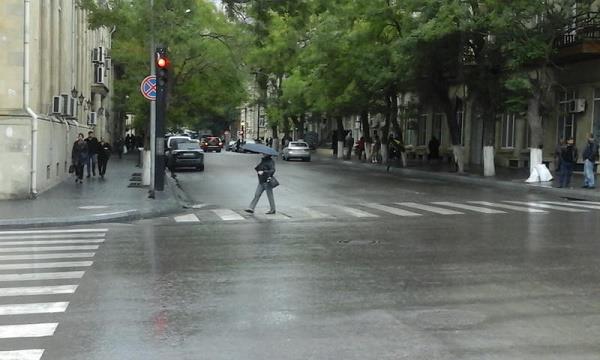 5. Scholarship
Now, the students, who pay the tuition fee, also get scholarships. Why not to extract this sum from the amount they pay for studies? Here the motivation factor exists – the scholarships are paid without deductions. Students are actually "earning for deductions. Besides, a scholarship is not just money, but also a pleasant attribute of the studentship.