Georgia: The state trading in girls
Another school girl has been kidnapped in Azerbaijani village on 28 April.
A 12th grader was kidnapped by a man for the sake of marriage in broad daylight, in Takalo village, Marneuli district.
The girl is 17 and the man is 10 years older than her. Police were searching in vain for the underage girl for two days. Afterwards, the kidnapper himself brought the girl home and told her parents that she had agreed to marry him and he hadn't forced her into that.
What happened next is what typically happens in hundreds of such cases – the girl's parents made a deal with the kidnapper and married their daughter off to him. The police concluded a procedural agreement with the kidnapper and then released him upon payment of bail. Meanwhile, the kidnapped girl's voice was never heard throughout this entire deal. It was just said that the girl had agreed to marry that man.
As a Georgian Interior Ministry spokesperson told JAMnews, the police questioned both the girl and the kidnapper: "Both of them said they had been in love with each other for 4 years and the man had come to her parents to ask for her hand in marriage on a number of occasions. Although the girl agreed to marry the man, the investigation into the case is still underway."
However, the kidnapped girl's sister had another version. As she told  human rights organizations, her sister wasn't going to get married and that she had been abducted.
It's not the first and probably will not be the last case when an underage girl is kidnapped and no one is held accountable for it. Marriage by abduction is a common practice in Azerbaijani villages in Georgia.
The 'marriage by abduction' statistics is rather deplorable:
According to the Ombudsman's Office, 4,599 girls in Georgia had quit their studies before they reached the 9th grade in 2011–2014. 611 Marriages involving underage girls were reported in Georgia in 2015; in 2014 – 655.
As is pointed out in the Ombudsman's 2016 report, relying on the Education Ministry's data, 408 school students, aged 13-17, quitted school due to marriage in 2015; the number of those who quitted their studies who were of legal age was 168.
However, this data may be inaccurate and the situation could be even more dramatic, since, as it has turned out, school principals and teachers in the municipal entities of Kvemo Kartli region, which has the highest early marriage rate in Georgia, don't track the number of school students quitting their studies due to marriage.
Early marriage is commonplace in the Kvemo Kartli region, which is densely populated by ethnic Azerbaijanis. Locals claim that it's part of the Azerbaijani tradition.
The law enforcers, who often ignore the Georgian legislation and turn a blind eye to this crime, also seem to be trapped by this tradition.
'Early marriage is violence against girls'; 'Don't marry off a girl to one more abuser' – several dozen people rallied with such slogans outside the Interior Ministry (MoI) building, on 30 April. They called on the Georgian MoI and the Prosecutor's Office to enforce the law and respond adequately to marriage by abduction cases in the Azerbaijani community.
"The Prosecutor's Office usually awaits a deal between the families and then releases the kidnapper on the basis of a procedural agreement. That's exactly what happened in this case. The police didn't search for that man. Then, when he showed up, they just interrogated and released him. Restriction of an underage person's freedom is punishable by the penal law – it's a crime," says Baia Pataraia, a human rights activist.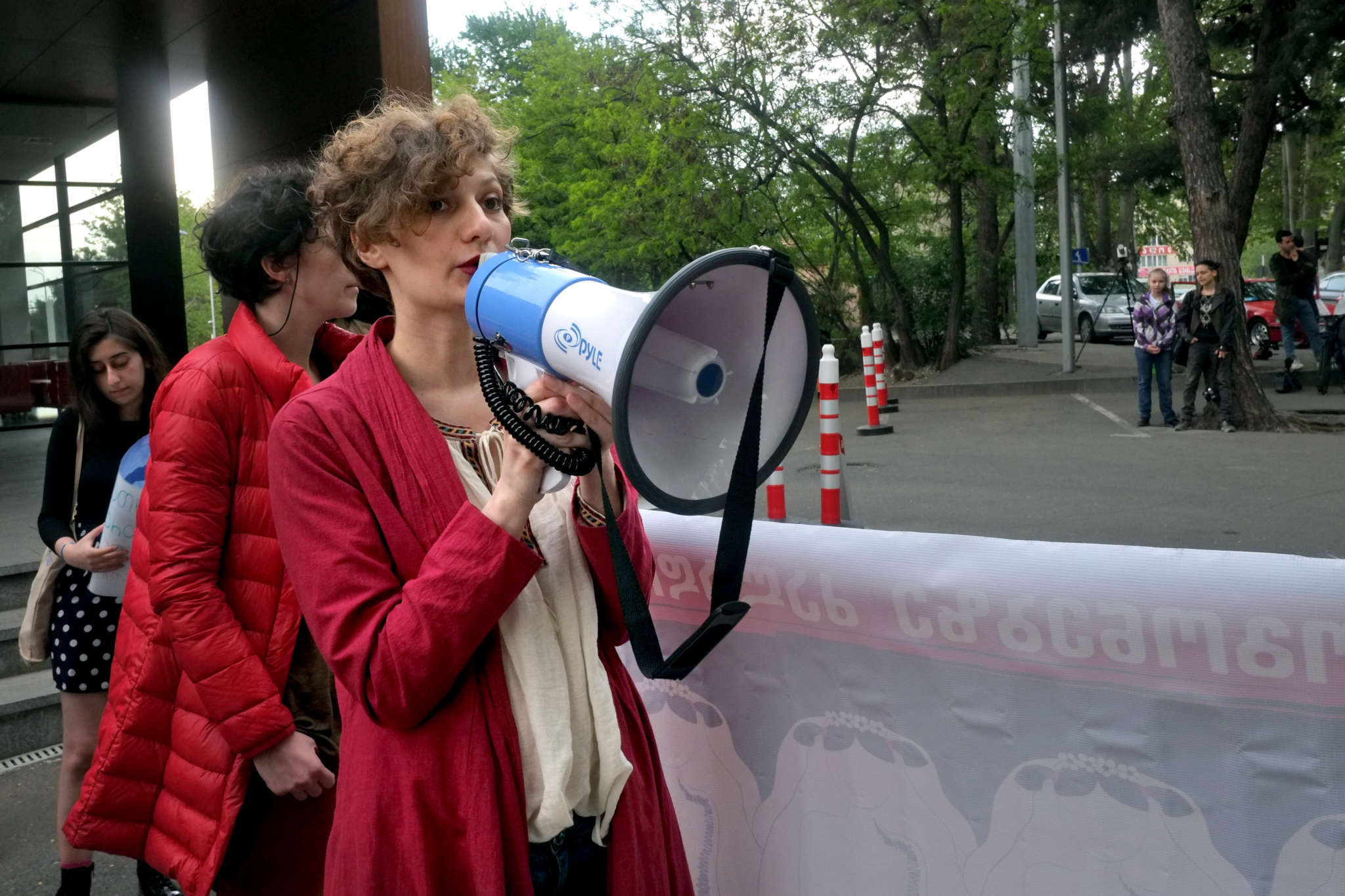 Georgian legislation provides for a rather strict punishment for individuals who have decided either to marry or engage in sexual intercourse with an underage individual:
Under Article 108 of the Civil Code of Georgia, entry into marriage under 18 is absolutely inadmissible
Illegal restriction of freedom is an offence pursuant to Article 143 of the Criminal Code of Georgia, which envisages punishment from 2 to 4 years in prison. The same act committed against a minor is punishable by 7-10 years in prison.
Sexual intercourse with a person under 16 shall be punished by 7-9 years in prison.
However, under Article 1501 of the Criminal Code of Georgia, the law-enforcers are entitled, upon consent from a kidnapped girl's family, to finalize the case by concluding a procedural agreement with a kidnapper and urge him pay a GEL 6,000 – GEL 14,000 fine.
That very article is frequently applied to by the law-enforcers. As a result, thousands of girls who enter into early marriage are deprived of their right to education. They have no profession. Consequently, they can't get a job and have to depend on their husbands and their families. Their freedom is restricted.
According to the United Nation's Population Fund (UNPF) data, 17% of women get married under the age of 18 in Georgia and most of them have no access to education after marriage.
The government that claims to be oriented towards inculcation of democratic principles in public, is actually facilitating the manifestation of various forms of violence against girls, thus turning into an accomplice to this crime – the human rights activists believe.
"The government actually sells them at a price of a fine imposed under the procedural agreement. Thus, the state budget is replenished at the expense of their abduction," says Anna Abashidze, a human rights activist, and Chairperson of Partnership for Human Rights NGO.
Abashidze pointed out to another important detail: alongside the gender aspect, the matter also concerns the violation of children's rights.
"Others create families with those underage girls. This is child exploitation. I can't recall any bigger crime than this."
Human rights activists claim that girls often become the victims of rape and sexual abuse, which they can't oppose and never openly speak about.
"A girl is neither supported by her family, which will not allow a kidnapped girl back home as it is regarded as shameful, nor by the state or public. Therefore, she has no other choice, but to accept her fate," says Gvantsa Khonelidze, a representative of the Women's Gaze NGO.