The Kafkaesque nature of crossing the border between Russia and Abkhazia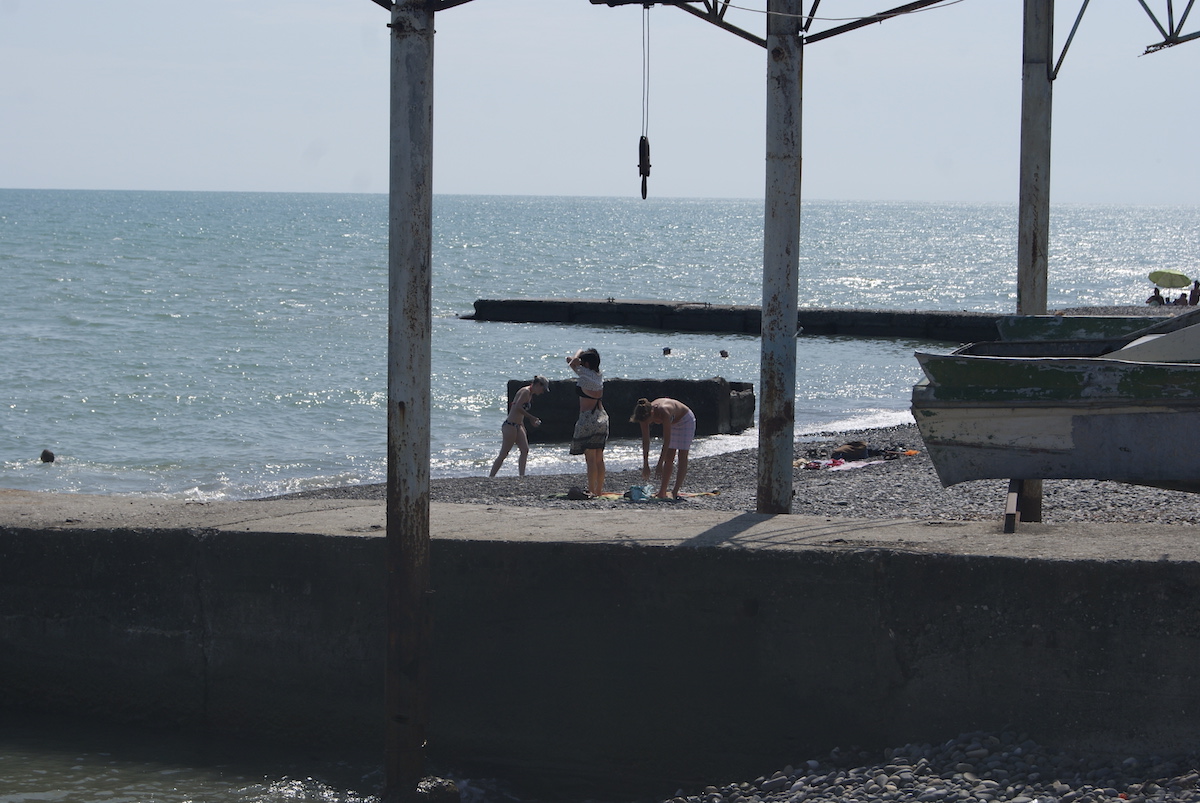 Problems encountered while crossing the border at the Psou river from Russia to Abkhazia have given rise to much public outrage. The Abkhaz authorities and the Russian embassy have now had to react to the issue.
JAMnews looked into the details regarding the matter.
This topic becomes an issue every summer in Abkhazia. People post photos depicting large queues on social networking sites, and write comments such as: "What hell!", "They're just mocking us!", and "When will this all end, where are the authorities' on this?".
Up until this year, the anger was confined to the internet. However, high-profile individuals in Abkhazia such as former Minister of Foreign Affairs Vyacheslav Chirikba, journalist Anton Krivenyuk and photographer Ibragim Chkadua have drawn attention to the problem this year.
All of them have had to deal with boundless rudeness and unprofessionalism.
A Kafkaesque story
The former minister of foreign affairs of Abkhazia, Vyacheslav Chirikba, wrote on Facebook that everytime he crossed the border over the Psou river, he has experienced 'psychological discomfort':
"This time, a border guard meticulously examined my internal Russian passport, which has a Moscow residence permit. She typed something in the computer, looked with suspicion at my photograph and then strictly ordered: 'Look at me!'

"She again compared my photograph to my face and said: 'I'm not convinced that this is you. What is the reason for your visit to Abkhazia?'
"In my passport, my Abkhaz last name and place of birth, Abkhazia, are clearly written. Why should I have to explain to her the purpose of my visit to my homeland?
"She called on her supervisor, who looked 'through' me, and then began to clarify something. He looked for something stubbornly on the computer, and then with apparent regret, and without looking at me, said I could pass through.
"There were of course no apologies, evidently I was supposed to be grateful that I was allowed through."
Chirikba adds that before this event, the same border guard had detained, at length, a few Russian citizens, including a mother and her two daughters who were about 6 and 12 years old who were going on vacation in Abkhazia.
"She typed away meticulously at the computer, carefully studied their documents, and harshly questioned the children about how old they were, who the woman was with them (their mother), what her name was, what their father's name was, what their address was and so on and so forth. And all of this when the woman and her children had all their official documents."
"I have crossed a number of borders throughout my life, including Europe, America, Australia and Africa. But I've never seen anything of the sort, anywhere. It is completely unclear what they are trying to achieve through their policy, through which Russian guests in Abkhazia are suffering just as much as citizens of Abkhazia."
Chirikba says that he has even discussed the problem with Sergey Lavrov, Russia's minister of foreign affairs.
Back to the 1990s?
The atmosphere at the Russian-Abkhaz border reminds journalist Anton Krivenyuk of the 1990s.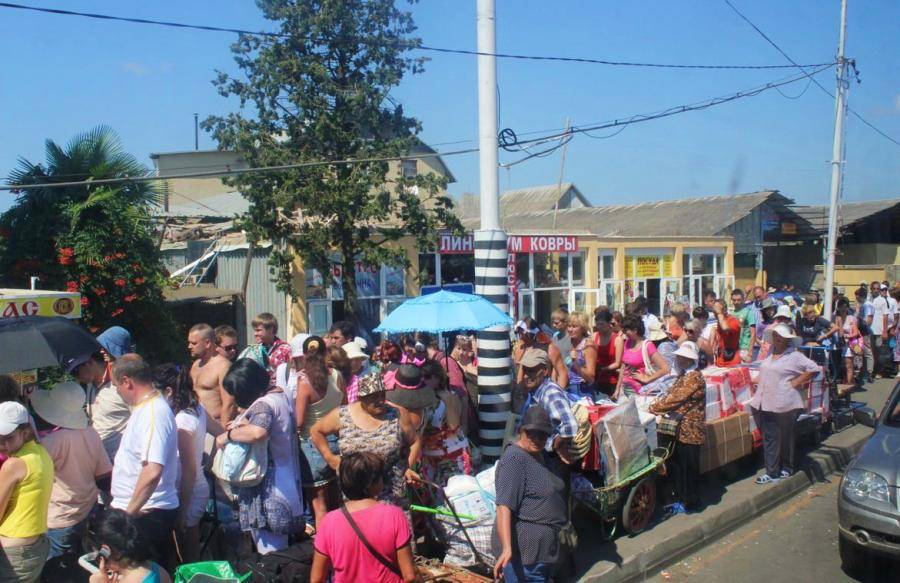 "Those around you [at the border] look like refugees trying to make it into the humanitarian corridor," he wrote in his article on EADaily.
"We were inside the building at the crossing point. There were only three counters open out of more than 10. They have so many people in front of them, probably hundreds.
"It's an immediately unpleasant surprise … the duration of document verification. There were two residents of North Ossetia in front of us, and they were taken away to check the validity of their Russian citizenship.
"There was also a child among us sleeping in someone's arms. The border guard was studying our documents at length: a Russian passport and a birth certificate. Three minutes go by, before he unexpectedly demands: 'Wake the child, I want to ask him his name'.
"The child was two years old and unlikely to be able to hold a dialogue with the border guard.
"Our nerves didn't hold out, so we demanded the name of the border guard. He presented only his badge number which we wrote down for our next address to the prosecutor's office. This woke him up. He returned our documents and we passed through," wrote Krivenyuk.
'Cattle Yard'
Photographer Ibragim Chkadua recently published a post in which he spoke about the difficulties that he came up against while trying to cross the border by vehicle:
"How many violations have they [actually] found, and is their questioning children, asking them their names and those of their parents, actually justified?
"Couldn't they at least install some pedestals so that mothers didn't have to hold their children in their arms at eye level after hours of waiting for the border guards?
"I'm not a fan of conspiracy theories, but [there is no way] this cattle yard, in which the border crossing is located, can be justified by any logical explanation. I have seen a fair number of border crossings, including Russian ones, but nothing of this sort. This is not the bearish corner of the Russian borderland. Such a level of chaos must be sanctioned."
'Putin must solve the issue'
Some social media users are no less angered by the mess, but take a lighter approach. Some typical comments:
"Do you remember how it was 10-15 years ago? We waited three hours, sometimes longer. We went from the bus stop through the 'Cossack Market', through the crowds and dirt, through the long corridor. Things have become a bit better, haven't they? There is an entire region on the Russian side, were buses have started taking you right up to the barrier. Everything is relative."
"Yes, sometimes their questions are incomprehensible. They asked me at border control why I had gotten a haircut. She [the border guard] asked me this question five or six times while looking at my passport."
"Such problems must be put before Putin by Khajimba [the president of Abkhazia]. There is no other way to solve this problem."
An unsigned contract
"I think it is completely ridiculous for two friendly and allied states such as the Russian Federation and Abkhazia to not have signed a document pertaining to border crossing issues," said Aleksey Dvinyanin, the Russian Ambassador to Abkhazia, in July 2018 during a meeting at the Public Chamber of Abkhazia.
Dvinyanin added that the Russian side handed over such a document to the Abkhaz side some four years ago.
"When you come to us with such questions and problems concerning border crossings, and we don't even have basic agreements signed for such issues, then what is there to talk about?"  Dvinyanin asked.
At the end of July 2018, the website of the presidential administration of Abkhazia published information about a meeting in which President Raul Khajimba stated that the border crossing problem should be resolved as soon as possible. According to Dvinyanin, Khajimba did not speak about the draft agreement mentioned by him.
Toponyms and terminology used in the article, and views, opinions and strategies they contain do not necessarily reflect the views and opinions of JAMnews or any employees thereof. JAMnews reserves the right to delete comments it considers to be offensive, inflammatory, threatening, or otherwise unacceptable.