The faces of the Syrian war
How do Syrian refugees live in Turkey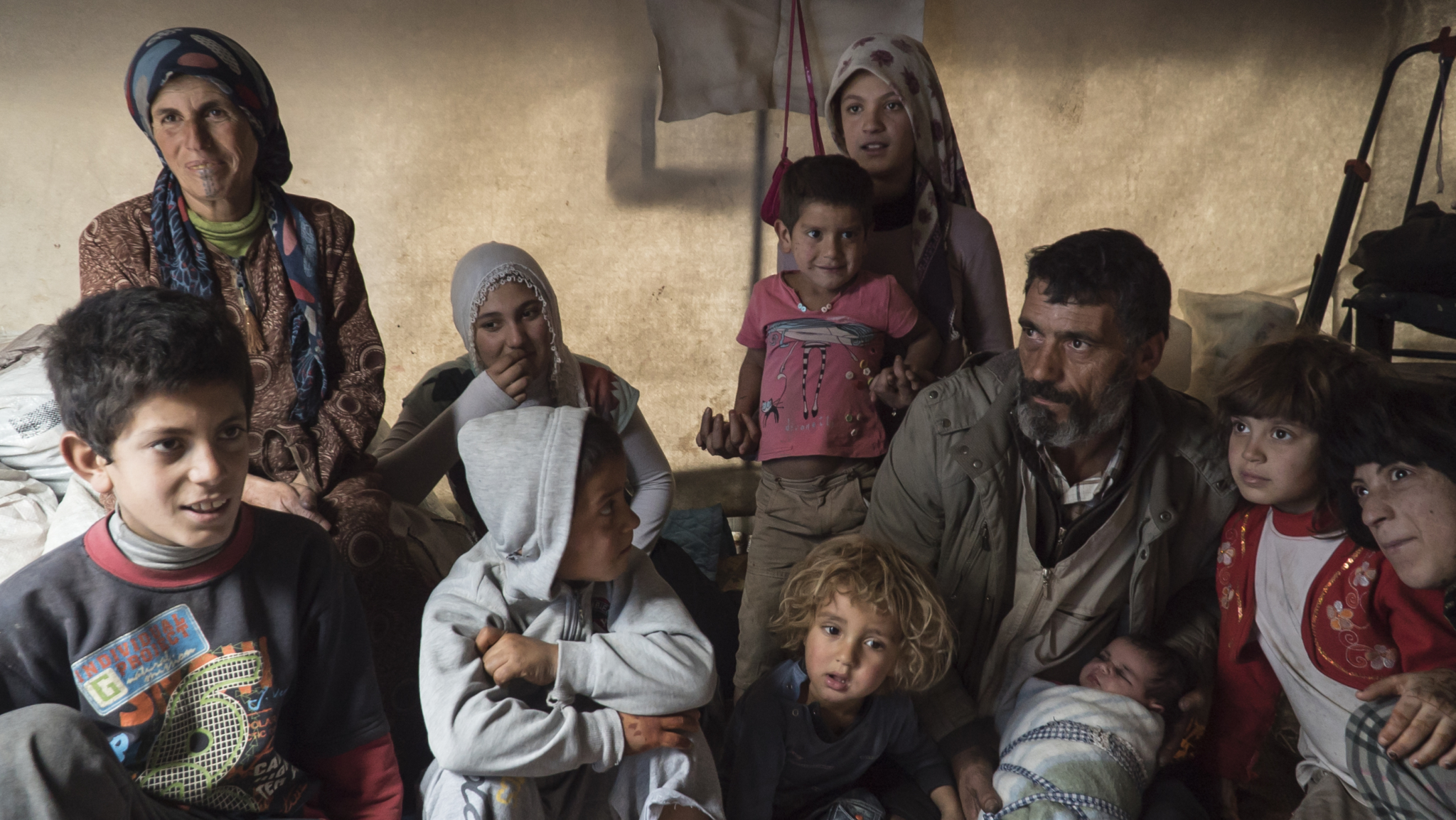 Hromadske, Nataliya Gumenyuk, Oleksandr Nazarov
A volunteer, who, after the 6-year war, has realized that she should first rehabilitate herself before helping others. A teacher of computer sciences, who plants trees in the bomb-destroyed city to make a place for return.  A young photographer, who has survived from captivity, and who intends to commit himself to youth anti-radicalization.  A 9-times operated girl, who has to quit school because of her classmates making fun of her scars.
The conflict in Syria began on March 15, 2011.
The war claimed lives of half a million people. For us Syria is associated with the reports on Islamists, distant and cruel murders, and apocalyptic shorts of bomb-destroyed cities. Except that this war is fueled by a familiar neighboring dictator.
This special coverage is about the faces of conflict–the Syrians, whose fates are so perceivable and worth making the movies scripts about.
"There are many cheap hotels in the city of Kilis, on the Syrian-Turkish border, were Jihadists used to settle. Urfa town [also referred to as Şanlıurfa] is located to the east of it.
Urfa lies on a straight road leading to Syrian Raqqa, the present-day capital of the Islamic State and the main transit point for the foreign insurgents.
"But if you want to tell about the protagonists of this tragedy, the Syrian civilians, they are in Turkish Gaziantep," explains a war reporter, who in due time used to be the only western journalist, permanently residing in Aleppo for a year.
The plane lands on a frozen strip in Gaziantep city airport, 120 kilometers away from Aleppo. It is surprising, how easy it is nowadays to get to the Syrian border, especially for the Europeans, who still come here, influence by the extremist groups' recruiters.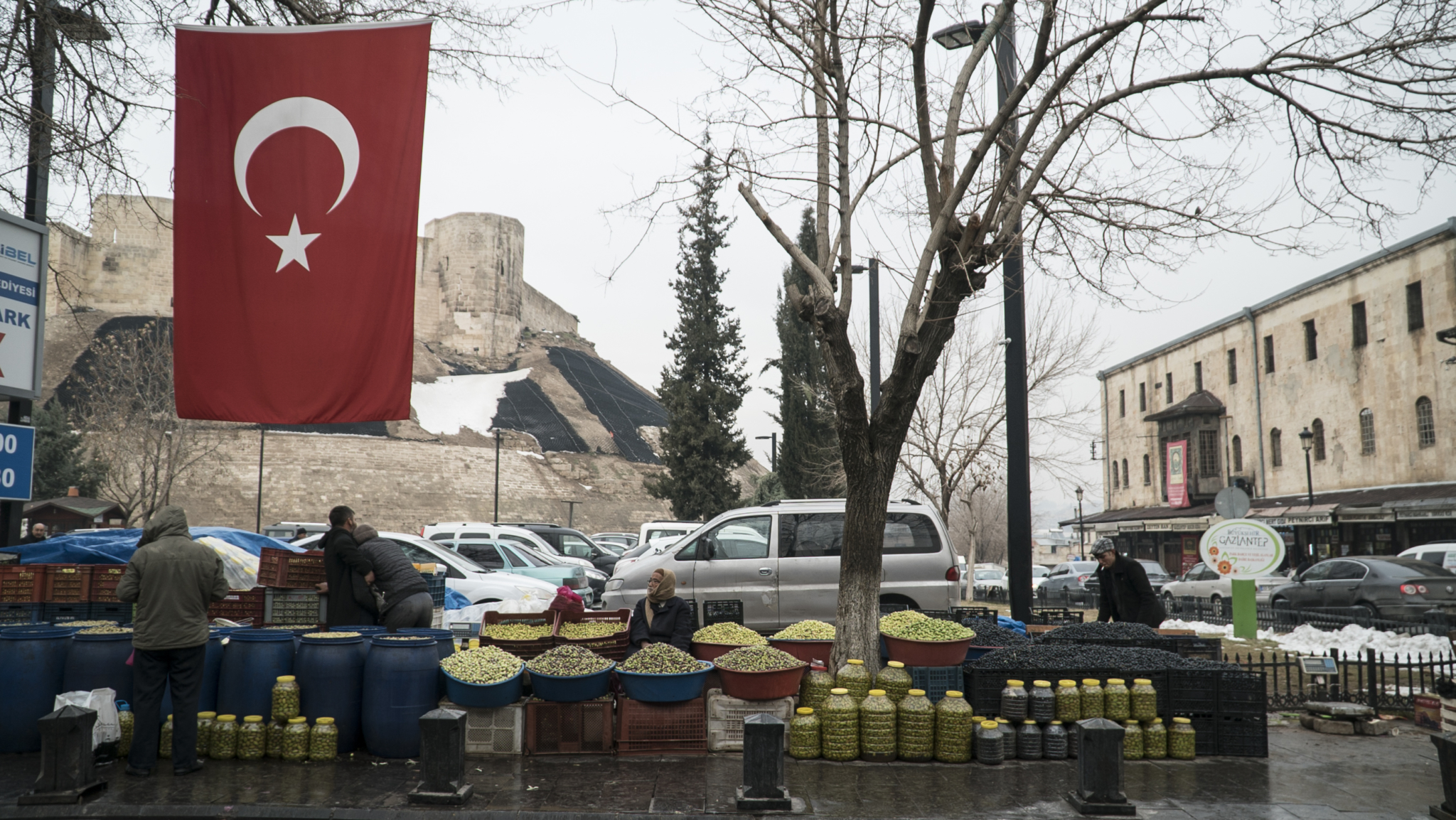 As for journalists, they can work in Syria, provided that they are illegally transported there by the Islamists or military servicemen. One can also get official accreditation, which actually implies cooperation with Assad's regime. Stories about Jihadists' atrocities and the Europeans, seeking adventures in the Islamic State, have been popular in press in the recent years.
The most unknown battle of the Syrian war is each Syrian's daily struggle for survival, for providing for and saving one's family. And also, a story about the Syrian volunteers who make most of the efforts to help their community.
360 panoramic video allows a view of the streets in old city of Gaziantep
Gaziantep has been a city twinned with Aleppo from time immemorial. A smaller citadel, resembling that of Aleppo's, is located on the hill in the center. The streets are also narrow, there are similar stone houses there. Khaled, 27, a Syrian, touches the wall with a palm of his hand, explaining that Aleppo is the most ancient inhabited place in the world. The houses were built of large boulders. The pictures of ruins immediately appear before my eyes.
Khaled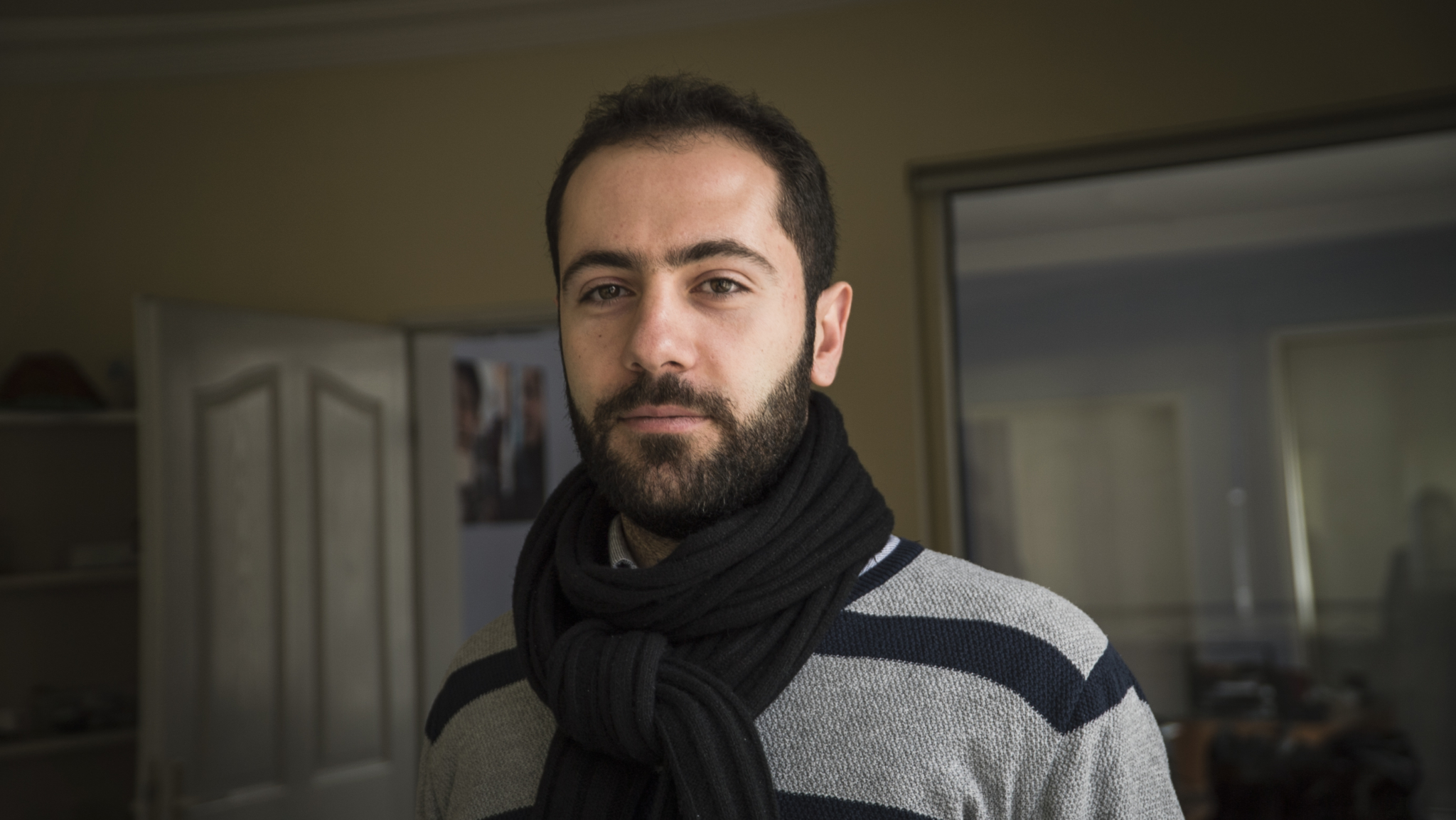 Having learned that Islamists' had forbidden singing and drawing classes in several schools, Khaled Fattal, a computer science teacher, offered new classes – computer programming basics. He teaches refugee children and seeks to organize similar courses in his homeland.
Watch Khaled's story. A man, who coached the Syrian teams for the world robotics competition, and who now teaches orphans. He tells about his compatriots' life in Turkey.
Ammar and Osama, his younger brother, study computer language. The most recent days' task is to teach robots to properly sort the garbage.
It is noteworthy that Ammar has a look of an adult man. And also, he is too small for a 15-year-old boy. There are quite many such Syrian children. They were malnourished during the war.
Though, it's true that Ammar's family is happy, in general: they left Aleppo in time. Although it's hard to earn one's living without the Turkish language skills, the boy's father managed to find a driver's job.
For Khaled, his robots are his work. Whereas his passion as a volunteer is planting trees in war-ridden Syria. Together with his friends he raises funds for transplants and sends them to farmers. They cultivate olive trees –no one will dare cut them for firewood in Khaled's homeland.
"Many countries and governments fell and resurfaced again. If I'm not optimistic, how can I think about the future? You just say: 'My city fell, I cannot go back, I can't do anything'. But I can't think like this, so I plant these trees. If it's not me who will sit under them, maybe my grandson will, and he'll say that this tree was planted by his grandfather", Khaled explains.
Zakariya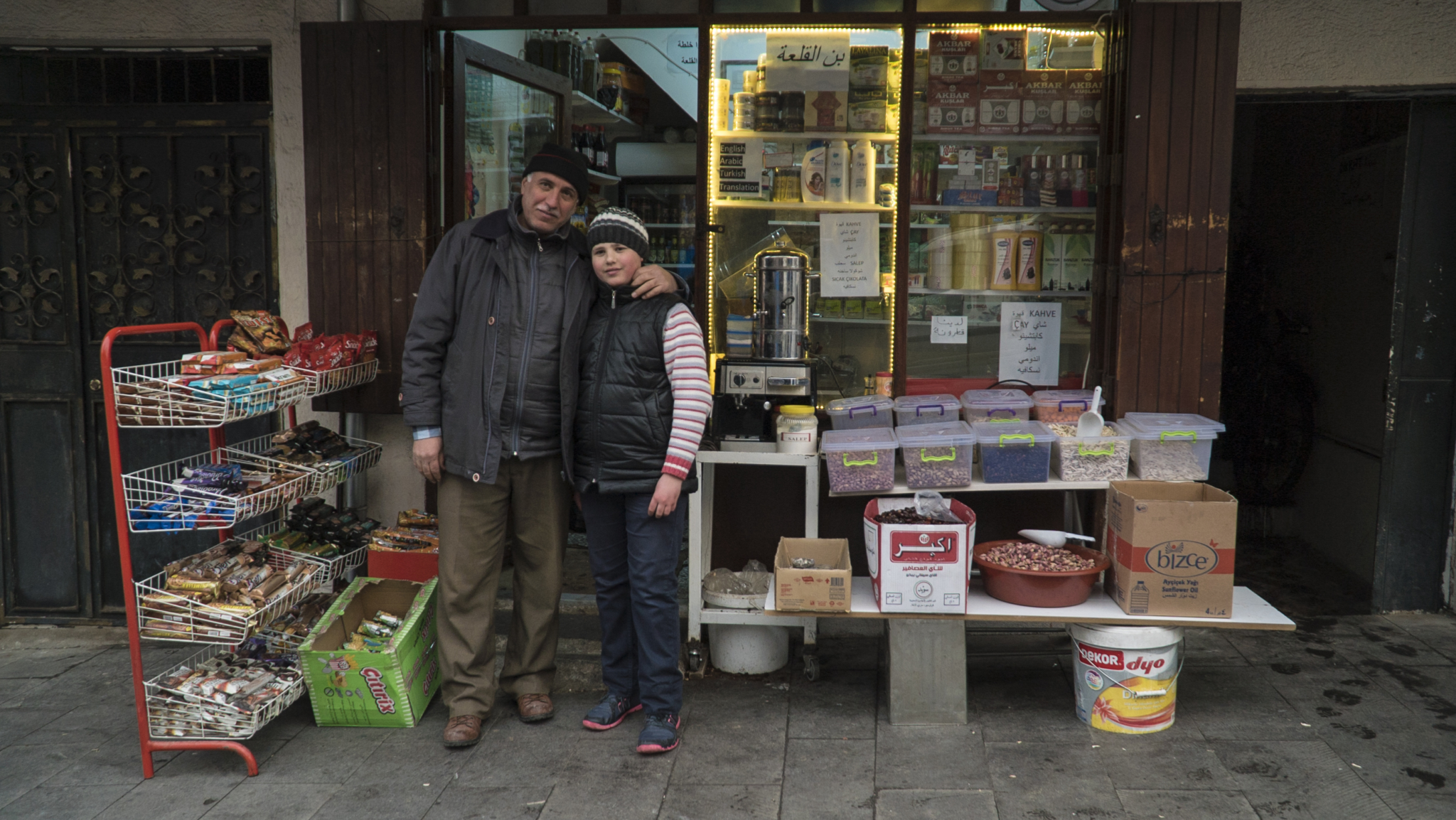 We quickly learn to distinguish between Syrians and locals when talking about the hardships that the Syrians are experiencing in Turkey. The women have quite different headscarves and clothing. A smiling 13 year-old boy comes up to us. He asks us in perfect English, where we are from and wants to show us his father's and his work. He is so proud of his father, who is a scientists but works as a salesman now. Their family had lived in Aleppo for 600 years.
Watch the story of a little multilingual vendor, who would like to study, but has to work.
We finally reach Adana city, where Talal is waiting for us. He is in a hurry and nervous, because he can't spend much time with us. This is the last day in the city for him and Shazad, Talal's acquaintance. Shazad is the British volunteer, raising funds for the Syrians in Europe. The more people they manage to meet, the more families will get assistance.
Talal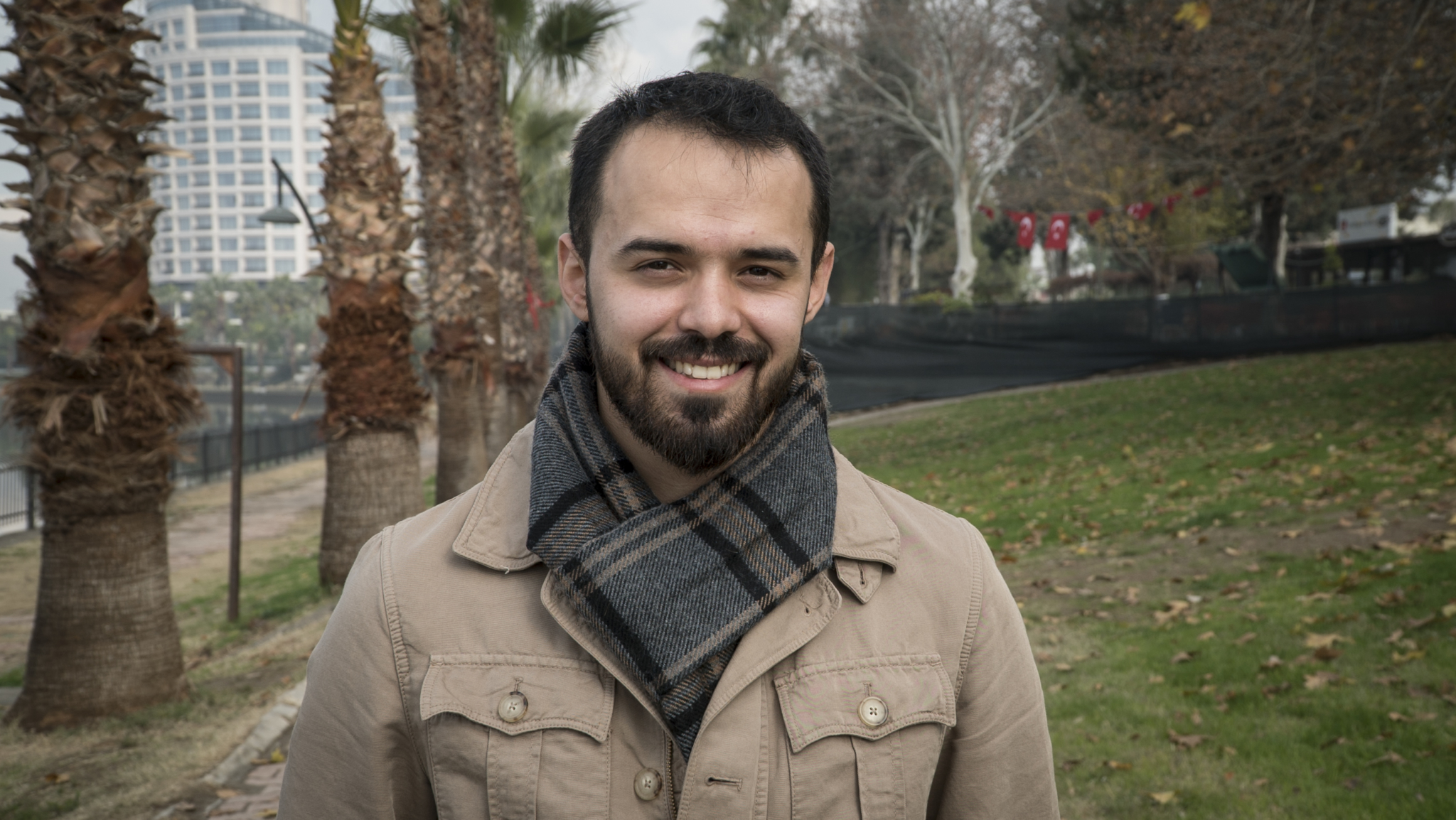 Talal is Syrian Chechen. The story of his family is a sequel of the story of deprivation and displacement of the people of the Caucasus as a result of the wars, waged on the continents for centuries. Since the times of the Tsarist Russia, they had been moving from the Caucasus to Turkey, Palestine, Syria, and now back to Turkey and remote Europe.
Watch the story how a young man from a well-off family from the Caucasus, who had his own car and house at the age of 18, has become a volunteer.
Talal stopped dreaming when he was 24. He says, he just wants to see his parents, who had to return from Turkey to Damask due to the lack of money. He also would like to see his brothers, who paid smugglers for helping him get to Germany. Talal explains that it's more important to know that your family is in a safe place rather than to dream. As a volunteer, he found it hard to come to terms with the fact that he can help other people, but is unable to do anything for his family.
Talal is worried and asks us not to take photos in the street. He says, we are going to Adana's insecure district, where there are actually no police. This district is under control of the Kurdish rebels. It was there that Talal's acquaintance saw a family with many children, who had been living in the tent for many months.
It's really cold in the south of Turkey and in Syria's north. Air temperature falls below zero there in winter. Many refugees abandon their homes wearing only pullovers. Talal helps exactly such people, who have lost everything.
Having undergone 9 surgeries, Kheba was happy to get back to school, but her classmates started making fun of her.
That's another family that Talal rendered assistance to.
Watch the story about a new life of the girl, rescued by her parents from flames after a rocket had hit her room in Aleppo
Ola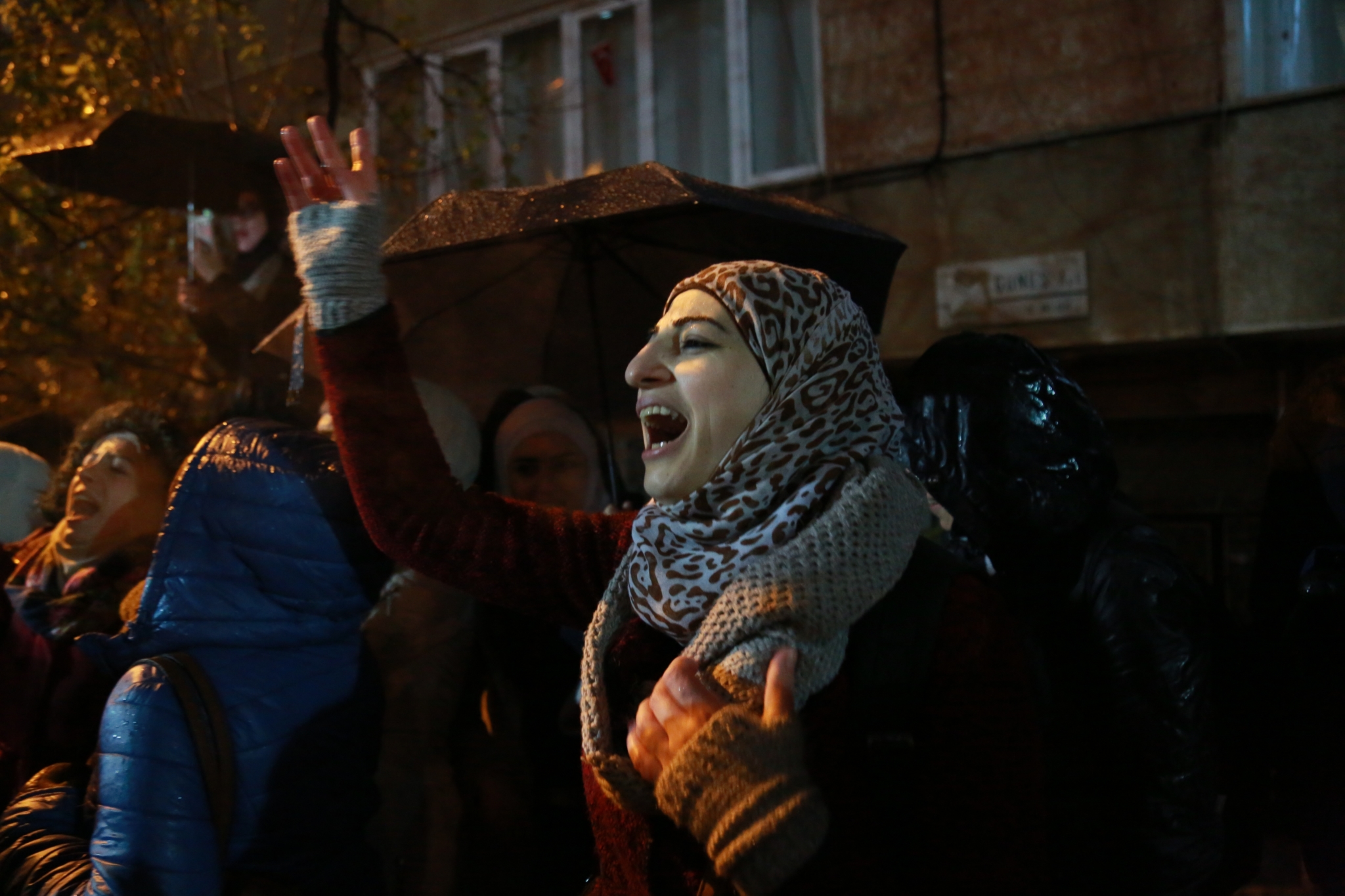 "Maybe we need another planet," Ola Batta says smiling. She is a Syrian volunteer, who was forced to move from Aleppo to the Turkish Gaziantep 3 years ago. Nevertheless, she keeps assisting her compatriots, working in Syria and beyond its borders.
Sometimes Ola is full of despair. For her, the siege and occupation of eastern Aleppo, which had been controlled by the Syrian Free Army, is equal to losing hope. Though, the young lady assures that she's not the one who gives up and loses faith. But she has just realized that she lost her strength after 3 years of doing a volunteer job.
Watch the story of the volunteer, who has just realized that to help others she needs to stop and regain strength.
Ola complaints that the population of her native city could have been saved: 'Since 2015, Aleppo has been under the risk of a siege. People on both sides of the conflict have repeatedly phoned in with requests to develop plans in case of an emergency. The international organizations said, they were not able to do it. They could neither deliver food, nor prepare shelters for they would get killed as well.'
And also, Ola admits, she has no chance to return to Aleppo. Those, who are cooperating with the humanitarian organizations, could be regarded as terrorists by the regime.
Ola leaves an impression of an extremely strong woman. But she is cautious, when talking about her life- some members of her family are still in Aleppo.
Khalife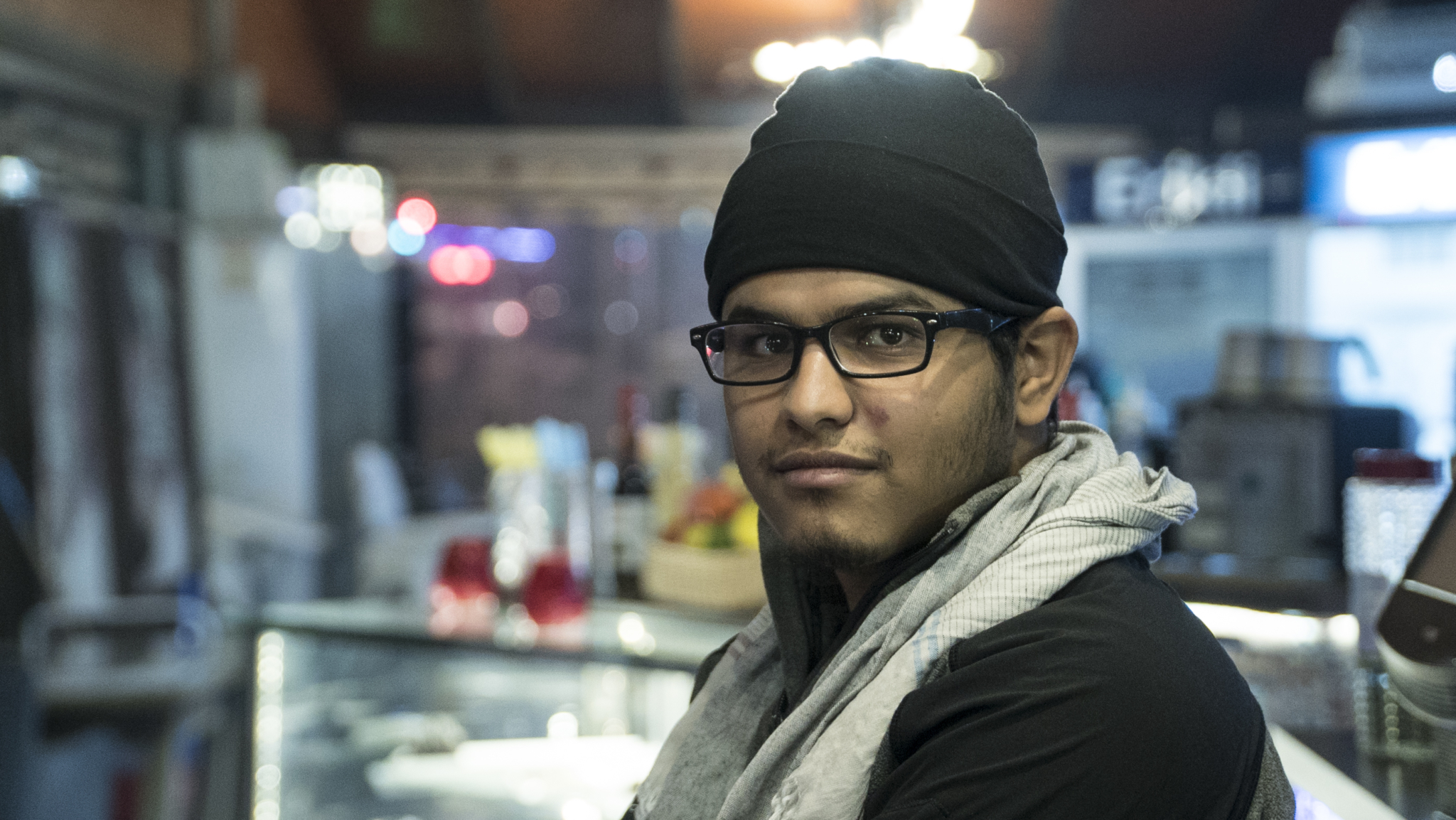 Khalife Khuder, 23, Aleppo Media Center activist, spent 7 months in the ISIS captivity. His acquaintance, who was the militant group's security officer, 'ratted him out' in ISIS-controlled town of Al-Bab.
Khalife's 'blame' was that he was taking photos without the Jihadists' permission, since he believed, he was fully entitled to work on his native land. When recalling his captivity, he, first of all talks about the people, whom he would have never met in other circumstances.
Watch the story of a young Syrian photographer, whose family had been persecuted on religious grounds long before the revolution. He dreams of becoming a psychologist to withstand radicalism of the Syrian youth. As he explains, it's not only the poverty, but also 'labeling' of conservative Muslim faithful, that pushes them into Jihadists' hands.
ISIS militants have never held key positions in Aleppo. In 2014, they were forced out from the city by the Free Syrian Army. But 'liberation of the city from ISIS militants' was exactly what the Syrian and Russian governments referred to when justifying Aleppo bomb strikes in autumn and winter of 2016. Khalife, who seemed to be calm during the first hour of our conversation, is getting angry:
"It's, first of all, the local Muslim population who die at the ISIS hands, both, in Syria and Iraq. More people die there than outside the countries, where the war is underway."
I realize that I stroke Khalife's deep chord. He is a very religious person, whose family had been subjected to persecution long before the war. Whereas now, someone should be held liable for the Jihadists' actions. Khalife tells about his Syrian acquaintances, who had fled from the country, including from ISIS, whereas as they got to Europe, they had to justify themselves and explain that not all the Muslims share the ISIS ideology.
At the end of the conversation Khalife said jokingly: 'Well, do you want me to write on social media that I have captured a foreign journalist? You will gain world fame. Am I not as good as any Islamist?"
The conflict in Syria began in March 2011 with demonstrations in the southern city of Dara. In the wake of protests in Egypt and Tunisia, someone wrote anti-government slogans on the walls of the local school. For this, local authorities locked away a dozen pupils aged 12 to 15. It later came out that the children were tortured. Residents took to the streets demanding punishment for the perpetrators, but instead, they opened fire on the demonstrators. Throughout most of 2011 there were protests against repression and corruption all over Syria. President Bashar Assad insisted that the demonstrations were the work of Islamic terrorists and Western saboteurs. (Map 1).
6 months after the start of the protests, information surfaced that the Syrian protesters had armed themselves. It was the army deserters who started the armed resistance. At the end of 2011, they began to form the Free Syrian Army. Two years after it started, Turkey, Qatar and Saudi Arabia began to fund the insurgents, while Russia and Iran supported the Syrian regime. Without their help, Assad would not last that long.
In autumn 2013, despite the use of chemical weapons by the regime , what USA had previously called the 'red line', then-U.S. President, Barack Obama didn't deploy troops to Syria.
In the third year of the war, the key topic became the radicalization of armed groups, the participation of al-Qaeda in battles against the regime, and the involvement of foreign fighters, who turned out to be much better soldiers than the Syrian farmers.
In 2014, the so-called "Islamic State" seized a part of neighboring Iraq. Separate divisions took control of Syrian territories as well. The "IS" was fighting against the regime and against the Syrian opposition.
In 2015, Russia officially announced about engagement of its military in Syria on the side of the regime. Officially, they were fighting against the 'ISIS'. According to international organizations, the Russian Air Force was bombing rebel-held territories. Little by little, the regime was regaining control of the land it had lost. In 2016, the key battle was the freeing of Syria's largest city, Aleppo, by Assad's troops. (Map 2)
In the 6th year of the war, the government controls 34% of the country, home to 65% of Syria's population, another third is controlled by ISIS (10% of the population), 20% is controlled by the Kurdish armed formations, the remaining 13% – by the rebels.
According to Syrian human rights groups, 437,363 Syrians have died during this time. The Syrian Network for Human Rights said that 95% of the victims were civilians.
7.6 million people left their homes in the middle of the country; 4 million moved outside Syria, mainly to neighboring Turkey, Lebanon, Jordan and Iraq.
Radio Syria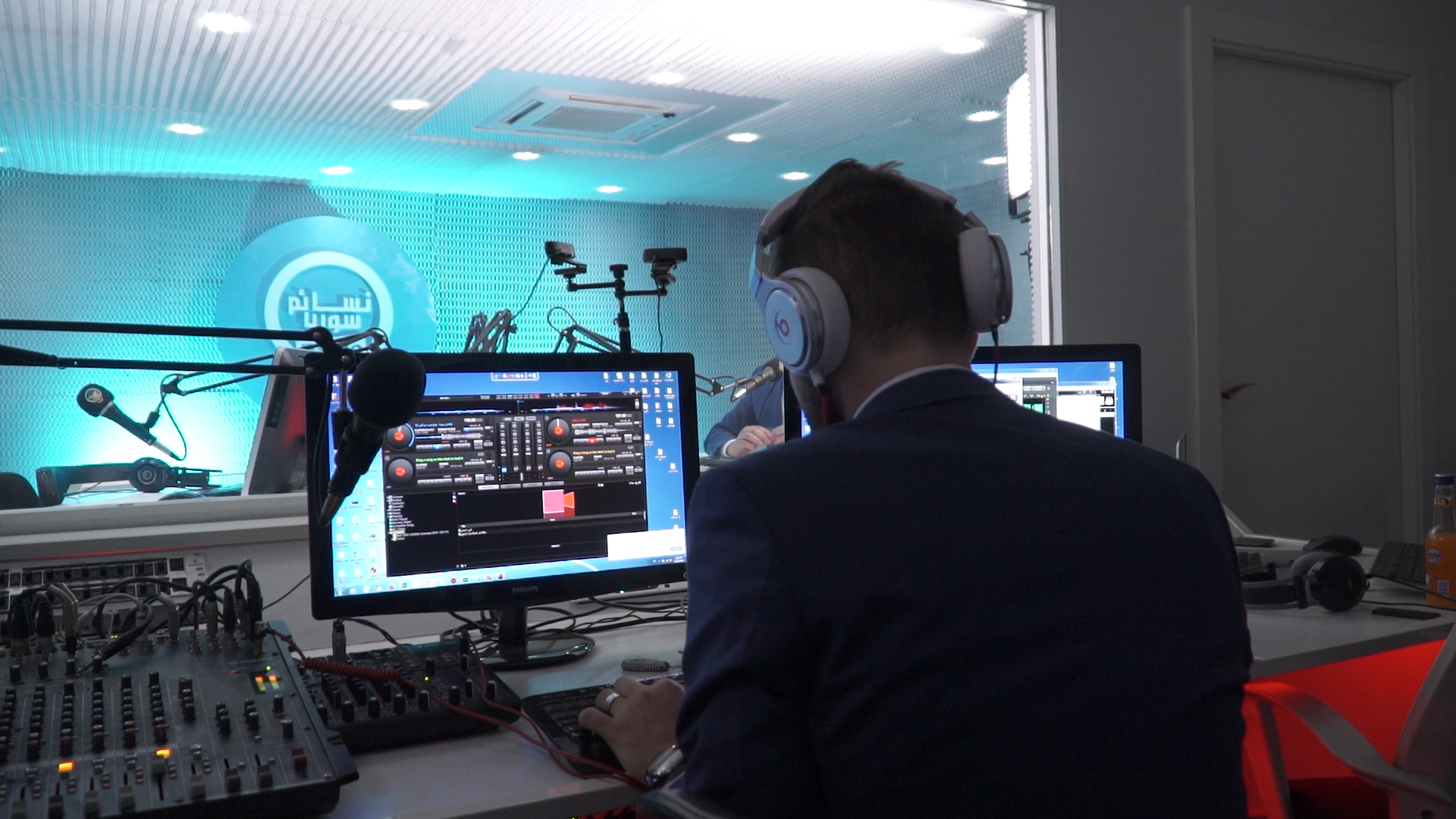 "During the siege, the shops in Aleppo were empty. Bombs were hailing down on the city. Our reporters were at a lost: how to show it all-air strikes and starvation? Our live broadcasts were interrupted due to air raids many times," explains Samir Al Ahmad.
He is an anchor and regional editor of the Nasaem Syria Radio, which is translated as the 'Syrian breeze'. All members of this small team are wearing new blue suits. It turns out that the radio station marks it jubilee, but this day isn't a festive one for them-it is dedicated to the developments in Aleppo
Watch the story about how the volunteers created the first radio station in Northern Syria.
The radio station staff is hospitable and friendly, though it's obvious that they are nervous. Rim Halab, the Director, is running from one floor to another with his walky-talky. There was another power cutoff this morning and there are some technical problems with sound again. We try to comfort him, saying that such things happen to every media. We tell him, how we ourselves work amidst the war. The young lady sighs: "You know, I've just realized that you are also at war with Russia. Have my sympathy! Wish you all the best!"
While we were working on these stories and talking with these Syrians, their narrative became very clear: revolution, first blood, people who had taken up arms, ruined building and displaced people.
The Syrian war figures:
7,8 mln. IDPs;
4 mln. refugees; 
total death toll-470, 000 people, most of them civilians
The Assad regime calls it's opponents terrorists, denying the civilian deaths which have been confirmed by international organisations [namely the Amnesty International], and the reports on dozen of thousands of people being tortured in Syrian prisons.
Throughout 6 years, the opposition to the government has also been committing crimes, like during the war started by ISIS and the radicalisation of the population. But unlike the constant discussion about who started it all, there has been little mention of the stories of the Syrian families who are struggling to survive every day, and of the Syrian community, trying to save itself.
We are heading to the Turkish town of Reyhanli along a misty, narrow mountain road. Here lies the only checkpoint where civilians (those who have permits) can cross into Turkey.
We go past the fortified base of the Turkish border control. We stop to photograph a short stretch of the wall, erected by the Turkish government out of concern that ISIS were strengthening their positions.
Geolocation shows: 500-metre distance to the Syrian border. All we can hear is the wind. Looking at the map and the majestic mountains, it is hard to believe that the war is so close, but thanks to the people we have met here, it has just become a lot clearer for us.