Taliban-controlled Kabul: Exclusive interview with Georgian citizen awaiting evacuation from Afghanistan
Georgian citizen in Kabul
After the Taliban took control of all of Afghanistan and its capital Kabul by August 15, 2021, each country, including Georgia, has been trying to safely evacuate its citizens.
According to several reports, 22 Georgian citizens were located in Afghanistan for various reasons and wished to return to their homeland. Six of them have already been evacuated, while 16 remain in Kabul.
Who are they, why can't they leave Afghanistan, and what is happening there right now?
Guram Tsirekidze has been living and working in Kabul for two years; he is an employee of a Canadian company that was in charge of the security of several international facilities.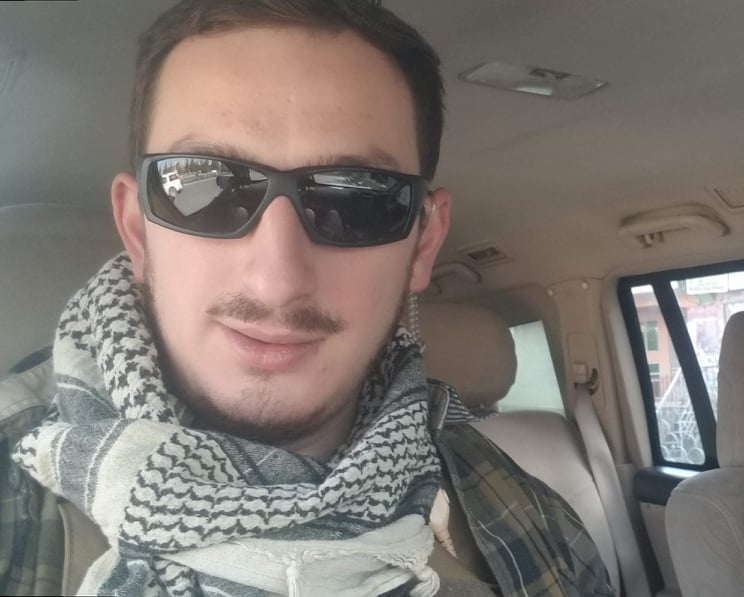 "We, 16 Georgians, are now located at a military base in the suburbs of Kabul where the Georgian military contingent is stationed [within the framework of the international training and equipment program, which includes participation in operations outside the country in cooperation with the troops of NATO countries – JAMnews].
This base is more or less protected, at least now nothing threatens us. Georgians are not the only ones here, there are citizens of other countries who are also waiting for the opportunity to leave Afghanistan. In general, there are several dozen of us.
The base is about four miles away from the airport and a safe shuttle is needed to get there.
Our employing company is trying to help, but the main help comes from the Georgian Foreign Ministry. We maintain constant contact with them, they are doing everything to get us out of here.
We know that negotiations are underway with Turkey about our evacuation to the airport with the help of their military. Then Georgia will provide the flight. The Georgian government has already organized a plane, it has already landed at the airport three times, but we have not been able to get there.
Now there is no Georgian military on the territory of Afghanistan, and therefore no one here bears direct responsibility for our security.
So far, everything is fine with us. The base is well-guarded, we have food supplies. However, of course, if the situation is not resolved soon, a number of problems may arise.
Our destiny depends on the external situation. When the situation on the street is more or less stabilized, a Turkish or another convoy will help us get to the airport.
Until then, it is better for us not to leave the base. It is not safe for foreigners to be on the street. Aggression here comes not even from the Taliban who came to power but from local residents.
Most did not want the Taliban to succeed. They are afraid for their lives, and at the same time, they cannot leave the country. Everyone saw what was happening at the airport, as the Afghans desperately tried to escape from the country. People climbed onto a plane taking off and then fell from it and crashed.
Many locals feel abandoned by the West, and this causes a lot of aggression towards any foreigners.
They perceive every foreigner as an American, no matter where you are from. And they blame the Americans for this tragedy.
Well, the country, in general, is in chaos. They say that radical groups move and behave as they see fit. Although, as far as we know, so far the Taliban have stated that they are not going to take violent actions either against the population or against foreigners.
They are trying to put things in order in their own way, they have imposed a curfew, and they have forbidden to move around with weapons on the street. Some laws have already been passed, it is forbidden to import or sell narcotic substances and to lend money at interest.
Pedophilia has been a major problem in Afghanistan. Under Taliban law, violence against teenage boys is punishable by death.
We did not hear about any cruel actions or someone getting shot in the street. However, this does not mean that the situation will not change. Their 30-year history means that they cannot be trusted. Locals who have lived with us for years before say the Taliban are ruthless against those who violate their laws.
They began to act like a government: the structure of the government, all the links are controlled. Judging by what we see from the base, people move along the street normally, cars are moving. Obviously not at the same pace, but life goes on.
---
---
The Taliban came very quickly and met no resistance. They called on the authorities and the military, who controlled security, to drop their weapons and surrender – and so they did. They quickly took control of Kabul – everything happened in half a day.
And then there was panic and confusion. All this is due to historical memory. People remember that in 1996 when the Taliban took over the city, they committed atrocities. Many here assume the Taliban will behave differently this time around.
Back then, they immediately severed ties with all countries, turned Afghanistan into a closed space. And it didn't work, their reign ended in just five years.
This time they will try to achieve some kind of international legitimacy because in the long run, it will allow them to secure power in Afghanistan forever. Therefore, they call on the embassies to return to Kabul and take personal responsibility for their safety.
Armed guards have been posted in front of some of the abandoned offices of international organizations to ensure that no one destroys their property. The Taliban say they are inviting doctors, people of different professions to work in Afghanistan, and they promise high salaries. So far, no one knows what will happen next ".