Surgut attack not an isolated incident - ISIS claims responsibility
On 19 August, Arthur Gadjiev, born in Dagestan, attacked people with a knife in a street in the Siberian city of Surgut. One of the wounded remains in hospital in a critical condition.
Gadjiev first attempted to set the local shopping mall on fire, then began stabbing people, and was then shot dead by the police.
On 20 August ISIS claimed responsibility for the attacks and published a video with Gadjiev pledging loyalty to the organization.
The scene of the crime – Youtube
The incident was investigated by Novaya Gazeta and it was determined that it was not an isolated case.
Ignored by authorities and the national media
Ten days after the tragedy, none of the national and few international media outlets had even mentioned it, though similar incidents in European cities were being covered in detail. President Putin and other high-ranking officials have also failed to comment on the incident. However, French President Macron tweeted words of support to the residents of Surgut.
The situation in Surgut raises some interesting questions. The police had almost immediately determined that Gadjiev's attack had been planned in advance and arrests of those having connections with him began as early as 20 August.
However, the official version still has it that since Gadjiev was mentally ill, it was not considered an act of organised terrorism.
Dozens of young people who studied with Gadjiev or went to the same mosque have been arrested, Novaya Gazeta reports. Four of them were accused of terrorism.
Background info on the attacker

 "He was acting deliberately. He let a man with a child go, he just inquired whether the kid was his," a witness told the press.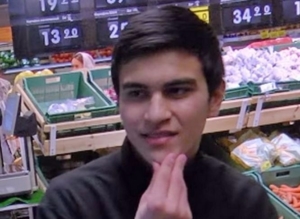 Arthur Gadjiev in a 2016 Youtube video

Gadjiev, aged 20, was born in Dagestan. His parents got divorced 10 years ago, and he and his mother went to live with relatives in Surgut. His father was convicted of murder shortly afterwards.
According to his teachers Gadjiev had no interest in studies. After 9 years in public school he continued his education at the local vocational school and was expelled after a year and a half. He eventually became employed as a security guard.
During an interview with a correspondent from the Novaya Gazeta newspaper, Hajiyev's teachers said that he had never been particularly religious. The last few years he visited the central mosque of Surgut, but several months before the attack he stopped frequenting the mosque.
Muslims in Siberia
Muslims account for approximately 10 percent of the 450 000 Surgut residents. According to the Carnegie Foundation report, the number of Muslims in the Urals region has been growing in recent years.
Seven Surgut residents are under investigation for alledgedly joining ISIS in Syria. Another 50 residents of the Surgut region are also suspected of involvement in terrorism, according to official sources.
In 2016 the Investigative Committee reported on 'exposure of the ISIS cell in Khanty-Mansi autonomous region'.