South Ossetian prosecutor's office arrests activist Tamar Mearakishvili

Activist Tamar Mearakishvili arrested
South Ossetian activist Tamar Mearakishvili has been arrested in South Ossetia. She was planning to hold a picket today, November 17, in the center of Akhalgori, where she lives. Mearakishvili is accused of "dishonesty and discrediting state structures".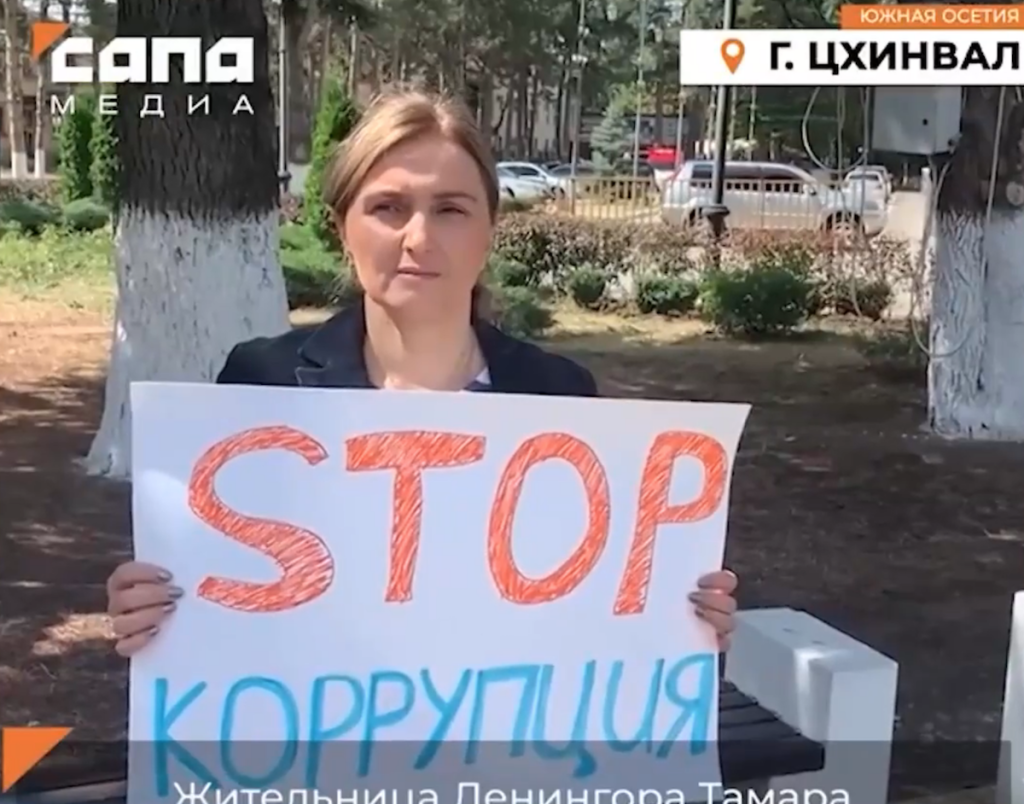 After the Tskhinvali court acquitted the activist on all episodes and the criminal prosecution against her was terminated, Mearakishvili was summoned to familiarize herself with the documents seized in the case. According to occupation regime's version, Mearakishvili deliberately did not show up for the documents in order to then make statements against the so-called prosecutor's office.
The activist spread a video on social media that she recorded in the de facto prosecutor's office. According to her, they are holding her so that she can't organize a picket in the square.
"Now I am in the city prosecutor's office and inform that I will not talk to the prosecutor without a lawyer. I explain that I will come at any other time. But they don't know if it's okay to do that or not. They won't let me go just because I was going to picket. That's the reason. I came here, but my car was stopped and an unknown man came up to me and told me to leave. But did I hide? I did not refuse to come [to the prosecutor's office]," Mearakishvili said.
Akhalgori is the only Tskhinvali-controlled district in South Ossetia where ethnic Georgians were allowed to return to their homes after the 2008 war.

The majority of Akhalgori's population is ethnic Georgian. The region is controlled by the de facto government of Tskhinvali. The Georgians living there are Georgian citizens (some also have local citizenship) who receive pensions from Georgia.
Tskhinvali residents were warned not to protest
The Tskhinvali KGB called on the population of South Ossetia to be sympathetic to the complex socio-political situation in Georgia and warned people not to go out to protest.
"Taking into account the complex socio-political situation in Georgia, as well as current threats related to border security, which are aimed at escalation and organization of various kinds of provocations by governments and public organizations of foreign countries, we call on citizens to be prudent," the statement of South Ossetia's de facto security committee said.
Further: "it is inadmissible to hold any unauthorized public and non-public actions against the authorities of South Ossetia, as well as against the policy pursued by the authorities to form a common security contour with the Russian Federation."
Who is Tamar Mearakishvili?

Tamar Mearakishvili is a civil activist living in Akhalgori. She once headed the local Palace of Student Youth, which was the object of constant harassment and persecution by the local authorities.
After the war in August 2008, when Georgia lost its jurisdiction over the eastern part of the Akhalgori region, causing most locals to leave the region and accept the status of IDPs, Tamar chose to stay in Akhalgori.
On January 3, 2014, she gave an interview to Ekho Kavkaza radio station, where she said: "We have no sports, culture, civilization… We live here as if on another planet. Despite the fact that the hospital has a maternity ward, not a single child has been born in five years. There is a surgical department, but not even an appendectomy can be performed. There is no government or population here yet."
Because of these and other statements, the authorities began to persecute Mearakishvili. First she was fired from her job, then law enforcement agencies began to initiate various cases against her.
However, she continued to expose corruption, lawlessness and violence in the district on social media. A criminal case was opened against her for defamation based on a complaint by a local official. During the search and interrogation, Mearakishvili's ID card and personal belongings (sunglasses, knitting needles, bag, chewing gum, etc.) were seized.
In May 2016, Tamar Mearakishvili was charged with illegally obtaining and using an Ossetian passport. In August of the following year, the investigator arrested her without a proper warrant and without explaining the reason for the arrest.
However, in 2019, the Tskhinvali District Court dropped all charges against Mearakishvili, although the prosecutor's office appealed the decision to a higher instance. In January 2021, the libel charge was recognized there as inadmissible, but decided to return the case of forged documents to the lower instance.
In April 2020, Amnesty International demanded the termination of criminal cases and full guarantee of freedom of speech against Tamar Mearakishvili.
Despite intimidation and harassment, Tamar continued to be one of the most reliable sources of information about the situation in the region.
Activist Tamar Mearakishvili arrested