South Ossetia plunged in turbulent waves of the campaign period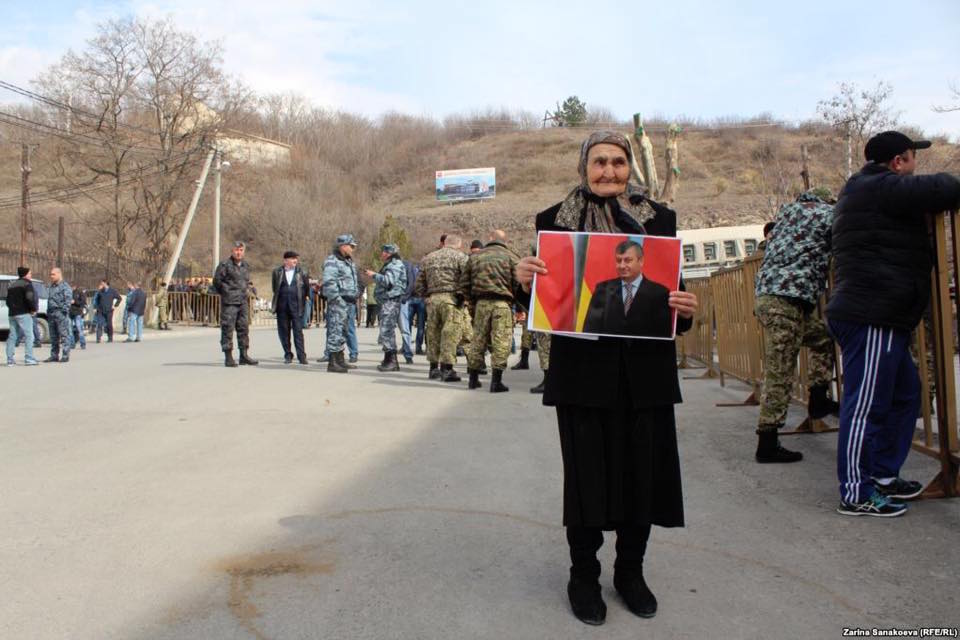 Madina Kelekhsaeva, a journalist from South Ossetia, has recently published a blog-post in the local 'United Ossetia' party newspaper, which begins as follows:
"It is getting dangerous to express personal opinion in a 'democratic' South Ossetia. Of course, one's point of view can be expressed, but only in the kitchen, in a whisper and behind the closed doors. Those, who…have different opinion, are accused of dissidence and become the victims of '1937 regime'. A state of euphoria over 33 asphalted streets is the only unpunishable thing.
All the rest is subjected to a total surveillance, be it accidentally voiced opinion in public, a post or comment on social media, where a user dared express his position. This may entail an immediate reaction on part of the government.
Today, there are dozens of citizens fired from their jobs in South Ossetia…An unofficial order restricting entry to the republic applies to some of them."
As it has been already pointed out, the 'United Ossetia' is an opposition newspaper which belongs to the same-name party. The party is led by South Ossetian Parliament Speaker, Anatoly Bibilov. This very party forms the parliamentary majority and is in partially open, and partially hidden, opposition to President Leonid Tibilov.
Since early 2017, there have been only a few peaceful days in South Ossetia, not marked by scandals, rallies, protests and accusations. It's a campaign period, a preparation for the upcoming presidential election that is scheduled for April 9.
Both, Parliament Speaker Bibilov and President Tibilov, have been confirmed as presidential candidates for this election. The Central Election Commission (CEC) has also registered the third candidate – Alan Gagloev, the local KGB official.
However, the dominant figure on the political stage throughout this period has been another politician – Eduard Kokoity.
Eduard Kokoity was the President of South Ossetia in 2006-2011. He left politics following the unrest in South Ossetia, that accompanied the presidential elections in 2011. Alla Dzhioeva became a hero of the political arena then, promising to ensure new economic and political future for the republic and less dependence on Moscow. Eduard Kokoity turned out to be an unpopular leader. He was accused by public of corruption and unprofessionalism and left the republic for Moscow.
Who is waiting for Kokoity in South Ossetia? And who isn't waiting for him? JAMnews' political overview, autumn 2016
Kokoity's return in autumn 2016 was unexpected and sensational. Hardly had the disputes over his 'corrupt past' and 'great merits' started on South Ossetian Facebook that Eduard Kokoity already became a key figure in the political field and actually a revolutionist, who drew mass rallies in Tskhinval and, as a result, on the one hand, has gained a reputation of a 'liberator', a future reformer, and great public support, and, on the other hand, has got more and more problems with the incumbent leadership.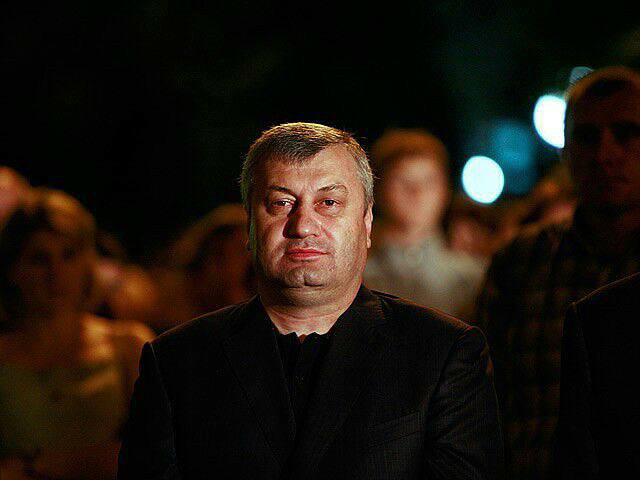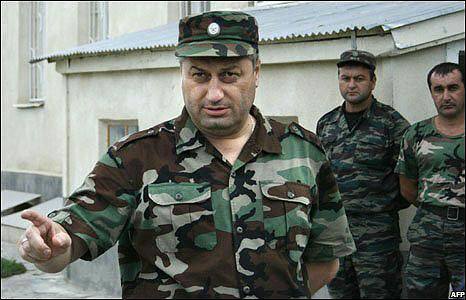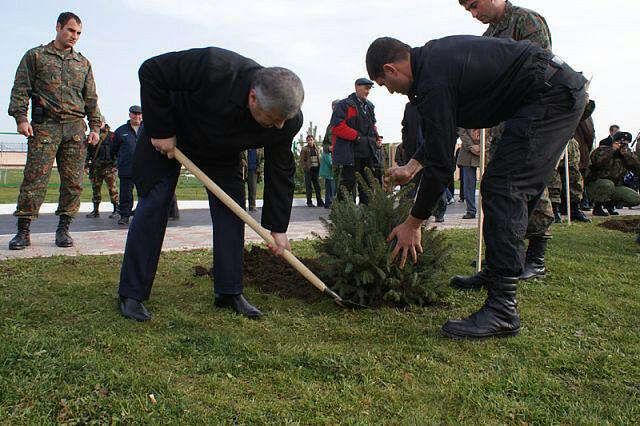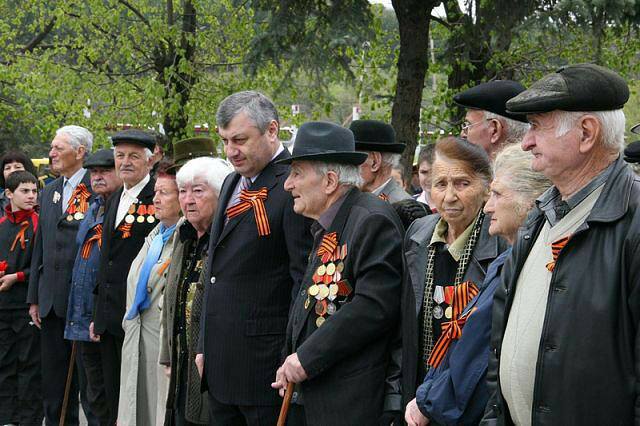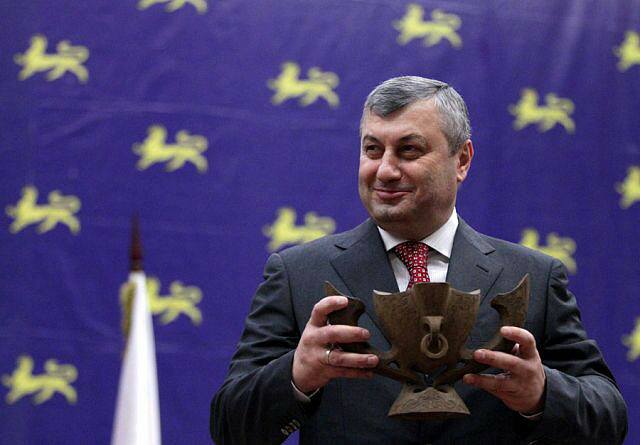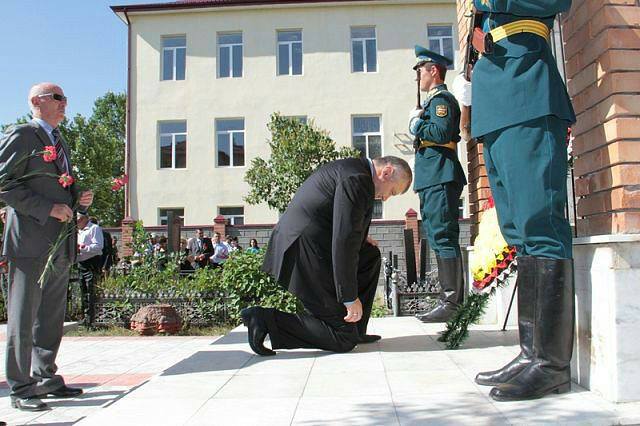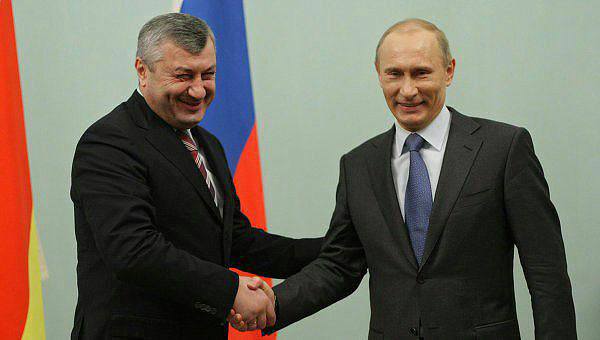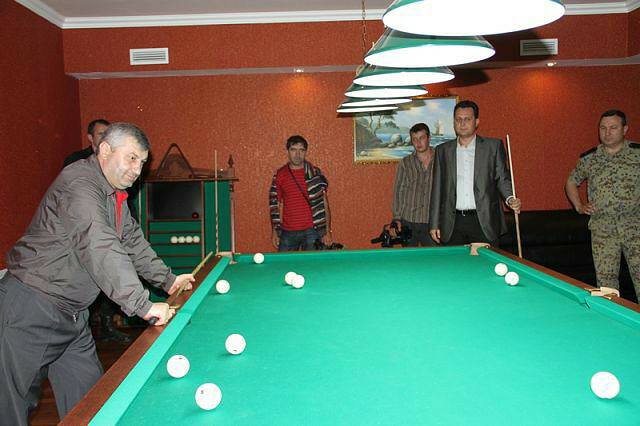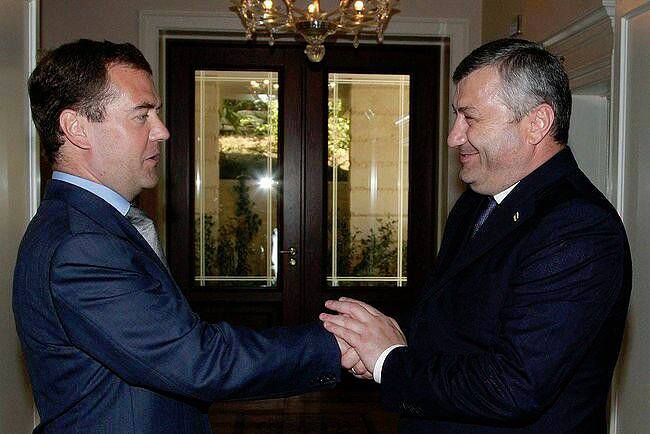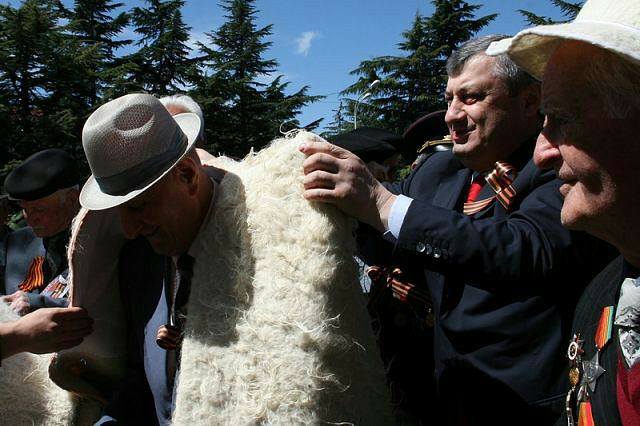 Eduard Kokoity is back to South Ossetia. Photos: Roland Kelekhsaev
We will get a clearer picture, if we consider a context around each of three contenders for presidency separately.
Eduard Kokoity
The latest event related to him – on March 14, the South Ossetian Supreme Court upheld the CEC decision to refuse his registration as a presidential candidate.
It was the CEC refusal to give Kokoity a chance to stand for April 9 presidential election that has led the domestic political conflict in South Ossetia to an open phase. The reason behind the refusal was that Kokoity allegedly didn't live in the republic for the period that is required for being registered as a candidate. Kokoity himself flatly denies CEC's allegations and insists that MoI and KGB chiefs should be dismissed for document forgery.
Kokoity has claimed, he is going to challenge the CEC decision in court, though he hasn't filed a lawsuit with court so far.
A huge crowd of Kokoity's supporters gathered at the square outside the government building in Tskhinval early on March 14 and was waiting for hours for the Supreme Court ruling. Meanwhile, the militia put vehicles and metal constructions to fence off the square from all sides.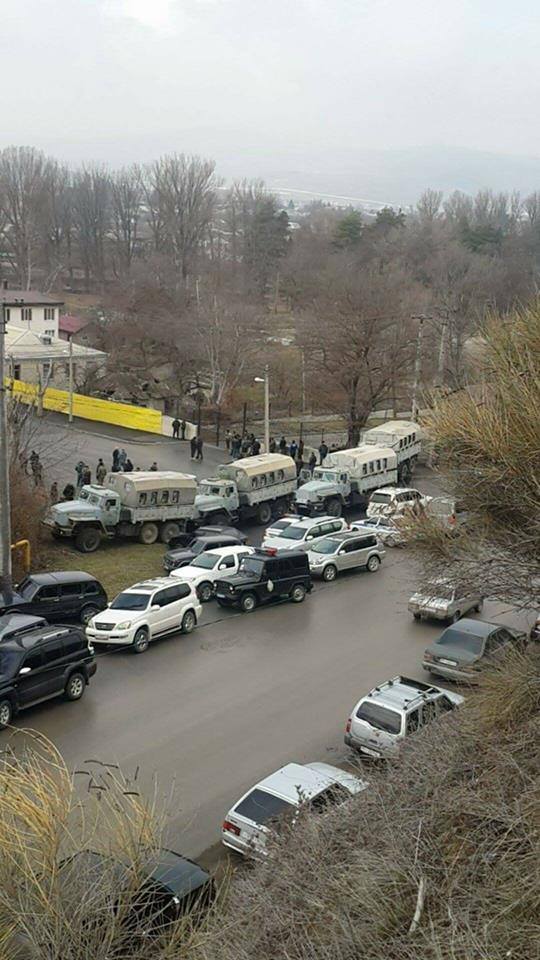 Fewer in the crowd expected that the decision would be positive, but the people were still enthusiastic. The youth beguiled the time in dancing:
Then came reports about the Supreme Court's refusal to annul the CEC decision. It was followed by the protest rally demanding resignation of the incumbent president and some other government officials.
On Wednesday, March 15, Eduard Kokoity held quite an emotional meeting with his supporters in Tskhinval-based 'Champions League' football school building. As he said, the key task was to call for the Parliament's assessment of the ongoing development and to 'engage in dialogue with people':
"I'm going to push the matter through to the end, and you all know that. We are not going to divert from the set objective. I am very grateful to you, to all the people, to all those guys who were side-by-side with us yesterday. But those guys have brothers, relatives, so let's appeal to them, so that they come out and join us; stop hiding behind our backs! This government doesn't want to talk to us…
Where are the MPs? … Why don't they respond to their voters' appeals, who call on their MPs to come out, why are they silent? …The Speaker has left for Kvaysa, the President has gone to Tskhinval region… Can that be called the government's communication with their people? People shouldn't be treated like that! How long is the government going to keep silence?"
The President hasn't personally responded to the aforesaid appeal. The response has come only from his spokesperson, Gana Yanovskaya.
Last week was also rich in developments around Kokoity's figure. Namely:
[yes_list]
Some unknown individuals threw a firecracker at the SO Supreme Council Chairperson Ilona Khugaeva's house, on the night of March 5. Local official media preferred to keep silence about that incident, whereas Kokoity's supporters rested the entire responsibility for it on the authorities. The following post was made in 'Kokoity-our President' support group on Facebook: "We believe that this provocative action was orchestrated by the incumbent leadership of the Republic of South Ossetia and it was carried out in response to Eduard Kokoity's demand to dismiss KGB chief, Shargaev and Interior Minister, Lavoev. In response to gross provocations of the incumbent government, we would like to state with full responsibility that we will not let anyone violate the laws of our state and trample upon the constitutional rights of the people of South Ossetia."
On March 5, Tskhinval municipal administration turned down the request, submitted by the initiative group supporting Eduard Kokoity's nomination as presidential candidate, for holding the people's gathering. The idea of holding the people's gathering sounded as follows: 'To discuss the socio-political situation in the country and achieve a dialogue between the incumbent President, Leonid Tibilov and other presidential candidates.' In response to the aforesaid, Kokoity's supporters held an emergency meeting and accused the incumbent leadership of the attempts to destabilize the situation.
Eduard Kokoity has spewed accusations against the incumbent President, Leonid Tibilov. He claims that Tibilov should be disqualified from the presidential race, since he failed to submit to the CEC the information on movable and immovable assets, owned by him and his family members in Russia. Kokoity brought an example of Chevrolet-Niva, that was registered with the North Ossetian militia, but wasn't mentioned in the assets declaration. He also pointed out that Tibilov failed to pay transport tax and some other fees. Under the constitutional Law on Election of the President of South Ossetia, undeclared assets give grounds for denial of registration.
Victor Shargaev, South Ossetian KGB (State Security Committee) Chairman, has confined KGB personnel to barracks until April 9, 2017.
[/yes_list]
Ex-President's supporters have been recently very active, running Kokoity support pages on social media. The latter have been closely monitored by the law-enforcement agencies. For example, the following post appeared on Facebook:
"Oleg Dzhioev left a comment in our group 'Youth in support of Eduard Kokoity' on VK social media…about professional impropriety of South Ossetian Interior Minister, Akhsar Lavoev, who, before his appointment to this post, had worked as a dog handler at the customs. And a couple of hours later he [Dzhioev] was searched through another VK group, which is called 'Looking for You Tskhinval'… I would like to warn all supporters of Eduard Jabaevich [Kokoity] – be careful, the authorities will resort to everything to achieve their objectives. But I also want to address our authorities – you won't break us."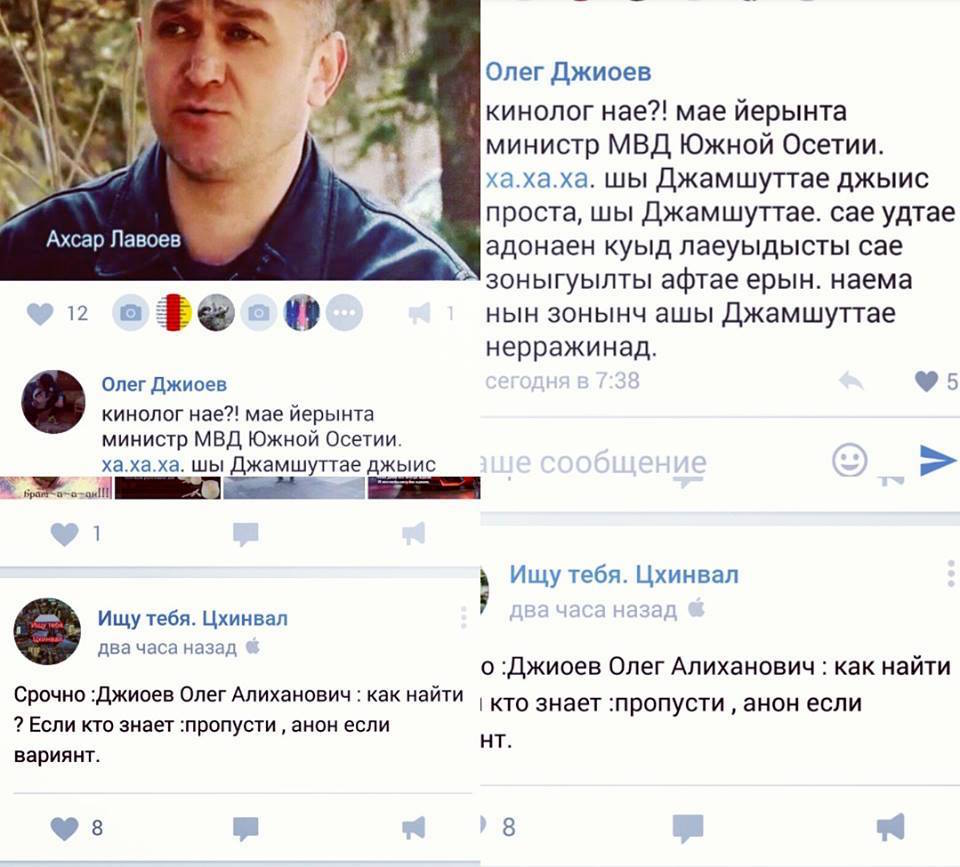 Meanwhile, Eduard Kokoity's opponents point out that the only thing he seeks is power.
Some social media users have reminded that back in 2011, it was Kokoity who disqualified from the presidential race his key opponent, Dzambolat Tedeev, the head coach of the Russian freestyle wrestling squad. And the length of the residency requirement was the reason behind Tedeev's disqualification. Whereas now, Kokoity has found himself in similar situation. Russian famous saying is frequently quoted on social media in this regard: 'Be careful how deep you dig a pit, you might be the one to fall in it!'
Interestingly, Dzambolat Tedeev himself immediately arrived in Tskhinval. He is actively supporting the incumbent President, Leonid Tibilov in this election. People in Tskhinval say, the authorities were concerned about possible protest rallies in Tskhinval on March 4, the day the CEC decided to turn down Kokoity's application for registration as a presidential candidate. So, they called Tedeev for help. He holds meetings with Tskhinval residents, calling to support Tibilov.
Leonid Tibilov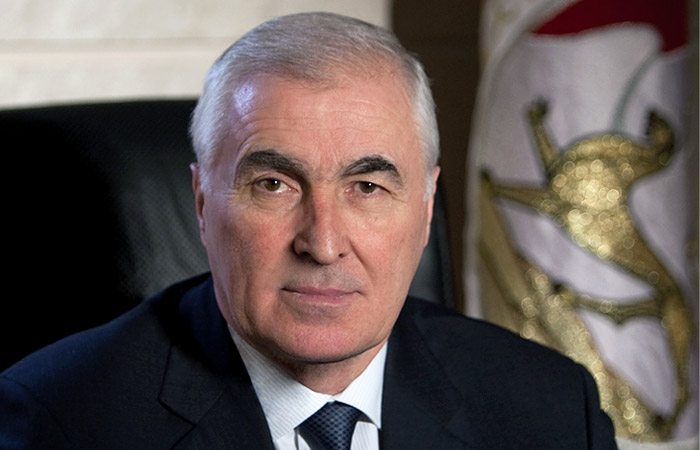 Leonid Tibilov took the SO President's office in 2011, after serious disturbances and protest rallies in the republic. Eduard Kokoity was leaving his post, whereas the public insisted on electing Alla Dzhioeva. It all finally came to an open confrontation and the parties agreed on Leonid Tibilov's candidacy. As many experts claim, his candidacy was actively backed by Moscow.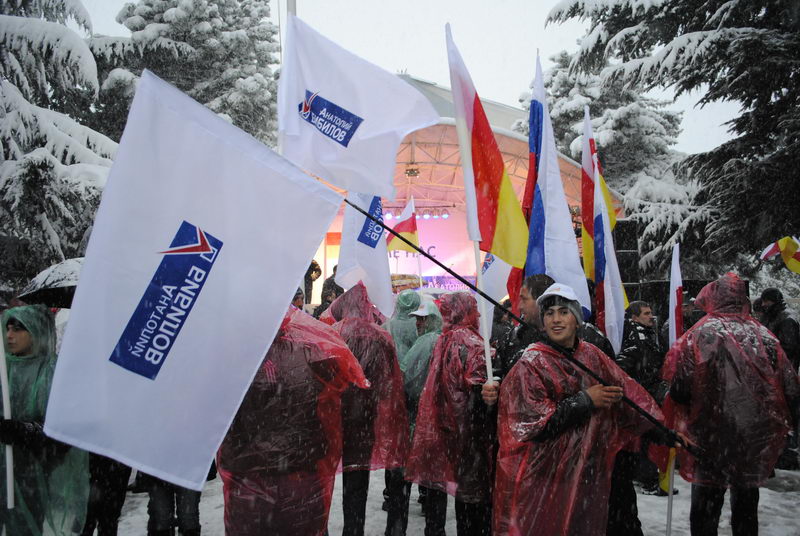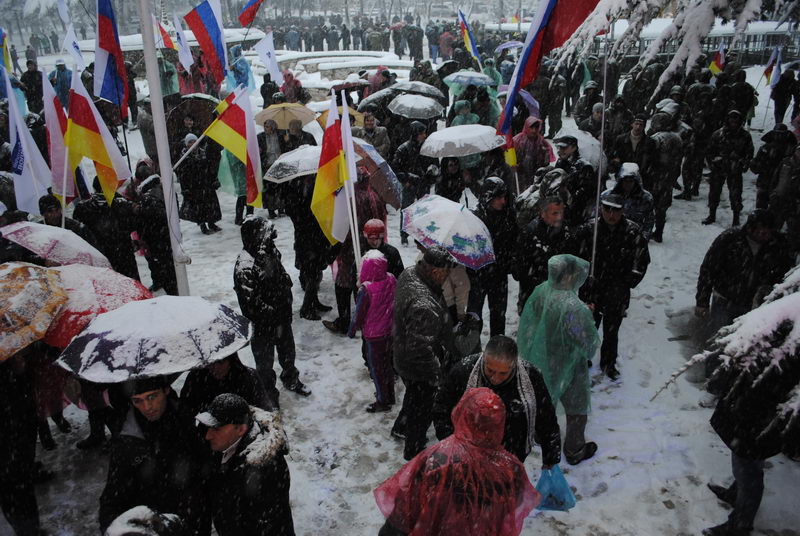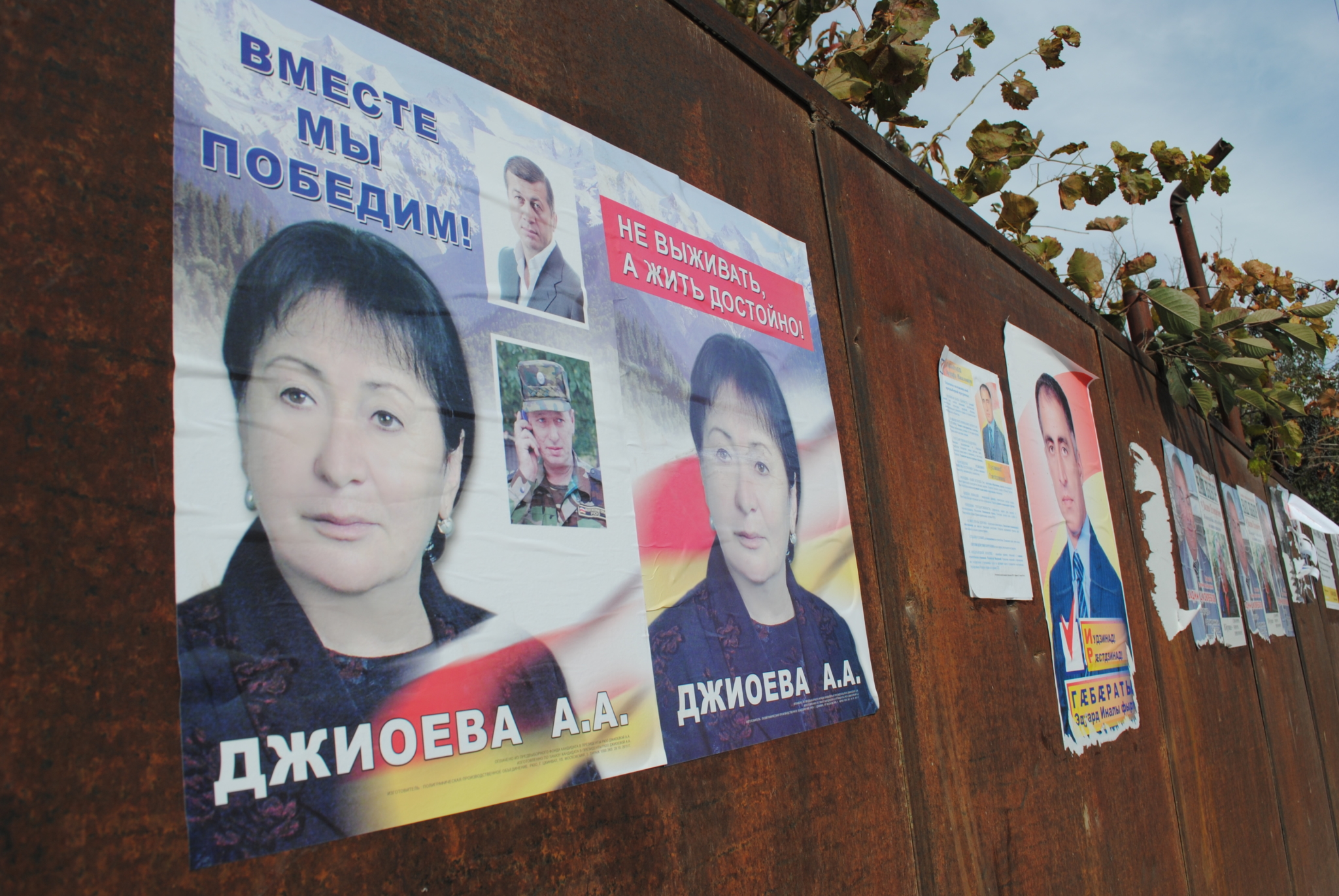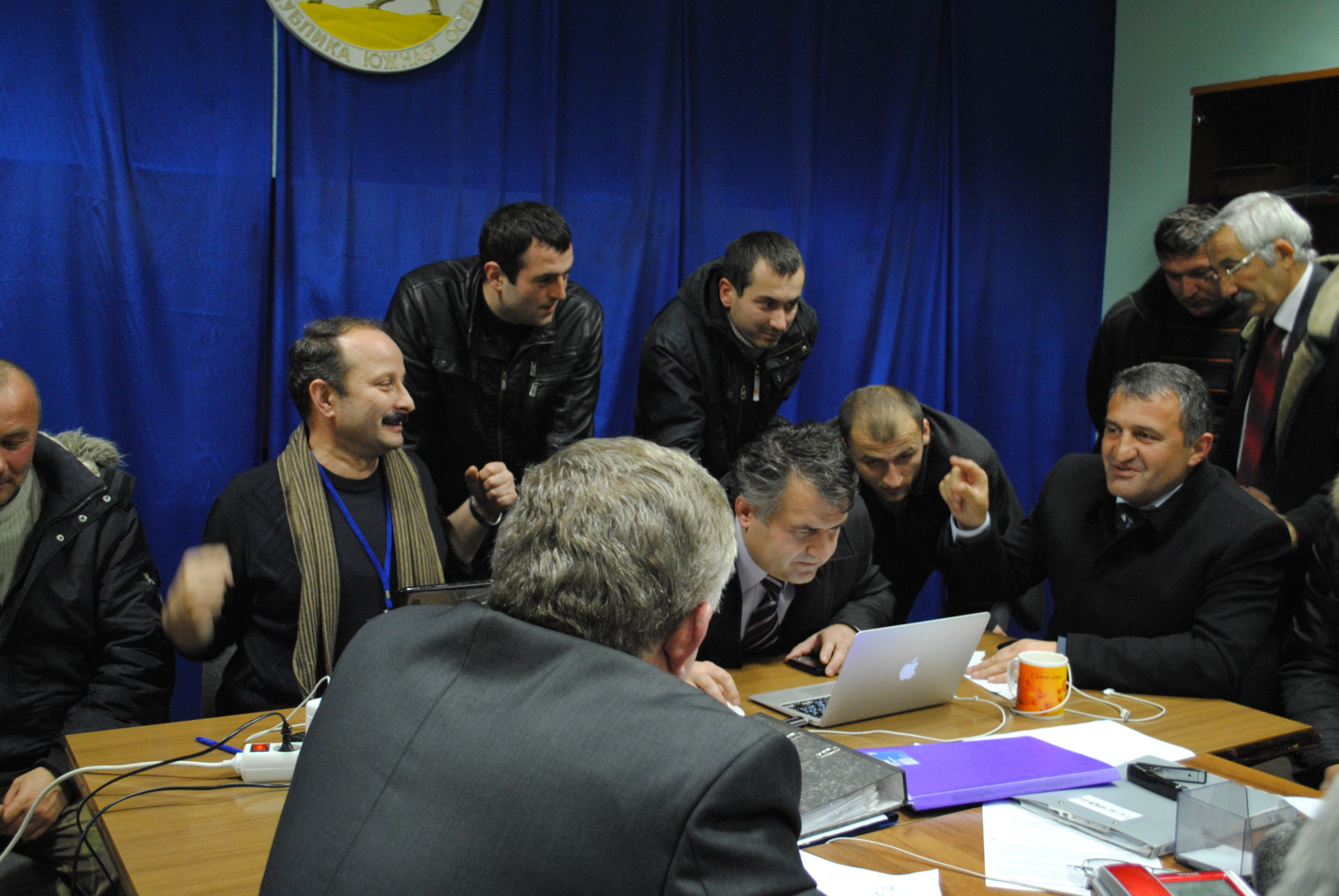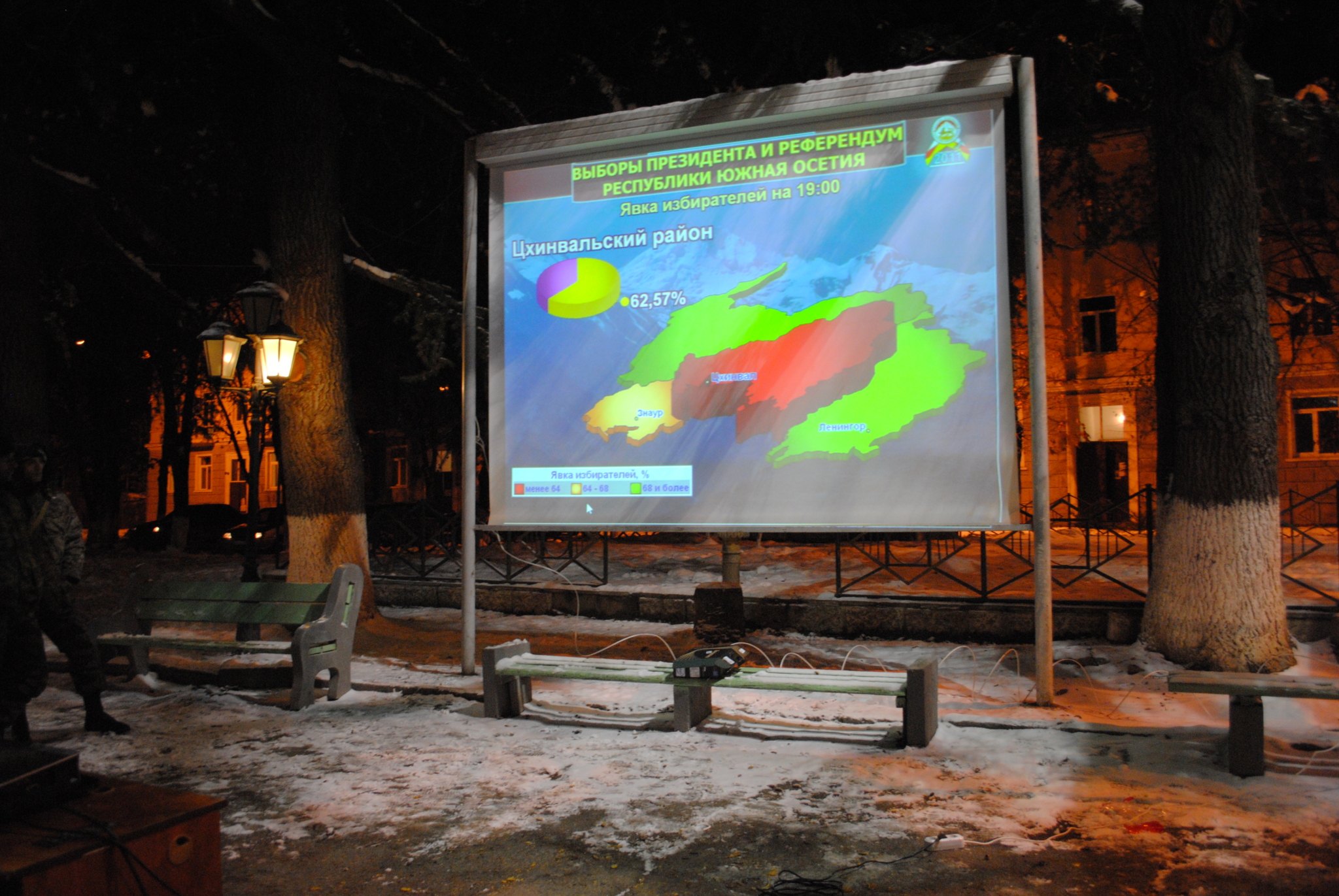 South Ossetia, prezidential election in 2011. Photos by Go Group Media
Today, Leonid Tibilov is in a very difficult situation. He is registered as a presidential candidate in the April 9 elections and he is actually in open confrontation with two major contenders: Parliament Speaker, Anatoly Bibilov and 'rebel' Kokoity.
The incumbent President is mostly criticized for his recent decision to open an additional, already the third electoral precinct in Prigorodniy district, North Ossetia (Russia). South Ossetian CEC Chairperson, Bella Plieva, explains this decision by 'respect for constitutional rights of the citizens residing beyond South Ossetia's borders'.
However, on social media and at the public meetings, the President has been accused of an attempt to use administrative resource in the presidential elections.
There is no information on the number of South Ossetian citizens who are expected to come to the polling stations in North Ossetia. According to Moris Sanakoev, South Ossetia's consul to North Ossetia. 'even rough information isn't available'.
People can come to any of those polling stations with South Ossetian passports, they will be registered and issued two ballotpapers for voting: one for electing the president, and another one for participation in the parallel referendum on renaming South Ossetia into Alania.
South Ossetia getting ready to become Alania – key 'pros' and 'cons'. JAMnews' analysis
Individuals willing to vote in North Ossetia can apply to the district election commission even on the election day.
Moris Sanakoev says, there are no voter rolls in North Ossetia, but there is a 'general idea that…there is large number of our citizens residing here. There is intensive migration between the republics."
But some social media users wonder:
"If voter rolls haven't been drawn up, how and for how many citizens will the ballot papers be published?"
Other users would answer:
"The number of rigged ballots for Tibilov will be increasing to infinity, especially given that Moris [Sanakoev] is a nephew of the [President's] wife."
Another FB post:
"Leonid Tibilov, being a guarantor of the Constitution, you'd better ensure legitimate, fair, democratic election and then leave peacefully…Can't you act as a real man at least once in your life?"
South Ossetian Parliament also criticized the President's decision on opening additional electoral precinct:
As South Ossetian Parliament Speaker, Anatoly Bibilov, told the 'Ekho Kavkaza' (Echo of the Caucasus) media outlet, he regarded ballot beyond the diplomatic representations as an attempt to rig the election.
"We don't mind if our fellow citizens cast their ballots in North Ossetia on April 9. No one has anything against it. But for this purpose there is the consulate, where they can go and vote… It's a well-planned provocation. They have done everything to ensure that our representatives wouldn't be present at Prigorodniy district polling station. I think, the results will be rigged there. Moreover, the results from this precinct can't be legitimate, since the precinct itself is illegal. And they could be purposefully doing it, so that if Anatoly Bibilov wins, the vote results from this precinct can be used to recognize the election as void."
The arguments of those, who can't forgive Leonid Tibilov his Soviet past – his service in the Georgian SSR KGB (in the department of then-South Ossetian Autonomous Republic), go as a separate line of criticism of the incumbent president.
There are opinions on social media that Tibilov 'hasn't cut his old ties'.
For example, Grigoriy Abaev, Eduard Kokoity's official spokesman, has posted as follows:
"Personally I have no doubts about Leonid Tibilov's pro-Georgian orientation."
A post by another social media user under the nick 'Victor Vorontsov' reads as follows:
"The government officials have started collecting documents from Georgian part of the population of Leningori district for issuance of South Ossetia citizen's passports to them. At the same time, the documents issuance procedure is violated, they are allowed to retain Georgian citizenship, provided that they vote for Leonid Tibilov."
Anatoly Bibilov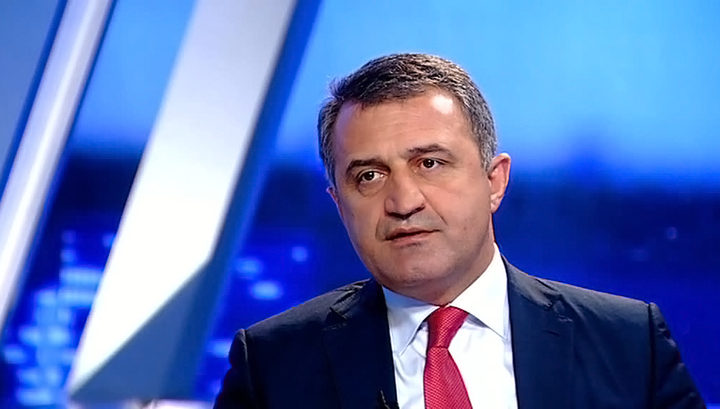 Anatoly Bibilov, an all-time leader of the 'United Ossetia' party, since June 2014 – the Speaker of South Ossetian Parliament. That's exactly when his confrontation with President Leonid Tibilov has begun.
Bibilov immediately showed himself as a politician beyond the president's control and, unlike his forerunners, he didn't start coordinating the activities of the legislative branch with the executive power.
Controversy between the SO President and the Parliament Speaker led to a growing animosity between the executive and legislative branches of power. JAMnews' analysis
In the current campaign period, Tibilov has entered into fierce competition with the incumbent president, regularly accusing him of persecuting his supporters and of violating the law and the constitution, as in the case of the above-mentioned opening of an additional precinct in North Ossetia.
However, Bibilov neither comments on nor in any way interferes into already scandalous political confrontation between the former and current presidents (Kokoity and Tibilov). When openly asked about this confrontation during a recent meeting with the electorate in Kvaysa, the Parliament Speaker just called for the people's unity.
"You should make your choice individually, don't let anyone use you for their campaign games," he said.
Following escalation of tension on March 15, when Kokoity's supporters rallied in protest against the Supreme Court's ruling on refusal to register him as a presidential candidate, there came reports that the Parliament Speaker was going to come to the rally venue. However, that didn't happen, whereas the United Ossetia party member, MP Petr Gassiev, stated later that 'Bibilov isn't going to visit Kokoity's supporters.'
There is a growing bewilderment in South Ossetia with regard to actual silence of the two key figures, the President and the Parliament, amidst unfolding public confrontation.
The incumbent President hasn't met with people and hasn't responded to the exceptional and even sometimes extreme situations in the republic over the past two weeks. The Parliament Speaker, presidential candidate, Anatoly Bibilov has taken a vacation amidst campaign, though he meets with the electorate in the districts from time to time.
Alan Parastaev, a South Ossetian political analyst, wrote on his blog on the Caucasian Knot media platform:
"Kokoity and his supporters were putting ultimatums, laying down conditions for the President and his ministers' resignation".
But I'm not surprised at that, but rather at the fact that one more player hasn't eventually showed up on the campaign field. Anatoly Ilyich [Parliament Speaker, Bibilov-JAMnews]. I was sure, he would stand as a mediator, would become a guarantor of peace! The General, ex-Minister of Emergency Situations, and it's actually more than just an emergency situation! He isn't just a party leader, he is the head of the Parliament, which is essentially the national assembly…If not he then who should come to the forefront and command the parties to sit at the negotiation table and put everyone and everything in the right place?"
The opinions expressed in the article convey the author's terminology and views and do not necessarily reflect the position of the editorial staff