Op-ed: Save Mishka
When asked why I like living in Georgia so much, I inevitably draw comparisons with my own country. I often say that on the whole, I prefer British culture, at least the idea of it: the atmosphere of a real pub is so superior to the tedium of a supra and tamada that they do not deserve to be mentioned in the same breath; the freedom of expression and acceptance of others far outstretch medieval values and the claustrophobic obsession with family; and young people are allowed independence so that men and women in their twenties do not behave as if they were twelve.
Yet I have consistently praised Georgia for its police and medical services, since their British counterparts are often found wanting. My tales of the failings of the British police and National Health Service are too many to describe here and must wait for another day; I must simply ask for your trust when I say that in the past, British police officers have outright refused to come when called since their numbers are too few, and the NHS has been responsible for a large number of misdiagnoses and death.
Yesterday, however, my faith in Georgia's police was shaken to its very core.
A friend of mine, Mishka Mgaloblishvili, was arrested on charges of MDMA possession. Mishka is a well-known rapper in Tbilisi, and I'm told that perceptions of rap music and culture are currently being used by the prosecution to portray this as nothing out of the ordinary. Having read comments on social media by gullible people who trust the police and are ready to believe the worst of anything with an edgy and Western cultural influence, it alarmingly seems to be working.
The facts are not being reported, and that is something I would like to address today.
Mishka and his musical partner, who goes by the moniker Kay G, released a satirical music video a number of days ago in which the police are insulted. Georgian culture is clearly not mature enough to accept satire for what it is, as soon afterwards Mishka received an anonymous phone call which threatened him and demanded that he remove the video. A day later, while walking home, Mishka was accosted by police officers, who then 'found' MDMA on his person and took him into custody.
I am not a rap fan, nor a regular attendee of concerts in Tbilisi, and so I usually meet with Mishka at the gym we both go to. He is a health-conscious individual with an interest in bodybuilding, and as trivial as it might sound, one of our last conversations together was about maintaining a high protein diet and avoiding carbohydrates and alcohol. Hardly the sort of talk drug users typically engage in.
Mishka is currently being denied bail, as his partner, Miss Erika Copeland (with whom he has a young daughter) is a citizen of the United States, and the prosecution is adamant that Mishka will attempt to travel to America if he is released. Miss Copeland has reached out to Bera Ivanishvili, son of Bidzina Ivanishvili and a fellow rapper with whom Mishka was acquainted, for assistance. He has so far ignored her correspondence.
I have never taken drugs myself, but know many people that do and have, as well as a number in Georgia. Foreigners and Georgians offer complain that any cannabis available in this country is of inferior quality, and other drugs are hard to come by, but be this as it may, the timing of Mishka's arrest is surely more than enough to vindicate him.
If nobody in the Ministry of Justice or the Ministry of Internal Affairs will admit it is very suspicious that Mishka was only approached by the police after the release of his music video (and after he was threatened), then Georgia's European aspirations are as good as dead. I have written elsewhere that the government seems to believe that it can simply tick all the Western reform boxes without changing anything and both Brussels and Tbilisi can be content with the pretence, but this is simply not how the civilised world works. Mishka's arrest also comes barely two weeks after Afgan Mukhtarli, an Azerbaijani journalist critical of the Aliyev government, suddenly appeared in Baku after going missing in Tbilisi. The Georgian government have denied their complicity, and have yet to convince anyone.
I never liked to lend any credence to anti-establishment types whose beliefs seem to border on conspiracy theories, but Mishka's arrest and Mukhtarli's disappearance have made it abundantly clear that those preaching of Georgia sliding back into its pre-Saakashvili era of police corruption and authoritarian bullying were right. The police clearly cannot be trusted, and the government looks unlikely to hold anyone accountable at this time. I would like the European Union and the United States to impose any measures – however harsh – to delay and hinder Georgia's Western aspirations until such a time as the government has proven itself trustworthy and above the petty corruption that has done little but massage the ego of reactionary police officers and tear two families apart.
Mishka's family are currently struggling to pay his legal fees. Please consider donating at
https://www.youcaring.com/mishkamgaloblishvili-844977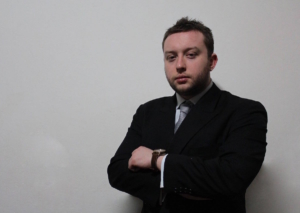 Tim Ogden is a British journalist based in Tbilisi