Rustavi 2 TV supporters rally outside the Supreme Court building
The coordinating council comprising 8 political organizations, as well as students and public figures, held a rally outside the Supreme Court, demanding to protect freedom of speech.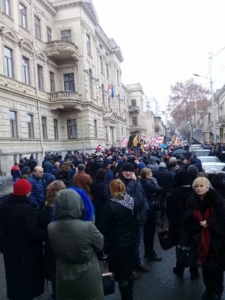 Nika Melia, a member of the opposition United National Movement (UNM),said, the Supreme Court, which is pressed hard by the government, is going to rule against Rustavi 2 TV.
According to the rally organizers, if court renders a biased judgment with regard to Rustavi 2 TV, then permanent protest rallies will be organized. In their assessment, the freedom of speech is at risk in Georgia.
'No to media assault'- a banner with such inscription was placed in the Parliament's session hall  by the European Georgia faction  members. This led to a verbal exchange between the majority group members and the opposition MPs.
Elene Khoshtaria, MP, said, it was a certain form of protest and she associated herself with all those, who opposed the ongoing processes in mass media.
A dispute over Rustavi 2 TV has been underway for 2 years already. Kibar Khalvashi, the TV company ex-owner, reclaimed his share in Rustavi 2 TV , saying he had been forcefully seized the TV company by the former authorities.
At the hearing on June 2016, the Appeals Court announced Kibar Khalvashi as Rustavi 2 TV legal owner. However, the broadcaster's lawyers challenged the ruling in the Supreme Court
The Supreme Court is likely to deliver its judgement on Rustavi 2 TV case on February 15.