Russian Defence Ministry accused of distributing fake images of the US assisting ISIS
Russia's Ministry of Defence quickly removed images from a post on its Facebook and Twitter pages which allegedly confirmed that the US was assisting the Islamic State. As Novaya Gazeta reports, this happened about an hour after the Conflict Intelligence Team (CIT), a group of investigative journalists, announced that the photos posted by the Ministry of Defence were fake.
According to the CIT, one of the images was actually a screenshot from a smartphone game, AC-130 Gunship Simulator. The rest were screengrabs taken from Iraqi Ministry of Defence videos which showed coalition airstrikes and Iraqi forces attacking an Isis convoy at El-Falluja in June 2016.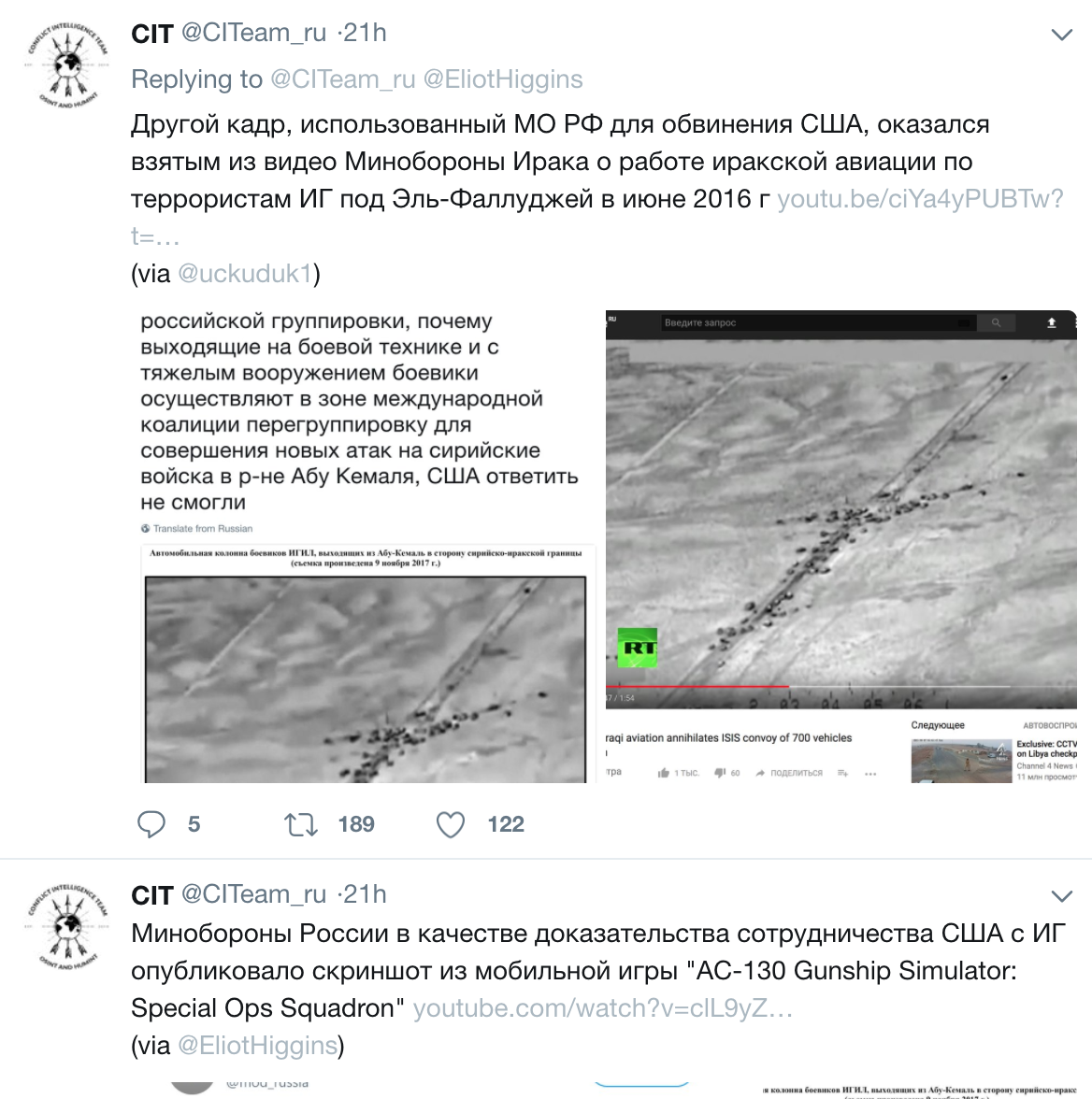 "In the photographs taken on 9 November 2017 by unmanned Russian vehicles, armed ISIL formations were recorded fleeing attacks by Russian aviation and government troops many kilometers away from Abu Kemal heading in the direction of the Wadi al-Sabha crossing on the Syrian-Iraqi border", the Ministry of Defence stated in a message. The Office claimed that the corridor had been opened by the coalition.
The Ministry of Defence still has not commented on the matter.
This summer the CIT found that Russian President Vladimir Putin showed the American filmmaker Oliver Stone  footage of Russians fighting Isis in Syria, which was actually footage of Americans fighting the Taliban in Afghanistan in 2009. The footage was then later uploaded in 2013.
"We have closely examined and compared the dynamics of impacts on the ground – the position, and dispersion and saw that this is indeed a well-known video of an American helicopter in Afghanistan. This is absolutely the same video," Ruslan Leviev, head of the CIT told Novaya Gazeta.
Dmitry Peskov, the Press Secretary for the Russian president said that he can confirm the authenticity of the video that Putin showed. According to him, 'there really were materials from the Russian Defence Ministry'.