Rejecting the role of the victim
photo by Gevorg Ghazaryan
A sad story with a happy ending
Hasmik Khachatryan is a successful private entrepreneur. She cooks the traditional type of baklava of the Gegharkunik province of Armenia and delivers it to a shop. Her working day starts at 10 a.m. and finishes at 10 p.m.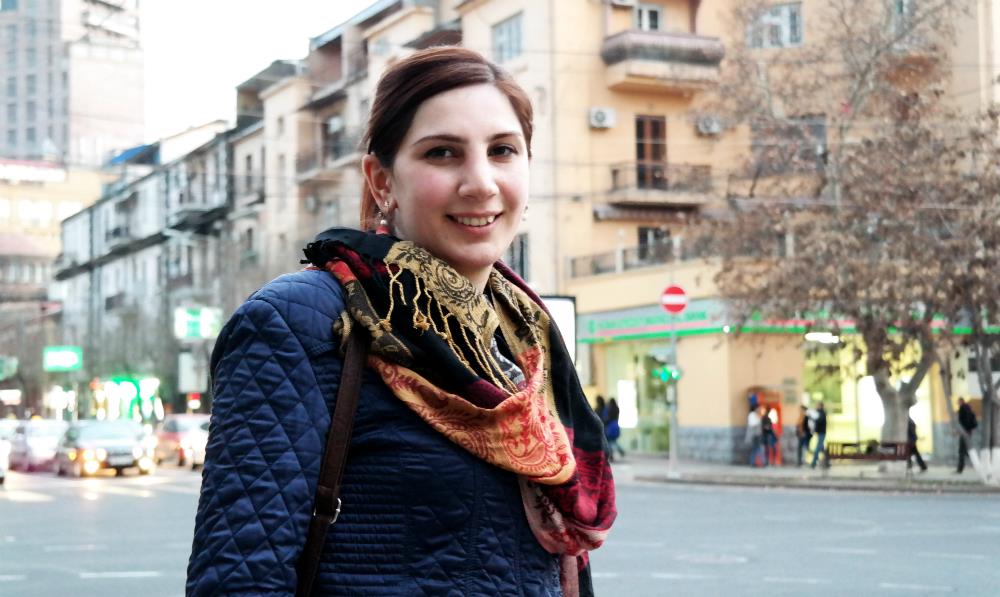 Hasmik's most important duty is to take her daughter, Varsenik, to school. After that, she goes to the market, where she buys flour, butter and other products needed to make baklava. Hasmik says her day is rushing around places, but sometimes she puts everything off and stays at home to analyze herself, her behavior and to plan her future.
Hasmik Khachatryan got the chance to make independent decisions and manage her life only two years ago. Before that, during the nine years of her marriage, she had been tortured and subjected to violence by her husband and his family. One night, when she had been cruelly beaten again, Hasmik managed to flee from her home. She says she would not have been alive if she had not escaped.
Barefoot and wearing torn clothes, she hid near the village bog till morning. She was afraid to appear in the street or to go to her parents because her husband was searching for her in his car, threatening to find and kill her.
In the morning Hasmik's parents found her and took her from the village of Gandzak in the Gavar district to the Yerevan hospital. Hasmik appealed to the Women's Rights Center public organization, where she was provided with a temporary dwelling, as well as was given psychological assistance and legal aid.
Later, her husband, Sargis Hakobyan, was charged pursuant to Article 119 of the Criminal Code of Armenia – torture committed with particular cruelty, with a sentence of 3-7 years of imprisonment.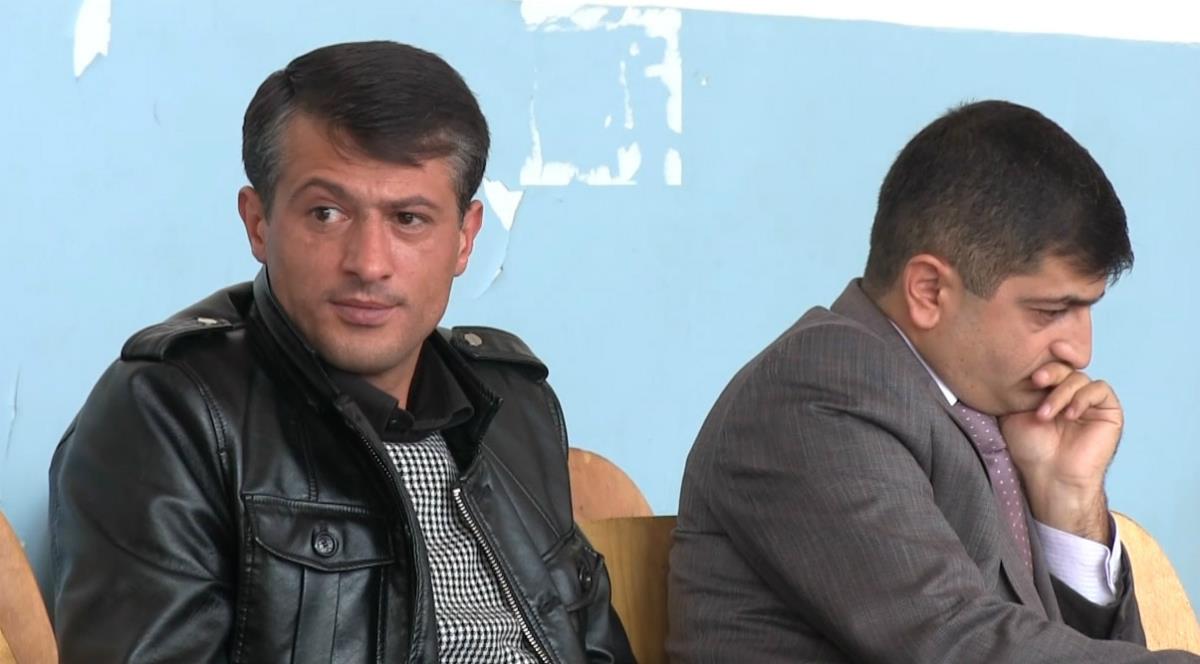 Sargis Hakobyan
However, after nearly a year-long trial, the charges brought against Sargis were reclassified as premeditated infliction of mild damage to health. He was sentenced to 1.5 years in prison and was released right there in the court room under amnesty.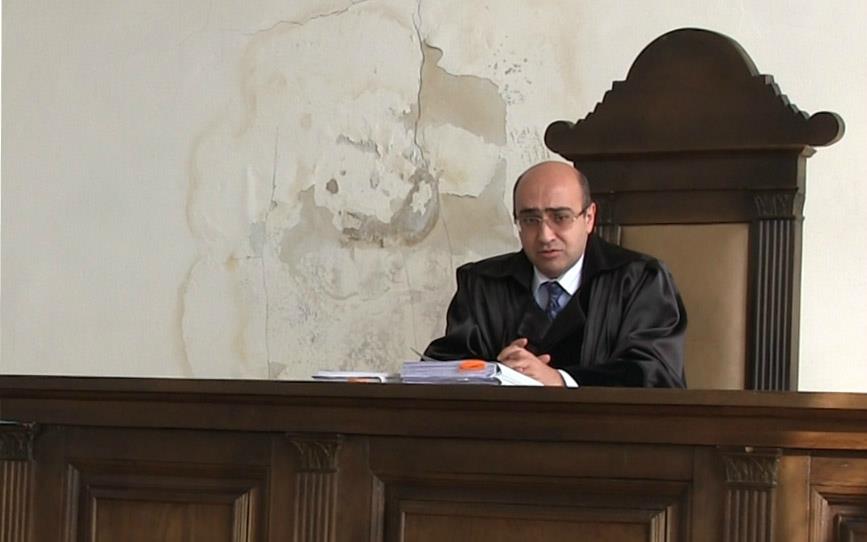 Judge Agvin Petrosyan, who brought that verdict
Hasmik Khachatryan says, her former mother-in-law, who is a famous fortune-teller in Armenia, has always bribed law-enforcement and judicial agencies. The abovementioned trial was not an exception either.
Having been released, Sargis Hakobyan stayed rooted in his ways and this time unleashed his aggression upon his parents. Last year, Hakobyan was charged for beating his parents, money extortion and an arson attempt. An investigator made the decision to arrest him for a two-month term. The case did not stand trial in court.
At present he is free and has not been made liable for the violence committed against his wife and other members of his family.
It must be noted that Hakobyan has also showed aggression against another woman, who escaped to Russia to rid herself from her abuser. In the course of Hasmik Khachatryan's court proceedings, Vika Torosyan contacted the journalists covering the trial from Russia and reported that she was his second victim.
In her words, Sargis had been beating, abusing and victimizing her for two years. Her nose was broken. Finally, after the miscarriage of a 5-month fetus, she turned to the police. However, because of Hakobyan's threats, she no longer filed charges and left the country. 
Lack of a domestic violence law
The Armenian law-enforcement agencies regard domestic violence as a family matter rather than a criminal offence. The women who apply to the police are often convinced to drop the charges, saying it's not suitable for an Armenian woman to complain about her husband. Whereas those who still go to court are facing the same harsh reality as Hasmik Khachatryan did.
There was a high-profile case not too long ago. Gagik Sargsyan, a judge of the general jurisdiction court of the Ararat and Vayots Dzor districts, sentenced Volodya Muradyan, 51, to 3.5 years in prison for killing his wife, Diana Naapetyan, 35. The man stabbed her 21 times in the presence of their underage children.
In another case, Tatul Pogosyan, a judge of the same court, imposed a 50,000 AMD (approx. 100 EUR) fine on Vardan Jamalyan, who had been abusing his wife, Narine Zograbyan, for 11 years.
Having applied to the law-enforcement agencies, the women do not get dignified compensation; moreover, they are put under psychological pressure. Both law enforcement agencies and the society perceive them as "informants.
"An informant" from Italy
Esther Violante, an Italian, is a volunteer who lives and works in Yerevan. Her life here changed on the day she called the police upon hearing sounds of abuse coming from her neighbor's apartment.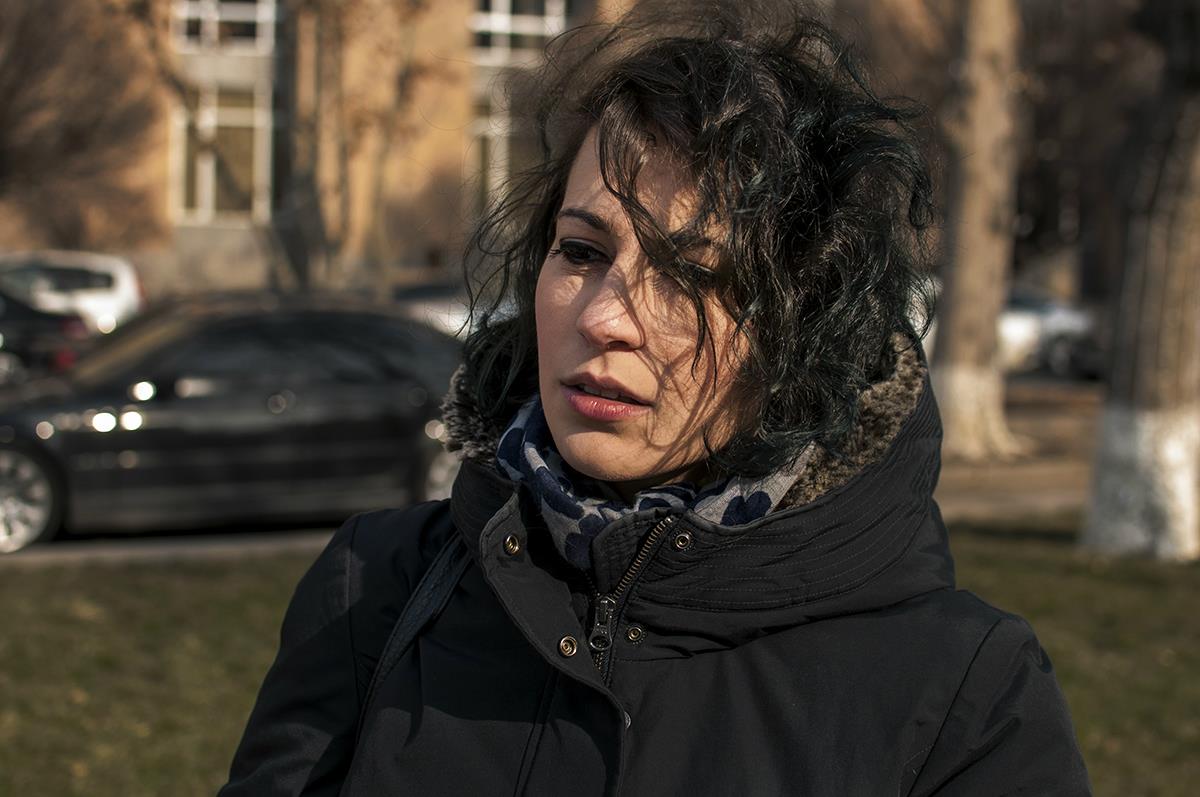 Photo by Narek Aleksanyan
The police came to the incident scene, talked to the man who had beaten his wife and afterwards told Esther that everything was all right. They left. 
A few minutes after they left, another neighbor knocked at Esther's door and advised her to mind her own business and never to call the police to their address.
Since that day, the Italian has been regarded in that house as 'an informant'. In order to utilize psychological pressure on her, the neighbors once put excrements at her door. "I am sure, the policemen told the neighbors who had "ratted on them. My neighbor said it was normal in Armenia for a husband to beat his wife. I explained tp them more than once that if violence was a norm for them, it was not a norm for me. Armenia is not the only country where domestic violence is the norm, but I have never seen a legal law-enforcement agency acting on information regarded as a 'criminal' by the society, says Esther.
There is a grant – there is a law
In 2016, the EU allocated an 11 million EUR grant to Armenia as part of budget assistance for the implementation of reforms in the human rights sphere. The EU, in turn, expects Armenia to join the Council of Europe Convention on Preventing and Combating Violence against Women and Domestic Violence (Istanbul Convention) and pass a Law on Domestic Violence.
One needs to be reminded that the public organizations dealing with the women's rights has been negotiating the adoption of the domestic violence law with Armenian authorities over the past three years. Those talks were deadlocked until the EU announced the allocation of a grant.
A few days ago, Alen Mkrchyan, the Justice Ministry's leading expert, noted that the Law on Domestic Violence would be passed 40 days into 2016. He talked about it during the roundtable discussion – "Legislation on the prevention of domestic violence as an important precondition for human rights protection, including the participation of government officials, National Assembly members, the police and international and public organizations.
Nonna Galstyan, a lawyer at the Coalition to Stop Violence Against Women, noted that the key focus was preventive measures. It is wothy of note that she has participated in devising the draft law.
"At first, a violator of the law receives an official written warning from the police. That's in the case that it was a first-time violation there are no signs of the crime – the victim was not battered or tortured. If the abuse is repeated or there are the signs of the crime, the police will intervene.
This emergency intervention implies that the perpetrator of the crime will not be allowed to come with 100 meters of the victim, to phone her, to disturb her or collect any information about her. Then comes the official decision-making stage, which is based on a court ruling. Here the same restrictions are in effect. The only difference is that the perpetrator may be evicted from the place of residence irrespective of whether he is the owner of the residential area or not, explains Nonna Galstyan.
Public officials state that the law was not passed earlier because of a lack of resources. Whereas now, with the EU's support, they are planning to set up shelters and a center of psychological assistance for the victims and the abusers.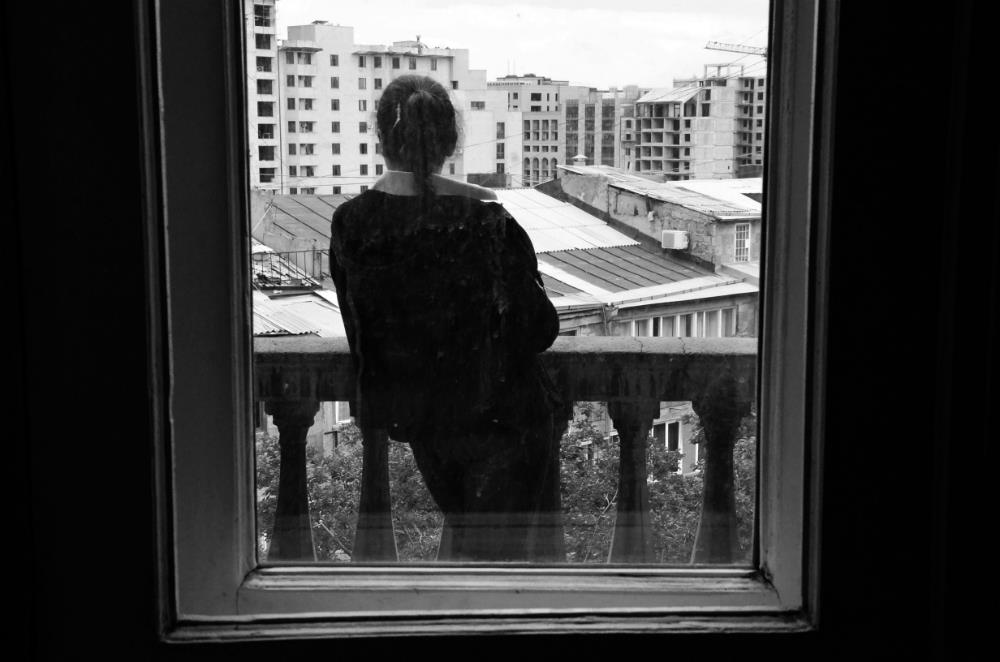 Photo by Lusi Sargsyan
There isn't any organization working with the people who commit violence in Armenia.
Public organizations assist the domestic violence victims
A hotline is available for women who are victims of domestic violence. The condition of the woman, who has contacted the center, is assessed right after the phone call. If it is dangerous for her to stay in one house with her husband, the woman is brought to a special shelter for domestic violence victims. In particular, there is a shelter, the Women's Support Center (WSC), in Yerevan. It has been set up on the funds provided by James Tufenkian, a philanthropist from the Armenian diaspora, who currently resides in the USA.
26 women and their children have found shelter here since January 2016 until present. Regrettably, due to a lack of resources, the shelter can hardly take in all the women who need assistance. Women learn about the shelter and the hotline from leaflets that are spread in district and rural administrations, as well as in police departments. Additionally, the WSC hotline number is posted in metro cars and the elevators of residential buildings.
Hasmik Gevorgyan, the WSC program's coordinator, says that the lack of a domestic violence law seriously hampers the shelters' operation. One of the most important principles of the shelters' functioning is that nobody should know their whereabouts, as very often, husbands search for former spouses to "deal with them.
"It is a problem to find the premises because the owners are always interested whom the area is leased to, but we cannot answer this question. The district police inspector comes and asks who we are, who is the leasee. How long are we supposed to work under such tension and continuously persuade the owners? I think if there is an appropriate law passed, we will be able to work peacefully, as there will be state protection, notes Hasmik Gevorgyan.
The shelter of the Women's Support Center has never been detected, but there were cases when social workers had to evacuate all inmates for a short period of time to ensure their safety.
In addition, the women who are accepted into the shelter usually have injuries and are in need of medical assistance. The WSC requires additional funding for that purpose.
"If you take a look at statistics, you will find that the majority of persons under the Center's care have nasal fractures. Their children suffer from malnutrition and are in a critical psychological condition, says Hasmik Gevorgyan.
The WSC program's coordinator also notes that most women, subjected to domestic violence, suffer from serious psychological trauma, but it is not customary to consult a psychologist in Armenia.
"In addition, if a woman is registered at the outpatient psychiatric facility, it could be used against her during the decision-making process of legal and judicial proceedings. An investigator may say that a woman talks more slowly than usual, but nobody is interested in how many times she was stricken over her head and what it was caused by, says Hasmik Gevorkyan.
The struggle goes on
After 1 and a half years of court proceedings, Hasmik Khachatryan is finally free from her husband's harassment. She has become an example of the struggle against domestic violence in Armenia. She was handed the EU Woman of Courage award during the annual awards ceremony last year.
However, her struggle continues. She cooks baklava and proves that a divorcee is able to set up her own business, to raise a child and live with dignity.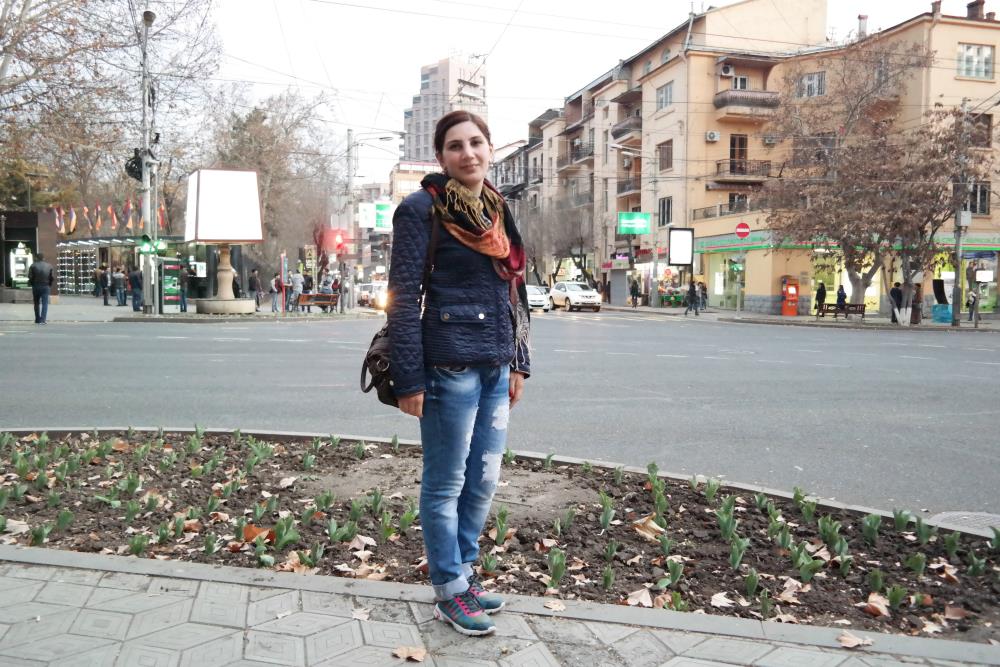 "At the market I buy the whole sack of flour, a big tin of oil, so as to have enough of it for a certain period of time. Once I bought a huge sack of flour and tried to put it into a taxi, but a driver told me: "I will not carry your sack to the car. Isn't there any man to help you? I told him, I would carry the sack myself, but he said his car was not designed to transport flour. It seems to me that the driver simply did not want to help me because there was no man with me. Of course, I took another taxi and the sellers helped me carry the sack, but my struggle continues every day, says Hasmik.

Published: 13.05.2016