Price of water doubles in Azerbaijan – but what about the quality?
The price of water has doubled in Azerbaijan in recent months, irritating local residents of Baku in particular, who despite residing in the nation's capital, have long had serious problems with the city's water supply.
The Tariff Council decided to allow the price hike following alleged 'calls for help' from water company Azersu.
What do residents of Baku have to say about the water supply? Are they satisfied with Azersu's services, which now cost 70 qepik per cubic meter instead of 35 qepik?
---
Azerbaijan ranks 46th in the world for the scarcity of water resources, as per the World Resources Institute data. The entire region of Azerbaijan has very low volumes of freshwater, although there are some efforts to use underground aquifers, which are usually advised to be exploited with extra caution.
The authorities are aware of the issue: in August 2020, Deputy Prime Minister Shahin Mustafayev said that the situation with the water supply is tense.
In Baku, in fact, all residents of the city are divided into three categories: those with constant access to piped water, those with private access to water for when the water goes off for several hours a day, and those who are not connected to the water supply at all.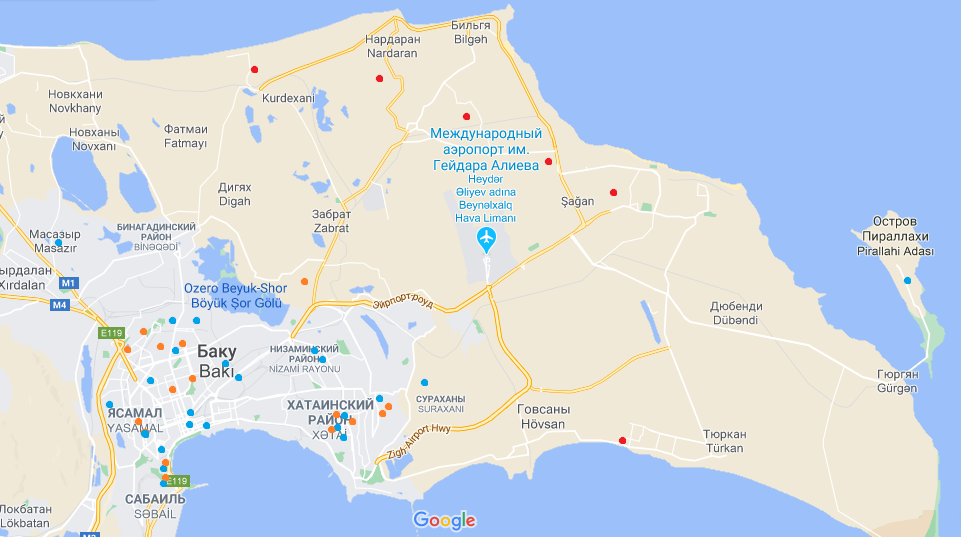 This map shows the results of a small survey that we conducted among Baku residents. Each colored dot is a respondent's address. Red – there is no running water, orange – water runs on a schedule, blue – water runs around the clock.
Water on schedule
"Ten years ago, in my area, water was supplied by the hour. In the morning and in the evening one of the tenants would turn on the generator in the booth near the house. 'Water pumps', which drive water to where it cannot rise on its own due to the small pressure in the pipe, are now commonly used in Baku.
So, the "engine caretaker", or his wife or son, turns on the engine, and the residents hastily bath, cook dinner and fill their water tanks. It was necessary to adjust the daily routine around the water supply schedule, for example, wake up earlier to take a shower or come home earlier in order to have time to do it in the evening.
Several years ago, water began to be supplied around the clock", one Baku resident told us.
---
In general, the situation has improved in recent years. For example, the launch of the new Oguz-Qabala-Baku water pipeline in 2010 solved the "water problem" for some residents of the city.
In addition to Oguz-Qabala-Baku, Baku is supplied via the Shollar Canal, the Jeyranbatan reservoir, which is not far from the city, and from the Kura River.
However, there is still not enough water to supply the entire city round-the-clock, which the authorities had promised to do by 2013.
The worst of all is the situation in suburban settlements, where there is simply no running water at all.
---
Nigar Musayeva recently moved to Tbilisi. She is happy every time she turns on the tap that she can take a shower whenever she wants:
"In Baku, water was provided for a couple of hours a day, morning and evening. There was no tank, so they filled the bathtub with water so that there was something to wash one's hands with. Sometimes I could not even wash my face properly, when I came home after ten in the evening, I got by rubbing my face with ice cubes. Dirty dishes accumulated in the sink until seven in the evening. It was all humiliating. I left, but I feel sorry for my mother".
How Bakuvians solve water problems
In general, water supply in Baku is perceived as its own problem for each individual family, and they solve it in different ways.
If the water goes off for several hours a day, then you need a large enough container to store it. If there is no running water, you still need a container, but you also need to find water from somewhere.
In the suburbs, where most of people live in their own houses, residents install water tanks in the courtyards, or dig up so-called "pools" – a concrete "box" underground.
The tank can also be placed in the apartment – for example, a small one, 200 liters above the ceiling in the bathroom, or a larger one on the roof of the house.
Wells are often dug on the periphery of Baku, where there is no running water at all. For example, in the village of Buzovna, the well-and-motor-tank combination is popular. That is, the water is pumped out of the well by the motor and a large metal tank in the yard of the house is filled.
This water is used for bathing and washing dishes, and drinking water is sold in buckets when a tanker arrives once a week.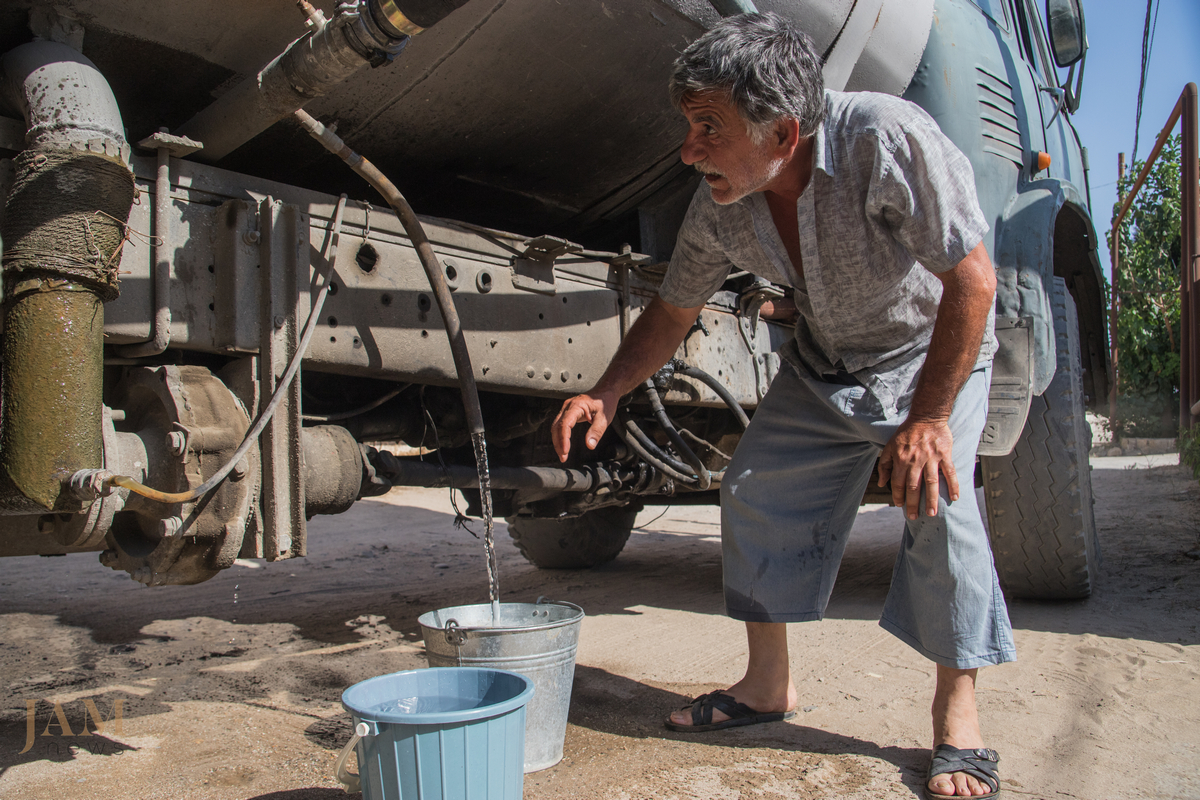 Orkhan, a resident of Mashtaga village, says:
"We have two tanks in our yard – we fill one with drinking water and the other with water for everything else. We buy drinking water. It is brought in a tanker truck, and for 20 manats the tank is filled with water sufficient for three months. We boil it before we drink it. We get water for domestic needs from a well using a pump".
Drinking water not fit to drink
"When I first went abroad, checking into a hostel, the first thing I did was go to the kitchen for a drink. Not finding a decanter of water anywhere, I turned to the owner for help. The elderly man looked at me in bewilderment and said: 'Turn on the tap and drink.'
At first, I was skeptical about his words, thinking that he was just trying to save money on water, but when I filled it in a mug and tried it, I realized that water really was drinkable.
The overwhelming majority of Baku residents prefer not to drink tap water.
The well-developed bottled water market benefits from the obvious unsuitability of tap water – it is sold in three-liter and five-liter bottles. Filters are very popular – both household filters in the form of jugs, and those that are placed directly on the water pipe. At worst, the water needs to be boiled before drinking", another Bakuvian told us.
---
Nargiz lives in the center of Baku. She says that the water runs around the clock, but, of course, you cannot drink it: "Among other things, it still smells strange from time to time".
In many cities around the world, there are two types of water supply – with purified drinking water for domestic use, and with untreated water – for everything else.
In Baku, all water is officially considered to be safe for drinking, and it is used everywhere: in numerous car washes, for watering trees, in fountains. Therefore, it turns out that statistically, a resident of Baku spends on average twice as much water as a resident of London.
---
Nigar Mamedova and her husband recently moved to another apartment and one of the main reasons for moving was water quality:
"We lived in a new building. The water was running around the clock, but it was so dirty that I hated it. It contained sand and stones. The filters on the taps had to be cleaned regularly. I started to suffer from skin problems and after a shower, my whole body was itching. Now we have moved to another area and our torment is over. The water is clean, skin problems are gone too".
Nigar, like many others in Baku, uses water filters, both types of them:
"I use a jug filter and one that fits on the tap. The water is so much better in the new area that sometimes I don't even use one of the filters. It has been five months since I last changed the filter cassette that I installed on the water pipe, although they usually get clogged within three months".
---
The smell of chlorine is another frequent complaint of Baku residents. Many believe that chlorinated water from the Kura River is still very dirty.
Chlorine can cause cancer if ingested in large quantities. Usually, when cleaning water with chlorine, it is essential to make sure that the amount does not exceed the permissible rate. Nevertheless, in the West, this method was considered dangerous and abandoned in favor of ozonation (with the help of ozone in water, all microorganisms are destroyed).
For this, "Azersu" would have to purchase expensive equipment, and this method requires strict control, which means that qualified personnel has to be hired.
So for now, "water officials" assure that everything is in order with the water, it is fit for drinking, and the filter sellers are charlatans and deceivers.
Meanwhile, many residents of the Azerbaijani capital continue to solve the "water problem" at the expense of their own money, time, and efforts.