How to keep labor migrants in Armenia? New EU proposal
Own business for labor migrants
The number of labor migrants leaving Armenia for seasonal work, mostly to Russia, has been declining in recent years. In 2018 many were inspired by the "velvet revolution", people believed that a lot would change in the country, it would be possible to work at home and not leave to work. Then, for some time, the borders were closed due to the coronavirus epidemic, after which the war began in Ukraine. At the same time, international organizations have become more active, offering Armenian labor migrants the opportunity to earn money in their homeland.
One of them is the program "EU in support of capacity building for migrants". As part of this project, they are helped to start their own business instead of looking for work in other countries.
---
---
Khachatur. Carpentry workshop in Saralanj village
59-year-old Khachatur Suvaryan went to work in Russia for 20 years in a row. But this year, instead of leaving for seasonal work, he started his own business in his village.
"Men traditionally left our village Saralanj to work, but recently people are gradually abandoning this path. The Russian-Ukrainian war, tax tightening and a low exchange rate are forcing people to stay here and look for work," he says.
Every year 7 construction teams, each with 10 people, left the village of Saralanj to work. And now 60 of these 70 have already got jobs in various construction projects in Yerevan. And Khachatur decided to establish his own carpentry workshop.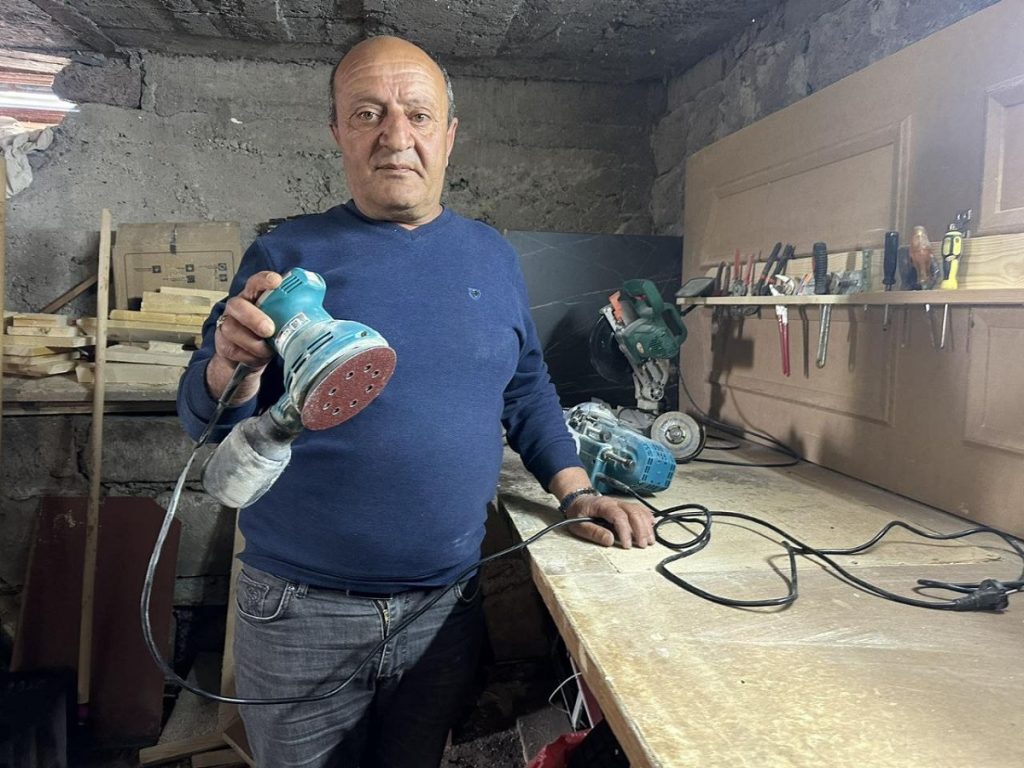 "If people are convinced that they can earn money, they will stay at home and work here. I also worked with wood when I left Armenia. He built roofs, stairs, made various wooden products, participated in the construction of two churches. Now I decided to open my workshop. I invested about four thousand euros in the business and received a grant from the ICMPD [International Center for Migration Policy Development] for the same amount. More precisely, I received a machine for working with wood for this amount."
EU proposes to use the potential of migrants at home
The International Center for Migration Policy Development (ICMPD) is implementing a new project "EU in Support of Empowering Migrants for Development in Armenia" (EU4IMPACT Armenia). The goal of the program is to support migrants and their families who are ready to start a business, as well as those who need help to develop existing businesses.
"300 people applied for participation in the program in 2021 and 2022. More than 250 took part in the online business management course organized by the IRIS Business Incubator Foundation. More than 200 applicants drew up a business plan and submitted it to the competition committee for consideration. Funding provided to 80 best projects. The beneficiaries who received the grant represent all regions of Armenia," ICMPD PR specialist Inna Galoyan says.
The organization considers this program an incentive for people to return to their homeland, providing them with work so that they no longer have to go in search of it.
"In addition, we help to ensure that the money coming from abroad is directed to the development of business, the prosperity of families and the country. There are people who work abroad and send money to Armenia. Thanks to our program, they are sent to get people to start their own business. We provide an amount of up to 10 thousand euros for the implementation of a project presented by a migrant. And each beneficiary must invest the same amount in the cause. We do not give out cash, we buy attributes or services necessary for business," Galoyan says.
Sargis. Fast food in Gyumri
35-year-old Sargis Asisyan from Gyumri has been traveling to work since 2016. He returned home in May last year. He heard that migrants returning to their homeland are being helped to start their own business.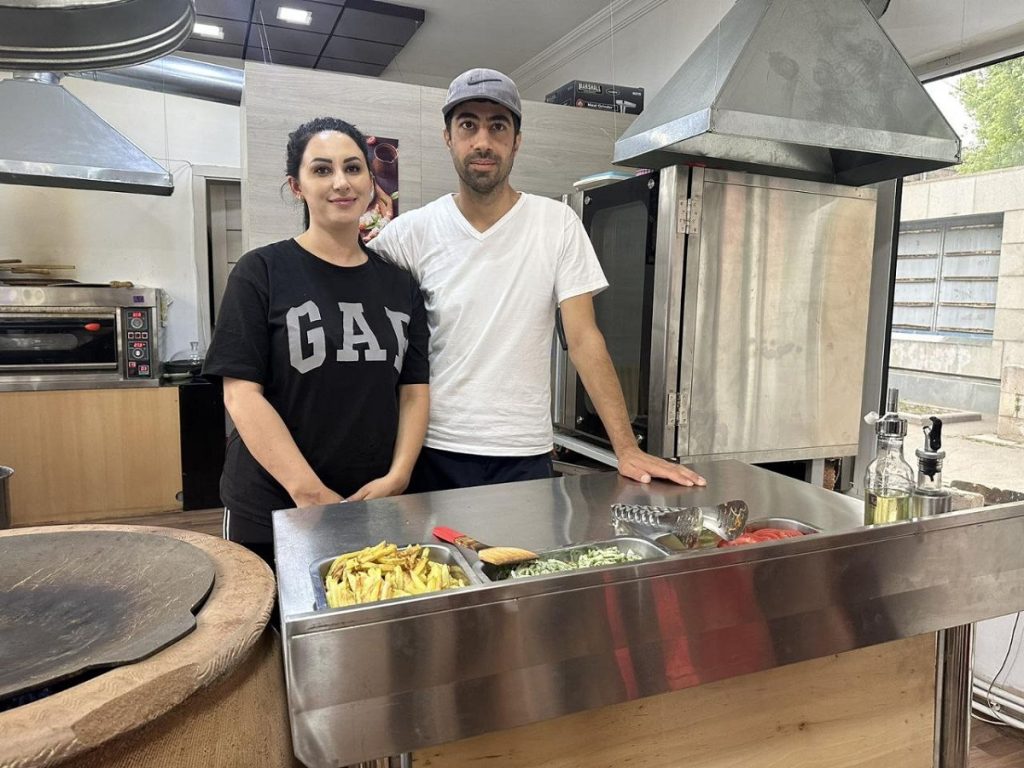 "In Russia, I was engaged in the same business as I am here – the production of sweets, food products. I applied for participation while I was still there. I returned in May and started my own business.
I invested about 10 million drams [4,000 euros]. And the center bought powerful stoves, refrigerators, tables and chairs, a meat grinder and other equipment necessary for food production. The work experience and the grant made it possible to open a fast food restaurant in the center of Gyumri and not think about leaving the country."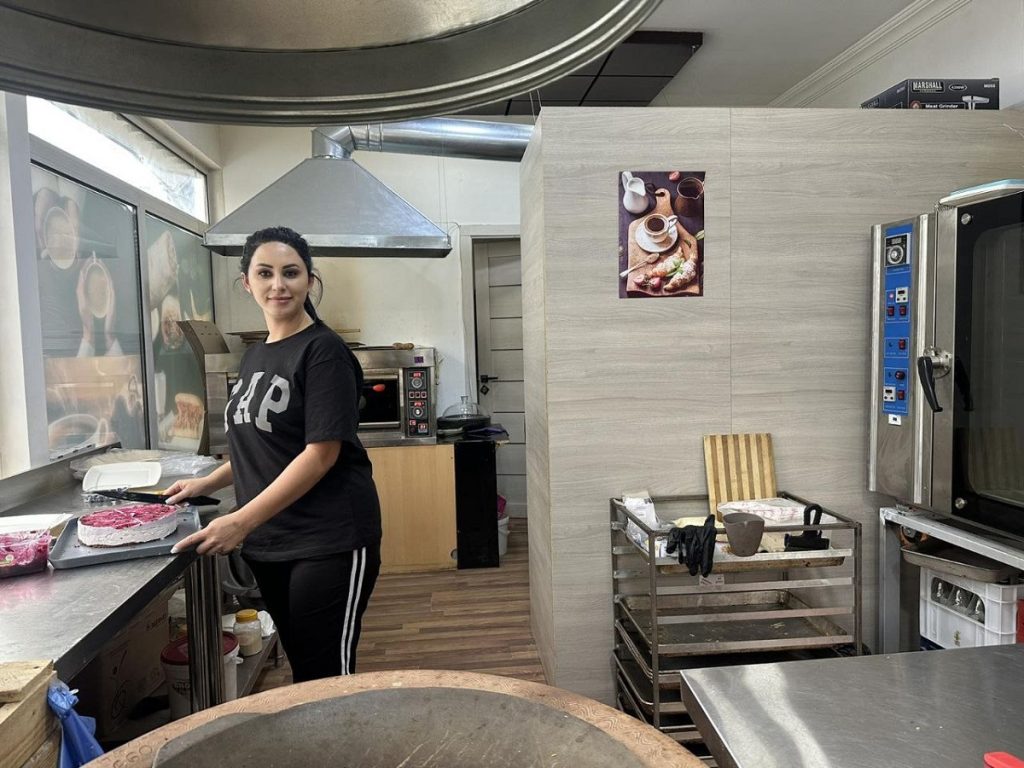 According to the Russian Federal Migration Service, the number of Armenian labor migrants decreased by about 15 percent last year. In 2021, 390,000 Armenian citizens left for Russia to work, last year 332,000.
Ruzanna. Sewing shop in Vanadzor
Ruzanna Sahakyan returned to her native Vanadzor after 24 years of work in other countries. Immediately after returning, she opened a sewing workshop in her city.
"Living in Europe, America, Russia, I studied the markets of other countries. Our business abroad was going very well. But I thought: everything that we do in a foreign land should be done at home. In 2020, my family and I decided to open a sewing workshop on the basis of one of the sewing factories left over from Soviet times."
The company, founded by the family in October 2022, produces women's and men's jackets. During this time, the Sahakyan family business provided 22 employees with jobs, sewed more than a thousand women's and men's jackets and exported them to Germany. The EU4IMPACT Armenia program provided them with funding for renting space and paying salaries.
"Our workshop has Japanese sewing machines. We intend to restore the Soviet-era plant, where 1,200 people worked. Our products have received middle and high class certification, as we import fabrics from China, threads from Germany, and down from Poland."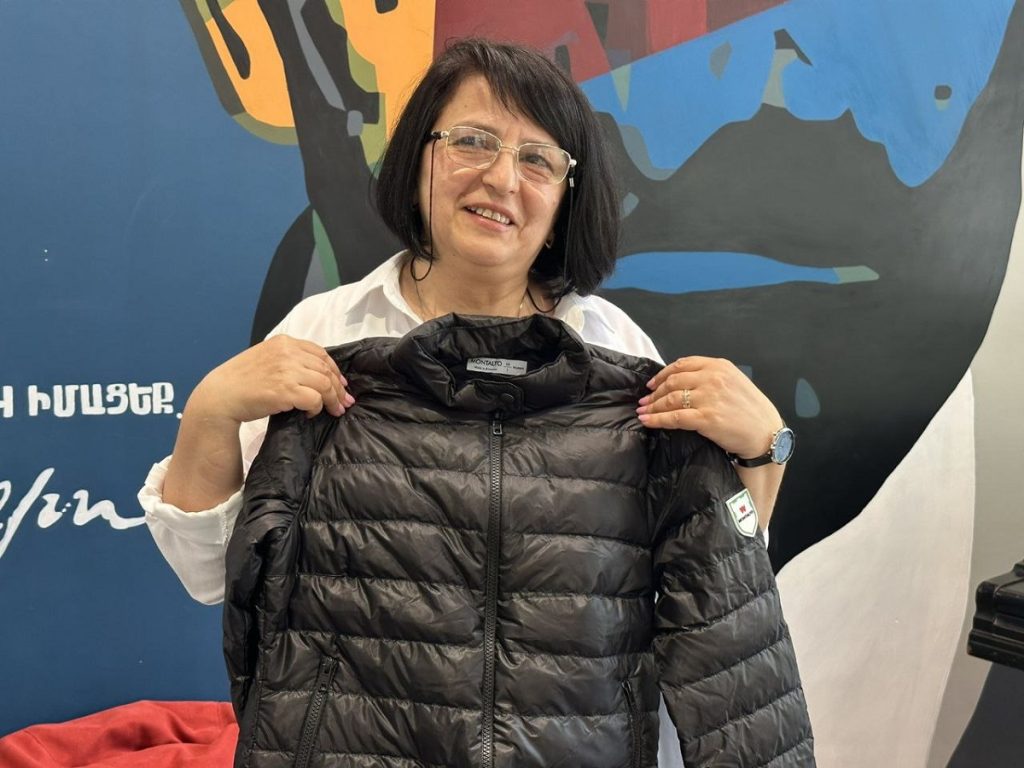 "The wrong policy of the state has led to an unjustified appreciation of the dram [local currency], which has made our products more expensive in the foreign market. And we plan to export to 22 countries.
Before the business plan was written, exports were supposed to cost zero percent, and now they are 10 percent. But we calculated that too, because in business there are always unforeseen expenses. Until last year, our products were exported to the European Union without a percentage surcharge, after which this possibility was canceled. The EAEU market [a Russian-led economic union that includes Armenia, Belarus, Kazakhstan, and Kyrgyzstan] is big. We are planning to enter this market as well."
Norayr. Stone processing workshop in Gyumri
Sculptor Norayr Poghosyan from Gyumri has invested 12,000 euros in his business. He founded the experimental production of products that combine stones, wood and metal. He lived in Germany for six years, now he decided to return and work in his homeland. With the support of ICMPD, it pays the rent of the area where the workshop was established, its thermal insulation and fire protection system were organized.
"We purchased wood, machine tools and unique stones – garnet, amethyst, agate, pearl powder, as well as polymers, petrified trees. Now we have a program by which we combine stone with wood and get a unique interior. We made tables from minerals, transparent crystals. We also use our Armenian obsidian and phosphor, thanks to which the tables absorb energy during the day and give low light at night."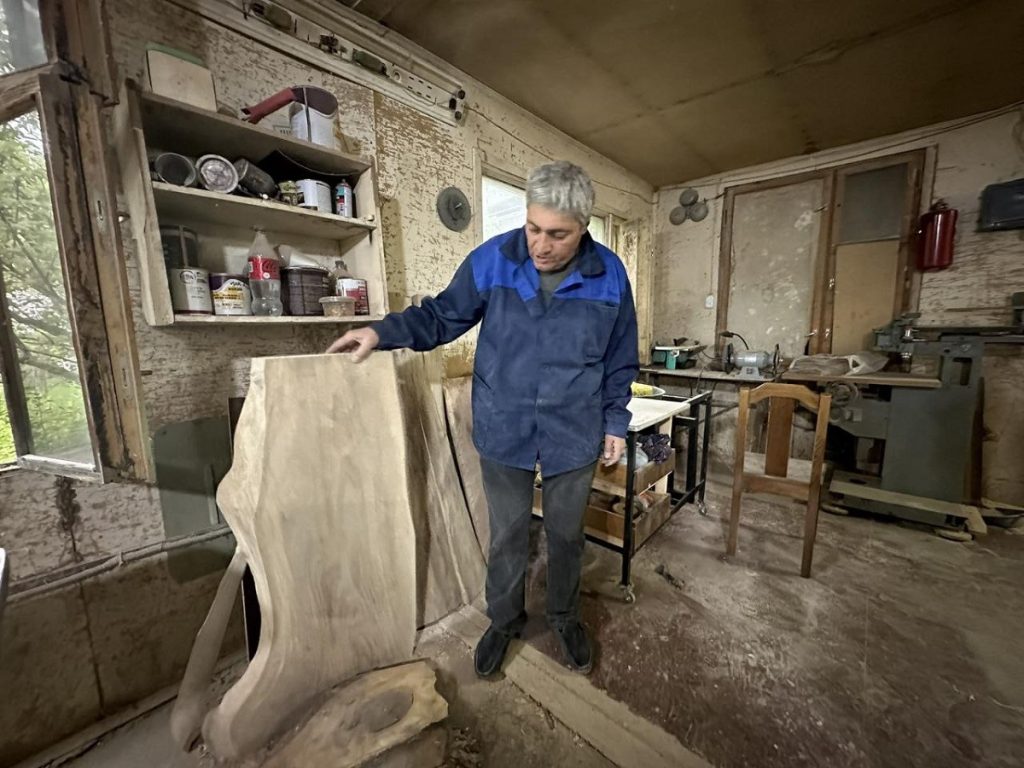 Now three craftsmen work in a workshop on the outskirts of the city. There is an opportunity to hire workers, but they cannot find sculptors who could join the team.
"Our clients are mainly from abroad, we work for the foreign market. Without this grant, we would have been able to create a workshop, but thanks to the funding received, we are producing more products," says Norayr.
Own business for labor migrants