Op-ed: Ten years after the August 2008 War. Tskhinval(i) and Tbilisi - where are we now?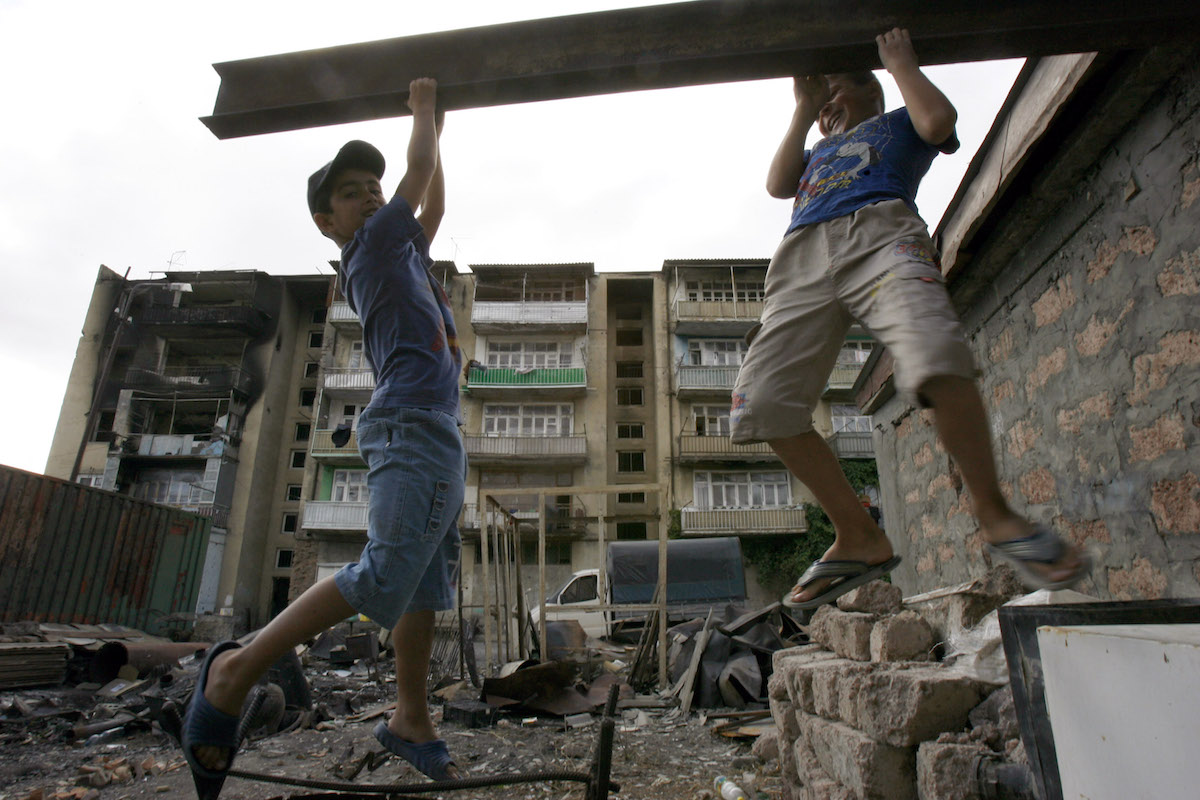 On 8 August 2008, Georgian and Russian forces clashed in South Ossetia in a conflict that would last for five days and come to be known as the Five-day August War.
JAMnews has already published a detailed, chronological review of how the war began and unfolded during those days.
Now we give the floor to experts in Sukhum(i), Tbilisi and Tskhinval(i) answering this question: Ten years have passed after the war in South Ossetia, what now?
Gia Nodia, political scientist, Tbilisi
The main thing that has changed in Georgia since 2008 is that our attitude towards the conflict has fundamentally changed.
Up until 2008, the public had had high expectations for a speedy resolution to these conflicts, and Mikheil Saakashvili's rhetoric was built on the idea that the conflicts would come to an end by the next round of elections.
I believe that it was a mistake on his part to make such promises, but they didn't pop up randomly – there was public demand for it. But after 2008 this demand died out because everyone understood that it would be impossible to resolve the conflicts without a major change in Russia's approach to the issue. Neither the West nor Georgia has the resources to change Russia's mind, thus resolving the problem has been put onto the back burner for an indefinite period of time.
The West began reassessing its relationship with Russia during the August War. Earlier, it had been possible to imagine Russia not as a foe, but as a sort of capricious and peculiar partner. But the August War, which in the West was looked at not only as a result of Russian policy but also partially of the temperament and personality traits of Saakashvili, was not enough to change this position. It was only later, during the Ukraine conflict in 2014, that the West was forced to see an enemy in Russia.
As for relations with Russia after the change in power in Georgia, they did not improve as much as the new authorities' supporters had hoped, nor did they degrade as badly as the opposition expected. Georgia's orientation towards the West did not change much, but the rhetoric and attitude towards Russia did.
However, fundamental problems remained. Although the ban on Georgian products has been lifted, I'm not sure how much of an accomplishment this is, given that Russia can use this dynamic as a lever of pressure.
What has really changed is the public's attitude. Earlier, pro-Russian views, political and public activities were taboo, whereas now it's nothing strange, just like cursing the West is seemingly acceptable. The present authorities currently rely in part on pro-Russian forces and see in them allies against Saakashvili's party.
The new authorities have come up with peace initiatives and are trying to show that they are different from the previous government which did not even want to speak with Abkhaz and Ossetians. It has appointed Paata Zakareishvili to the position of State Minister for Reconciliation, as she is the most acceptable option for the Abkhaz in terms of establishing contact.
But it has been impossible to establish any form of contact, and in actuality, the same policy that was carried out from 2008 has continued today. It mostly entails the non-recognition of Abkhaz and Ossetian independence, and also provides for maximum openness for relations with people that live in these regions in the form of treatment programmes, education and so on. It would seem that there is no alternative to this policy.
Giorgi Kanashvili, political scientist, Tbilisi
The main thing that changed after the 2008 war is, in my opinion, the perception around these conflicts, the perception that these conflicts will not be decided upon today or tomorrow – it is a long process and will remain a headache for us for a long time.
Over the years since 2008, we have moved forward towards NATO and EU integration. Although we are as far from membership in these organisations as we were in 2008, the relations that Georgia has with these institutions are now much more intensive than they were ten years ago.
I don't think that the victory of the Georgian Dream party in the 2012 elections was brought about by the events of 2008. There were a number of other issues that concerned the public and which played their part, including social, democratic and human rights issues.
From a democracy point of view, we have definitely moved forward in the last ten years. But a risk has appeared in the shape of a man who once played a positive role, Bidzina Ivanishvili, a man who is now playing more and more of a negative role. If it continues like this, we will have to study the experience of Ukraine and Moldova intensely, and learn how to fight against the influence of oligarchs in the country.
As for Russia, we had the illusion that if Georgia behaves 'constructively', then Russia will 'open' the doors to Abkhazia and South Ossetia. Or, it will open them just enough to enjoy mutual relations. But this did not happen, and it doubtfully will.
I would wish for Georgia to not look constantly in the direction of Russia, but to have a good think about what it wants today, what it will do tomorrow and how it sees the future of Georgian-Abkhaz and Georgian-Ossetian relations. Unfortunately, this is not thought about to the necessary level. For that reason, I cannot positively assess results achieved in this issue.
But given the lessons of 2008 and Russia's actions in Ukraine, the situation concerning relations with Russia could be worse. Thus, in that sense, I can assess the activities and actions of the Georgian authorities in a more positive, rather than negative, light.
This video is a glimpse of Tbilisi on an August day in 2018
Inal Khashig, journalist, Sukhum(i)
Ten years ago, the adventurous policies of the then-president of Georgia Mikheil Saakashvili spilled over into the war in South Ossetia. But by the fifth day, the Georgian army, on which so much hope had been placed, dispersed. Under pressure of old Russian tanks, it withdrew an ran, like the troops of Napoleon at Berezina.
Later, Russia recognised the independence of Abkhazia and South Ossetia, and since then has been the main guarantor of security and the only donor state to these two republics.
For us, such an unexpected happy ending was quite a surprise, a discouraging one. It seemed that communism had finally emerged victorious, and that we no longer had to strive for anything. We were defended, fed and given drink. Russia was perceived in a positive light. Why should you work and develop yourself when you already have everything?
And so, we relaxed… to the extent that the main motivation of the local elite in ruling the country is to snuggle up to Russian financial aid.
There are no other paths to take, and the elite is afraid to change anything because there are so many problems that we can't just get on with Band-Aids. We need a real surgical operation to solve our issues.
But when you've done all you can in order to ensure you are not trusted (not a single political force today would be capable of garnering more than a thousand supporters), then you are a priori not a surgeon. The feeling of self-preservation overtakes any good intentions.
As bitter as it is to say, there is complete and utter stagnation in Abkhazia currently. Governments change with the frequency that outdoes patience. However, the result is one and the same.
Fifteen years ago, Prime Minister Gennadi Gagulia tried to introduce cash registers on the premises of all commercial entities. He failed.
Since then, a dozen governments have come and gone. Apparently, they used up the entire deck and then went onto the next round. Gagulia came back to the throne again, and again tried his bit with the cash registers and again failed.
Over the past 15 years, the world has made an enormous step forward in terms of technological development. But we haven't, and the past ten-year period that should have seen us raise our statehood to another level of development, has only resulted in us trying with all our might to turn it into a period of timelessness.
And that's what we have to live with.
This video is a glimpse of Sukhum(i) on an August day, 2018
Dina Alborova, political scientist, Tskhinval(i)
From the moment that the independence of the Republic of South Ossetia was announced, until its recognition by the Russian Federation, the issue of the country's security was always on the agenda.
Life in the socio-economic sense was always difficult, but this was a period of enormous possibilities in terms of independent decision making.
Today, issues concerning the country's security are not as urgent as they were before the country's recognition and, of course, thanks to the Russian Federation.
There have been, of course, some improvements in the social sector. That is – the timely payment of salaries and pensions, and extra housing is being built, as is new infrastructure.
On the other hand, we live in a situation of limited sovereignty because we have given a part of our sovereignty to the Russian Federation.
Decisions are not made here unfortunately. We voluntarily gave up a part of our sovereignty to Russia when we signed the agreement on alliance and integration.
Thus, we received stability and security, but we lost some freedom.
When I speak about freedom, I am firstly speaking about the freedom of choice, and only then respect for the freedom of choice. Choice is the personal responsibility of everyone. Society and state must respect my choice and not violate my rights.
We have settled in nicely at someone else's expense, and we're comfortable here. I don't see that we're putting any resources into the economy. I don't see medium-sized businesses developing. That's when we need to set up our own production and ensure our food security, but the only road connecting us with the outside world, with Russia, is closed – and products just disappear from the stores.
We must finally start thinking about people, about their rights. For now, unfortunately, I can confirm with great sorrow that the state steps on the rights and freedoms of man.
This video is a glimpse of Tskhinval(i) on an August day, 2018
Toponyms and terminology used in this article, and the views, opinions and strategies it contains don't necessarily reflect the opinions of JAMnews or any employees thereof. JAMnews reserves the right to delete comments it considers to be offensive, inflammatory, threatening, or otherwise unacceptable