Moscow: protests continue despite police brutality. Photos & video
Protests continued in Moscow yesterday on August 3, demanding the registration of independent candidates for elections to the Moscow City Duma (city parliament), which are to be held on September 8.
According to the organizers, about 15,000 people came to the rally, among them a number of minors.
This time police data is closer to that of unofficial reports – law enforcement estimated about 10,000 people were at the rally.
The organizers applied for permission to hold the protest but did not receive permission. Therefore, the participants were pointedly brutally detained and beaten.
828 people were taken to police stations, of which 19 spent the night there, writes OVDinfo.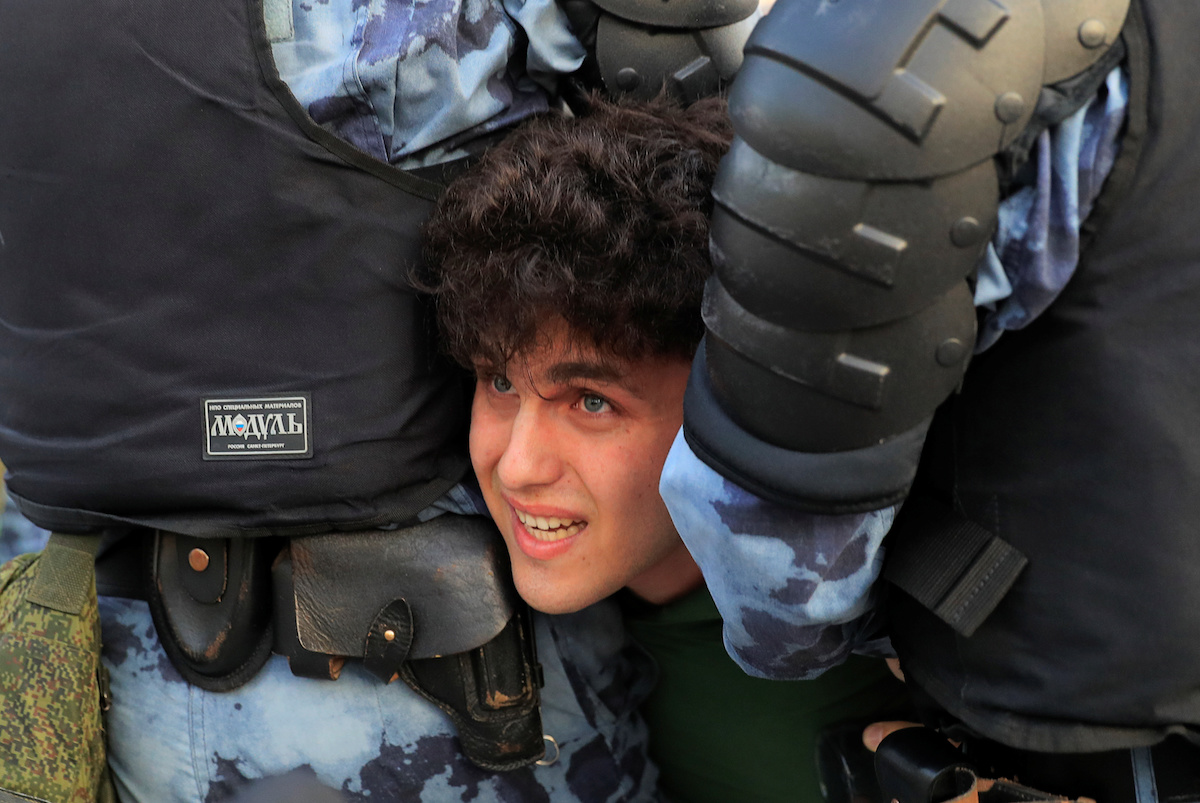 Witness accounts
Lawyer Maria Eismont from human rights advocacy organization Rus Sidyaschaya says:
"A young couple, a young man and a girl, were brought to court in the morning, but were the last to be tried. Both were tired, the girl was a little scared. Both had beaten them. Police officer Sasha was with them, whose politeness and benevolence contrasted strongly with the rudeness and rudeness of his fellow police officer, who accompanied other detainees to court.
"I am the wrong employee," Sasha told me. "I do not know how long I will last."
The two were in love with each other, strikingly so. And both were very worried about each other.
Both of them were detained on Pushkin Square when, separated by a crowd, they tried to find each other on opposite sides of the fence. People in uniform grabbed the girl, and began to roughly push her against the fence. The young man saw this and rushed to the rescue.
He was beaten by several people in uniform, then they dragged him by the arms and by the legs into a police bus, and she ran after him.
In court, the girl appeared last. It was the beginning of the ninth evening:
"I am a citizen, I didn't do anything criminal or illegal [to justify their] beating me, stuffing me into a bus and locking me up behind bars like an animal. I was left alone, I was scared, and these were circumstances under which my partner and I were separated, maybe due to a lack of attention."
The judge laughs loudly.
"I can connect you, ha ha!" he says, meaning he had just sentenced her boyfriend to four days in jail, and now he can give the same punishment to the girl. He himself seems to like his joke.
"It was really scary there," says the girl.
She was fined 1,000 rubles [approximately $15]. The young man was happy that his girlfriend would not be spending the night behind bars.
Where the Moscow protests came from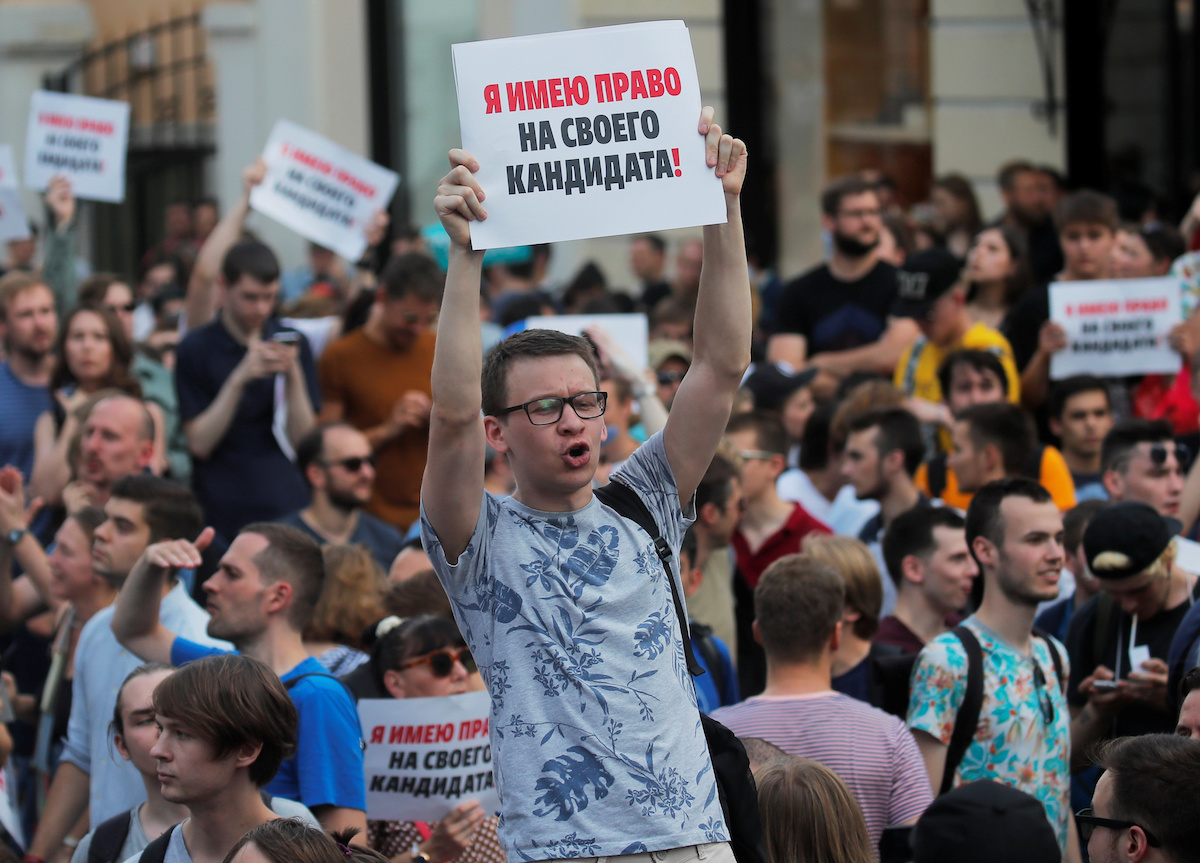 Protests were sparked in Moscow after independent candidates were denied the right to run in the elections for the Moscow parliament.
The law demands that candidates collect there per cent of the number of voters registered in the district for which they are running.
Independent candidates did this, but the signatures in support of them were declared false. Even in cases where signatories were willing to personally testify that they support these candidates.
The first protest in support of independent candidates was held in Moscow on July 20. Then the authorities allowed the rally, to which more than 20,000 people came.
A week later, on July 27, about 15,000 people took to the streets of Moscow with protests. Their performance was suppressed with unparalleled cruelty – more than 1,500 detainees, 77 wounded, administrative arrests for a period of 8 to 15 days.
The unregistered independent candidates later called on Muscovites to take part in a protest on 3 August.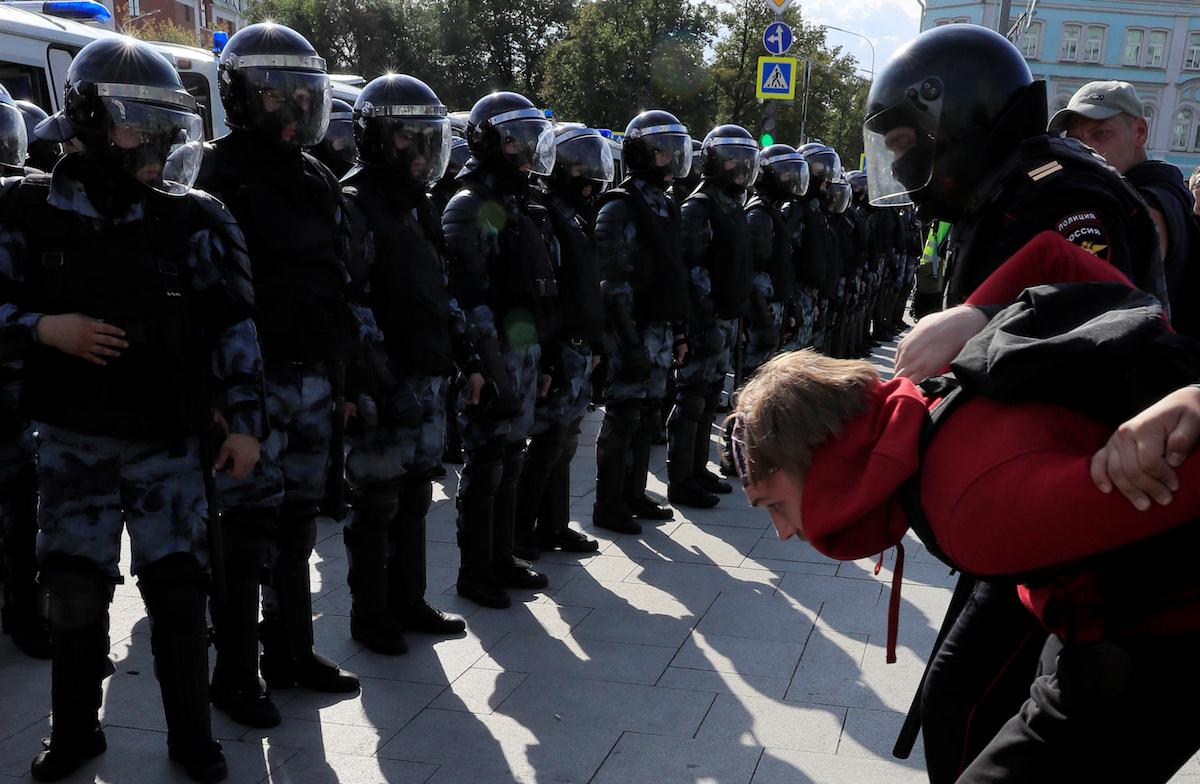 Reaction of the authorities
All protest leaders are under arrest.
Police violence has clearly increased. There is much evidence that the detainees were beaten intentionally, even when they did not resist arrest. At the same time, neither women nor elderly people, nor minors, have been spared the baton.
Previously, detainees were charged with administrative offenses (which are punishable by fines or arrest for up to 15 days), but now courts are considering criminal articles, including the 'organisation of riots', which is punishable by up to eight years in prison.
A Novaya Gazeta correspondent told detainees that many of them were fingerprinted forcibly, and several at the police station were threatened to "cut off their fingers" if they did not stop resisting.
They also immediately took away the phones of detainees, and then threatened them into giving them access to their instant messengers.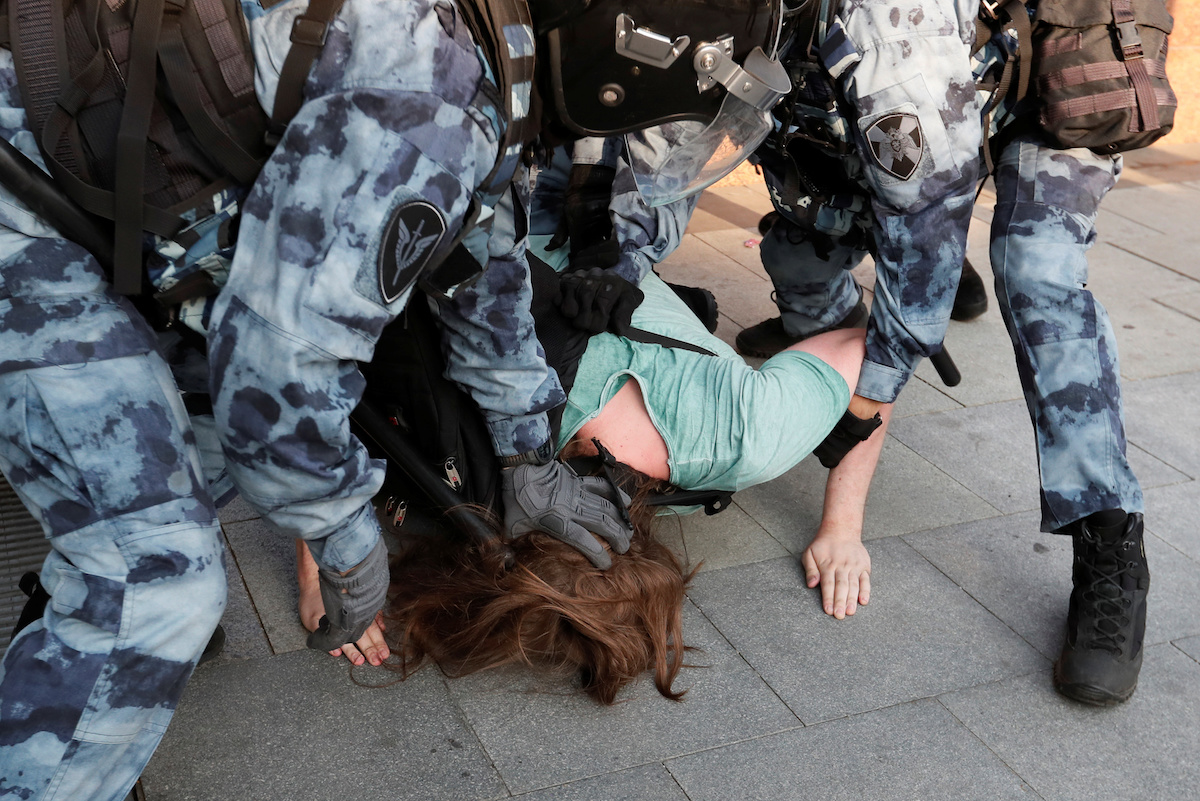 Activists who are still free say they will not stop, and the protests will become permanent until independent candidates are registered.
Experts say there is a risk the conflict may become bloody.