Military conscription in Georgia - defense of the homeland or free protection?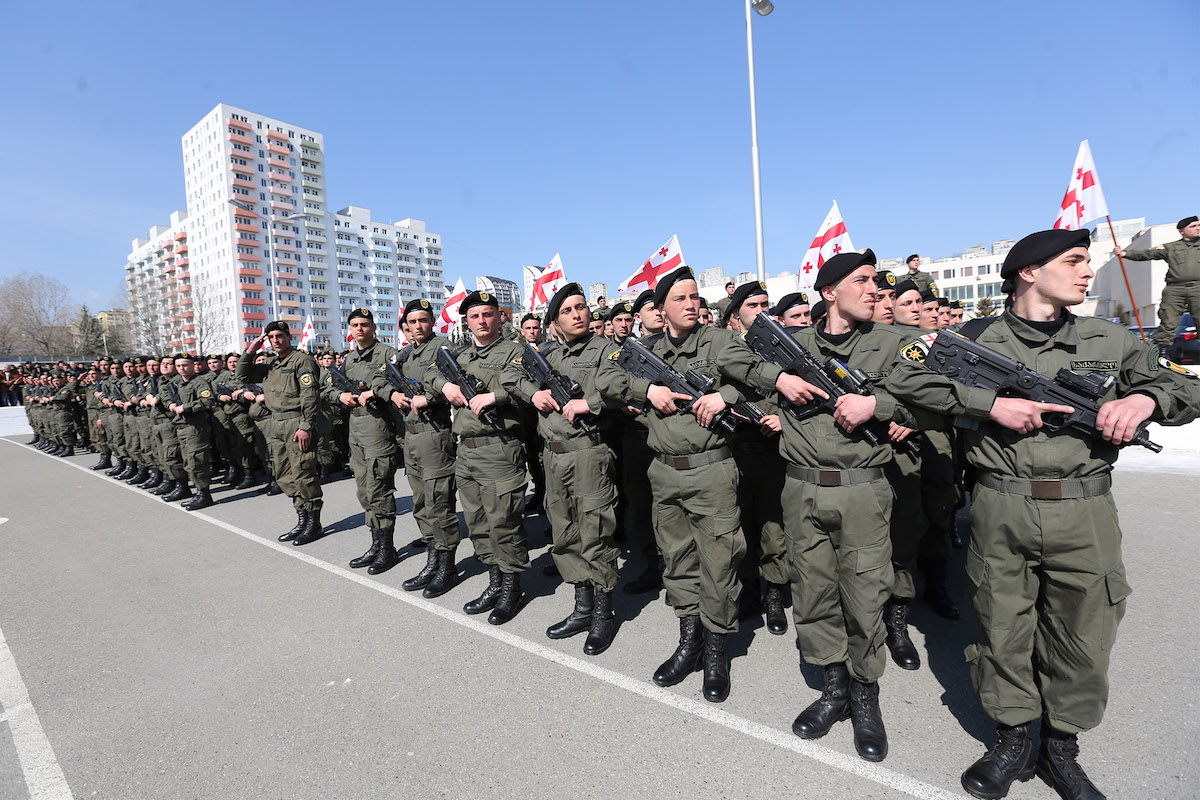 Compulsory military service is in force in Georgia. However, if you have the money and the necessary connections in the military registration and enlistment office, or at least, a familiar priest, you can completely avoid conscription. The poor and those who do not have connections are less fortunate – they have to part with their usual way of life, work and family, and in return may well end up not having learnt how to shoot a firearm after the end of the military service.
Nineteen-year-old Giorgi Bokuchava came to Tbilisi from a small town in the west of Georgia in search of work. He soon began to renovate apartments and thus had a small income. He sent some of the money to his parents.
However, he soon received a summons to the army. Unlike many of his peers, Giorgi did not have any acquaintances in the military registration and enlistment office and could not get enough money to delay the conscription for 12 months – GEL 2,000 (about USD 820). He was conscripted for a year of military service.
Today he says that they did not really receive full military service training.
"Every day we ran for several kilometres, shot a few times, and that's all. Then we were sent to different locations," says Giorgi.
After a little bit of military training, Giorgi was summoned to safeguard one of the public hospitals in Tbilisi. Once every three days he went out for 24 hours, during which he managed to sleep not more than 3 hours.
"The time spent there had one positive aspect – I realized that I would never do such a job again. Physical labor is much better," says Giorgi.
Train and Equip – how the professional army was created
In the early 1990s, after the restoration of Georgia's independence, the country's armed forces were equipped with the former Soviet principle of conscription. In 2002, a US-funded Train and Equip Programme was launched, during which American instructors trained 2,000 Georgian soldiers. As a result of the USD 64 million programme, Georgia then had well-trained soldiers who received salaries and considered their profession as prestigious. This way, the first units of contract soldiers appeared in Georgia.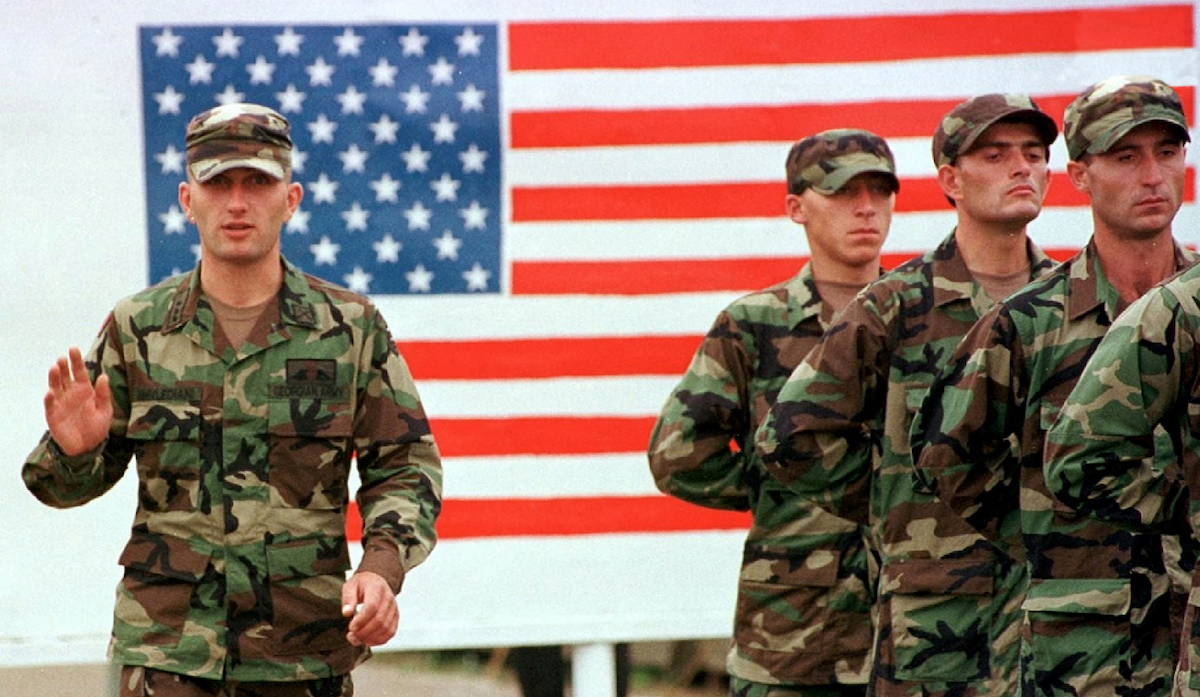 After the Rose Revolution in 2003, the new authorities declared the strengthening of the armed forces as one of its priorities. The Saakashvili government promised to transfer the whole army to a professional base soon. However, this did not happen.
Since 2005, the Georgian armed forces, parallel to the usual military draft, created a reserve army system. All persons liable for military service from 18 to 40 years once a year underwent 18-day military training. Persons who underwent military service three times were exempt from conscription.
However, the shortcomings of the reserve system were manifested during the August 2008 war – the main problems were the poor quality of the reservists' training and lack of organization of the units. The previous government tried to take into account these lessons and to reform the system, but after Georgian Dream came to power in 2012, the reserve was practically abolished and training of military reservists stopped.
However, representatives of the ruling party said recently that they are going to restore the reserve military service. The Ministry of Defense has already prepared a concept of a 'completely new' system.
The total number of military soldiers in Georgia changes periodically. The armed forces make up around 37 thousand military soldiers after the past eight years. Unlike those conscripted for military service, men wishing to serve under a contract pass a competition and sign a contract with the state for four years of service. The salary of professional military personnel is about GEL 1,000 (slightly more than USD 400), to which various social benefits are added.
After the August 2008 war, many experts began to talk about the fact that the state should focus primarily on the professional army, although few believed that the state would refuse drafting. And it had its own reasons.
Conscription to the army in Georgia and how to avoid it
According to the Constitution and the legislation of Georgia, all men – citizens of Georgia from 18 to 27 years are required to undergo 12-month's conscription in the army. An exception is allowed for those who have a specific reason for this, as provided by law. In particular, it is: 1) Health problems, 2) Committing a serious crime or crimes of medium gravity, 3) Performing alternative service, 4) Having a special talent. It is interesting that the existence of such a talent should be confirmed by special decree of the Prime Minister.
It is possible to postpone the conscription, for example, due to illness or if a person liable for military service is studying at a university, as well as if he became a clergyman or he has more than two young children. By law, you can pay for the delay – it will cost GEL 2,000 a year.
Conscripts in Georgia have learned to deftly use this list of exceptions. For example, JAMnews found a young man who said that his friend, a priest, saved him from serving in the army. "My spiritual father helped me, wrote an official letter stating that I am an 'ipodeacon' and had been conducting religious services. After that I was left alone, with no further summons," said the young man of 23 years.
Others avoided conscription by using their 'contacts' in the military registration and enlistment office.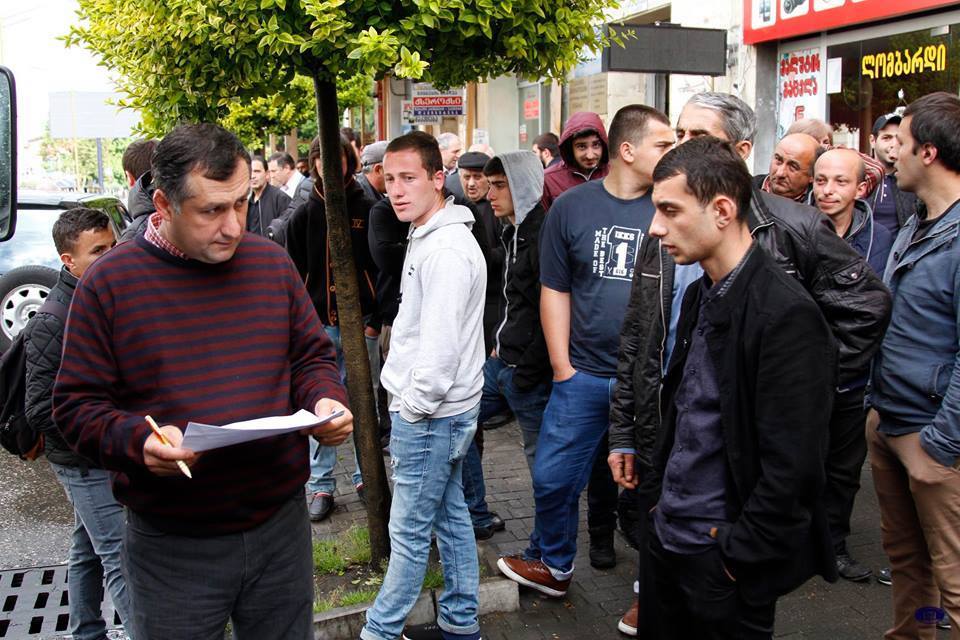 A JAMnews source in the military registration and enlistment office said that conscripts often injure themselves: "For example, some burn different parts of the body with a cigarette, try to lose weight prior to appearing before the medical board, and pretend to have a mental disorder. Anything can happen."
Ilya Shimshilashvili, who legally evoided military service, told us his story. Ilya graduated from one of the most prestigious universities in Georgia – the Free University, and immediately after graduating entered another. In total, he graduated four universities – only to avoid the army.
"My endless studies as a student cost GEL 12,500 (slightly more than USD 5,000). I paid a part of it out of my pocket, a part was paid by the state in the form of grants. In fact, I did not need to study in so many universities. Both the state and I suffered losses," says Ilya.
Those who pay for deferment of conscription often take a loan from the bank for this, which, of course, puts a burden on their families.
However, deferment of conscription can only be 'bought' until 25 years of age. After this, fictitious studies become the most effective way to avoid service, and the most attractive way is to enter a two years master's programme at a tuition-free faculty (there are only 10 of them). In the end, it turns out that the poorest, who have neither money nor the right connections, serve in the army.
Armed watchmen
According to the current system, 6-7 thousand people per year are called up for conscription. The summons is made twice a year – in spring and in autumn. Three government agencies recruit draftees for their needs – the Ministry of Defense, the Ministry of Internal Affairs and the Ministry of Corrections. Only 25% of conscripts entered the armed forces. For example, only 1,600 out of 6,400 conscripts joined the army. The rest served in the police guard at the Ministry of Internal Affairs or as prison guards. They pass military training and serve with little experience, including guarding private facilities either for nothing, or for a symbolic salary of GEL 75 (about USD 30).
"I really do not even know how to shoot, even though I worked as an ordinary watchman for a year," recalls Nick, who returned from military service a few months ago. As for his "Salary" – he received enough for commuting to work plus a few packs of cigarettes.
JAMnews's poll in Tbilisi: Youth against the current model of conscription.
Arguments of the authorities: conscripts are cheap
Each government, after coming to power, proclaimed the goal of moving completely to the professional army and the abolition of conscription. Back in 2014, former Defense Minister Irakli Alasania said that this would happen in 2017. Even more radical was Defense Minister Tinatin Khidasheli, who announced that the armed forces will refuse conscription.
Meanwhile, the current Minister Levan Izoria, who replaced her, restored conscription. The main explanation the authorities provide for this is that with compulsory military service, the state spends less on defense. According to Izoriya, one soldier-contractor costs the state GEL 26,000 per year, while a conscript costs only GEL 9,000.
The head of the parliamentary defense committee, Irakli Sesiashvili, cited Israel as an example in defense of the conscription practice. However, his opponents reminded him that in Israel recruits qualify for qualitative training and do not serve as guards. Another argument in favor of conscription is in reference to the Baltic states: Estonia makes use of conscription, and Lithuania recently reimplemented conscription as well.
Minister of Defense Tinatin Khidasheli on the forthcoming reform of the conscription system, 2015.
The draft in Georgia: criticism, corruption, loopholes 
The public and the political opposition unanimously criticise the current model of drafting. Some have come out in favor of a fully contracted army, while others desire a better regulated system.
In an interview with JAMnews, the former minister of defence Tinatin Khindasheli harshly criticised the current model. She asserted that the term of service should be reduced to six months and demanded that those drafted into the army not be used as guards and should instead receive proper military instruction.
The leader of the Girchi political party, Zurab Japaridze, described the current draft model as a 'source of corruption and extortion'. Japaridze says that the 'state violates fundamental human rights and uses citizens to prop up the budget and for free labour'.
The Girchi opposition party, which is known for its rather peculiar methods of political activism, has found a loophole for young people to avoid military service.
The results of Girchi's initiative, which was first thought of as many as a joke, can already be seen. Girchi told JAMnews that 10,000 young people were able to 'avoid' army service in 2017 thanks to the loophole.
How? They became clergymen.
In 2017, Girchi registered the 'Christian, Evangelical, Protestant Church of Georgia – Biblical Freedom' organisation.
The idea was simple: any person not wanting to go through military service could address Girchi and the religious organisation it created, and receive a certificate stating that he is a clergymen in the new church. Having presented this certificate to the military office of one's area of residence, they would then be exempt from military service.
The certificate of a so-called clergymen is completely free. However, those that desire to contribute funds to the new church can do so by donating 20 lari (about 8.20 dollars).
Service in the Georgian army is dictated by the law 'On military duty and service'. According to Article 30 Point L of this law, a person can be exempted from military service if they are a clergymen or studying in a seminary. However, there is no definition of what it means to be a clergyman, which is what Girchi made use of.
Girchi has organised a campaign to abolish conscription, which includes conducting campaigns and distributing video clips.
A video clip of the Girchi political movement advocating against compulsory military service.
The founder of the Centre for Military-Civil Relations, Giorgi Noniashvili, also does not like the current system. He believes that conscription should detach a citizen as little as possible from economic and social life. As for the 75 per cent of the conscripts who did non-military service, he believes 'they are completely ineffective and can not do anything' from a security point of view.
"A way out is a well-organized military reserve system which follows the example of its European counterparts. Thus the state will spend money more rationally and citizens will be trained in military service," concluded the expert in a conversation with JAMnews.
The founder of the Centre for Military-Civil Relations, Giorgi Noniashvili.