MEPs urge Georgian President to pardon Mtavari director general

MEPs call for pardon of Nika Gvaramia
12 MEPs appealed to Georgian President Salome Zurabishvili to pardon Nika Gvaramia, director general of Mtavari Arkhi, the most popular opposition television company in Georgia. The appeal was published today by a member of the European Parliament from Lithuania, Rasa Juknevicienė.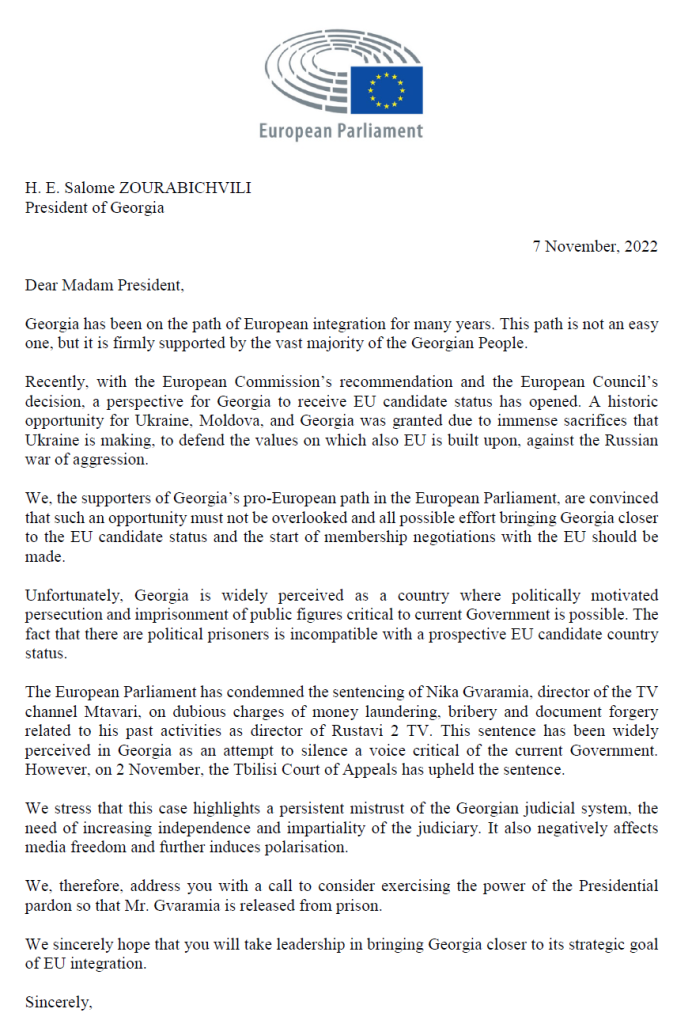 "Unfortunately, Georgia is perceived as a country where politically motivated persecution and arrests of public figures who criticize the current government are possible. The existence of political prisoners is incompatible with the status of an EU candidate country," the statement reads.
According to the authors of the letter, the European Parliament condemns the "suspicious accusations related to money laundering, bribery and falsification of documents." According to them, the verdict was perceived in Georgia as a suppression of critical voices by the government:
"However, on November 2, the Tbilisi Court of Appeal upheld the verdict. This case highlights the lack of confidence in the Georgian judiciary, as well as the need to increase the independence and impartiality of the judiciary, and also negatively affects media freedom and further polarizes society."
At the end of the letter, the MEPs expressed their hope that the President of Georgia would take the initiative to "bring Georgia closer to the strategic goal of EU integration."
---
---
Nika Gvaramia, CEO of the country's most popular opposition television company, Mtavari, was arrested in court on May 16, and on November 2 the Tbilisi Court of Appeal upheld the decision of the Tbilisi City Court and found Nika Gvaramia guilty.
Gvaramia was sentenced to three years and six months in prison for a case in which he is accused of using a company car for family purposes.
The American embassy criticized the appeals' court decision and expressed deep concern. According to the embassy, ​​Nika Gvaramia's unfair imprisonment calls into question "the stated goal of the Georgian leadership — a more secure, democratic, European future."
Independent experts, NGOs and politicians consider Gvaramia's arrest to have been politically motivated.
Amnesty International's executive director for Eastern Europe and Central Asia, Marie Struthers, also said the case was politically motivated and Gvaramia should be released immediately.
MEPs call for pardon of Nika Gvaramia