'Marshrutkas': mini-buses that dominate roads of Abkhazia
Old mini-buses, transport in Abkhazia
Often, residents of Abkhazia and tourists who do not have their own transport are faced with a difficult choice – to get to travel in a fast but uncomfortable and often dangerous 'marshrutkas' or to use old and slow buses. There are no other alternatives. JAMnews author from Abkhazia explores how the intercity public transport works and why 'marshrutka' mini-buses dominate Abkhazia's roads.
Near the Sukhumi railway station, the heat reaches 40 degrees Celsius. Pavement is melting. People rush to buses and minibusses. These are mainly tourists who decided to travel around Abkhazia on their own. Anna sits in the front seat next to the driver. She was very lucky to get this place, because only in the driver's compartment the windows can be opened. But Anna does not yet know that the driver is afraid of too much wind getting on his hurting tooth and will close the windows halfway.
---
---
"Please turn on the air conditioner", the minibus passenger asks. "I'm feeling sick". But the driver's answer is short – no. "Why not? Are you trying to save money? Well, raise the price a little but let people travel with comfort", says Anna. But the driver replies: "There is no air conditioner here, and it is impossible to install it".
This Mercedes Sprinter was conceived and embodied by a truck. It had one door in the back, and there were no windows. The cost of trucks of this model is much lower than passenger ones. Buying a cargo Mercedes and converting it into a passenger one is much cheaper than purchasing a car with seats, windows, and an air conditioning system. In order to save money, the windows in such minibusses are made of plastic, and the seats are welded close to each other so that more people can fit in.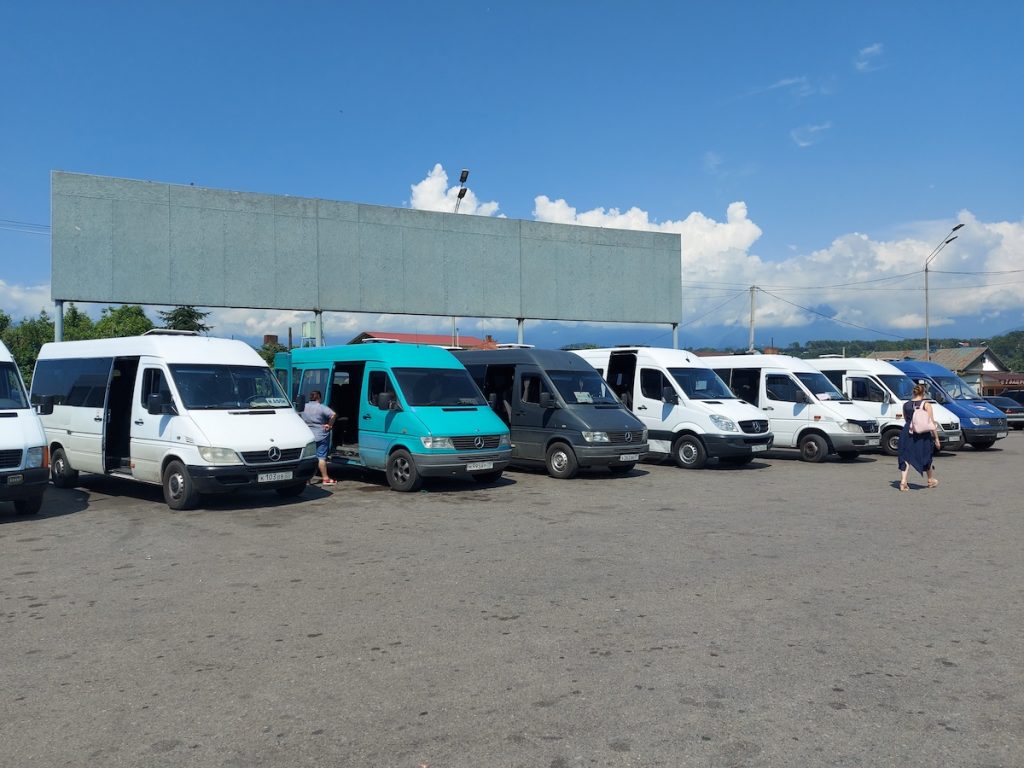 Closed business
-Do you think that minibusses are hammering in a lot of money, – says the driver Leka. – We leave every 4 days. One flight to Psou and back. It brings us 12,000 rubles (165 dollars), we have 7-8 such trips per month, that is, approximately 85,000 revenue (1,180 dollars). But from this amount you need to deduct the consumption of gasoline, oil and repair and replacement of auto parts, the license fee is about one and a half to two thousand rubles a year (25-27 dollars) and a travel voucher, which also costs about a couple of hundred rubles (2- 3 dollars) for departure.
Some drivers rent a route. The market of carriers in Abkhazia is a rather closed structure. It is impossible to simply buy a car for 15-20 seats and start transporting passengers.
"That's it, the shop is closed", Leka says. "That's enough, many people think that the gold mine is buried on the Sukhum-Psou road, and they are climbing here. There are more minibusses than passengers. But officials are doing well, they are distributing licenses right and left, their budget is increasing, they do not care that this reduces our income. We don't let anyone else into this business".
License cards that allow minibusses to carry passengers are issued by city motor transport enterprises (ATP). But for this, it receives licenses annually from the Ministry of Economy. Such a license for ATP costs 10,000 rubles (139 dollars)
In the Sukhum ATP, according to its chief, Leonid Shulumba, there are approximately 33 to 36 drivers with personal minibusses on the Sukhum-Psou route. According to him, they are all permanently there. ATP has not licensed anyone new in recent years.
"ATP assists in obtaining license cards for its drivers, that is, it collects the necessary documents from them, such as medical certificates, technical inspection certificates, and others, and submits them to the Ministry of Economy", says Leonid Shulumba.
For drivers of minibusses, it is free, they pay ATP for a waybill, each working day costs 300 rubles (approx. 4 dollars).
As for the parameters that the transport must comply with, they are not checked in the ATP. The management of a motor transport company is only interested in the availability of technical inspection. "If the car is not in order, how will the driver receive the document? There's no way!", says Leonid Shulumba.
But as you can see, at the service station, the primary task is to replenish the budget, and not release a car that meets the parameters of public transport on the highway.
According to Abkhazia's regulation on consumer supervision, there are no clear indications of what should be in a minibus. This gap is used by drivers "collecting" a minibus with plastic windows.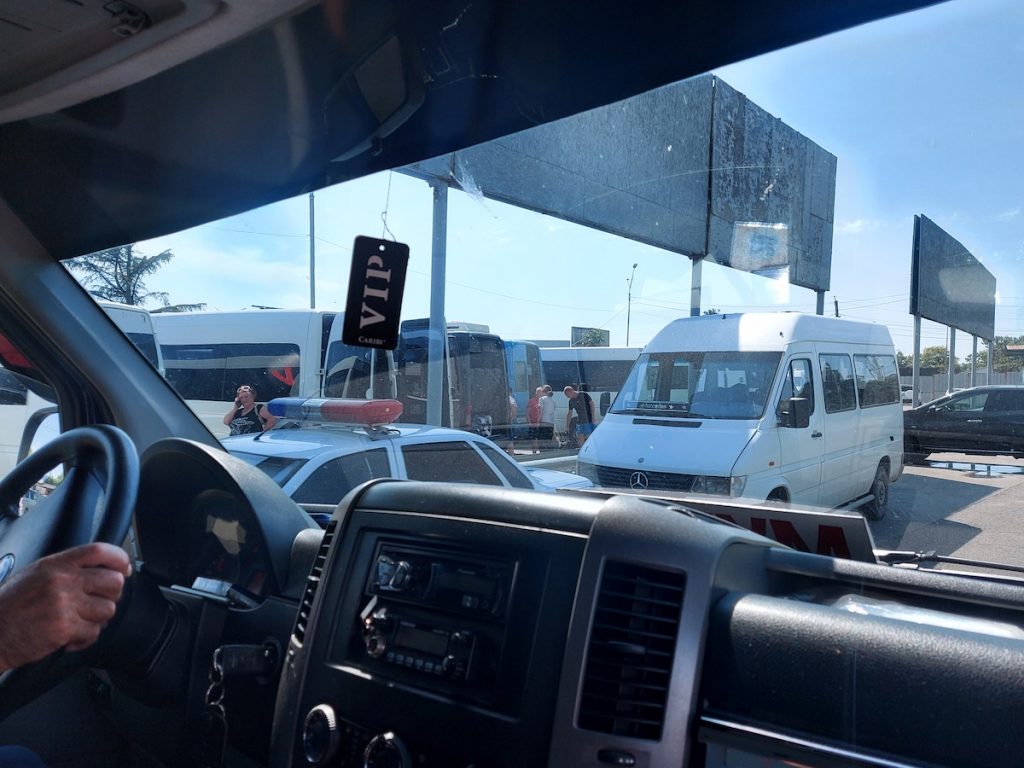 "We can check public transport for compliance with sanitary regulations during a pandemic, we can check whether the tariffs for transportation meet those established by the Cabinet of Ministers. We do not check anything else, we do not have it written in the regulations", says Georgy Tarba, head of the consumer supervision department of the State Committee for Standards.
"Drivers are a state within a state. They live by their own laws when they want – they raise prices, if they want – they drive with broken doors", says the trolleybus driver, who did not give his name, so as not to incur the wrath of colleagues. "They are not competitors to us, we have a different audience. Those who travel in trolleybuses do not take minibusses. And not always because we are "rogue" transport. Many people like that we are spacious and that they have air to breathe here. It is more convenient for pensioners and mothers with children".
According to the trolleybus driver, minibus drivers are considered the most aggressive and wayward in their environment. "Even their driving style, look how impudent they are. They are more or less alright in the city, but on the highway, between cities, they are not ashamed of anyone or anything at all", says the trolleybus driver.
Slower but safer
Many tourists, those who are not on vacation in Abkhazia for the first time, are afraid to travel between cities by fixed-route taxis and prefer slower buses.
"My husband and I took your minibus twice", says Valentina Shcherbakova from the Russian city of Yekaterinburg. "The first time from the border to Sukhum, and the second time from Sukhum to Athos. We have endured such fear, I don't want to experience it ever again. At high speed, the driver flew past the cows, spread out right in the middle of the road, and with such bends. Maybe young people like it, but I have lived without accidents for 50 years, and I also would like to live a little longer. Therefore, we went back to the border by bus, ancient Ikarus, which was smelly, but calm. And this year, we immediately went for the bus, no more minibusses in Abkhazia".
It turns out that in the field of public transport everyone is for themselves. The driver has their own interests – to spend less and earn more, the passenger – to choose slow but relatively safe transport or one with a breeze, but without air conditioning and now with a smell of exhaust in the cabin, to get to their destination.
---
Toponyms, terminology, views and opinions expressed in the article do not necessarily reflect the views and opinions of JAMnews or any employees thereof. JAMnews reserves the right to delete comments it considers to be offensive, inflammatory, threatening, or otherwise unacceptable