"Let's pray for the villages to survive. But it won't be without investment" - three stories from Georgia, Armenia and Azerbaijan

Life in Caucasian villages
Few people know about life in the villages in the Caucasus, trying to survive in a situation where government support is minimal and there is almost no private investment. Labor is almost all manual, and young people, who could bring new knowledge and effective methods of working with land and livestock, are fleeing hopelessness search of education and work in the cities or even outside the region.
Villagers and farmers in Georgia, Armenia and Azerbaijan tell their stories to JAMnews reporters.
Georgia: "There will be no one left in the village, and our ancestors will not forgive us"

"At the age of 20, I left Tbilisi to live in the countryside because I fell in love. And I'm lucky in my family. But many women, on the contrary, were forced to leave their children and village to work abroad in order to feed their families." – Ana Melua
"For a young man to get married, bring his wife here and start a business here? Today it is unthinkable. Let's raise at least a toast to the hope of saving the Georgian village from extinction." – Malkhaz Dzhanashvili.
Stories from the village of Khovle. Authors: Nino Narimanishvili and Nino Memanishvili
↓
---
---
Armenia: "Women can dance right in the streets, not a single man is left in the village"

"Men leave the villages in the spring to work on construction sites, usually in Russia, and they return in the fall. The wages for men in villages in Armenia are too low. Women and the entire household remain until their return. Many even try to start their own businesses.
If we, men and women, worked so much somewhere in Europe, we would earn three times more" — Lusine Melikyan, Taperakan village.
"We joke that in the neighboring village of Nor Kyank, women can dance right on the street, there is no one to be ashamed of, there are no men left at all. We spend 30 cents (equivalent in drams) for 1 kg of grapes, and we sell to buyers for 27 cents. Who will be left to work in such conditions? — Hakob Manukyan.
Stories from the village of Taperakan. Authors: Sona Martirosyan, Arman Karajyan
↓
---
---
Azerbaijan: "It's 'Hollywood' where kids get cold at school"

Stories from the village of Melhem. Authors: Sevgi Ismailbayli, Gulandam Khadisova

In the late 1990s, the well-known Azerbaijani comedy film "Stolen the Groom" was filmed in this village, so it was nicknamed "Azerbaijani Hollywood".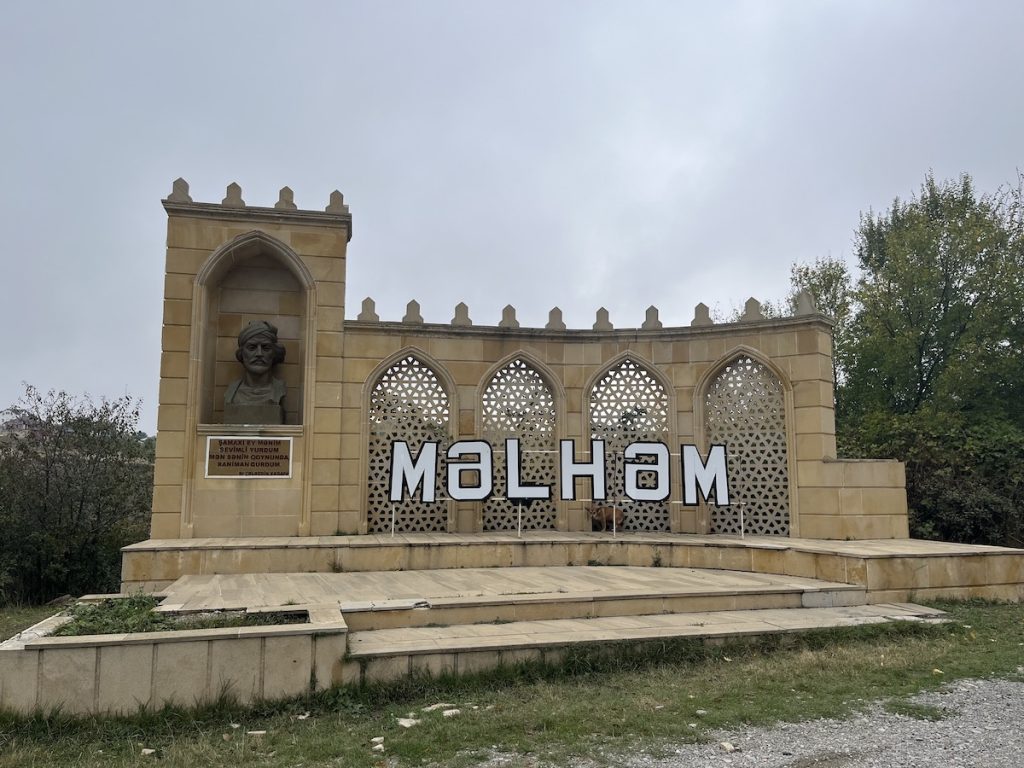 "This is Hollywood where kids get cold at school. We applied everywhere. You need to see what's going on here if it's raining or snowing. The state, the municipality, the road department—no one hears us," Afila Bagirova, the only nurse in the village, says in desperation.
We drove comfortably for 120 kilometers from Baku to Shamakhi. Melkhem was only eight kilometers away, but the real road ended here. Luckily for us, it didn't rain that day. The dirt road leading to the village, covered in huge dried lumps, becomes absolutely impassable when it rains, locals say.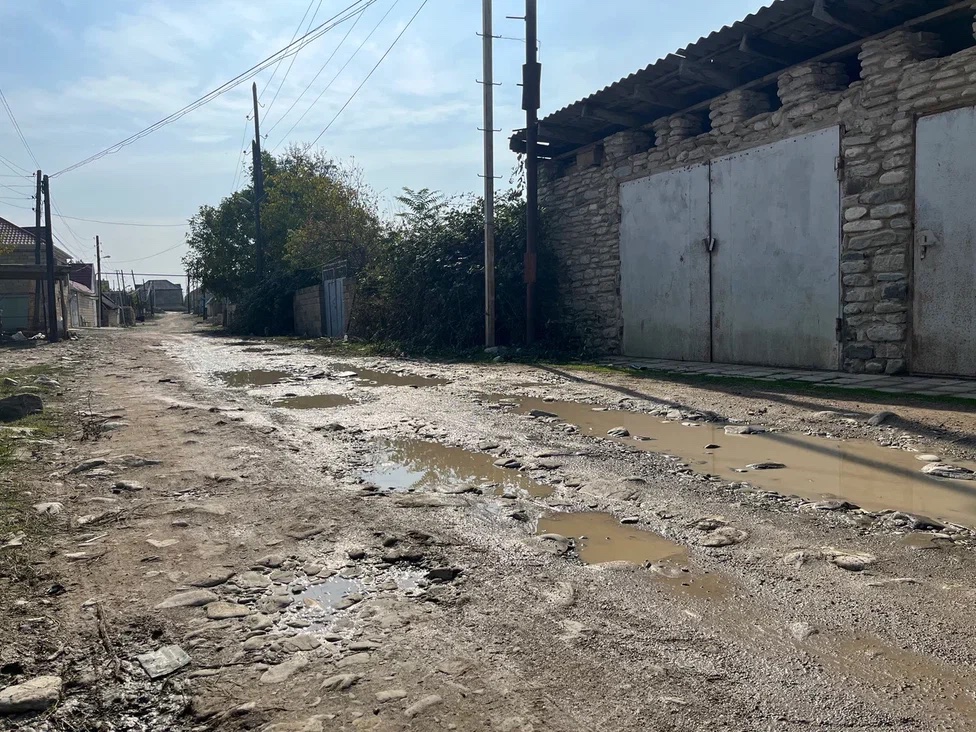 ---
---
Melkhem is located in the Shamakhi region, with foothills and wonderful nature; one of the most ancient settlements in the country.
The foundation of the village was laid in the 9th-12th centuries down around the Gulustan fortress. Around the fortress you can find traces of ancient dwellings. Archaeologists find artefacts here dating back to the first millennium BC.
Shamakhi is known for its seismic activity — frequent earthquakes. Therefore the village was moved closer to the top of the mountain in modern times. Everyone had to build new houses there. The oldest house in the village is over 150 years old.
This process is still going on. Locals say that new houses in the village are being built even closer to the top of the mountain. Figuratively speaking, at least, the village is slowly moving to the top.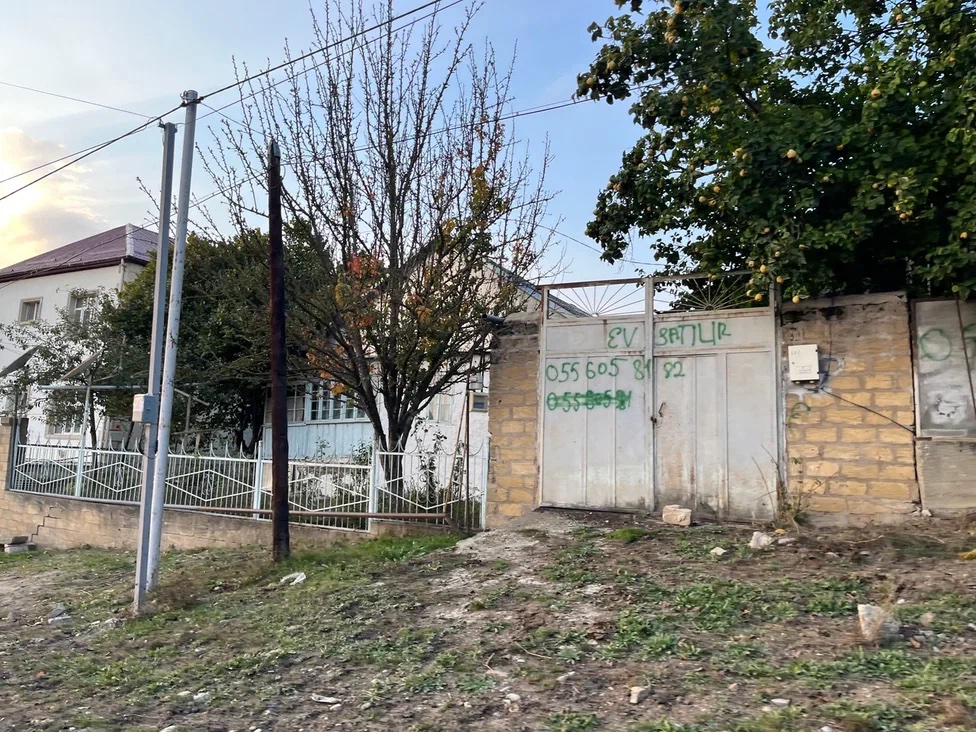 Frequent earthquakes over the centuries have destroyed almost all historical sites in the village. One of the oldest mosques in Azerbaijan also stood here, but only a few stones now remain.
For a long time the village was without a mosque, and only in 1999, on the initiative of the residents themselves, was a new one built and next to it a small madrasah (Islamic school).
---
---
Roads and school the main problems

Malakhat Mursalova, 43, moved here after her marriage and has been living in Melhem for 24 years. She works as a primary school teacher.
"Roads are in a terrible state, and it is a big problem for children to get to school and back home through dust and mud. When it rains and snows, it is especially unbearable," Malakhat says.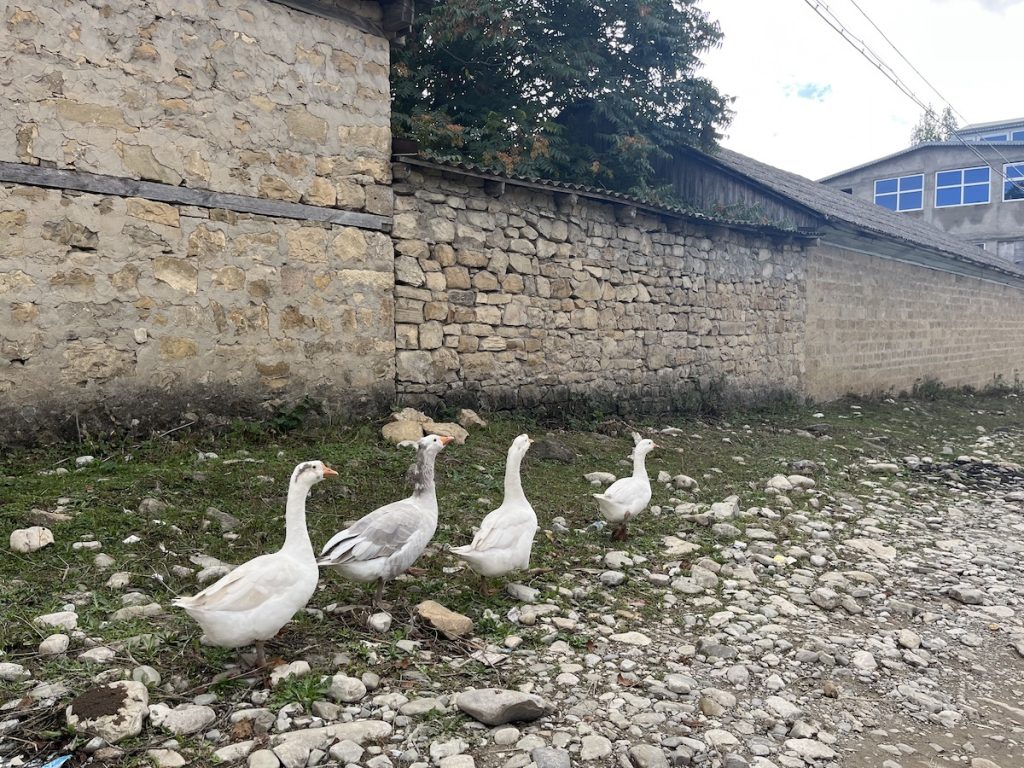 Khayal, a ten-year-old student, says that it is very cold in the classrooms in winter: "We sit in jackets. Some classrooms have electric heaters, but we don't. We just freeze."
There is no heating system in the school at all. "I graduated from this school in 2008. At that time, along with a bag of textbooks we carried firewood to school for stove heating."
"Now the majority of rural children study in Shamakhi. Everyone who can brings their children. If they can't there's no chance at all," says local resident Khanaly Orujov.
There is no kindergarten in the village. Khanaly says that he helps his brother's family and brings his nephews to a kindergarten in Shamakhi.
Another resident of the village, a tall elderly man, agreed to talk to us but asked not to be named.
"I went to this school in 1956. At that time we had about 800 children. Now there are only 130. The quality of education is quite low. There is a library at the school, but it isn't open. In order to read to children or adults you need to buy books, and even go to the regional center for this. Some people who went to university help with fundraising," he says.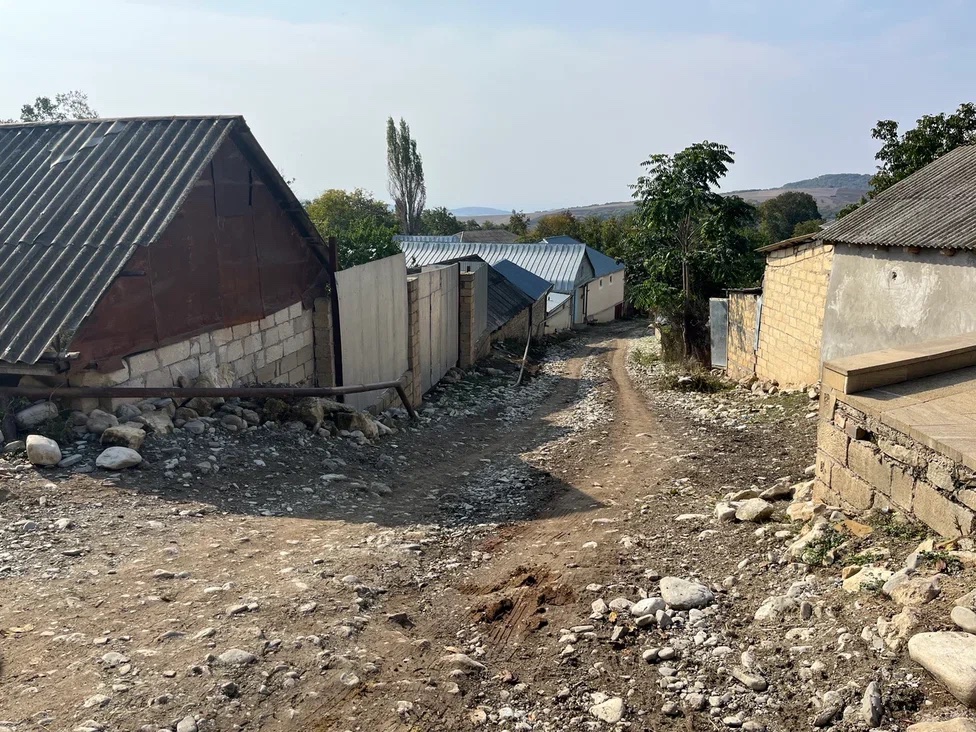 Only the elderly are left

For more than thirty years after the collapse of the USSR many locals moved to live in other places, above all Russia. Now only 1,347 people live in the village, most of them elderly. Young people leave for the cities, there is no opportunity to study or work in the countryside.
The villagers live off of agriculture, animal husbandry and earn extra money by working as laborers on more affluent farms in the area. There is little arable land as the local soil is stony. Families grow what they can, use what they need, and sell the surplus.
The village is located along the route to Pirkuli. For this reason, Melkhem is also gradually entering the tourism zone. In recent years residents of Baku and other regions have been buying land there and building cottages for themselves. While construction is underway, there is work for local residents. But, of course, this is a temporary fix for an endemic problem.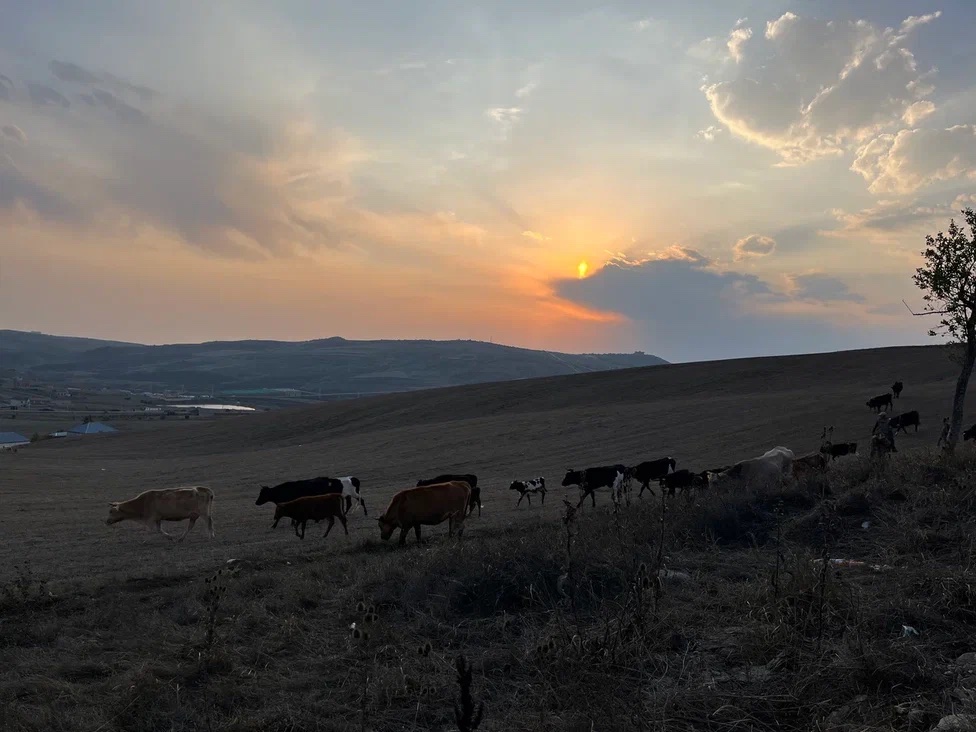 Clinic without a doctor

"If someone gets sick, often they just can't afford to go to Baku for treatment," Alifa Bagirova, a local nurse, laments.
"I myself receive 346 manats [about $204] a month. My husband is retired. There are two of us at home, we have enough. But there are families where there are five people, three children go to school. They don't get a dime from the state, there is no child benefit, and there's no work. Those who have pensioners in the family, that saves them. Some manage to buy several heads of livestock, and that's how they live.
But how long can you endure this? So many people could live in their village and work if there were businesses or large farms nearby."
The urgent care facility in the village consists of one room, and only Alifa Bagirova works here. There is no other health worker in Melkhem.
"If someone is in trouble, they turn to me. The whole village knows me, everyone has my number in their phone. They call at any time of day, I help to the best of my ability. But if the condition is already critical, I call an ambulance from the regional center," Alifa says.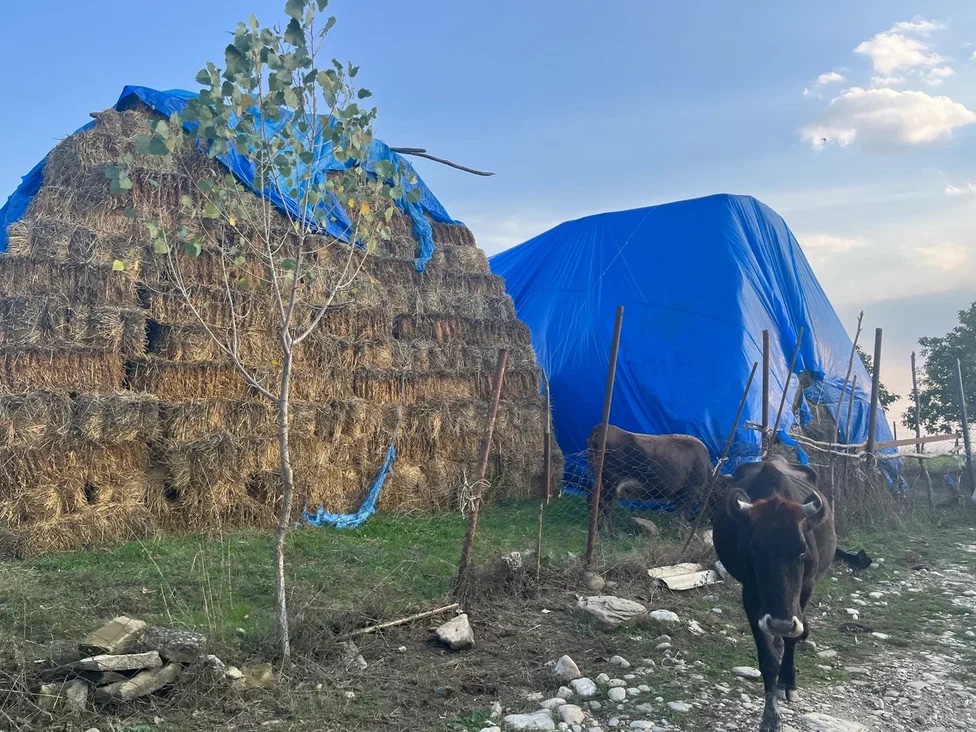 Indigenous language being forgotten

The population of Melkhem is mainly Tats, a national minority in Azerbaijan who speak an Iranian language (Caucasian Persian). But every year there are fewer people who speak their native language in the village.
One young inhabitant of Melkhem told us:
"The elderly all speak Tat. And young men often marry women not from the village. They move here to live and speak Azerbaijani with their children. The Tat language is also not taught at school, so it is gradually being forgotten. Probably in 30-40 years there will be no one here who speaks their native language."
Life in Caucasian villages