Kurds enter alliance with Russia, Syrian President Assad – US to blame?
The Turkish military operation in northern Syria and the escalation of the conflict with the Syrian Kurds is developing very actively since the United States announced on October 6 that it would not impede this operation and began to withdraw its troops from this territory.
The aim of the Turkish operation is to create a "safe zone" along its borders.
According to NPR, on October 13, America confirmed the decision to withdraw its troops from Syria, which means that the American allies Kurdish formations were left unprotected and under attack by Turkish forces.
• Why Azerbaijan comes out in support of Turkish military operation in Syria
• Why Armenia condemns Turkey's military invasion of Syria
Already more than 300 targets have been attacked.  Heavy weaponry, including aircraft and artillery, has been used in the process.
Immediately after President Trump's statement on the withdrawal of troops, Kurdish generals announced that if America did not participate in the defense of its Kurdish allies, then the Kurds would have to conclude an agreement with Syrian President Assad and with Russia.
In the civil war, they were opponents.
On October 14, according to Reuters, representatives of the Kurdish "Syrian Democratic Forces" and Syrian authorities held talks at the Russian military base Hmeimim.
Immediately after this, the Syrian government army moved towards the Turkish troops.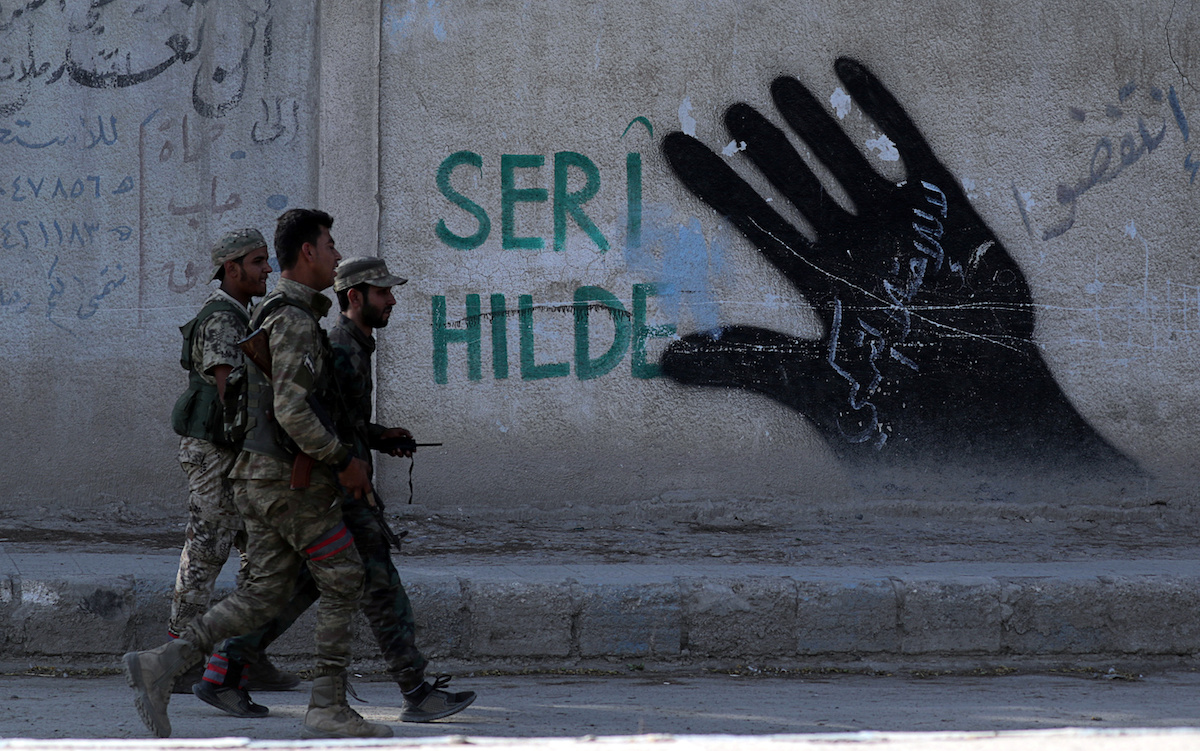 In addition, Kurds claim that several hundred people affiliated with the Islamic State terrorist group escaped from the Ain Issa camp, which they were guarding.  They warn of a possible revival of the Islamic State.
The Turkish president called these reports "misinformation."  He repeatedly stated and repeated again that in his eyes the main "terrorists" are the Kurds themselves.
Germany and France cut off arms supplies to Turkey.
The US and EU warn Turkey of possible sanctions.
Simultaneously, the New York Times published an investigation alleging that on May 5 and 6, 2019, Russia bombed four hospitals in Idlib province in northwestern Syria, which was then controlled by the opposition.
The Russian Foreign Ministry denies this, but if this is true, a criminal trial will begin against Russia on charges of war crimes.
___________________
According to the Economist, Trump practically approved the Turkish offensive against the Kurdish allies in Syria when he announced the withdrawal of American troops from there.
Moreover, he did not even warn the Kurds, who all this time had heroically fought against the terrorist Islamic state in the framework of the coalition created by the USA, writes the Economist.
"It's time to let others, such as Russia and Iran, sort out the situation", Donald Trump wrote on Twitter.
But when even his colleagues from the Republican Party opposed such a decision, Trump retreated.
"If Turkey does anything that I, in my great and unmatched wisdom, consider to be off limits, I will totally destroy and obliterate the Economy of Turkey," Trump said in a new tweet.
Turkey, however, ignored this warning and launched a powerful military campaign on October 9, which doomed Syria to another cycle of killings, writes the Economist.
Many American media and politicians call this a betrayal and bring up a similar episode from the recent past: when President Bush called on the people of Iraq to overthrow the dictatorial regime of Saddam Hussein, the Kurds were the first to respond to this call.  But when they came under attack from the government forces (thousands of victims), they did not receive support from the United States.
Commentary: Is it worth it now to pick up the American flag when you go to a rally for freedom and democracy?
Patrik Salat – Tbilisi-based journalist:
"What do Hong Kong, Venezuela and Georgia have in common?
Demonstrations against their governments have recently taken place in all these countries – and many of the protesters held the American flag in their hands as a symbol of faith in freedom and democracy.
However, after what happened to the Syrian Kurds, it seems that the United States is no longer such a symbol: Kurds in Northern Syria fought and defeated terrorists from the so-called "Islamic State", which was the most serious threat to regional security and the west in particular.
In unstable Syria, they formed a de facto autonomous republic, where people lived in a relative peace. Surrounded by enemies, they relied on the same American support that was present in the fight against ISIS. But US President Donald Trump suddenly decided to withdraw 1,000 soldiers from Northern Syria.
Trump shakes hands with North Korean dictator Kim Jong-un, jokes with Russian President Putin, and is practically blackmailing Ukrainian President Zelensky. Now he gave the green light to the Turkish attack against the Kurds, which was the long-held dream of Turkish President Recep Erdogan.
Erdogan does not hide his desire to return the lands that once belonged to the Ottoman Empire in northern Syria. At the same time, he wants to deal with the Kurds in Syria, since he considers them to be related to his sworn enemy, the Kurdistan Workers' Party, which is declared a terrorist organization in Turkey.
Erdogan says the new invasion is just a necessary step towards peace, which will create a "safe zone" of 20 miles for two million people fleeing the Syrian war.
In other words, Erdogan proposed a peaceful operation with tanks and guns.
But Kurds from northern Syria believe they have been betrayed.
Trump has clearly shown that his foreign policy takes place mainly on social media, and that he has no intention of helping people living in other countries.
And that means people like Erdogan or Putin can take whatever they want.
I wonder if someone in the world will again hold the American flag in their hands at demonstrations in defense of freedom and democracy after this?"