The girl with a Belarusian heart: how Minsk doctors saved the life of a Georgian girl
On the evening of 2 August, 13-year-old Keti, who in the beginning of June had heart-transplant surgery in the Republican Scientific-Practical Center "Cardiology" in Minsk, flew home to Tbilisi. She was accompanied by her parents Giorgi and Tamara, and also doctor Oleg Chernooki who was meant to convey recommendations for further treatment to the girl's Georgian doctors.
Before their flight out, Evroradio met with Giorgi and saw Keti.
"I like everything here, both the level of medicine and the incredible doctors, and the attitude of the people. But we aren't citizens of Belarus: her being in a hospital for just a week will cost us about 7-8 000 dollars. This is very expensive of us," says Giorgi.
"We payed more than USD 100 000 for the operation. But her sick heart affected her other organs. After the operation, nothing went as expected. The situation was very difficult. For that reason, she now needs treatment for her lungs, kidneys and other organs. We already owe the clinic a lot of money."
To date, they have debts of about USD 55 000 in Belarus. While we speak with Giorgi, Georgians approach us who have come to support the family, both morally and financially. Giorgi says that the Belarusians have been just as warm-hearted and have helped them to buy products and had given them money.
It turned out that our daughters had equally ailing hearts
Keti's parents found out that she has a rare disease – restrictive cardiomyopathy, rather accidentally. In 2012, the older sister, Mariam, was dancing when she suddenly felt rather ill. They went to doctors, who discovered the disease.
"The children were completely healthy. They led normal lives. And here, all of a sudden, an illness appears that few people in the world have seen… One of the doctors offered to take a look at Keti, and it appeared that they had equally sick hearts. We were in shock. What the reason for it was, we weren't quite sure – maybe some virus. But no one knows. Keti's analysis were sent to clinics in Austria and Germany. Their doctors had never come across this problem," continued Keti's father.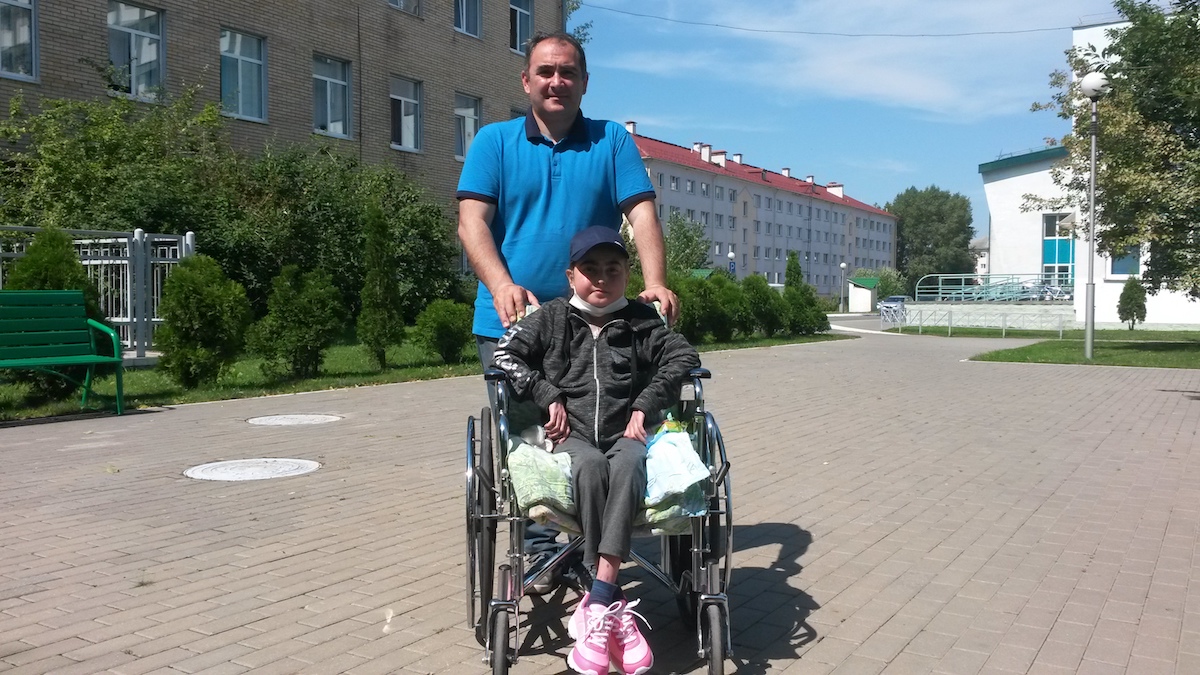 After discovering the issue, doctors began discussing the option of performing a heart transplant. In Georgia, heart transplants aren't performed, so the family looked at clinics in Israel, Germany and Belarus. Giorgi claims that 'in Germany, they only do about three heart transplants a month. In Minsk, they do up to 50! And it's cheaper here than in Europe'.
Moreover, the family made an acquaintance of one Giorgi Sarkisov, who was the first Georgian citizen to receive a transplanted heart in Belarus, and now feels great – he recommended the family to look into the clinic.
But Mariam was unable to hold out that long. She died on 27 April 2017. On 12 May, Keti and her family arrived in Minsk. Heart transplants are performed only for people who are 14 years of age and older. Keti was to turn 14 in October, and the heart of a 29-year-old resident of Minsk who died from a stroke suited her parameters perfectly.
And so, the doctors decided to operate on the girl.
"We had to get a lot of money together. Our relatives, friends, neighbors and the state helped us out. Moreover, my wife Tamara works in a bank, and the bank gave us 80 000 dollars. Now I'm being helped by Konstantin Tsereteli, the General Director of the Belarusian National Bank. Many people are helping. Once an elderly lady came up to us, and gave us some bananas and 20 rubles (ed. 10 dollars). In such situations, it's impossible not to break out crying," says Keti's father.
After the operation, Keti weighed just 26 kilograms.
After a while, Giorgi and Keti were able to make it outside. Keti, looking very thin, sat in a wheel-chair after the operation, weighing just 26 kilograms. However, she actively speaks and plays with her phone and waits for her return home to Tbilisi. In Minsk, she doesn't have many friends and her five-year-old brother is living back home with his aunt.
Keti will continue therapy and rehabilitation in a Tbilisi hospital. Over the next three years, Keti must return to Minsk at least twice for a check-up. And then, once a year. She dreams of returning to school. The doctors say this will definitely happen. The father says that his daughter is very strong.
Keti is the sixth citizen of Georgia to have received a heart transplant in Belarus. The first was Giorgi Sarkisov. With the same diagnosis as that of Keti's, he lived for two years 'hooked up' to devices and taking medication. In 2014, per advice of Georgian doctors, he came for a heart transplant to Belarus. It didn't take long to wait for a donor: the operation was performed on him within just days of his arrival in Minsk.
"It was on 21 May. They called me and said the operation would be in two hours, and that the donor had died of Hepatitis C. I was completely calm. I'm strong. I never thought that I had such a problem – that I would have to have my heart changed. I waited a long time for the operation; I wasn't worried, I believed that everything would be okay."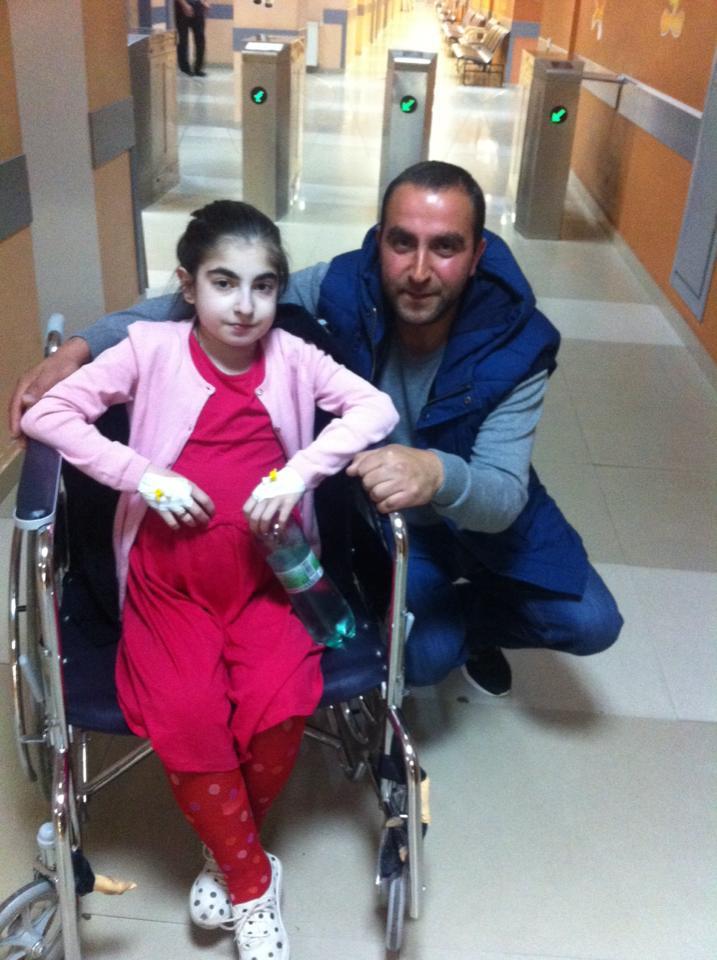 Giorgi rides 14 kilometers on his bike everyday and walks another 12.
Like Keti, Professor Yuri Ostrovski was responsible for Giorgi's surgery as well. Giorgi spent 27 days in the clinic –learning Russian on the side – and then went home.
"Ostrovski said that I had a very strong body. That's true. Lately I was in Minsk, they observed me and said that everything was okay. I ride 14 kilometers a day and walk another 12. I feel just great," recounts Giorgi.
Giorgi isn't working at the moment – after the operation he has certain limitations. He receives a pension of 40 dollars a month, but has to spend 150 dollars a month on medicine. However, he has found something to do: he helps his compatriots who need heart transplants. He helps them gather the needed documentation and money for the operation in Belarus. Moreover, he does this with enthusiasm. Giorgi says that up until now, a minimum of 27 Georgians have had heart surgeries performed in Belarus.
"First off, it's very cheap here. In Europe, it costs minimum 350 000 euros. And the people here are also of the Orthodox faith. People are willing to help out here," Giorgi counts off some of the pluses of getting a heart transplant in Belarus.
"My friends helped me out, and the Tbilisi mayorship gave me 60 000 dollars. I received 10 000 dollars from the Ministry of Health. And with a little help from articles in the press, you can also gather some money."
Operations can cost up to 400 000 in Germany, but only 100 000 in Belarus
According to Vitaly Bunel, head of the department for off-budget activities of the Republican Scientific and Practical Center 'Cardiology', the operation for a heart transplant for foreigners costs about USD 100 000. In comparison, in Israel, the price is about 270-350 thousand dollars, and in Germany about 400 000.
Amongst the patients of the Belarusian heart center, one can find many citizens of countries of the former USSR – residents of the Baltic countries.
"Naturally, preference is given to citizens of Belarus. In case an organ isn't fit for a Belarusian, then a patient on the waiting list is selected from among the foreigners. And if all indicators coincide, then the operation is performed – that is, the heart surgery," explains Vitali Bunel.
How long patients, both citizens of Belarus and foreigners, have to wait on the list can depend on many factors: blood type, height, weight. It may be several days, or it may be a year. If the situation of the patient is stable, they wait for a heart in an apartment or hotel not far from the clinic. If they are sick, then they wait in the hospital.