Who are we greeting and why?
I think this is the first time things have happened like this: there are a couple of articles which I've started and then stopped, scattered all around my desktop. Some of them are about Gali. I started writing them after Giga Otkhozoria's murder. They are finished. I have postponed sending them for publication. Then, I lost any desire to discuss this theme in public at all.

Some funny things have been happening around me over the past few days. A campaign, which didn't have any results nor do any harm, has become the topic of the day and possibly of the week on social media.

I think the author of the 'Mshibzia' idea (for some reason I can't keep his name in my mind. That's probably because I don't like offending good and naïve people), has managed to do a great thing – he has brought the Georgian and Abkhazian communities together around one common theme. Finally, there is something that both sides have termed as inadequate and treading the waters.

I pity that young man (I can recall that much), and I'm sure he doesn't feel well these days. He didn't probably expect this benign greeting to cause such a reaction. On the other hand, I think the author of such a noisy campaign (8,000 people's voices can definitely be called noise, that's for sure) should have figured out beforehand what Abkhazians want to hear from Georgians and what they aren't interested in or can't stand.

When I was recently writing another article about Abkhazia, an image of September 11 surfaced in my memory–probably the most heartbreaking, striking scene I have ever seen: a young girl, who evecuated her office because of the fire, caught hold of a metal beam outside. Then the beam beomce hot, and it was no longer possible for her to hold onto it. The girl straightened herself, her entire inner concentration expressed on her, then she did the sign of the cross and swooped down from the beam. Good filmmakers  cannot capture such scenes anymore. Those, who are even the least bit fond of cinema will probably understand the reason.

My subconsciousness has even worse taste – it continuously replays such thrilling moments, and I can never get rid of them.

Some time passed and the majority of New Yorkers supported the idea of building a chapel for common prayer where the Twin Towers used to lie. There were the months of great pain, but many people in the USA displayed civility with regard to Muslims in order not to spoil ordinary people's lives. I wasn't thinking about Abkhazia and wasn't writing anything at that time, but this example of benevolence often brought me back to my own region and the conflicts there in my thoughts. I wanted to know what kind of people we are in this regard; what are going to do: are we the revenge seekers or are we more honorable? Can we learn from each other, not jump to early conclusions and go down a new path?

Later I started writing about Abkhazia. I was interested in this particular theme and when I was working on an article or blog, I exactly knew what I wanted to say. There were never many articles about Abkhazia left unfinished on my desktop.

Now, like many of those who are in some way connected to the conflict in Abkhazia, I am finally getting sick and tired of it.

I'm getting tired of the Georgians' naivety and simplicity, due to a mental fog that makes us do some very new and peculiar things.

It is also annoying to see how enthusiastically Abkhazians encourage these 'motivated' Georgians, who honestly believe that since they have forgiven the Abkhazians for what they believe to be the most bloody part of the conflict, now the time has come for the Abkhazians to forgive them back. I won't waste my time on their arguments. I am sure they will be more than up to the task themselves.

Finally, I feel like I'm tired of recalling how many times I've refrained from writing a few cordial words to Abkhazians when some Georgian was demonstrating that sort of naivety, since I have good imagination and I'm well aware of how Georgians would respond to such a manifestation of love, for example, from Russia.

There is nothing my subconscious either that would even do with such a fantasy, despite the fact that I know plenty of people who truly love and sympathize with the Abkhazians.

As for the rest of us, I could hardly imagine when, why and in what form, our (both parties') salvation will come. And that's not because there is something impossible with that goal. No, it's the despair and hopelessness stemming from 'political tradition', as Anton Krivenyuk has recently written: to convey equally superficial messages and receive equally aggressive reactions to them.

I don't know how it should done, but maybe we can help each other a bit in order to change this tradition. Otherwise, in our attempt to find a common solution, only infusoria will be left in our nerve ending. As you may well know, infusoria don't have any nerves at all.
A new project entitled "Mshibzia – 8,000 greetings to Abkhazians was launched on the Internet on June 15. This project is available at www.mshibzia.com. Once you open the website, the following text immediately pops up: "This website was not developed by any political or other organizations. 'Mshibzia' means "greetings" in Abkhazian. We have not greeted each other for over 8,000 days. That's approximately the number of days that have passed since Georgians left Abkhazia, according to the authors of the project, who had been working on this idea for two years. The website has a rather simple interface. Any interested individual can upload his/her photo here and the program will add the caption "Mshibzia onto it. Over 1,500 people have participated in the campaign up to date.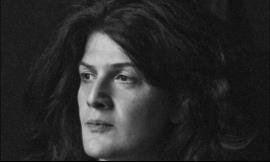 Keti Kantaria, blogger, Tbilisi
The opinions, expressed in this article convey the author's views and terminology do not necessarily reflect the views or opinions of the editorial staff.
23.06.2016