"The West is twisting Georgia's arm over its relations with Russia" - Grigory Karasin

Karasin, Georgia, Russia
The West is beginning to twist Georgia's arm because of its calm relations with Russia, former Deputy Foreign Minister of Russia Grigory Karasin wrote on Telegram.
"This is how modern international relations look from the point of view of the West, regardless of history, geography and the states' own preferences. Washington decided – do it! It's pointless to comment on this!" Karasin wrote.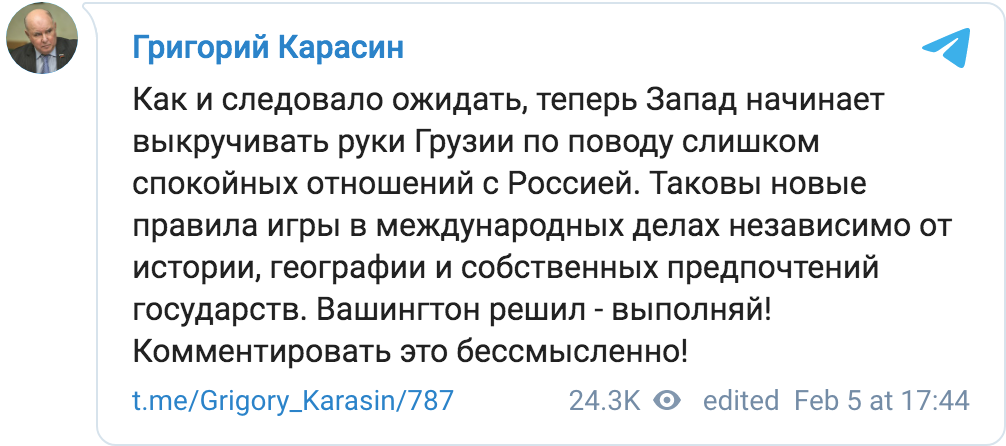 Karasin is currently the head of the Foreign Affairs Committee of the Council of the Russian Federation.
Just a few days ago, an audio recording of a conversation between Special Representative of the Prime Minister of Georgia Zurab Abashidze and Grigory Karasin was made public, wherein Karasin suggests Abashidze consider the possibility of modernizing existing roads or building a new road between Russia and Georgia to handle an increase in freight traffic. However, Abashidze explains to Karasin that it is not the right time to talk about this now.
After the distribution of this recording, Abashidze confirmed its authenticity.
---
---
On January 18, Russian Foreign Minister Sergei Lavrov expressed hope for a speedy restoration of direct flights with Georgia and said that the 10% growth of the Georgian economy was largely due to ties with Russia.
Sergei Lavrov said that there are necessary mechanisms for a dialogue between Georgia, Abkhazia and Tskhinvali, in which "Russia also participates." According to him, Moscow is in favor of building relations between Georgia and the occupied territories. Lavrov spoke about this at the final press conference in 2022.
Lavrov also notes that Western countries and institutions are trying to "hold hostage" the events taking place in Ukraine in the Geneva format, which, in his opinion, "is caused by political grievances and whims."
At a 2022 final press conference, Sergey Lavrov praised the Georgian government, saying that the country is "resisting pressure from the West."
Follow us – Twitter | Facebook | Instagram
Georgian President Salome Zurabishvili does not welcome the resumption of flights with Russia.
"At a time when all our partner countries, in word or deed, express maximum solidarity with the selfless struggle of Ukraine, for me and I am sure the majority of society, the position of the government and the ruling parties is, to put it mildly, incomprehensible," Zurabishvili wrote.
This is not the first time that high-ranking officials of the Russian Federation have praised the Georgian authorities for their attitude towards Ukraine and the West.
On March 25, 2022, Karasin praised them for their position on the Ukrainian issue. Karasin called Georgia's reaction to the anti-Russian sanctions of the West "balanced" and said that "this fact will not go unnoticed" in Russia.
Karasin also said that after 2012, when the Georgian Dream party came to power, Russia became Georgia's second most important trading partner, all restrictions on Georgian goods have been lifted and Georgia's exports to Russia have increased fourteen times.