Iranians have brought carpets, harvesters and sweets to Armenia
An exhibition featuring Iranian products is being held in Yerevan today. A wide variety of goods are being displayed as part of the event, including household appliances, agricultural equipment, textiles and even sweets.
Representatives from 49 Iranian companies, as well as high-ranking officials from Iran and Armenia, participated in the exhibition's opening ceremony. The Armenian and Iranian sides stressed the importance of holding such events in both countries:
"This exhibition is important for the development of Armenia-Iran relations in the trade and economic sphere. As we have stated on a number of occasions, Armenian-Iranian relations, in terms of trade turnover, can't be regarded as satisfactory, since there is a great unrealized potential. We should spare no efforts to advance our trade relationship up to the level of our friendly ties," said Suren Karayan, the Minister of Economic Development and Investments of Armenia.
In his opinion, Armenia and Iran can set up joint ventures to further develop their business cooperation.
Speaking about the future expectations and the need to ramp up bilateral trade turnover, Suren Karayan noted that bilateral trade turnover increased by 40% during the first 7 months of this year.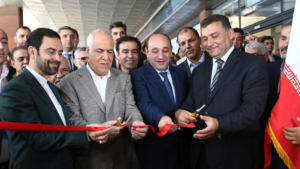 Iranian government officials also stressed the need for strengthening bilateral economic ties. Seyyed Kazem, the Ambassador of the Islamic Republic of Iran to Armenia, stated as follows:
"We aren't satisfied with the current state of the Armenian-Iranian trade turnover. Yet if we compare it with Iran's trade turnover with other countries, this result satisfies us anyway."