Integrated ticketing system to be introduced in Armenia
According to Vahan Martirosyan, the Minister of Transport, Communications and Information Technologies of Armenia, an integrated ticketing system may be introduced in Armenia.
This implies the introduction of all-in-one e-cards, that will allow passengers to get to any destination and pay travel fares by using a card.
"Each card will have a certain amount, which one will use for payment of travel fares in route taxis and other transport means, in any direction," the Minister reported.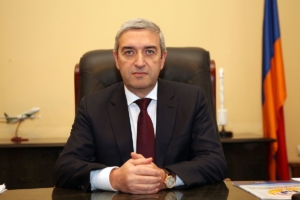 In the Minister's words, the aforesaid process may lead to the reduction of transport tariffs.
Travel fares for the metro, buses and route taxis, will amount to AMD 100 (approximately USD 0.20), whereas that of a trolleybus – AMD 50 (USD 0.10). Passengers currently pay travel fares in cash directly to the drivers.
The Minster said that some other changes in the transport system were also expected. Among others, services provided by all privately owned inter-regional route taxis would be provided by a uniform operator company.