Husband kills wife during divorce hearing in western Georgia
A murder took place on February 18 in the civil registry office of Samtredia in front of a number of witnesses: a 25-year-old woman was stabbed to death by her 27-year-old husband, with whom she came to court to file for a divorce.
According to the Georgian Interior Ministry, the murder occurred a few minutes before the start of the divorce proceedings. The killer has been detained.
He faces 13 to 17 years in prison.
_____________________
• Over the past 7 days, this is the second case in Georgia of the murder of a wife by a husband. Two days ago, in the village of Karadzhal, Gardabani region, a 23-year-old mother of three children was killed by her husband. The murder was committed out of jealousy.
• Femicide, the killing of women, remains in Georgia one of the most difficult unresolved problems. Between 2014 and 2019, 87 women were killed by husbands or cohabitants.
---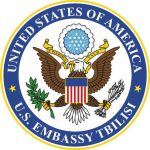 This project is funded through the Democracy Commission Small Grants Program, U.S. Embassy Tbilisi. The contents of this publication are those of the Author(s) and do not necessarily represent the views of the Department of State.