How to make a successful theatre
Irakli Khintba, a well-known political analyst and former high-rank official of the Abkhazian MoI, quitted politics end of spring last year and headed the Sukhum-based Russian Drama Theater. The theatre topped all expectations as early as in autumn season. Three premiers and one updated play brought the audience back to the theatre.
Earlier, it could hardly attract even a few dozen of playgoers, whereas now it holds sell-out performances one after another.
Over the years, Irakli Khintba worked as Deputy Foreign Minister, as well as headed the expert department at the Abkhaz president's administration. At first, his appearance in the theatre caused bewilderment. Whereas now, many perceive it as the best possible solution at this stage.
Find out how to transform oneself from a good political analyst into a successful theater producer in JAMnews interview with Irakli Khintba.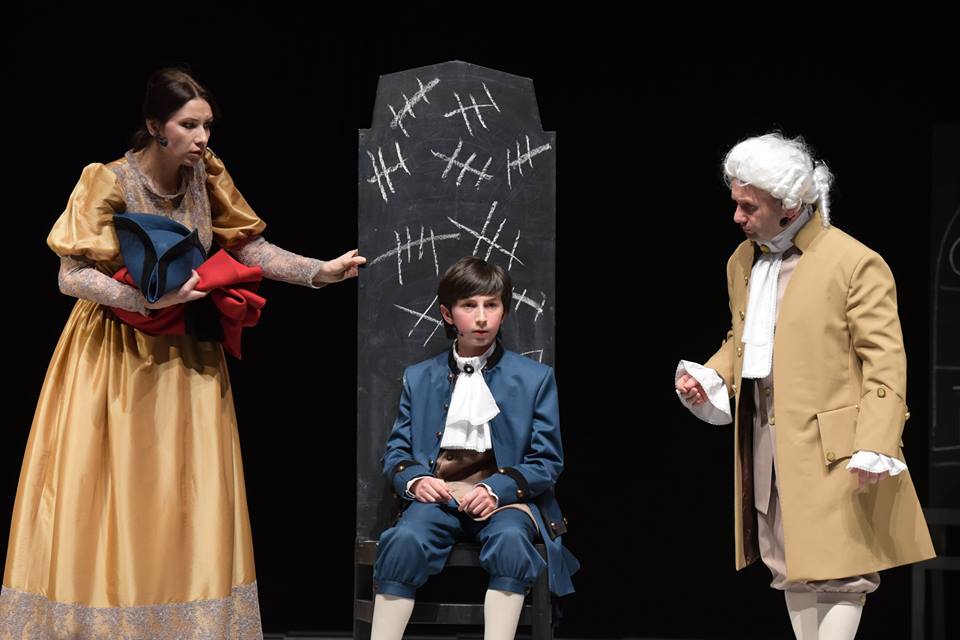 – How hard was it to decide to radically change a sphere of activity? And why did you make such a decision?
– Actually it wasn't very hard for me, because I love and know the theatre and I have long had a professional interest in this sphere. It all was quite logical for me. Therefore I easily made that decision. I even rejected the proposals to hold some high-rank governmental posts in order to work in the theatre. I think that theatre is so significant and its role is so important that it's quite justified to dedicate your time and efforts to it. Believe me, I'm not going to waste my time.
– The autumn season in Russian Drama Theater was a success. You've already managed a lot. Could you tell us, how have you, as an outside man, achieved all that?
– There are several answers.
Theatre has been something special for me since childhood. When a student, I used to go to theatre in Moscow almost every night. Then I chanced to visit world's best theatres.
I'm acquainted with many theatrical personalities, I read special literature, I have a good taste and therefore I consider myself as quite competent in this particular sphere.
In addition, certain managerial skills are required to head the theatre and I acquired them when holding various posts in the executive government. I am majoring in political science and both, the management and PR spheres fall within my professional competences.
– What do think is your major achievement at this stage?
– The major achievement is that what we did within 3 months couldn't be achieved by other theatres in our country for decades. What I mean is a transition to a regular operation mode.   I would argue that anactor loses not only his/her professional skills, but also a talent, if he/she has no chance to come on stage at least once a week, and it's better if it is two-three times a week.
Our actors nowappear on stage even more often, whereas earlier they had such a chance once in a month at best.They find it hard now, because they are not get used to such a work mode. Some of them are even discontent, but there isn't and couldn't be any other way out for the theatre.
Russian Drama Theatre works with permanent repertoire, the events' bill is known two months in advance, a timeframe for release of new performances isstrictly observed. There hasn't been any failure in terms of production so far.
Our next first-night performance, a play entitled 'Five Evenings', is scheduled for April 13, 2017. Let me assure you that it will be shown on that very day.
– Two plays in the Russian Drama Theatre's last season were staged by the Russian stage directors. Both of them were successful. It seems that stage directors are eager to cooperate with the Russian Drama Theatre. How do the negotiations actually proceed? Do you easily persuade a foreign stage director to get involved in your performances?
– I strongly believe that it's absolutely impossible to give a boost to a theatre in Abkhazia without the Russian experts' involvement. We should stop stewing in one's own juice, because it has a counterproductive effect.
In autumn last year, Andrey Timoshenko and Anastas Kichik, the Russian stage directors, released two wonderful plays that have become the cult events. I can surely say that we have never had such high-quality performances before.
My objective is to further invite good stage directors, lighting designers and other theatrical experts. Our colleagues immediately pull themselves up when working with visiting professionals.
It's not that easy to find a good stage director. One should have an eye for quality of theatrical products, and it's also very useful to have some reputable culture figures from Russia, who could advise you something. And the important thing is that our theatre be in compliance with the standards.
Next year, we will keep cooperating with Andrey Timoshenko, as well as will invite some other stage directors, whom we have already reached certain agreements with.
– Funding is one of the most important issues. Do you still rely on a state-run theatre budget? Is it enough for efficient work?
– It's absolutely not enough. We are paid salaries plus RUB700,000 [approx. US$12,000] per year to cover everything: be it release of new performances, production of costumes and scenery, royalty payments, maintenance of huge asset complex, payment of utility service costs etc. At the same time, a theatre light lamp may amount to RUB40,000 [approximately US$700]
It's a shameful and disgraceful budget for such an efficient theatre as we are.We try to raise funds ourselves. We are rendered financial assistance by the A-Mobile company, which is our official partner. But it can't last forever.
After all, we are a state-run theatre and we release up to 5 premieres a year. Who else works in Abkhazia as efficiently, productively and selflessly as we do on such a scanty budget?
Such a situation constrains us very much; we can't take risks and do experiments, we should constantly think of box office revenues, but the theatre actually can't develop without risks and experimenting. I do hope that the government will pay more attention to us in 2017.
– How would you assess the theatre actors' potential?
– We have a good troupe, but there are few actors-just 13 people. It's very insufficient for a full-fledged theatre that is operating in regular mode. There are almost no young people. We hope that the Russian Schukin Theatrical Institute graduate students will join our ranks.
Acting career is first of all a craft. And one can be taught this craft only at a good theater schools, therefore we are counting on these guys.
I'm also constantly looking for new actors. Inar Narmania, a talented young Abkhaz stage director with good acting background, is already involved in rehearsals for 'Five Evenings' play.
– You particularly focus on the work with audience.Is it a result of efficient management that there is packed audience even at the older performances?
– There is a novelty effect now. Everyone is interested in premieres. However, afterwards there may be certain problems when we will have to maintain the audience interest.
We will certainly release new plays, but the older ones will be also shown. And media support is important at this point. Personally I pay great attention to it.
We have already achieved much; we are one of the most visited theatres. It's necessary to ensure that the audience fall into habit of visiting our theatre, that people feel themselves comfortable and happy here. I personally meet the audience, smile to each and every spectator, tell them some kind words and help them find their seats in the hall.
It's important that people realize that we value each spectator, that each person will be paid due attention, that theatre is cool, that it's the best place for spending leisure time at night.
However, a good performance is still the most important thing. Promotion won't help if a play is poor and doesn't enjoy the audience' interest. We will mercilessly remove such plays from our repertoire.
– What do Abkhaz audience need nowadays, what conclusions have you made over the past three months?
– They need the same thing that the audience in any other country need: they need a theatre that will strike an emotional chord in spectators and won't let them leave the hall with 'a cold nose'.
– What do you think is your primary task, as the theatre director, at this stage?
– My primary task is to accumulate a repertoire. There should be at least 8 high-quality performances (we've already have 4) and we should produce the rest in the shortest time possible.
Secondly, to make the theatre group focus more on work efficiency, namely to further strengthen their production capacity.
Thirdly, to expand the troupe composition through recruiting young actors. And fourthly, raise funds for the technical re-equipment.
– What are the Russian Drama Theatre's plans for winter-spring 2017?
– The second half of the 36th season will be start in February. Rehearsals for the play based on a well-known novel by Alexander Volodin, 'Five Evenings', will be launched.
The play is staged by Anton Kiselus, a young and talented stage director from Moscow. A scenery set model by Vitaly Katsba, chief designer, has been already completed and it is going to catch one's fancy. Our lead actress, Anna Gyuregyan, will have a chance to prove herself while performing a serious role.
Rehearsals for a grand play 'The Inspector General' byGogol's novel, staged by Andrey Timoshenko, will be launched simultaneously.
Comedies, as well as performances for kids, will be included in the repertoire. I'm currently engaged in negotiations with three Russian stage directors and I will report on their outcome in the near future.

The opinions expressed in the article convey the author's terminology and views and do not necessarily reflect the position of the editorial staff.
Published on: 23. 01. 2017