How to avoid falling for a scam and really find a job in Baku
Rule 1. Read ads carefully
Let a promise of high salary for doing almost nothing make you wary – it means that perfume or drug network dealers have baited traps; or there may be a financial pyramid scheme. If you apply to such a job ad, you will be requested to make an advance payment – to become a company stakeholder. Only the real lucky men are able to work off and cover that advance payment. Consider that this money has been ripped off.
Rule 2. Do not sign a useless scrap of paper
Any employment company will conclude a contract with you. It shall include a taxpayer identity number – in Azeri it is called «VÖEN'. And the contract shall also provide a timeframe, within which the company is committed to find you a job. It may be three months or a year. In other words, the more precise information, the better. The main thing is not to sign an abstract documents about nothing.
Rule 3. Make inquiries
Enter the company name in the search engine – sometimes it is quite enough to realize that there is nothing to look for – you have to deal with the easy money lovers. The scams' tried path is as follows: to open a firm, quickly collect money and disappear without providing any "service. Look for a company with good reputation, or at least that with positive references. It will be better if these references are from the people you personally know.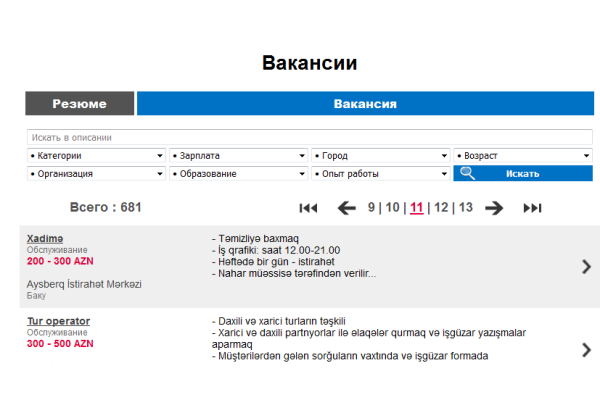 Rule 4. Do not pay in advance
You will be certainly asked to pay: for registration, for an application form, for drawing up a contract and, finally, for the position, itself. Take your time. The best thing will be to pay only after you are found a particular job. But if it does not work and you are to pay in advance, be sure to keep a receipt.