How should gays survive in Europe's most homophobic country?
"If you don't blow a trumpet that you are a gay, then it's fine and you won't have any problems," Andrey told me as we are hiding from the rain under a shop canopy. Andrey is a tall, athletic guy.
Only two of them, he and Adnan, came to the meeting. Actually, Adnan promised to bring some more people at the meeting with journalist, but the rest refused. Adnan is a man of low stature, with a soft handshake, stylish clothes and well-groomed hair. Even within the gay-community (where sort of 'internal homophobia' is also sometimes the case) such people are referred to as 'mannerly' ones. He looks absolutely different than Andrey. That's exactly the most 'vulnerable' type of people whose orientation 'is written all over their face'.
We met at the Icheri Sheher metro station and wandered aimlessly, i.e. in no particular direction. It was drizzling. We entered the Inner City and walked along the rampart, passing by the handmade and picture stores, then walked through the Gosha Gala onto the Fountains Square. The guys were sharing their stories on the way.
My task was to find out from the LGBT representatives themselves how tolerant our community is towards them. On the one hand, there is the ILGA-Europe rating, according to which Azerbaijan is the most intolerant country in Europe with regard to sexual minorities. But, on the other hand, there is the government's assurance of 'total tolerance'.
Both of them (Adnan and Andrey) made it clear straight away that they have never had any problems, 'unless you start blowing a trumpet at every corner'. But that made me wary. If everything is so rosy, then why is it so hard to make contact? Why do LGBT have social media profiles without photos, why do they often use fake names? And if everything is fine, why is there such mass unwillingness to communicate?
Andrey said, he told everything to his parents when he turned 15. His parents 'took it normally', without any scandals. And so they live. 'Everything is OK'.
As for Adnan, his parents are still unaware of that. If they had been social media frequenters, they would have known it long ago, Adnan makes no secret of it on the Internet. But his neighbors have some suspicions, they exchange whispers when he passes by.
And what about school, institute? Everything is fine, 'we don't blow trumpets about it'.
I've hear a phrase that a homosexual would better not 'blow trumpets about it' from the LGBT before as well.
Azerbaijani gays don't view 'coming out' (a public self-disclosure of one's sexual orientation, that is regarded as a heroic deed in other countries), as an option.
Back in 1869, Karl Ulrichs, an advocate and defender of gay rights, called for 'coming out'. Iwan Bloch, a prominent sexologist, also shared that position. As early as in the second half of the 20th century, the psychologists and psychiatrists concluded that homosexuals' problem is that they aren't accepted by the community. In order to solve this problem, the community needs to be adjusted, since homosexuality itself can't be adjustment.
LGBT on social media
There are also social media groups dedicated to the LGBT community, including quite a numerous one – LGBT Azerbaijan on Facebook, which comprises 3,362 members. That's approximately 0,1% of Baku's total population.
Among the group 'frequenters' are not only the LGBT representatives, but also the tolerant heterosexuals. The group's discussion themes vary from the LGBT-related local media publications to some more abstract or practical issues, like 'I'm looking for an apartment for rent'. But all themes are predominantly related to their orientation and status ('I've confided to my closest friend today. I want to proceed with that and tell it to my parents, my brother'. Others show polite interest, express support: 'What was the reaction?'). But the guys (the group members are predominantly Azerbaijani-speaking youth) are mostly concerned about the relations with their family members, next of kin.
There is also gay.az website with similar themes and 1,414 registered users. It's the only LGBT-website in Azerbaijan. Ruslan Balukhin, the website creator, claims that as he has recently found out, registration of gay-themed domains is banned in Azerbaijan. "As Gay.az was told in the technical support unit for registration of domain names in the domain zone .az (online.az), the aforesaid domain name was blacklisted by the IntraNS company, which serves as an administrator of.az national domain in Azerbaijan," the website post reads. Then there were attempts to clear out the matter with InstraNS and Communications Ministry, but it led to nothing, the officials were just 'nodding to each other'.
On the side note, it was gay.az website that held a rather bold campaign by local standards-a photo session with a gay pride flag in Baku streets.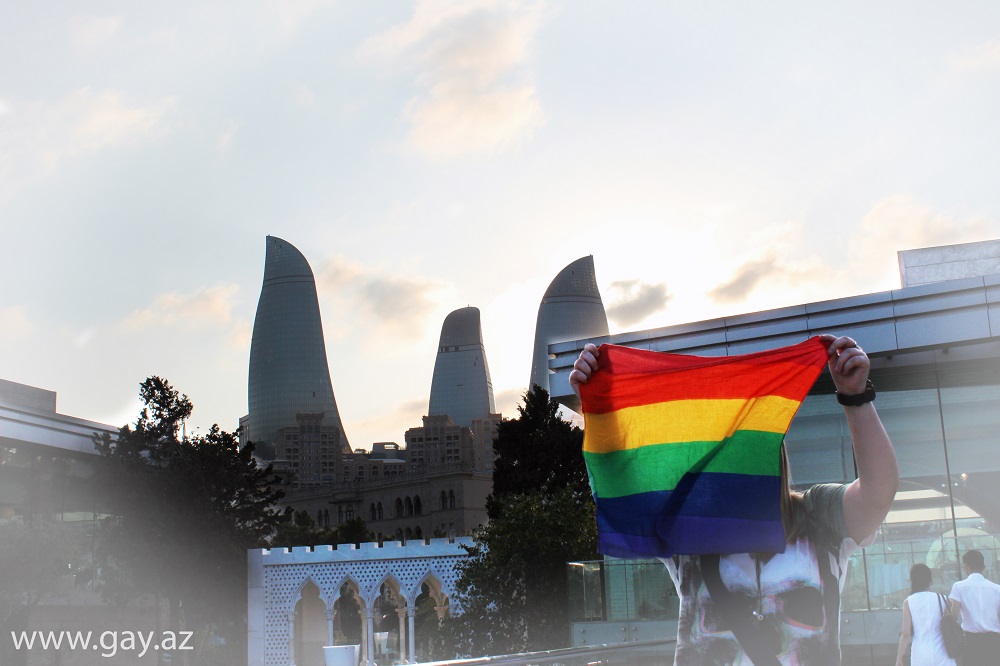 One of the members of such community was Isa Shahmarly, a gay activist, who committed a suicide as a result of hate campaign in 2014. His last post on the Facebook 'wall' read: This country, this world is not for me…This world is not perfect enough as to accept my true color. Farewell!'
After his death, the residents of Bina settlement, Baku outskirts, didn't allow to bury him . Whereas after he was finally buried, some local vandals destroyed Isa's grave.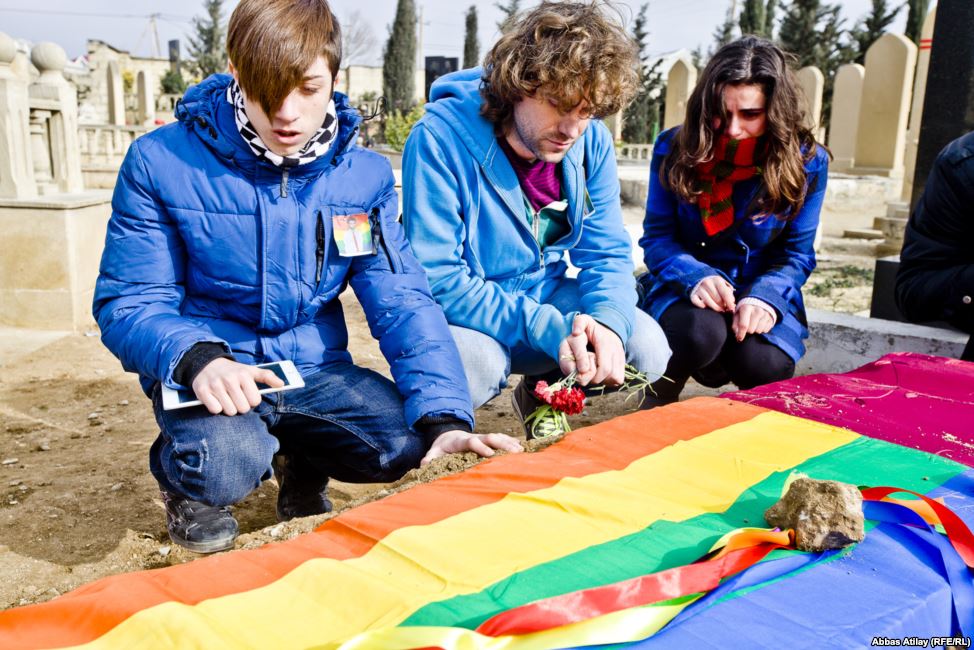 Zaur: 'I was born like that'
Zaur, a young guy, is one of the group members. He is only 17. He has just graduated from school.
"I mostly had to face harassment at school. That's why I call it hell. For example, I couldn't normally leave the class and go to the school canteen. There would surely be some teens who would make fun of you and indulge in scurrilities in your regard (something like: 'Hey, rooster, look here'). I had a rater sharp reaction to all that till the 9th grade, sometimes I complained to the school principal or a class teacher. And, thank God, they were always on my side. But I was a kid then and my 'feminine' character didn't attract so much attention, especially on part of the teachers.
Of course, none of them knew exactly that I was gay. Pardon me, but I still didn't have any normal relations even at the age of 17. It was probably my manner of communication and the manners, in general, that gave me away. I found it hard to control them, since I was born like that. As I grew older, I realized that people surrounding me were looking at me with some kind of bewilderment, even the teachers were gossiping about me. But I've grown up before those teachers' eyes and they've always known me as an exemplary and successful student. Now they probably regard me as sick person."
Ratings, surveys, official positions
So, according to the ILGA-Europe survey, Azerbaijan is the most intolerable country in Europe with regard to sexual minorities. There is no law protecting the LGBT community in Azerbaijan, neither are there any special shelters to hide from violence; there is intolerance in families, as well as the language of hate both, in the society and at the government officials' level . In its report on Azerbaijan the organization provides the examples of criminal offences targeting LGBT, as well as the quotes by politicians and officials, demonstrating their intolerance.
For example, according to the ILGA data, there are cases of physical abuse and even murder of LGBT individuals due to their sexual orientation; murder after 'fishing them out' from the dating websites, battering and killing in the street.
ILGA-Europe illustrated the examples of aggressive rhetoric on part of the government officials. For example, Mubariz Qurbanli, MP, stated that 'we will never tolerate same-sex marriages. No, and no again! Whereas Nushiravan Maherramli, the Chair of the National TV and Radio Council, criticized one of the TV channels for 'portraying homosexuality as something normal'.
And here is a different opinion. Kyamran Rzayev, the Head of the Gender and Development organization (dealing with the LGBT rights) claims that Azerbaijan is actually a rather tolerant place for sexual minorities, whereas the ILGA rating is based exclusively on the lack of law protecting the LGBT rights.
This tolerance is much discussed in the pro-governmental media , that refer to those who advocate the minority rights (like, for example, 'Nefes' organization) as the 'provokers'. Besides, there are also some articles conveying aggressive rhetoric with regard to sexual minorities.
Here's an excerpt from the article about gay-bar at vesti.az website:
"No matter how much they tell us about tolerance to sexual minorities, convincing us that it's normal, that gays are the same people as we are, I still can't get used to this abnormal phenomenon. I think, all sober-minded people are at one with me."
Anti-gay textbooks
Another organization dealing with the LGBT rights is 'Nefes', i.e. those very 'provokers' referred to above. The organization was collecting data with regard to attitudes to the LGBT community and drawing up reports for the European organizations.
Gulnara Mehdiyeva, 'Nefes ' ex-employee and the gender movement activist, as well as editor of the 'Minority', the first online LGBT-magazine, tells about open manifestation of enmity to the LGBT community on part of the governmental agencies.
"There was such a precedent: 'Family psychology' textbook, applied in the higher education institutions, read that homosexuality is a disease, a pathology etc. It was put on a par with incest and pedophilia. The author even wrote: 'Ulu qüdrətə zidd hərəkətdi' ('It is against the God's will'), as if it was taught in some madrasah (Islamic school-ed.). In short, it was really terrible," says Gulnara. "We filed a complaint with the Education Ministry, pointing out that students were provided inadequate information, that homosexuality hadn't been regarded as a disease worldwide since 1990, and in Azerbaijan – since 2005. Whereas the book was published in 2015. However, we were told that the Education Ministry had nothing to do with that and that we would better apply to the university board.'
First of all, I received the Health Ministry's response. I sent them the following questions: is homosexuality a disease and does a physician have right to 'treat' it?
They responded that since 2005, our country applied the ICD-10 (International Statistical Classification of Diseases and Related Health Problems, 10th revision), under which homosexuality is not a disease and its treatment is forbidden."
Statistics
It's hard to find at least some LGBT-related figures in Azerbaijan. In 2015, 'Nefes' didn't produce any report on the crime and violence cases – says Gulnara Mehdiyeva. This report is usually drawn up based on crime column news, but there may be no mentioning of the fact that a crime has been committed on the LGBT grounds. Police don't put those cases into a separate category, though we've been long trying to improve that. For example, there was a case when a sex worker was taken to the woods, beaten and robbed, after she'd admitted being a transgender. Moreover, the criminals themselves confessed to it."
The 'Minority' magazine's video vox pop may testify to a true attitude towards the LGBT: When asked 'what would you do if your child was a gay?', people answered: 'We are Muslims, aren't we?! We should differ from the Christian countries'; 'I would have killed him'; 'that's impossible'; or, on the contrary, 'I would let him live the way he likes'; 'I have some gay friends and I don't think it's a problem'. The majority of respondents believe that it's not going to happen to them. Some of them, though fewer, are going to support their child in any case.
The vox pop shows that there is a persistent stereotype maintained in the community: homosexuality is no longer 'a disease' nowadays, but rather 'a vicious practice' that can and should be controlled through 'proper upbringing'.
Mind that the vox pop was conducted in the very heart of the city. If conducted in the city outskirts or in Azerbaijan's provinces, the results would have been more 'radical'.
A forbidden fruit
There is another line of attitudes towards the LGBT- a keen interest in the forbidden. For example, 'Artush and Zaur', a book by Alekper Aliyev, kindled flagrant interest a few years ago. It resulted in circulation that was unprecedentedly high for Azerbaijan and even led to confiscation of its copies under the court ruling . The main characters of the book are Azerbaijani and Armenian gay lovers. Along with frenzy, the book also stirred outrage on social media and the main issue that everyone was concerned about was 'who of them is 'passive' and who is 'active'? That's how it is for us.
Photos taken by activists of the 'Peace for LGBT' organization as part of the 'Z-53' campaign in October 2015