Protest against the "law on foreign agents" in Tbisili growing, people detained
Growing protest against new law
A protest against the "law on foreign agents" is taking place in front of the Georgian parliament building in Tbilisi, organized spontaneously after the parliamentary committee, despite the protests of media and NGOs, discussed the draft law "On transparency of foreign influence."
The protest started at 18:00. Opposition parties, the non-governmental sector, students and other citizens of the country gathered in front of the parliament building.
Speakers at the rally say that with the adoption of this law, Georgia will finally move away from Europe, so it cannot be allowed to pass.
An unprecedented number of security forces have been mobilized in the area of the parliament building. After some participants tried to block the entrance and exit from the parliament, the police detained three people. [The number of detainees is being clarified. – JAMnews]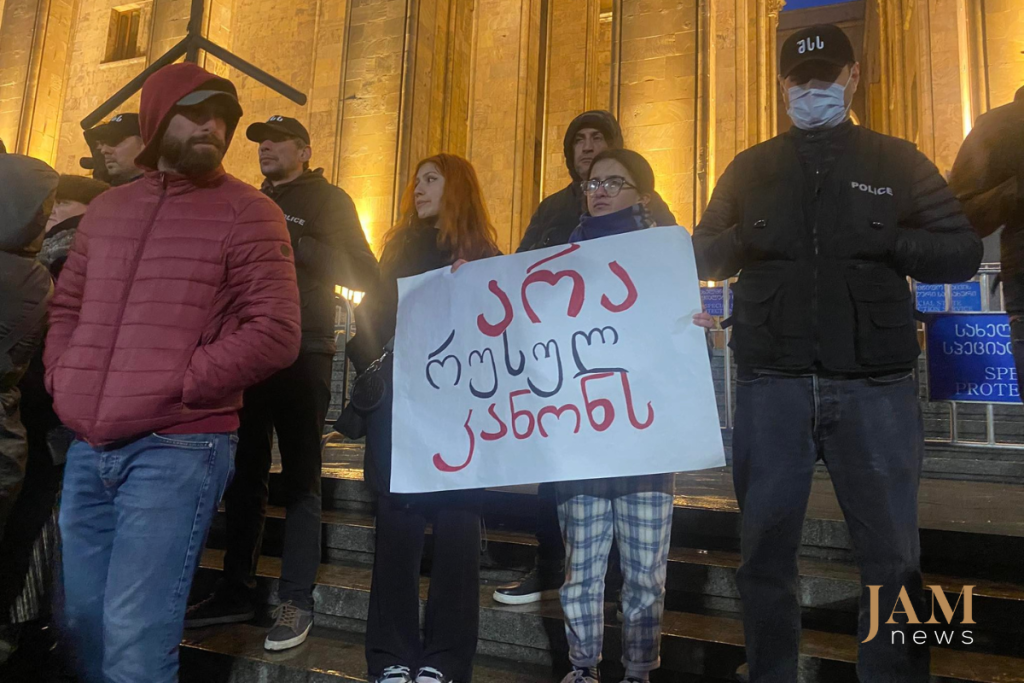 The participants decided to picket the deputies, who are still discussing the bill.
The police are trying to force the protesters to leave the area around the entrance and exit. There are several hotbeds of conflict in the area.
In the afternoon, representatives of the media and NGOs gathered in the parliament building, where the committee meeting was to take place. But they were not admitted to the meeting of the committee and, remaining behind closed doors, chanted: "No to the Russian law!", "Slaves!", "No to traitors!".
Because of this, the meeting of the commission began late. Some deputies from the opposition could not attend – they were forcibly removed from the meeting.
At the meeting, the authors of the bill once again appealed to the fact that the main goal of this law is transparency, and that such a law exists in the United States.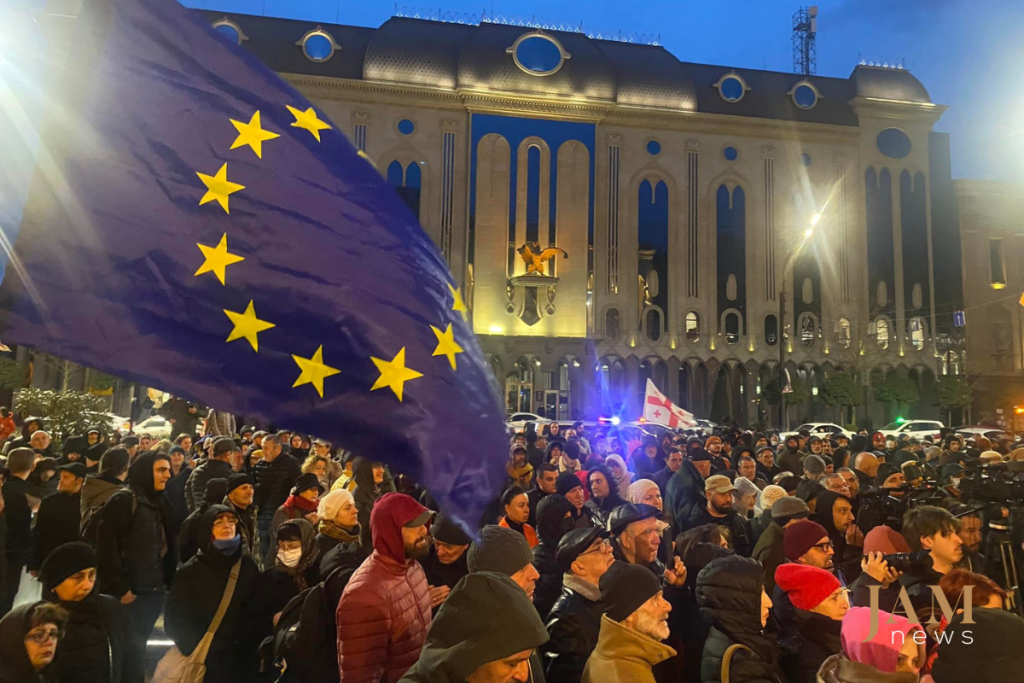 "Today national security for you is the preservation of power," opposition MP Teona Akubardia addressed the deputies.
Another opposition MP, Khatuna Samnidze, called the representatives of the ruling party Putinists:
"Those who signed this, each of you is Putinist, enemies of this country, you will do everything against it. You have zero political will. You do what you are told."
Despite the noise and protests, the committee meeting took place and continues at the moment [20:00].
---
---
The Georgian government intends to pass a law according to which non-governmental and media organizations that are funded from abroad must be registered as "agents of foreign influence".
As of February 27, two bills have been registered in parliament: one was registered on February 14 and is similar to the Russian law on foreign agents. The second was registered as an alternative after the first was heavily criticized. This second law, according to its authors, is similar to the American law (FARA).
The authors of both bills are the People's Power movement, formed by deputies who formally separated from the ruling team. People's Power is characterized by harsh anti-Western statements. Moreover, its members directly admit that this party was created in order to "tell people the truth about the West, which is trying to drag Georgia into the war."
The bill is criticized by everyone except the ruling party: the local non-governmental and media sector, the opposition, experts and those politicians who were recently in power from the Georgian Dream and even the President of Georgia.
The bill is sharply criticized by Georgia's western partners from various international organizations, American senators and European deputies. The American ambassador bluntly called it "Russian law."