Girl in Baku metro almost beaten up for wearing shorts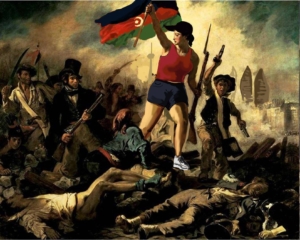 A video has been making the rounds on Azerbaijani social media of a girl in a metro car who is being harrassed, threatened and almost even beaten up for wearing shorts.
Every summer, almost as if on schedule, the debate concerning shorts, whether or not one can wear them and whether they are in accordance with the 'national mentality' flares up in Baku.
Shorts in Azerbaijani society have become something of a symbol of debauchery for some and freedom for others.
While writing about the incident in the metro, bloggers, journalists and other public figures say that the issue is not with shorts themselves, but with more serious problems.
Philosopher Mushviq Shukurov published several posts speaking about how fury over someone else's clothing is a sign of the narrow-mindedness of a significant part of the population and a perverse morality.
As for other netizens, here are several typical comments:
"In society there are tons of spiritually-impoverished people and so-called 'men' who look at women only as sex objects. In such a society, there is no and can be no development nor culture."
"Looking at European women, you immediately understand that they dress in a certain way because they feel more comfortable [like that], whereas here some girls attract attention to themselves with too much make-up, open dresses, a seducive gait and then they're irritated when they get too much attention!"
"This is a continuation of the same struggle for progress, which was once led by our women who were trying to discard the chador."
In former years, the conservative segment of society was bothered by men wearing shorts. One MP even suggested pouring acid on their 'naked' legs. Shorts supporters have organised a number of flashmobs, are active online and try in other ways to defend one's right to wear what one wants.