Georgians in Abkhazia: only one crossing point left
The number of crossing points on the Georgian-Abkhazian border were cut down from six to two by early 2017, and there will be just one left in the near future – it will be possible to cross from Abkhazia into Georgia only through the border control checkpoint on the Inguri Bridge.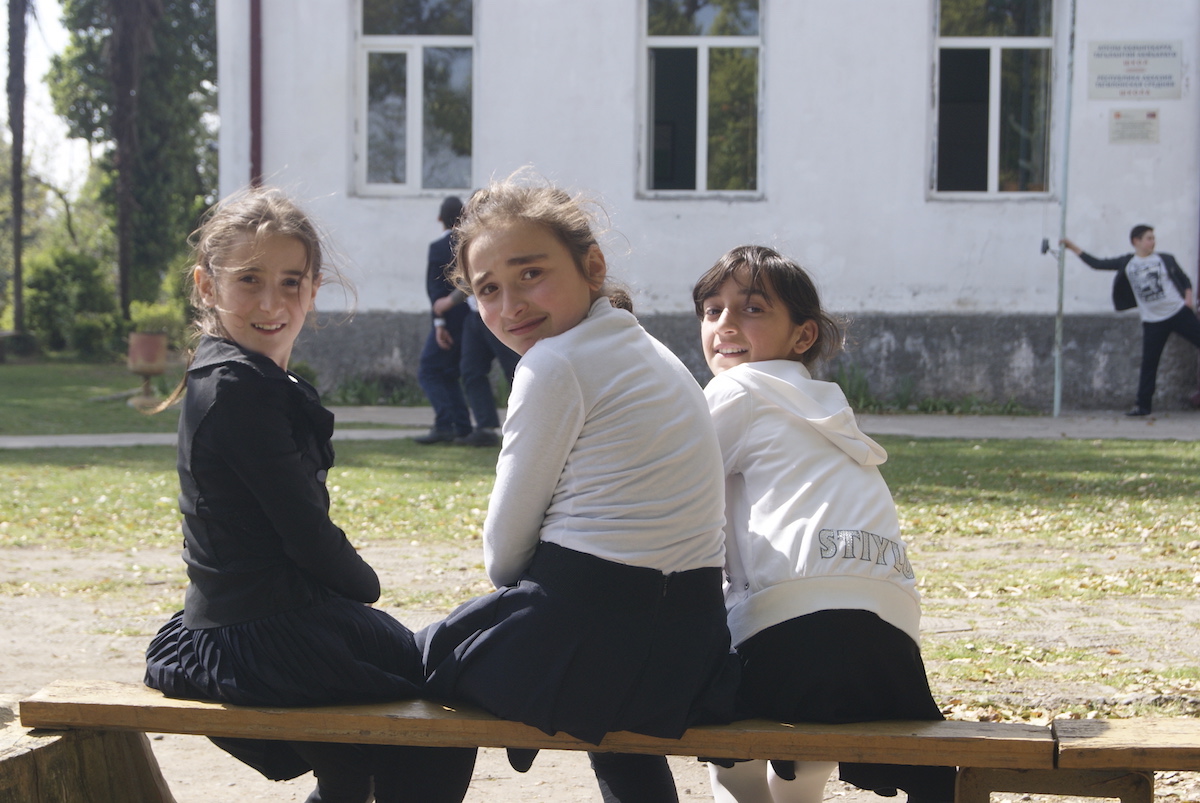 The Gal district, Abkhazia, is predominantly populated by ethnic Georgians and their status has been unclear for many years. Almost none of them have Abkhazian citizenship and only 340 out of the total 17,800 people hold Abkhazian passports. The rest of them either hold Georgian citizenship, or Abkhazian passports with annulled citizenship, or a special form #9 certificate – or nothing at all.
Inguri bridge
"Georgian nationals residing in Gali district will have to make a choice: a Georgian or Abkhaz passport." Analysis by JAMnews
The lower zone
It's
a special place.A road running along the Georgian-Abkhazian border,with numerous villages located along it, is a stone's throw away from Georgia. You just need to leave the house and take a few steps.
Until March 2016, there were six crossing points on the border, whereas now, there are only two of them left – Ingur (central) and Papynrkhua [translated as the 'upper zone' – JAMnews]. When the road in Papynrkhua village is repaired, this border crossing point will be closed too.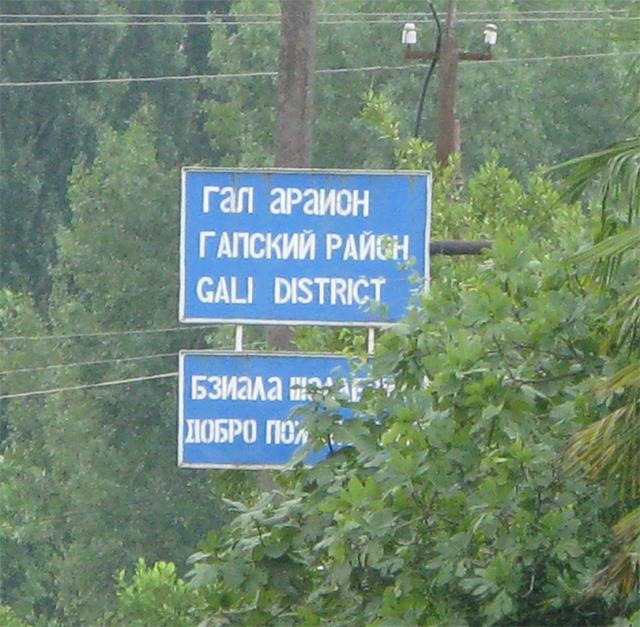 It was originally planned in this fashion, and was supposed to solve two tasks: to improve the district's infrastructure and to reinforce the Georgian-Abkhazian border, which is written down as a separate provision in the new Russia-Abkhazia alliance & strategic partnership treaty.
In 2016, Abkhazia spent RUB 153 million [approximately USD 2.5 million] of Russian assistance funds on the rehabilitation of a 32km highway in the 'lower zone' of rhe Gali district. Currently, it takes about 30 minutes to get to the central bridge from any location in the district.
Russian border guards are station near the road leading to the already closed 'Nabakia' crossing point. After the checkpoint was closed, the have also assumed the duty of patrolling the road running along the Georgian-Abkhazian border.
In addition, this area is under special control of the Abkhazian national security service. Anyone willing to travel there should obtain permission from the National Security Service. This rule, certainly, doesn't apply to the locals.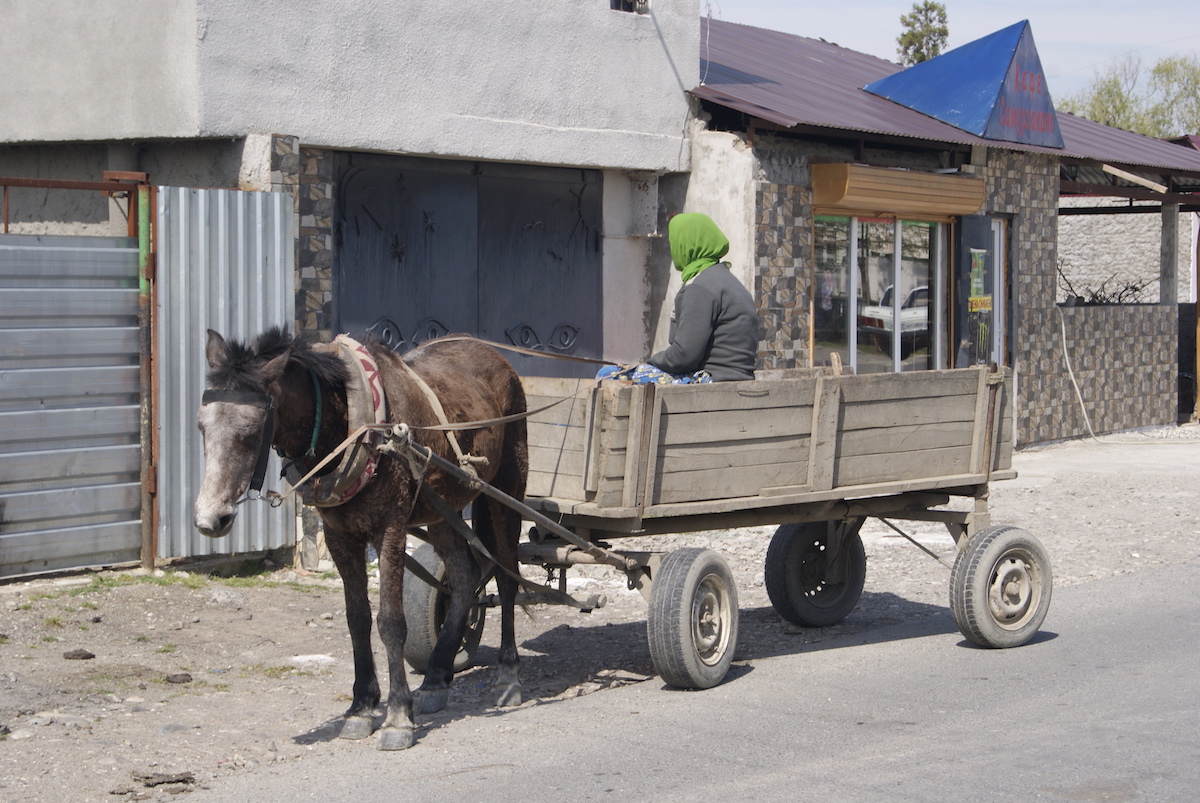 Two
men were talking at the roadside. I came up to them and joined in the conversation. They were discussing their problems.
"And what about jobs here?"
"There are no jobs. They just issue promises, but how long are we supposed to wait? Vegetable gardens help a lot: we plant, harvest and sell the crops, that's how we live," says one of the men named Temur.
"Where do you sell crops?"
"Either at the local market, or over there," the man said, nodding his head towards Georgia.
"Gali residents are very industrious people," commented his neighbor, Besik. "We just want to live, work and do business here, rather than be engaged in politics. There are problems with citizenship here. We've been promised to be issued residence permits. But I'm not an alien, am I? My ancestors were born here and we've been living here for centuries."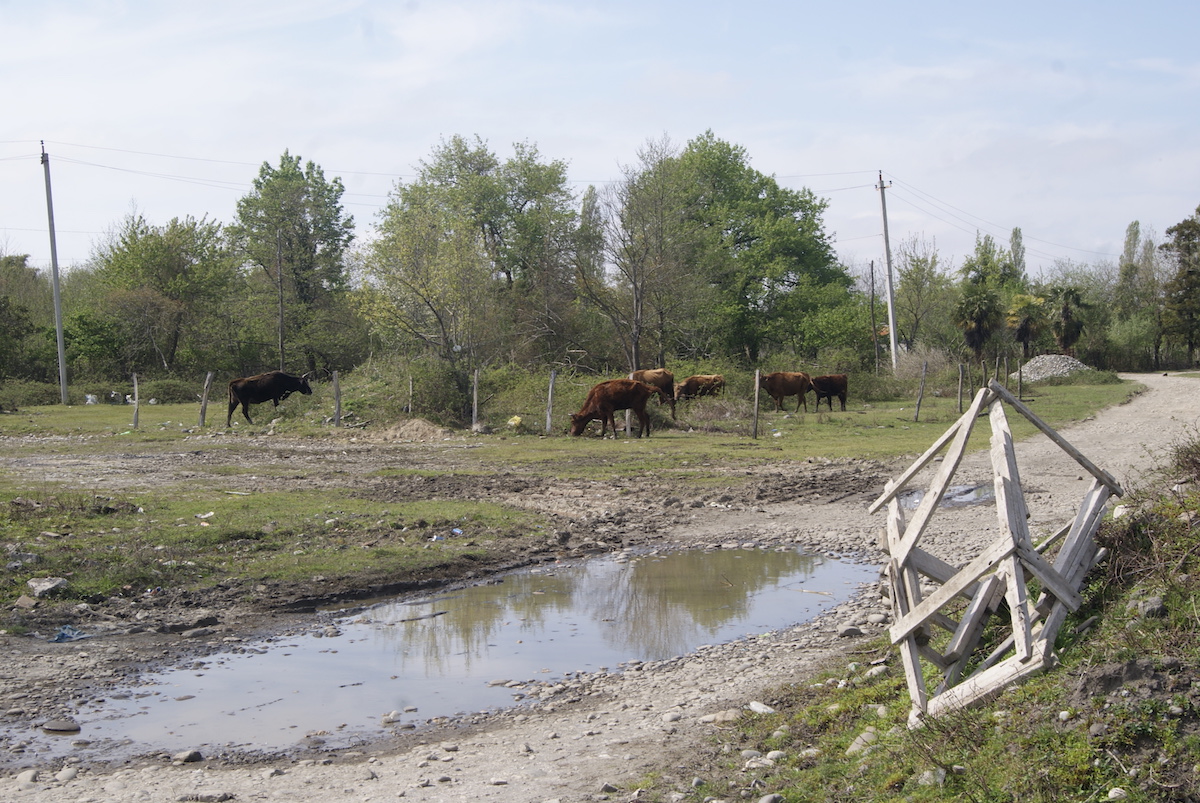 A boy
A typical yard in an ordinary village in the 'lower zone' of Gal district was well-maintained and neat. There were hazelnut bushes and tangerines there. The hostess's name was Manana. She invited me in. When I entered the house, a little boy met me halfway. He was holding an ABC-book, the Russian language grammar book for first-graders.
He showed me some pictures, but I didn't manage to look through them, since he rushed away to bring his copybook. I only caught a glimpse of the beginning of the first line of the paragraph, written in the child's handwriting: 'Dear mom…', then the boy suddenly closed the copybook and ran away again.
Later,
he returned with a toy militia car, and a minute later he rushed away to fetch me some cottage cheese biscuits.
He didn't answer any of my questions.
"He is embarrassed," said Manana. "It's difficult for him to communicate in Russian. He now attends preparatory classes and is getting ready for school."
"Which school will he be enrolled in?"
"In the local one. It's not far from here; it's right over there," she said pointing her finger somewhere beyond the fence.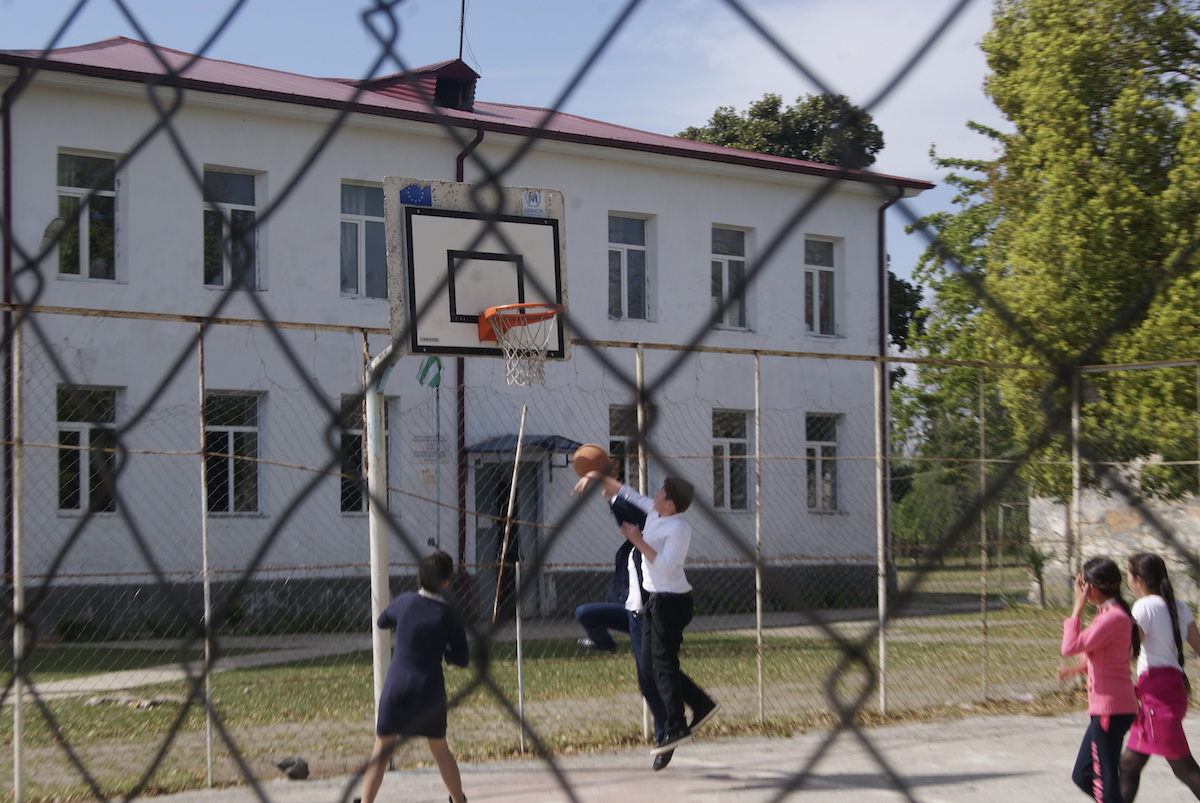 "And what about medical services here?"
"We have a good physician here, Ilona Tarba. But if we need surgery, then we travel to Georgia. There is a lack of normal medical equipment here."
"Is it true that your living has become harder after closure of the crossing point?"
"Well, it depends. We have a school and a daycare facility here, so we don't have to take our children to classes across the Inguri bridge, like others do. But if we are going to visit our relatives in Zudidi, then it's certainly a problem. It takes time to travel to the bridge and you also have to pay much for a trip. And we are facing financial problems. I'm a stay-at-home mother, looking after a child and doing some household chores, whereas my husband takes some odd jobs. Sometimes it's even hard to find temp work here."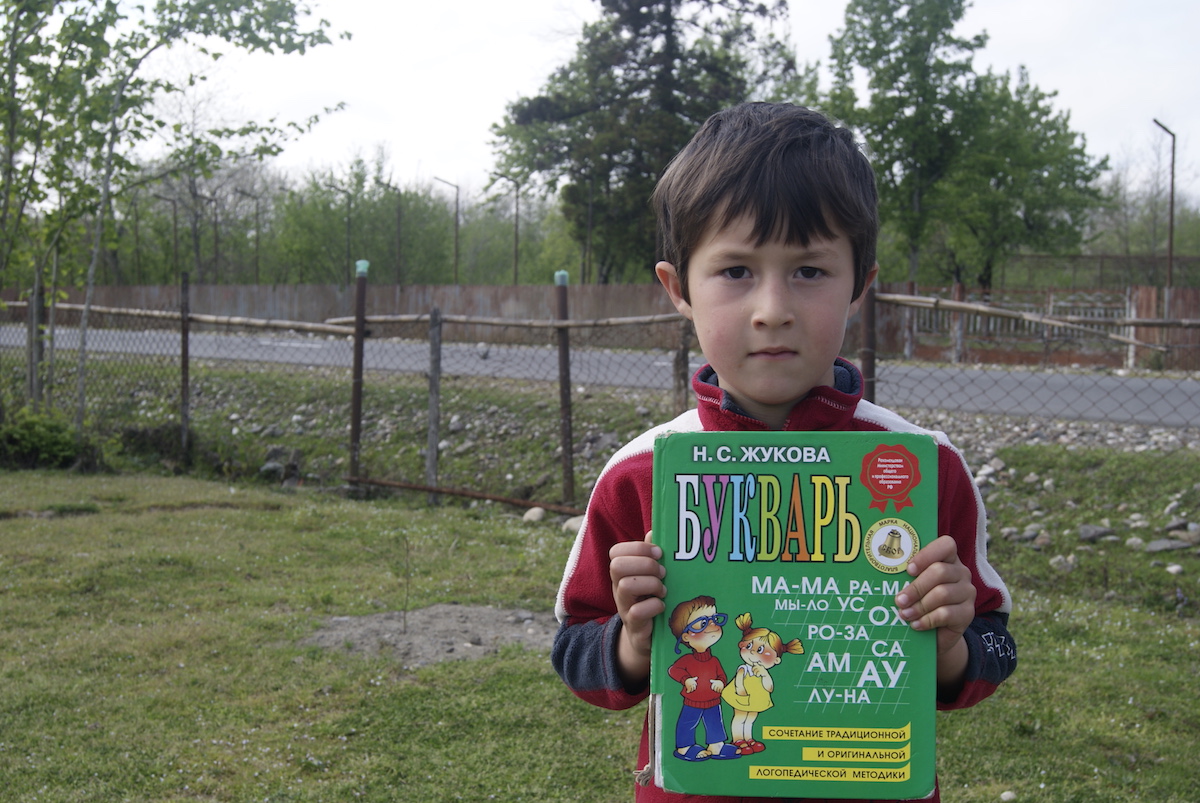 The doctor
"Okay, let's arrange it later," said an energetic man, addressing a delegation accompanying him. He looked like a filmmaker.
He was wearing a pair of black trousers, a vest, and was holding a file with papers in his hand. Covered in walkie-talkies, he managed to keep in touch with his subordinates, simultaneously answering phone calls and instructing his assistant.
It was Giorgi Shonia, the chief physician at the local hospital.
"They've been promising to build an anti-tuberculosis dispensary for many years now!," he said nodding his head towards the delegation members.
There were two old maps of the district hanging in his office. One of them was a homemade, manually glued map, while another one was a present from the military. There were commendation letters, awards and certificates on the shelves, along with two small die-cast ambulance vehicles and a tiny heart model. There was also an embroidered icon of St. George the Victorious hanging right in the center.
Since 2009, all ambulance stations in Gal district have been provided with a radio communication system, which is the only one in Abkhazia. During our conversation, the doctor's radio was literally buzzing.
As Dr. Shonia told us in-between the radio conversations, when he assumed the chief physician's post here a decade ago, the hospital building resembled just an empty box and 4 out of 30 doctors constituted the medical laboratory scientists. Whereas now, there are 50 physicians here.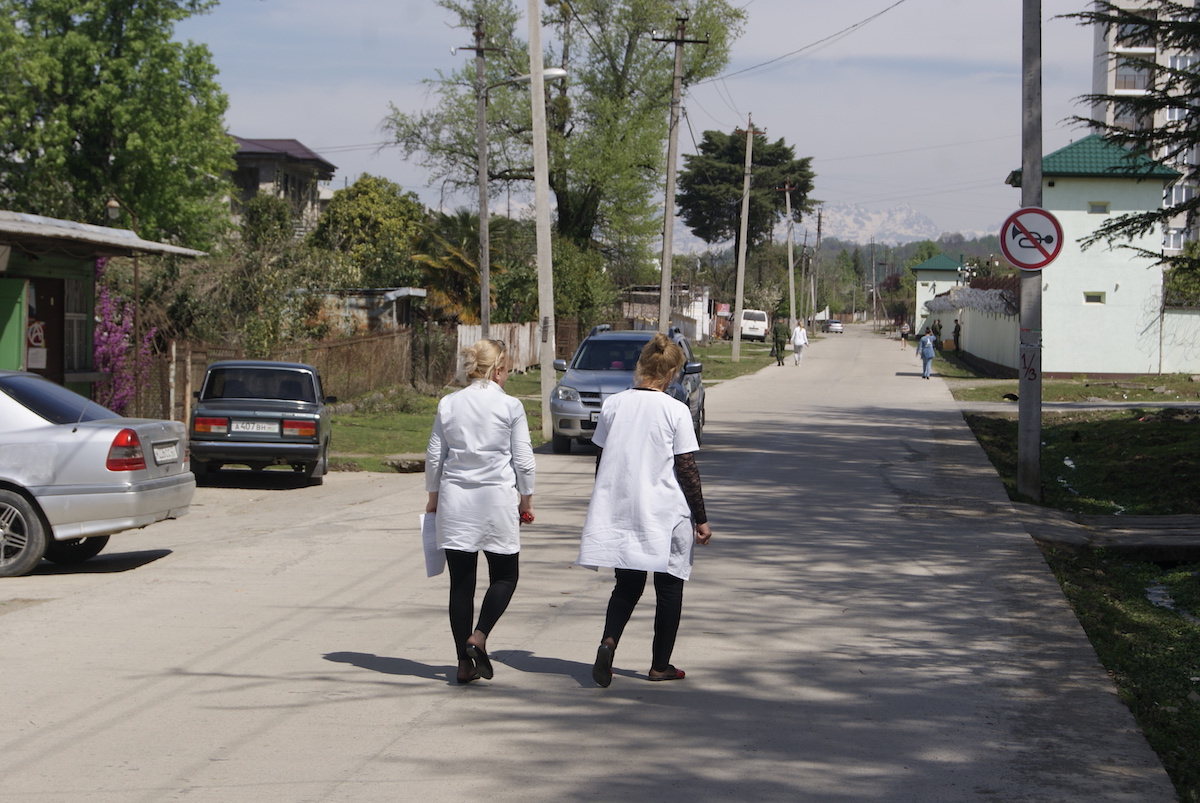 "We can provide quality first aid. Sometimes we even travel to neighboring districts to render assistance."
"Do your patients often go to Georgia for treatment?"
"Yes, they do, especially if they require serious treatment. We usually render first aid. And also, we are proud of our maternity ward, which is now in perfect condition. Let me provide the following figures: less than 50 children were born in the maternity ward in 2006, whereas in 2016, a record number of 250 births were reported."
"And how are the patients transported to Zugdidi in critical cases?"
"In 2011, the government of Abkhazia banned the entry of ambulance vehicles into the territory of Georgia. So, we've developed the following scheme: a private taxi is called, a patient is put on a stretcher and moved to the car, which delivers him/her to the border accompanied by our ambulance. Then he/she is transferred to Georgian medics, while the taxi driver rides back and brings the stretcher."
According to Dr. Shonia, 57,000 people turned to the local hospital in 2016.
"It is common knowledge that Abkhazians go to Georgia for medical treatment. To live or to die." JAMnews, Stories from Sukhumi
The investment flow in the Gal district has been very low in recent times. The district administration has elaborated some wide-scale plans for the development of business-projects and infrastructure. However, the local budget is currently increased mostly at the expense of more efficient administration.
Yet, there has been certain growth: Gali district's own budget totaled RUB 28 million [approximately USD 493,000] in 2014, and about USD 933,000 in 2016. JAMnews will soon offer detailed coverage on this issue.
The opinions expressed in the article convey the author's terminology and views and do not necessarily reflect the position of the editorial staff