Economic slowdown and lower inflation - Asian Development Bank forecast for Georgia

Georgian economy forecast
The Asian Development Bank predicts a slowdown in the Georgian economy and a halving of inflation owing to fewer migrants from Russia in 2023 and a consequent reduction in foreign money. But in 2024, according to the same forecast, a slight increase is expected.
Gross domestic product could rise by 4.5 percent in 2023 and up to five percent in 2024, driven by profit growth in the services sector.
The report also says that in 2023, the 12 percent inflation rate of 2022 is expected to drop to six percent, and in 2024 it will approach four percent. According to the report, the reasons are tight monetary policy, relatively weak domestic demand and improved supply chains.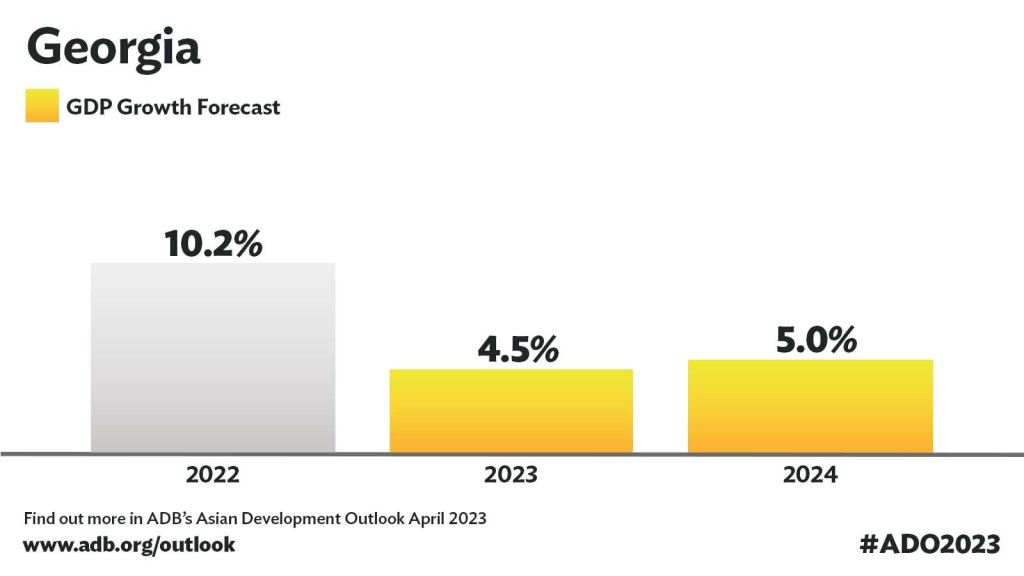 The Asian Development Bank report also maintains that increasing renewable energy production will be beneficial in supporting the development of tourism and services, as well as infrastructure projects.
"After last year's double-digit economic growth, Georgia must look for more sustainable development. To strengthen its position in tourism and services and keep progress on important infrastructure projects, it would be beneficial for Georgia to increase renewable energy production, promote innovation and accelerate the implementation of the environmental action plan," Kamel Bumad, acting director of the bank in Georgia, said.
As for investments, they are expected to grow by 5.5 percent in 2023 and by 3.5 percent in 2024.
---
---
The Asian Development Bank has been supporting Georgia since 2007 and is one of the country's largest multilateral development partners. The total amount of sovereign and non-sovereign loans issued to Georgia is 3.9 billion US dollars.
In January 2023, GDP growth in Georgia was 8.4 percent.
According to the official forecast of the government, according to which the state budget was planned, a five percent economic growth is expected this year. The National Bank of Georgia believes that the most realistic GDP growth by 2023 is four percent.