Georgian economy contracts 8.3% in Jan-Feb
Georgian economic growth
In January-February of 2021, Georgia's economic growth fell by 8.3 percent, with -5.1 growth in February alone compared to the same period last year, data from GeoStat show.
In February, there was a decrease in the following spheres:
construction
rental housing
art
entertainment and recreation
transport
real estate transactions
Growth was seen in the financial and insurance sectors, trade, water supply and waste management.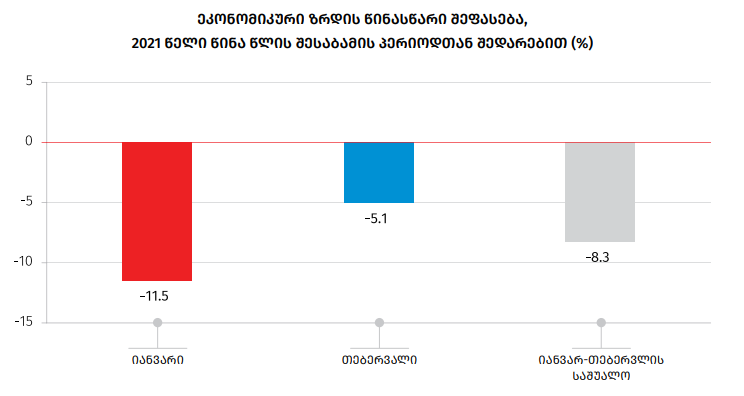 ---
---
This is the twelfth month in a row of negative growth. In 2020, gross domestic product (GDP) as a whole fell by 6.1 percent.
The rate of economic growth last year looks like this:
January – an increase of 5.1 percent
February – an increase of 2.2 percent
March – a decrease of 2.7 percent
April – a decrease of 13.5 percent
May – a decrease of 16.6 percent
June – a decrease of 7.7 percent
July – a decline of 5.5 percent
August – a decrease of 5.3 percent
September – a decrease of 0.7 percent
October – a decrease of 3.9 percent
November – a decrease of 7.7 percent
December – a decrease of 7.9 percent