Georgia: schools without schoolchildren
Mountainous villages in Georgia are emptying
In the highland villages of Georgia, schools with only several students have become commonplace.
This is a story about two such schools in Imereti (a region in Western Georgia). In the near future, they may be left without students at all.
Georgia has a total of 2,085 public schools. Most of them are located in the cities. In the regions, however, many schools have less than 10 pupils.
---
• Georgia: the children left outside the classroom
• Georgian priests throw candy from a helicopter over village schools
• Georgian schools in Abkhazia: what to do
---
The west Georgian region of Imereti stands out in particular, where 10 schools have nine or even fewer students. with a special small number.
Mostly, schools that face these issues are to be found in villages that have been unable to receive the status of high mountainous village, and are therefore deprived of the corresponding benefits.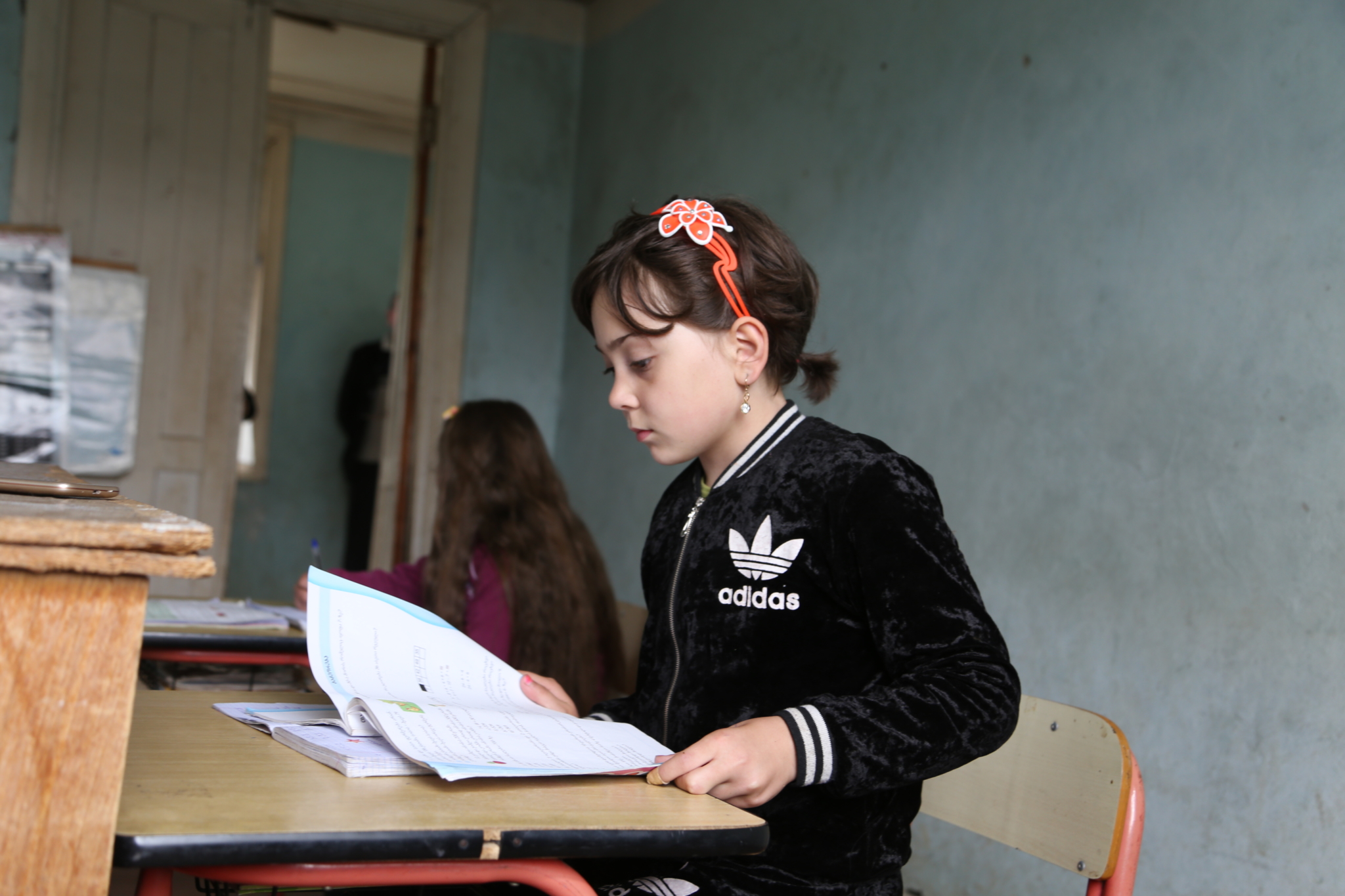 Mari is in the third grade. She lives in the village of Onjokheti, in the Vani municipality of the Imereti region. Every day she has to walk 10 kilometers to get to her lessons. In her classroom, located in a school facing imminent collapse, there are only three desks with chairs, a blackboard and a timetable of lessons attached to the wall.
All this simple school, all the furniture is for Mari, a first-grader named Gvantsa and their teacher Gulnazi. Some times Mari and Gvantsa have lessons together.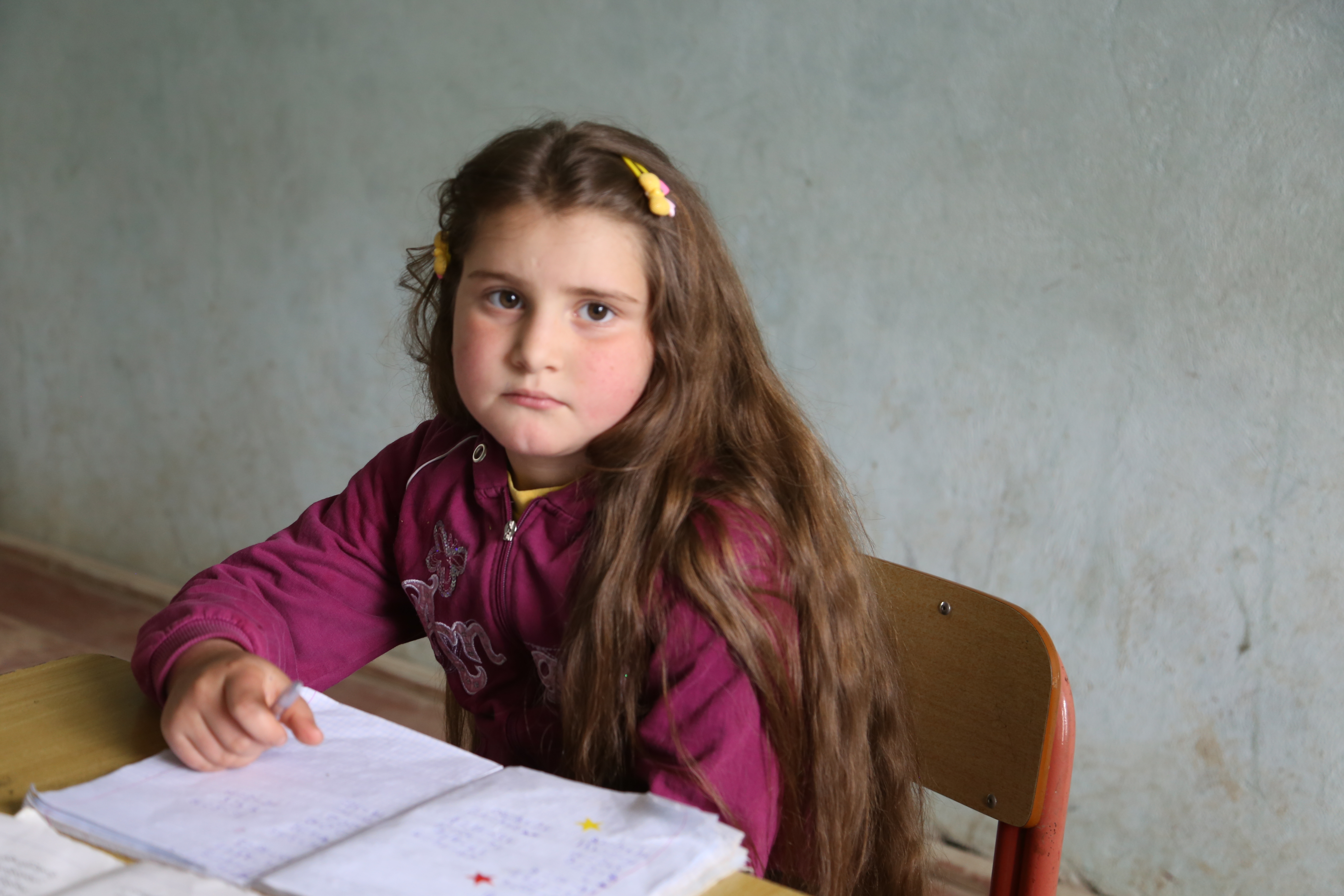 There are only three students in the school and nine teachers who, like Mari, have come a long way to come to work.
Mari says that in her imagination, a school should be a lively place, with many children, where the lessons are noisy. But in her reality, things are different.
"It's boring at recess. Sometimes I have fun on the phone with games, sometimes teachers come up with some kind of entertainment. Of course, it would be better if there were many children in the class", she says.
But at the same time she acknowledges that she receives more knowledge than if there were other people in the class, given that she gets almost all of her teachers' attention.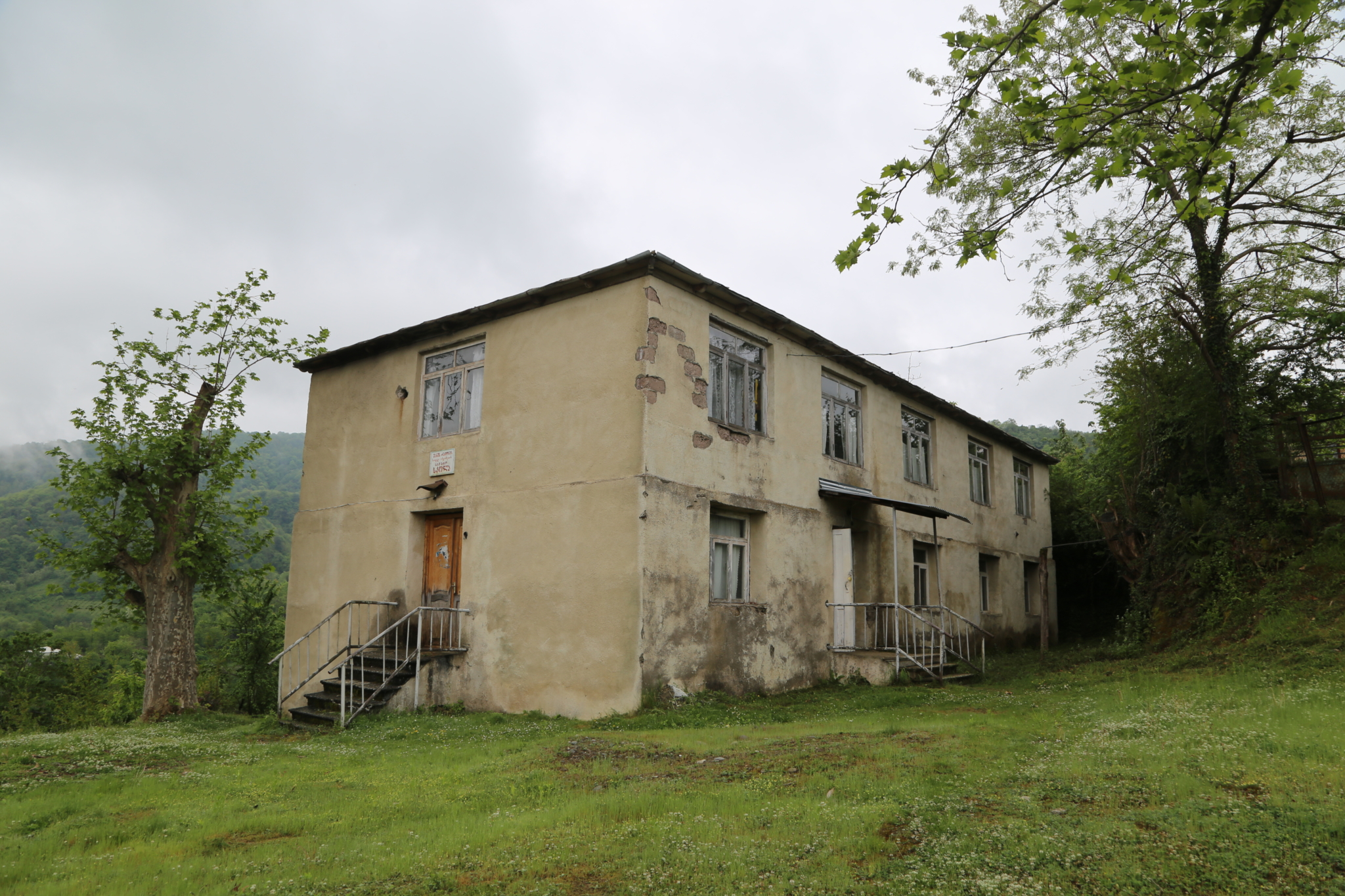 A fifth-grade student in the village of Gadidi, located next to Onjokheti, is also generally the sole recipient of the teachers' attention, although there are nine other students in the school.
There is no electricity in the school, and in both the summer and winter, the doors have to remain open so that at least some light can penetrate into the classes. The school administration explains that the municipality only allocates funds for repairs for schools that have more students.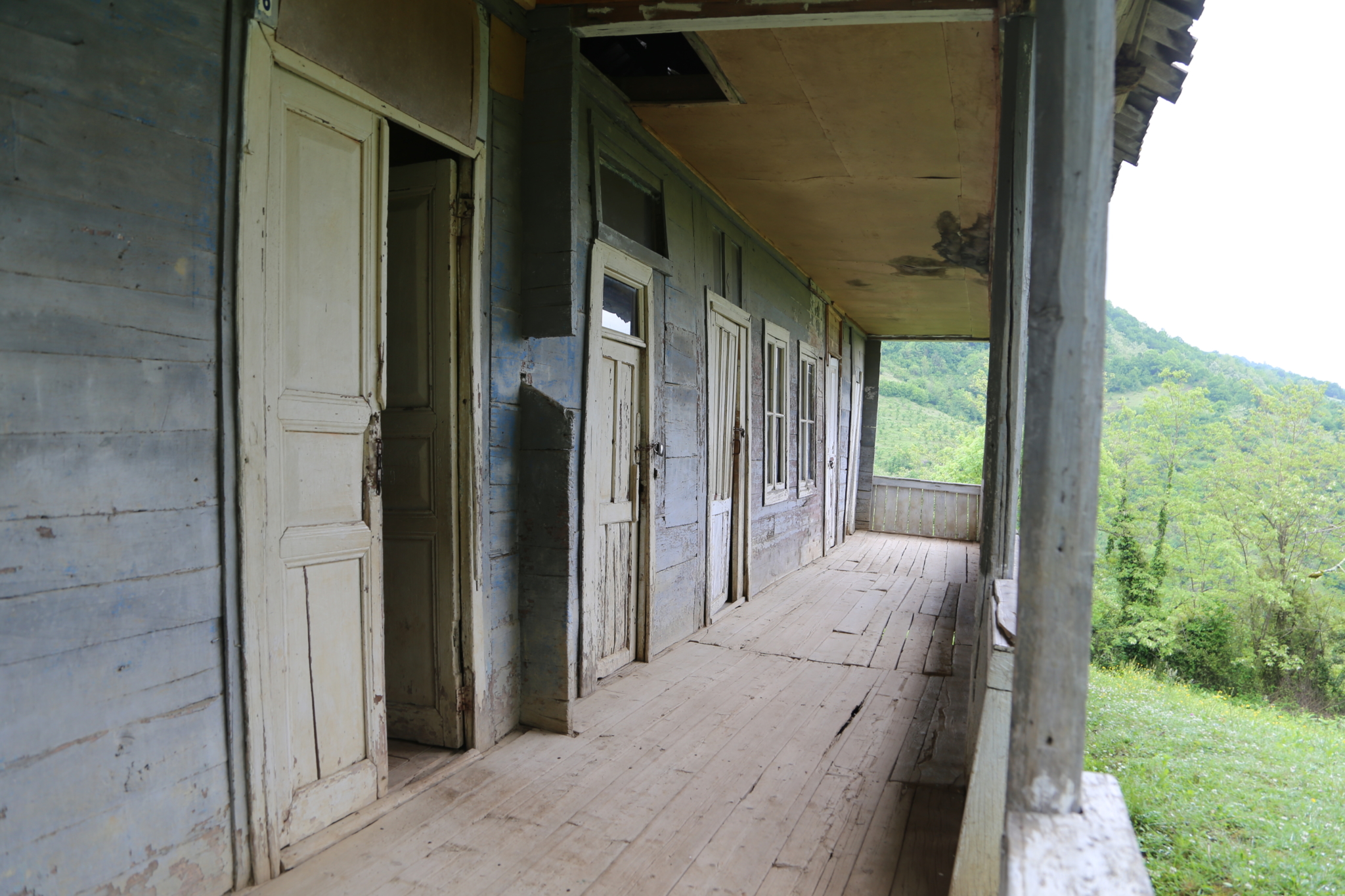 "The municipality does not have enough money to repair all the schools. For our village, for children, it is very important that this school exists at all. In 2020, the roof in the building will be replaced and a heating system will be installed", says Dushiko Ormotsadze, headmaster of Onjokheti.
In addition to infrastructure, these schools have curriculum problems. Due to the fact that there are few students, various activities that are obligatory in other schools are not held.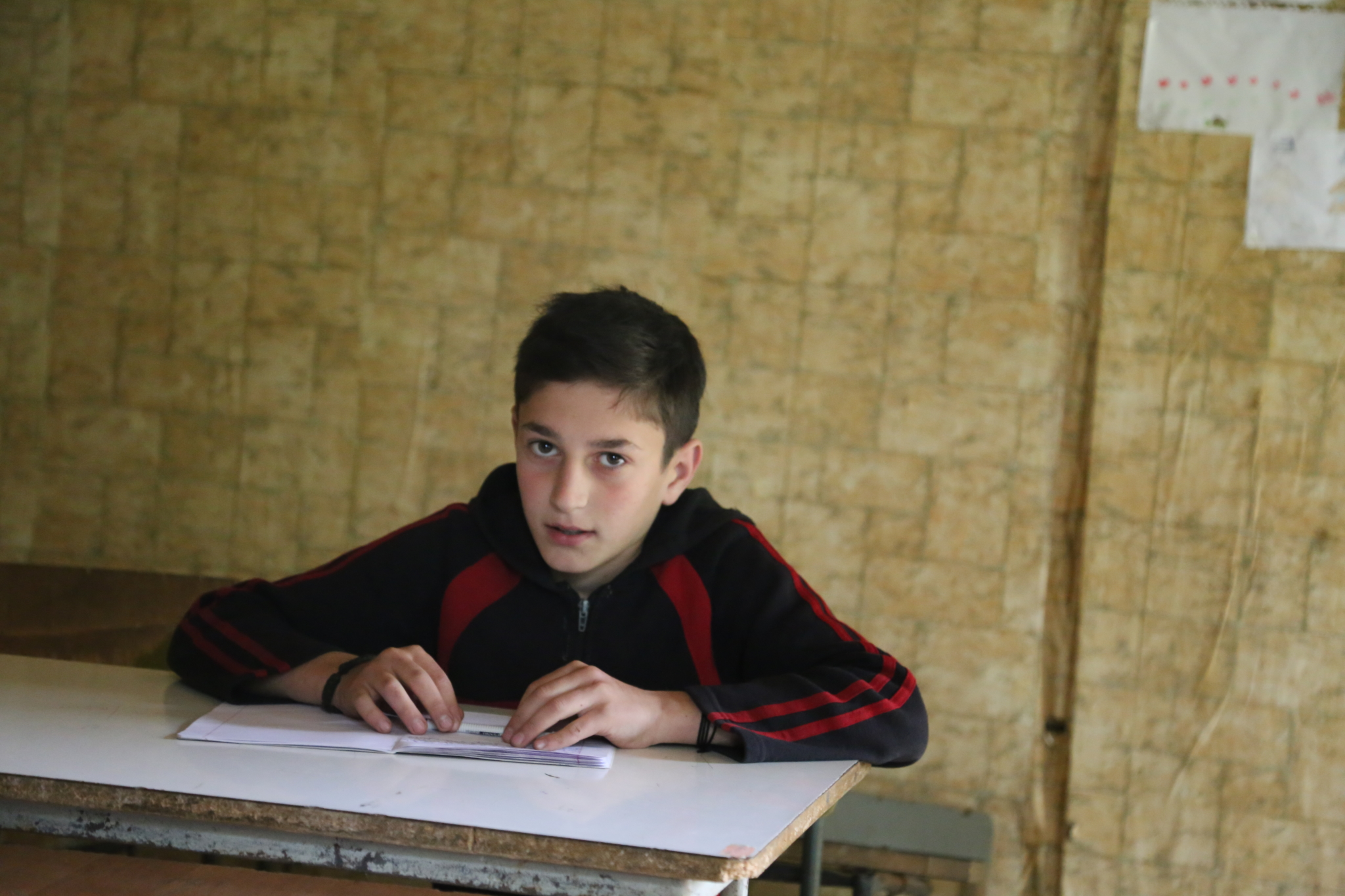 A village left to fend on its own
Onjokheti and Gadidi are located at an altitude of 650 meters above sea level.
In Georgia, the status of highland villages is assigned to villages located at a height of at least 800 meters. The problems of these two villages, however, are the same as those of those which have the official highland status.
There are no roads, no natural gas, no elementary conditions for a normal life and … no prospects. And all because there are few people in Onjokheti and Gadidi. Especially striking is the fact that there are almost no young people.
"We can probably say that the students in our schools are all the young people there are here. These children are from socially vulnerable families. If they had some kind of opportunity, they probably wouldn't have sent them here", say the teachers.
According to the 2014 census, there were 213 households in the village of Onjokheti, and 252 families lived in Gadidi. Today, only about a third of them are left.
Most of the local youth moved to Kutaisi, others go to Vani. The official representative of the village administration, Elguja Beltadze, says that migration is increasing, and there is a threat that the villages may completely empty.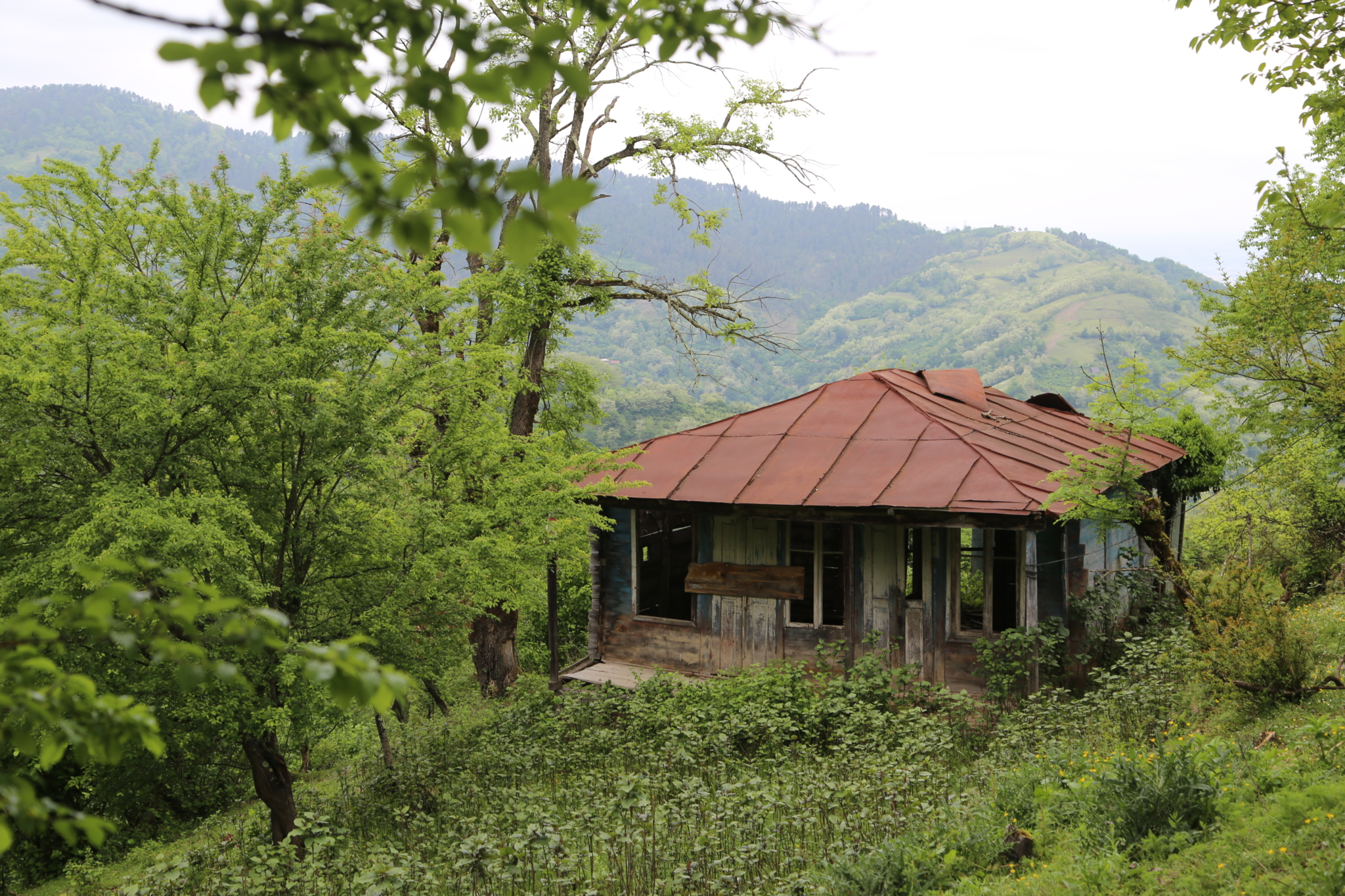 "I don't know how, but the government should make every effort to help the villages. I do not think that those who moved to live in the city will return – I mean the young ones. But the remaining [people] must be kept [here]", says Elguja Beltadze.
Non-governmental organization Center for the Development of the Mountains is working to help develop tourism and the economy in mountainous regions, and to improve general living conditions.
The head of the organization Shota Buchukuri talks about some of the reasons that have prompted people to leave mountain villages:
"The main reason is socio-economic problems. People have no income, no normal infrastructure. Quality medical care, education, and other public services are not available. In regions where the situation is more or less normal, there is some sort of economy, the level of migration is still not that high", Shota Buchukuri explains.
"Therefore, the focus should be on solving these problems, then no one will leave, and students will be in schools."
The 'mountain law' and the future of mountainous villages without status
Since January 2016, when the Law on the Development of High Mountain Villages was adopted, the status of a "high mountain village" was assigned to 1,731 settlements (where there are more than 331 inhabitants), and accordingly 245,697 people living in these villages enjoy social and tax benefits.
According to the law, social benefits should be understood as pension supplements, supplements to salaries of teachers, doctors, nurses, increased funding for vouchers for students of public schools and professional educational institutions, providing heating in the winter, benefits for consumed electricity, cash assistance for newborns, etc.
In accordance with the law on the development of high-mountainous regions and the Tax Code of Georgia, for permanent residents of such regions, owners of industries in high-mountainous regions, tax privileges for income, profits, and property are also provided.
What are the plans of the National Council for the Development of Mountain Regions for settlements without status because of the insufficient height at which they are located? We received the following response:
"Three initiatives were considered: to consider the issue of assigning "high-mountain "status to all settlements of those municipalities, 80 percent of whose settlements already have this status; consider reducing the period of permanent residence from from nine months to six months at an altitude of two thousand meters above sea level to use the status of a resident of a high mountain region; to consider the issues of simplifying the assignment of the status of a "high-mountainous settlement" to villages and villages located near the occupied territories of Georgia and at the same time at an altitude of more than 800 meters above sea level", the department said.